BIRDS ON A WIRE - NAPLES FLORIDA PHOTOGRAPHER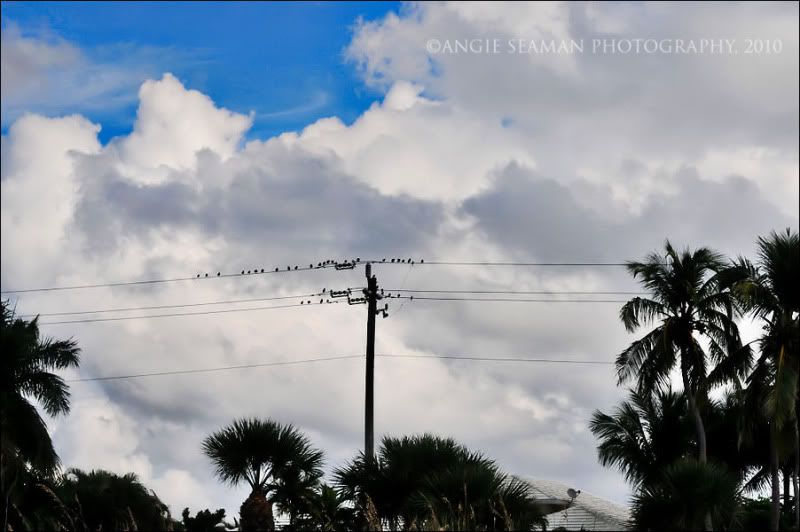 Here is another one of those shots where there is just beauty in the mundane. Call it my obsession with lines again, I donno. Whatever it is...I just love when birds are all lined single file up on an electrical wire - let alone on a pretty day - right above the beach with blue skies AND pretty white fluffy marshmallow clouds. I took these image several weeks ago and something lead me to share it today. Although it means nothing to you guys, it makes me smile. Can you imagine just chillin' with your B/F/F's all day long up in the blue pillow-y skies with the beach down below? WOW! What a rough life that would be. Real, real, rough. Fo' sho'! :) In the end, this is just another example of how we pass this type of stuff daily and the images never register with our brains that they mean anything or that they are beautiful enough to be noticed. The beauty in the mundane again. The stuff we see day in an day out but never truly "feel" when we see it. I snapped this image because I wanted to remember what I felt when I saw it and I wanted to feel the smile that it brought to me when I thought about hanging with my gur-frens on a live wire all day long. At.the.beach! This was another scene that being a photographer taught me to see that I otherwise would not have.
For now, I'm off to tend to my littles - my Kenidi Grace - who has been home sick since Monday. She is sitting right here beside me eating chex mix and popcorn now that she finally has an appetite back. I'm just glad to see her eating - I don't care if it is bucket loads of chocolate at this point. Hoping you are all having a great week. PS...I'm starting to get lots of calls from clients about wanting professional beach portraits done when they travel here to Florida for Spring Break next month. If you are heading to the Ft. Myers Beach, Naples, Marco Island, Sanibel Island, or Cape Coral areas for your upcoming travels and would like to schedule a session with me...shoot me an email. I'd be honored to photograph you, your family, your children, etc. A huge thanks to all of you who continue to pass on my name to others in regard to photography needs. Your word of mouth referrals are priceless. I can't begin to express how much they mean to me.
Much love...Angie
Labels: Angie Seaman Photography, birds on a wire, Naples Florida Beach Photographer