THE SHOW
Remember how we discussed "zoom" lenses yesterday? And remember how I said that I'm not really a "zoom" lens girl because I don't like the image quality you have to give up when using one over prime lenses? And then I followed that with they sure are "fun to play with at times though?" Well, this was another one of those instances. I shot these last week when Mom and I were at the Beach. (obviously)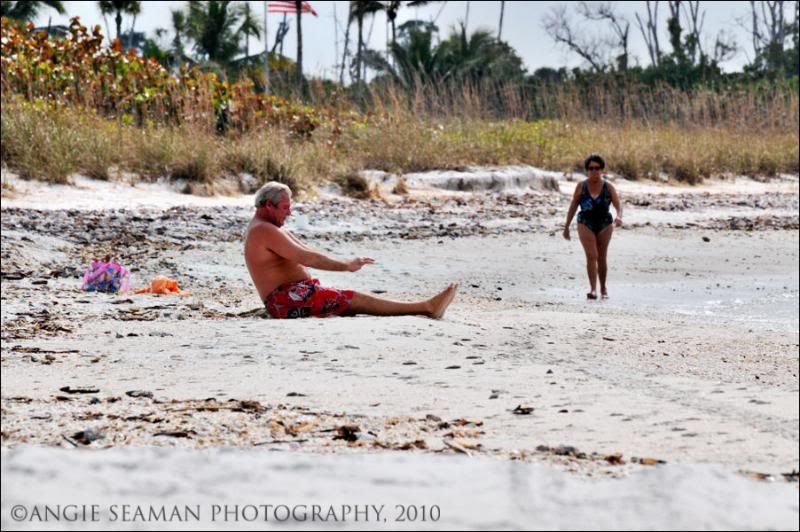 Keep in mind, this gentleman is at least a football fields length away from me. And because of that, he has no idea that I'm shooting this images. Shame on you Angie! ;)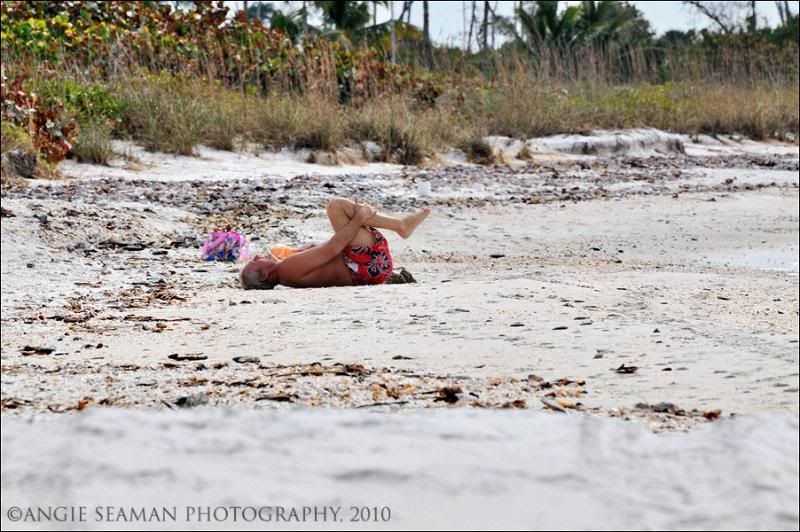 This gentleman walked by us at one point and kept walking way down the beach. We noticed him suddenly stop next to the girlie pink beach bag you see in the sand. He suddenly began doing exercises like a mad man. Tons of them. He put my lazy butt to shame. We couldn't quite figure out why he was exercising like a crazy person in the middle of the sand. No towel. No nothing. Then...insert pretty girl in white bathing suit...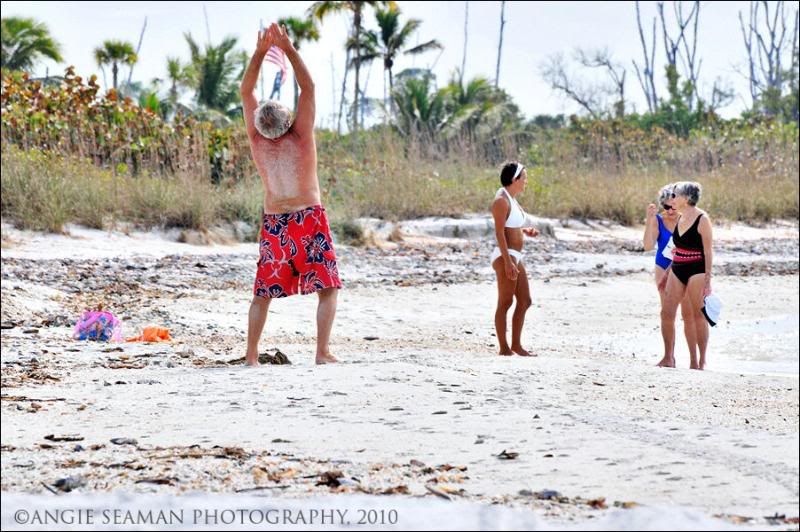 Yeap, you guessed it. The pink beach bag belongs to the pretty unsuspecting girl in the white bathing suit. It finally dawned on us that this gentleman was definitely trying to get this woman's attention. But she never looked at him. Instead...she just kept talking to her wonderful elderly woman friends...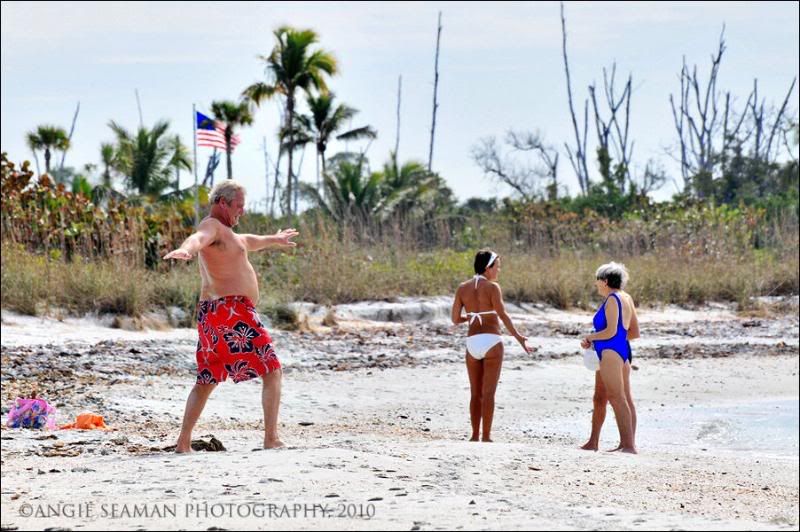 And talking...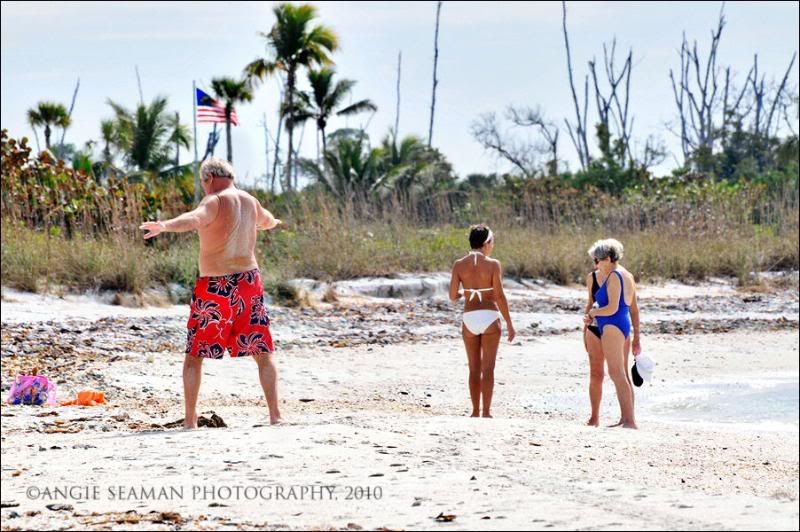 All the while...this exercising kept going on and on and on for I have no idea how long. Keep in mind, it's like 81-82 degrees here that day - sun beating down - sand is hot - dude is surely sweating like a mad man by this point - but yet he keeps going. And going. Like the energizer bunny. Never stopping. It was the funniest thing I've ever watched. He had exercise moves like Mom and I had never seen before. Again though, I need some of *HIS* energy. I felt like a beached whale watching him workout like that on the beach in front of everyone. Fo' real! The end result to the story....the pretty woman in the white bathing suit never even noticed his existence. He eventually quit working out and mosey'd on back down the beach where he had originated from. Men! Speaking of men...and zoom lenses...these 5 men were out on this boat in the ocean - far enough away that we couldn't make out their faces. Insert zoom lens. Now we can see them. LOL! They all looked so cute out there - like they should be in the movie "On Golden Pond" together or something. Hysterical! I hope that when I'm old I can still get out with my girlfriends and do fun stuff like these guys were together. Hats and all! :)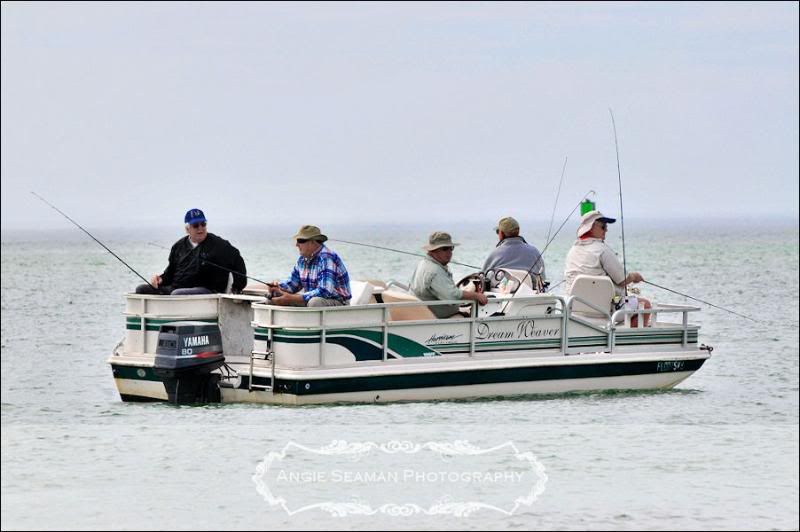 I love to people watch when I'm sitting on the beach so having the zoom lens really comes in handy - basically acting as binoculars when necessary. hee hee! Fun stuff. The lesson here is...be careful. Don't ever pick your nose or pick the wedgie out of your heiney when out and about. I could be lurking in the bushes somewhere with a telephoto lens and then end up sharing it here on the blog for all the world to see. LOL! JOKING!
xoxo, Angie
Labels: guy exercising on beach, Naples, telephoto lens, the show, zoom lens