RANDOMNESS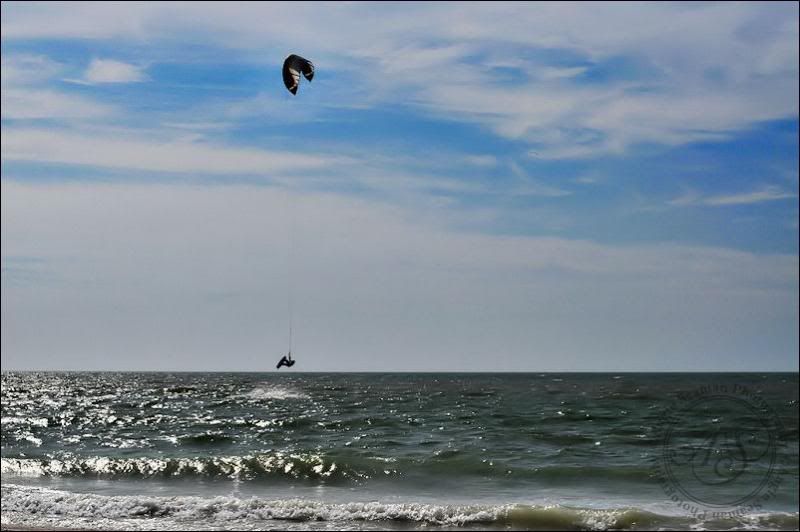 More blue skies and mid 80's for the weather here today in Southwest, Florida. I keep reflecting on this image of the wind surfer that I took and just can't begin to imagine the exhilaration he feels as he flips and twirls above the wave caps. Although similar to the shot I shared the other day, I had to share another one. These guys are out in the ocean surfing like this for hours and hours on end. The amount of strength they must carry in their arms has to be ungodly. I wish I had some of it for carrying Kenidi around all of the time. :)
Brent and Brennen are working on our garage today. They are unloading and organizing tools - manly things - from boxes that Brent had yet to tackle of his. We also took more boxes of "stuff" to storage again today. It's amazing how much we just don't use on a daily basis. (i.e., our big ol' thick and bulky winter coats) Did I mention that they don't have coat closets here in Florida? Guess that isn't something they are used to needing. Strange but understandable. I however don't want to hang my coats in my master closet so I guess they will be staying in boxes for now over in storage, waiting on trips back and forth to Indy before we shall need them again. I used to have a coat fetish - like some women have a shoe fetish. But now...I guess the coat era is coming to an end. No need for even a jacket here. Brennen and I went to the gym/fitness center in our neighborhood last night and then walked around the neighborhood after that. It was dark - about 8-8:30pm last night - and I worked up a true sweat. I had brought a sweatshirt with me just in case the temp was a tad chilly during our walk. However, it was still 78 degrees as of that time last night. Little did I know how warm it would still be at that hour. Again...coat. era. is. over.
Did I tell you that I was changing out my camera lenses over top of a cement sidewalk at the Naples Botanical gardens the other day and ultimately dropped & busted my 12-24mm wide angle Nikon lens? Yeap, sure did. I even had a UV filter over my lens but it never stood a chance - the filter or the lens. They both shattered on impact. Yeah...I was finishing up this shot here...
and this one...
When all of a sudden, the clouds went over the sun and I went to hurry and switch out my wide angle lens with my macro lens. In my midst of hurrying, the wide angle lens fell straight to the ground - cracking and busting on this paneled sidewalk you see in the images above. I stopped dead in my tracks and almost vomited. I knew before I even reached down to pick it up that the UV filter couldn't have saved the glass with that kind of impact. The lens was a goner. THANKFULLY, I have always allowed the camera guys at my local camera store to sucker me into extra warranties. The lenses come with a one year manufacturers warranty but that doesn't include drops or water damage. So...I have always opted to buy the "extra" warranty called the MAC Diamond protection. It is coverage against not only drops but also against water damage for three years. Needless to say, I have just discovered that it is worth every bit of its weight in gold. Due to having that warranty, I am getting my wide angle lens replaced for free. Well...not free but for that $150 I initially paid for the extra warranty. Thank you camera dudes for suckering me into the MAC diamond protection each time I purchase camera equipment. I will continue to be suckered from here on out without second guessing a thing. :) Moral to this story...if you are in the market to buy a new DSLR or have recently bought a new DSLR or new lens, PLEASE PLEASE PLEASE make sure you invest in the extra warranties for the products you purchase. A camera and their lenses are like a woman's purse, you are BOUND to drop them at some point or another. I have dropped my camera twice since owning it. Thankfully, Big Pappa is a T-A-N-K and has survived unscathed with each of the 2 drops. However, had it broke, MAC to the rescue with the diamond warranty protection. YAY! I'm totally sold on this extra investment. Totally. If all goes as planned, I should have my wide angle lens back within 10-20 business days according to their repair department. If they can't repair it, they send you a new one. Not only did I drop one of my most expensive lenses in my arsenal but it is also my favorite lens aside from my 50mm 1.4. I'm definitely having withdrawals without it - especially when shooting at the beach. However, thankfully because of this warranty, I'm still breathing instead of still being on my knees and vomiting back at the Botanical gardens. :)

The kids are doing wonderful in school. Brennen got an interim report from his new teacher and even though it was only two weeks worth of grades, they were great scores and her comments about Brennen made us very proud. He has adjusted to his new class and his new friends very well. His favorite part...going to school in shorts and a t-shirt everyday. Kenidi still has behavior issues getting on and off the bus each day (meaning she drops to the ground and won't walk on or off) but her teacher has assured us that they are having "great" days in class together. We get a nightly report in her backpack and are happy to report that she is even pottying on the potty again while there. This is HUGE. So...we are hoping that after the first of the year, we can really focus full force on the potty training with her again. Keeping our fingers crossed for success when we do attempt it. When we took her to the Naples Botanical Gardens this past week, she was burning up in the heat. When she gets hot, her seizures/epilepsy had a tendency to act up. I then begin looking for quick ways too cool her down. Thankfully, the garden had a children's area full of water spouts and fountains. By the time we left, she had to be stripped down naked and forced into a dry diaper in the back of my car. In a nutshell, this is the set of events which transpired and led to her nakedness...
At this point below, she is literally bathing in it...
And then of course we get the ever famous, "I ain't leavin' - I dare you to just try and get me out of here!" when it came time to go home...
Yeap, that is Kenidi for ya. She stole the show for everyone who stayed around long enough to watch it play out. Brennen got a kick out of shooting with my old "Razzi" again while there. He really enjoys taking pictures. I love that! And as his Mom, I really enjoy shooting with him. Both kids were off school all day yesterday for a "Hurricane make up day." If you are

my facebook friend

then you've already heard about this. Hurricane make up days are waayyyyy different than the snow make up days we are used to back in Indy. The cool thing about yesterday was that because there haven't been any hurricanes this year, the school had a free day. A free Hurricane make up day = a free beach day for us Hoosiers. It doesn't get any better than that. I absolutely love seeing the older boys walking to the beach within groups and with their surf boards in hand. That sight screams RADNESS~! One of these days I'm going to jump out of my car like a crazy woman and ask if I can snap their photos. It would make for an awesome eclectic shot! I often wonder how cool it must be to have grown up on a beach - day in and day out. Brennen and Kenidi have no idea how lucky they are at this point.
For now, I'm going to wrap up this long winded post of randomness and go check on my boys and how the garage project is coming along. Stay tuned for the Build-a-bear winner announcement tomorrow. (Sunday) Thanks to each of you who took the time to play along and enter the give-a-way. xoxo, Angie
Labels: beach photographer, Bonita Beach, family photographer, Florida, Naples, randomness