MY VIEW...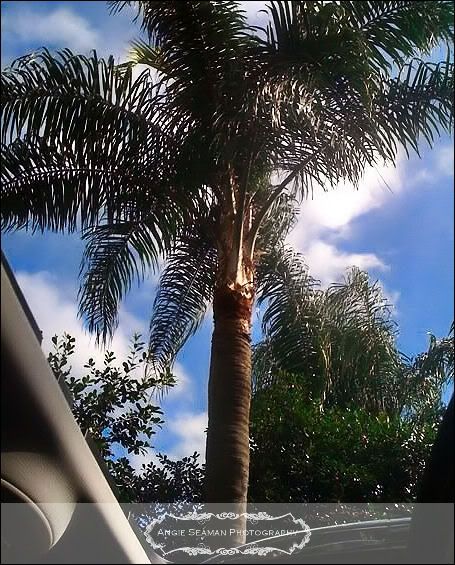 This is my view from my sunroof in my car.
I took this shot this morning with my iphone before heading to the beach with my Mom again for the day. It was too perfect of an angle to pass up. I looked up, breathed in the fresh sea salt warm Florida air and thought..."I must be dreaming. I can't believe I live here now." Mom and I hit the beach for the 2nd day in a row after the kids were all tidied in at school. I laughed when typing my facebook status this morning. I commented on how these daily beach trips with my Mom have the potential to become a very bad habit. God help my domestic duties at home. I'm in trouble! :) Mom and I sat there taking in the sites on the beach and just can't get over the shock of this being our home now. I was at Kenidi's school earlier and went to itch a spot on my arm only to suddenly realize how absolutely fried I was. (sun burned) I giggled to myself when I realized that this time I don't have to worry about my tan fading because my vacation will eventually end. Now we can just hit the beach or the backyard lanai and touch up the tan when need be. Oh yes...life is good sista's! Life is good. I know you guys must be getting so sick of seeing palm trees and hearing of Florida stuff and I apologize for that. This is our life now though and I'm not sure that the shock and awe of it all will ever wear off. Again, I apologize for that up front. :) Hopefully you can bare with me as I adjust to the sheer joy that living here brings me as well as the emotional side of it when I reflect on how much I miss my parents and friends back home in Indy. With this move comes a two way street. Lots of emotions that stem from opposite ends of the spectrum. Thank God for the individual who invented SKYPE. I love knowing my Dad and Cathy are only a computer screen away when I want to see their faces.
As for the kiddo's, they had another great day at school today. Kenidi's teacher and aides have informed me that our child is quite the dancer. The aide told me again today that "this child can dance." We laugh because we know. She can put Shakira's hip shaking to shame. Ha ha! Tomorrow (Thursday) will be a big day for me. Kenidi will start riding the bus to and from school so I'm a bit nervous about that. I've been taking her and picking her up thus far. Please pray that she'll do well on the bus and that it will be an easy transition for her from the bus into the school and vice-versa. Sometimes going from point A to point B with Kenidi is trying - especially for those not familiar with her. I know I am already loving her teacher though. I've learned so much from her in the past 48 hours regarding how to deal with certain behavior issues Kenidi has. (running for doors, dropping to the ground seeking attention, etc.) The stuff she has helped me with thus far has been amazing. Things I would've never thought of but yet they make so much sense now that they've been explained to me. And the door issue - her escape tactics - this teacher already has her "stopping" at the door and not opening it as she normally would have. I'm blown away. The teacher also told me that when we return from Christmas break she will help me tackle the potty training issue with Kenidi. I'm so eager to start that process. I know Kenidi can do it - she was almost there last May but then got spooked and reversed. She just needs someone who can help her communicate it and I feel like this teacher is already breaking those barriers for her on the 2nd day in class. I'm hopeful and confident that this change - this move to Florida - was yet again just another stepping stone toward what is best for Kenidi and Brennen's future. I know God has his hand in every direction we go in life. This move South was no different even though we had moved just a year and a half earlier in Indy. It's all in God's timing - his stepping stones - block by block - path by path - house to house - school to school. Each exit or diversion has a reason. I'm confident in that. And on a funny note...normally when I take Kenidi's shoes off back home after a long day of school, a bunch of mulch from the school playgrounds would sometimes fall out. In the past two days when I take off her shoes following her day here at school, a bunch of white sand falls out from her playtime at recess. Some would find that annoying. I find it absolutely "MARVVVVAAAALOUS!" :) Oh yes...life is good sista's - life is good!
Until tomorrow...Angie
Labels: Bonita Springs, Florida, my view