IT STRUCK...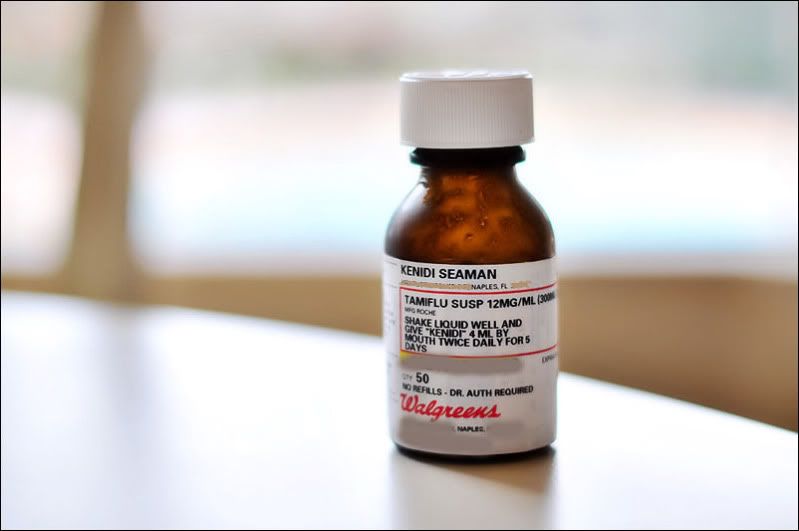 It struck & struck hard. Hard and fast. One minute she was fine. The next minute she couldn't breathe well and had a 103.4 fever. After a trip to the doctor yesterday, a nasal test, and blood work to confirm her white blood cell count was low, she is now being treated for H1N1.
Poor little Kenidi. She always gets the shotty end of the deal. Her immune system just doesn't handle as it should. She is the first to get everything in our family. This thing has kicked her butt (and mine). Last night was rough but we survived. She qualified for the Tamiflu because of her having epilepsy. However, she vomitted upon taking it for the first time right off the bat. I had been warned by the doctor that Tamiflu can cause vomiting. They were right on! Many of you facebook friends confirmed that on my page as well. After setting my alarm for every four hours last night in order to rotate the Tylenol with the motrin, her fever finally broke at around 4am. She was sweating profusely and ended up being in a pool of water - her own sweat - by the time all was said and done. It broke my heart. Although I have a ton of stuff to do, including our Christmas shopping, I stayed in today with her in my lap or laying in my right arm all day today. She has been very clingy and I can't say that I blame her. She'll look at me, ask for juice, then pull on my shirt collar, physically pulling me onto the bed and say, "seep...!" (that means "sleep" in Kenidi's language) It is her best way of instructing me to lay down and just relax with her. Although her fever is at bay, her cough sounds ferocious. We are hoping that she'll have her pep back in her step by Christmas.
For now, I'm off to get ready to head out for a few hours so that I can attempt to wrap up the Christmas shopping which I have yet to begin. Nothing like waiting until the last minute this year. This is a new approach for me. Ask me later how well it worked. LOL! Happy Wednesday.
xoxo, Angie
Labels: epilepsy, H1N1, Kenidi, seizures, swine flu, Tamiflu