CELEBRATING CHRISTMAS BY THE SEA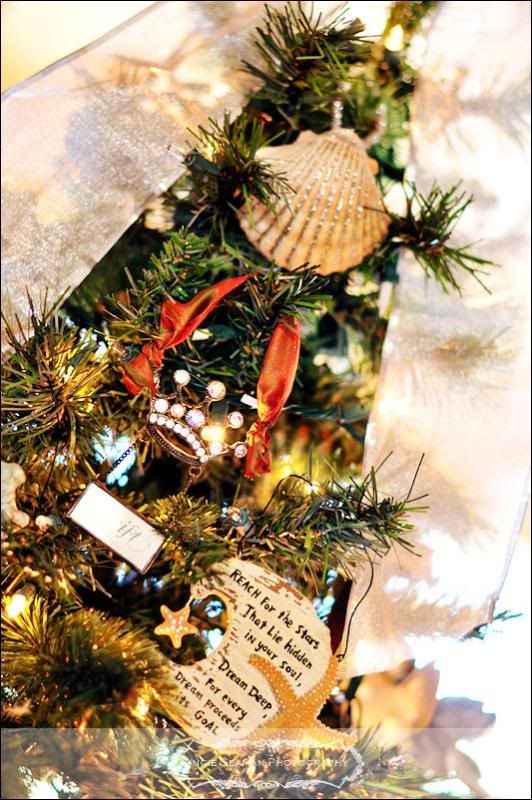 Many of you have emailed me inquiring about whether or not I was going to post photos of our Christmas tree this year like I did last year. You can find last years post HERE. I laughed went I went back to read it because the post was about no longer using my "stupid friend auto" (a.k.a. auto mode) on my camera. Amazing what a years worth of photography workshops and classes will do for your knowledge behind the lens. I remember being so afraid and intimidated by the mere thought of shooting on manual mode. Now though...I rarely shoot on anything else. Auto mode doesn't even exist on the camera I own now. Oh how empowering it is to set goals, go after them, and walk away more educated and more knowledgeable in life because of them. It is such a gratifying experience. As a photographer, it is encouraging to realize that the learning never stops. Photography constantly has new and challenging things to learn. You NEVER stop learning with this sport. I love that about it.
With all of that said...I wanted to at least share some of our ornaments on our tree this year. Some fun ones and a couple of my favs. Last year, when vacationing over Christmas down here in Bonita/Naples, we purchased some "beachy" themed ornaments for our tree back home in Indy. Little did we know that one year later...we'd be living here full time. Before I show you those though...here is one of my favorite ornaments. A fellow ebay designer friend of mine, blog friend, and photographer friend (Hi Tracy!) made this for us last year or the year before. I can't remember when we actually got it. Either way, I love it. It reads "CHRIST" and has the crown to symbolize it. I swoon over its vintage appearance, the beautiful ribbon attached, and the mere meaning in general. It sits on our tree - always - at the top...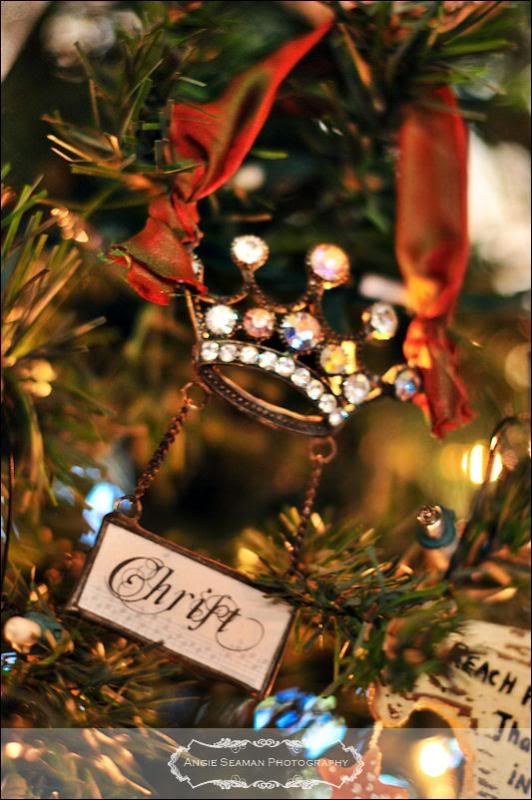 You'll also notice in that very tip top photo above that there is a glittery shell hanging at the top too. My friend Carrie made that one for us this year when she found out we were moving to the beach full time. Apparently Martha Stewart did a special on beachy themed ornaments this year and so Carrie followed those instructions and made us that gorgeous shell. I love it!
Below you will find some of my beach themed ornaments that we purchased down here last year. As most of you know, spending Christmas by the sea is a ritual that our family has embarked on for several years now. We hadn't stayed home in Indy for Christmas in quite a while. Therefore, it seems so strange to already be down here for Christmas this year. Normally we would have been taking this time to prepare for our flight out and down here come this weekend. We would then stay in the Bonita House until around January 5th. However this year, Brennen and Kenidi will have 2 weeks off school down here to just veg out without the hustle and bustle of airports and traveling over their break. It's going to be a nice change of pace.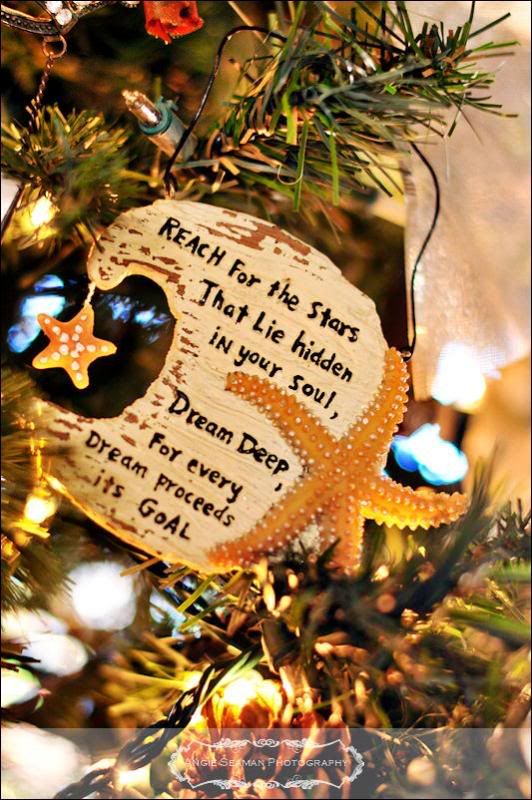 When I stumbled upon these Sea, Sun, and Sand ornaments last season down here, I knew I had to have them for our tree...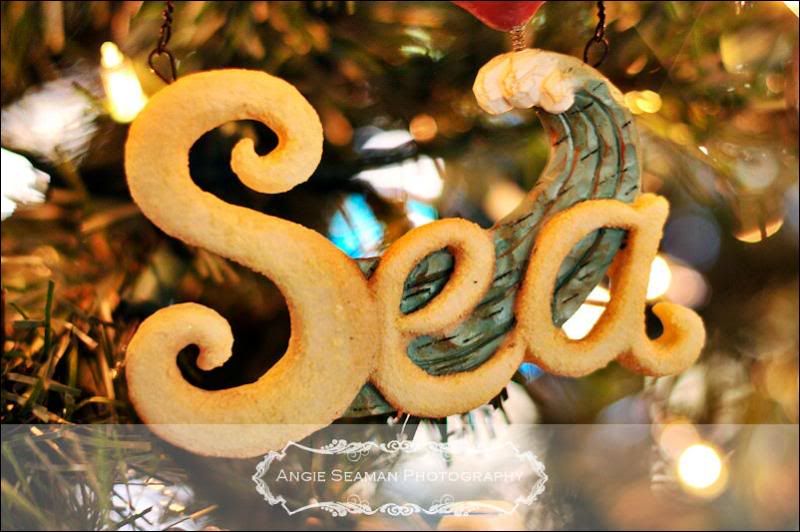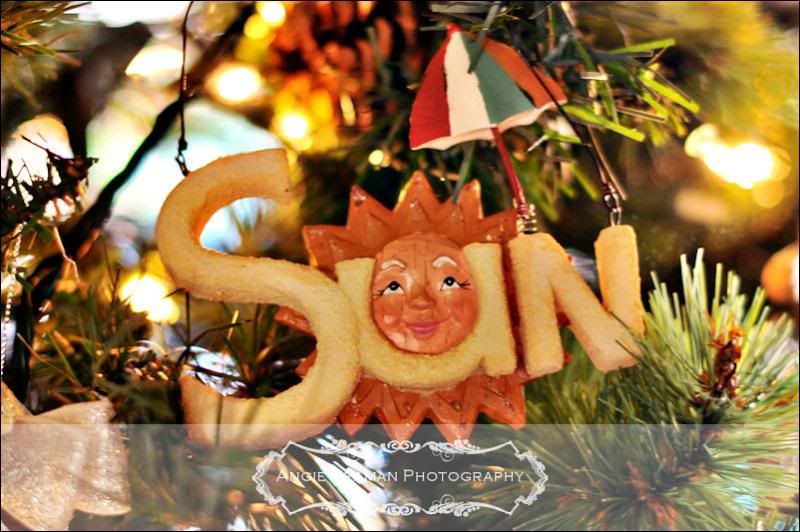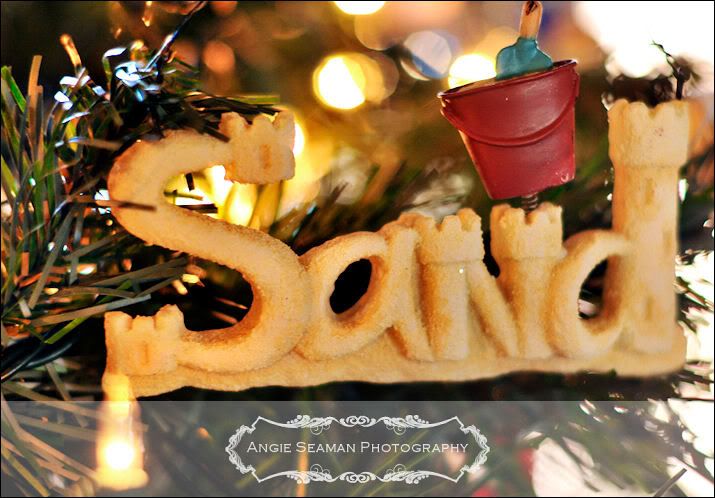 And of course we all need a Santa drinking his umbrella drink in a beach chair donning his flip flops, right...???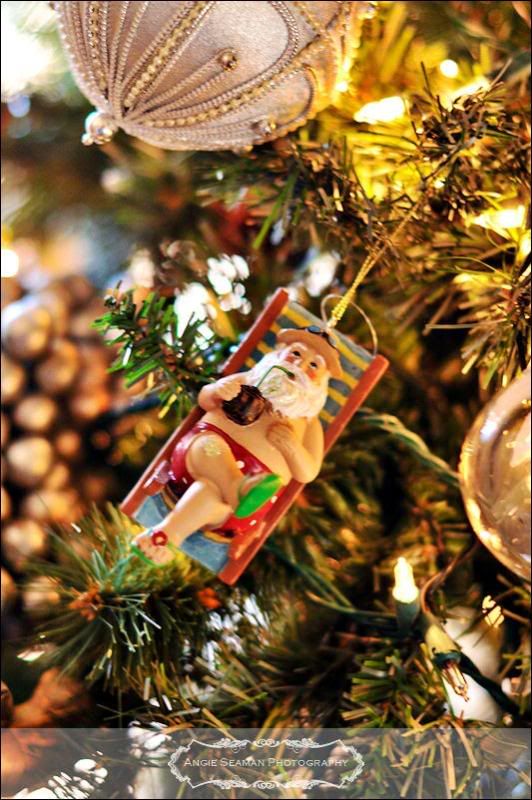 Some more fun "beachy" ones...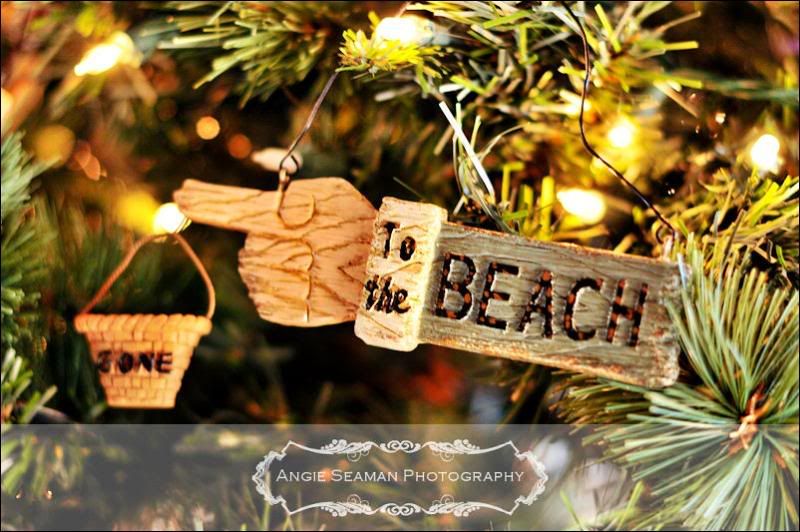 The "sun chaser" one below...well it totally ROCKS. Has my name written all over it...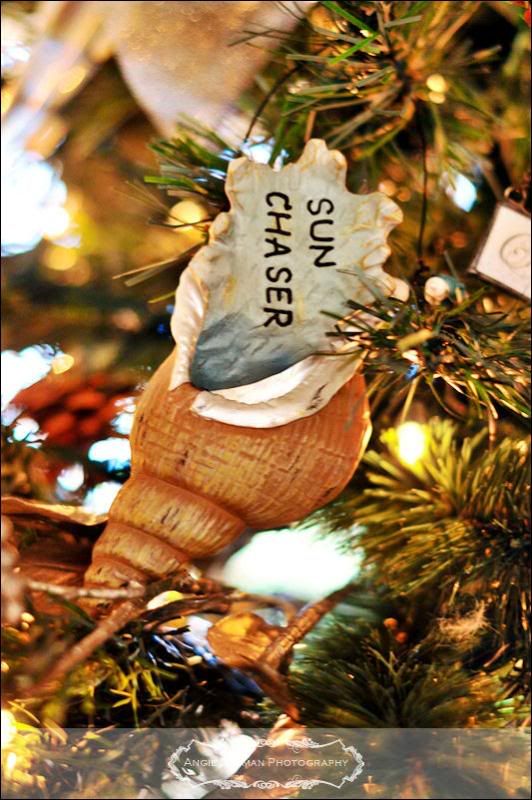 This one below is fun and humorous. LOVE THAT!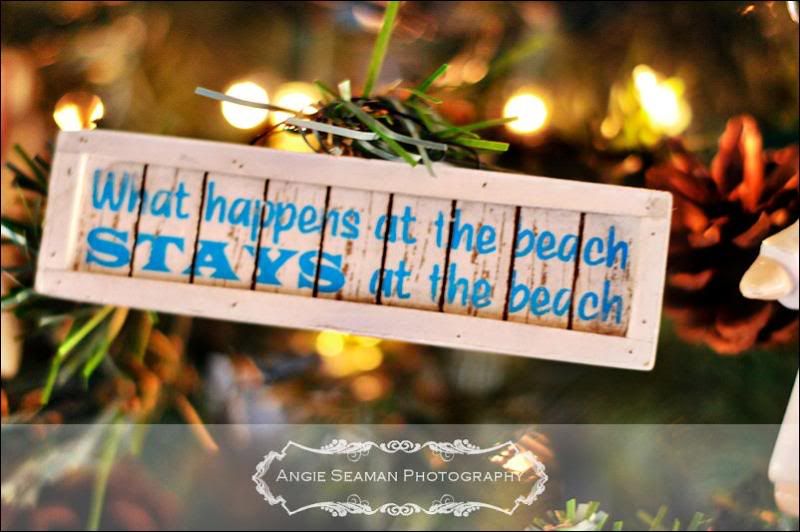 This pink flamingo one cracks me up. "Too cool for the pool."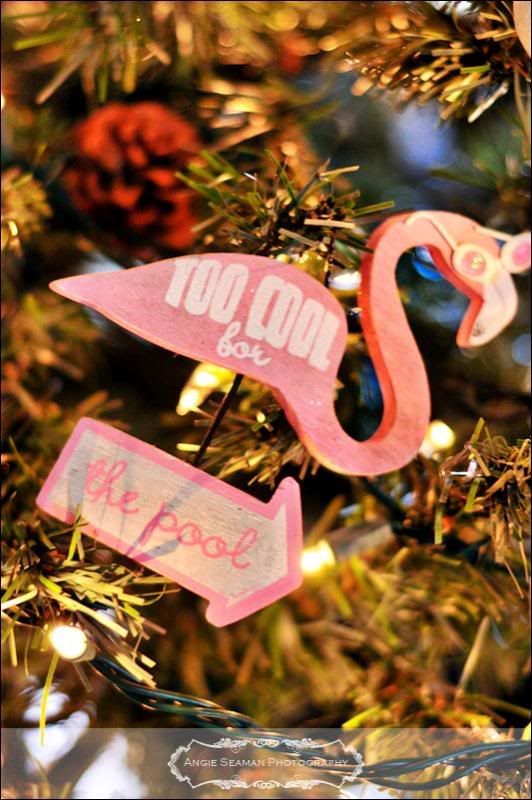 Nautically driven...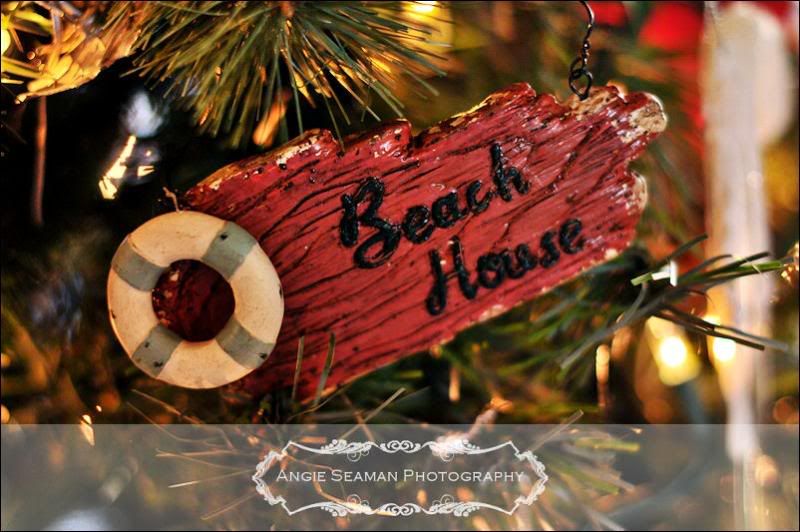 "Life's a beach so catch a wave!" Radness! Love it too!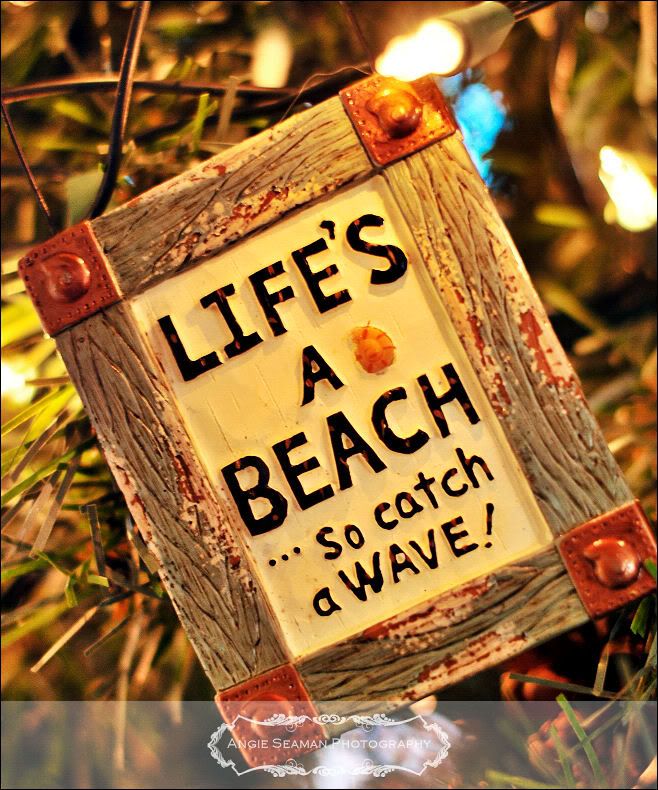 And I believe I shared this one last year. "Christmas ROCKS!" I love it so much! We got it down here in Florida too even though it isn't beach themed.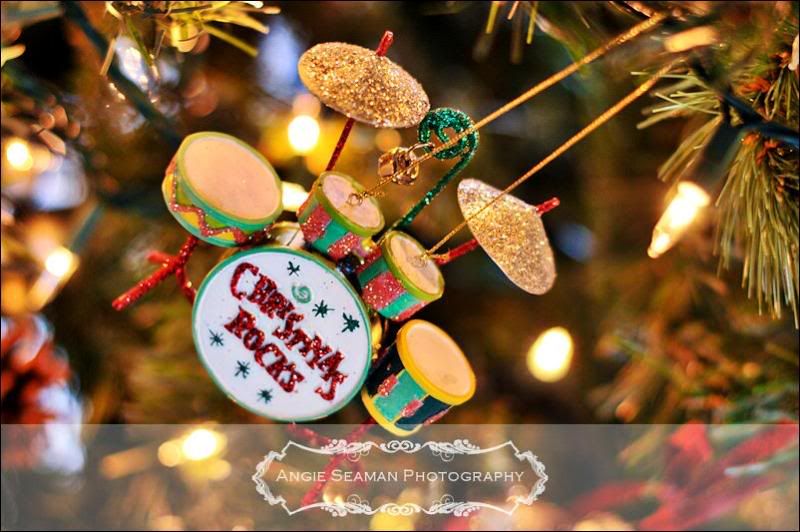 I will admit that spending Christmas by the sea has a different nostalgia compared to what we are used to back home in Indiana when it is snowing and frigid. It's odd to drive by a home with Christmas lights around their palm trees or blow up snowmen in their front yard while it's 85 degrees and sunny. However, although the nostalgia is different without the frozen tundra temps...I have always been one who does not miss those temps and would much rather be where I am today - in sunny and 85 degree weather - than back in Indy with cold rain, sleet, and/or snow. A friend of mine just came back from Cancun last week and she described Indy so perfectly once returning. Her exact words were that after being in Cancun, it was all just so "black and white" when she came back to Indiana. I told Brent that her description of Indy being black and white was such a good analogy. Winters in Indiana are so monotone. No color. Cold. Very gray. Extremely depressing. Did I mention cold? LOL! When you live somewhere tropical, it is very easy to appreciate all of the color, warmth, light, etc. after having been a resident of somewhere polar opposite of that for 34+ years. Needless to say...even though we laugh when we see blow up snowmen next to palm trees here in Naples - in the front yards of our neighbors - we can totally appreciate their desires to make their own Christmas nostalgia due to not living in a cold, snowy, climate. In the meantime, our family is enjoying that hum of the air conditioner in the background as we gaze over at our Christmas tree this year. :)
Happy Monday friends. Angie
Labels: beach ornaments, christmas by the sea, nautical