ROAD TRIP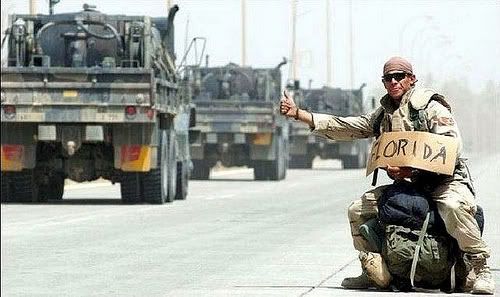 Well, we are alive. We made it only a few hours before stopping at a hotel late last night. (around midnight) My Mom got tired and was ready to cash it in after about four hours of driving. I don't blame her...we were all exhausted after the move yesterday and the couple of nights leading up to the move. We stopped at a hotel somewhere in Franklin, Tennessee where we ran across an overly friendly and very giving registration desk gal. (waving high to all of my Tennessee friends right now) :) The front desk girl gave me an AARP discount beings that we were coming in so late. I didn't know whether to laugh or cry. She did let me know that she knew I wasn't old enough for an AARP discount but she wanted to give it anyway. Now that is my kinda' girl. Maybe we should make her an AGD sista. Ha ha! Really though, she was just too sweet for words. You guys know how much I appreciate pleasant customer service in this world. It's hard to come by now days. (unfortunately) So...if your travels should ever take you to Franklin, Tennessee...make sure to stop at the Holiday Inn Express on Neha drive and ask for Megan. She was a real doll!
It's about 8:15am Indy/Florida time and we are now ready to get up and headddddd em' ouuutttt! I told Mom that I'd like to be on the road again by 9am. Let's see if I can align the troops and make that happen. HA! We are a bit outside of Nashville, TN now and still have about 13 hours ahead of us. It's going to be a long drive beings that we quit so early last night. Either way, I look forward to conversing with each of you along the way via facebook. I can't thank you all enough for keeping me awake last night by commenting on my status updates as I updated my facebook page each hour. Should you want to friend request me (if you haven't already), click

HERE

. You can then follow along with the us. :) I even got the great pleasure of rolling thru Louisville last night only to have someone come up beside me - window to window on the hightway - honking their horn like a crazy woman. When I finally looked over and realized what was going on, I saw that it was a dear friend of mines sister. It was Amy Babbs sister - Tracy Vance. Hi Tracy! I can't believe you passed me on the road girl. So funny! How crazy is that?! What were you doing in Louisville, KY??? Either way, it was good seeing ya gur-fren! :) For now, I'm off to blow dry my hair, grab some breakfast, and hit the road. The good news is...well aside from the fact that it is going to be 84 degrees in Naples today, is that the sun is shining - BRIGHTLY - and it's a gorgeous day outside. YAY!
xoxo, Angie