IN THREE DAYS, IT WILL BE FRIDAY.

It's Tuesday night. In three short days it will be Friday.
In three days, we will be packing our cars and the moving trucks. Cars and moving trucks bound for Naples, Florida. We will depart Indiana on Friday evening - driving half way, stopping to sleep for the night at a hotel mid-way, then picking up where we left off on Saturday morning. If all goes as planned, we shall be official "Floridians" as of Saturday night - around 9pm. We will leave the title of "Hoosier" behind but it will forever be embedded in my heart - just like the initials 'CG' are.
And for those who've asked...yes, my Mom is moving and becoming a "Floridian" right along with us. She is not moving in with us but she will be staying in our Bonita Springs house until she finds a place of her own. We on the other hand will be about 20 minutes south of there - in the heart of Naples. 4 minutes from the beach and 5 minutes from 5th avenue. Although moving from Indy will be tough, the geographic location where we will now reside sure will make it easier to stomach leaving the "Hoosier" state. Those flights back and forth to Naples over the past couple of months paid off. Our mission was accomplished. We found a place where our family of four will be comfortable and where the schools are rumored to be great. The schools were a big part of our research. Florida isn't really known for great public schools. Therefore, we spent many hours on the phone, speaking to other locals, and just investigating the schools in general. We based our new residence on the school(s) we wanted our kids in and were NOT about to move until all of the stars aligned and we found something within that few mile radius.
But back to my Mom...beings that I'm an only child and my Mom isn't married, she hasn't got a whole lot tying her to Indy right now. She has sisters here whom she will miss a lot and whom are already missing her at the mere thought of her departure. However, she has always said - for years - that if we should ever decide to pack up and move to Florida, she would be going too. And she is. I didn't even have to ask her. It was just an unspoken and automatic notion. I am thankful to have my Mom coming with us. She immediately said..."When do I need to start packing?" It will be great to have someone there that I know. It will be lovely that she is just down the street in Bonita in case we should need help with the kids. But the best part will be on those mornings when I put the kids on the bus and can call her up and say...get your beach bag ready...I'm picking you up and we are going to go lay by the seashore all day - catching the suns BEST rays. You see...my love for the sun came from my Mom. It was genetically instilled in me from the time of conception. My Mom is the type that back in the day...when I was little...used to climb a ladder to her roof and then lay on that 'said roof' all day long until she was fried beyond belief from the sun. She truly believed that the black shingled roof helped her tan easier and quicker. Not only did she tan on the roof, but she would use one of those aluminum foil looking reflector blankets to lay on. You guys remember those back in the day, right? Yeap, those are a few of the fondest memories of my Mom. Ha ha! So...my love for a good tan, the warm sunshine on my face, and the mere feel of the melanin rising to the top surface of my skin from the heat outside is a direct result of watching my Mom do what she did best during our Indiana summers when I was a kid. I remember taking a trip to the Bahamas with just my Mom and my aunt when I was in high school. We laid on the beach all day long - soaking in the sun - like it was the last day we'd ever see it. Yes, we are addicts. Yes, we will look 80 by the time I'm 40. But know this...Florida senior citizens are WAAYYYYY healthier than Indiana senior citizens. Why? It's because of all that vitamin D they get from the sun. I'm sure of it. We see 80 and 90 year old men and women out boating, walking the beach, perusing the shops, and dining at the ritzy restaurants in Naples just as though they were 30 again. They ROCK it out - living like they are dying - everyday in Florida. We always talk about how healthy they all look and what a gorgeous glow they all have. They keep a kick to their step unlike our older/elderly community here in Indiana. The Hoosiers of that age are old, frail, brittle, and fragile. Indiana winters cause falls which causes bad injuries in the elderly. It's no wonder why they age quicker and harder here.
There is a reason why we - as human beings - have a natural radar that goes or gravitates toward beaches when vacationing. God totally knew what he was doing when he made the shorelines and invented beach chairs.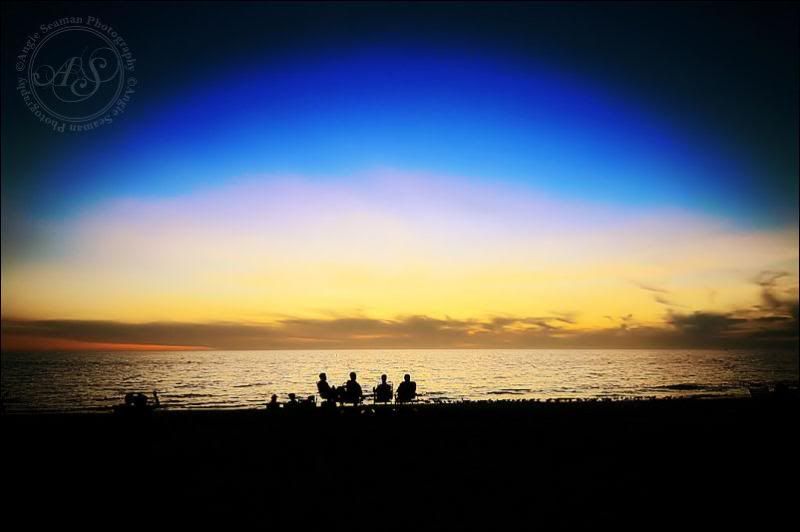 It's Tuesday. In three days, it will be Friday.
...Angie
Labels: Bonita Beach, Bonita Springs, Florida, moving, Naples