HAPPY THANKSGIVING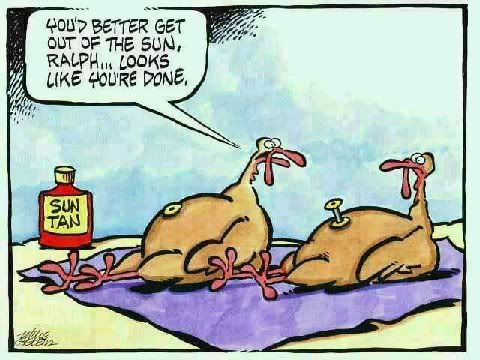 Happy Thanksgiving ya'll!
I hope each of you are stuffing yourselves to the max right now. I know I will be soon. We've got two great cooks here for the day - Lou and my Mom. I plan to take full advantage of their mad skillz throughout the day today. Ha ha! Mom and I were too tired to even think about doing a full turkey style spread today. This move sucked every bit of energy out of us that we had. Therefore, we are doing a nice brunch this morning and then tonight Lou is going to whip up a grand Mexican fiesta for all of us. I'm not a fan of turkey and would much rather have chicken flautas and a heaping bowl of guacamole dip in front of me to devour. However, I am missing my Dad, Cathy, Grandma Dixie and Patti today though. This is the first year EVER that we are not there in Indiana to celebrate Thanksgiving with them. I am totally missing Cathy and Dixie's food today so it is best that I not dwell on it. We love you guys and miss you terribly. Then you have Brent's Moms cooking that ROCKS as well. I am craving some of her homemade noodles right about now. Gosh, I need to just quit with all the food. WHEW!
I hear that Indy is only going to be in the thirties today with rain. I told my aunt that I'd be thinking about her while I was sitting under a palm tree today in 80 degree weather. Ha ha! Honestly...I haven't even had much time to focus on the weather since arriving here. The move has captivated our attention as you can imagine. The furniture and boxes are in the house now - completely. The moving trucks have been returned and we are currently left with the aftermath. Mom and I managed to put a good dent in the boxes yesterday. I think there is only about 20 more boxes to unload and organize. I have major OCD issues so I'd rather get them all done and put away - one by one - and then rest. Mom was teasing me because she likes to open 10 boxes at once and then move amongst all ten when unpacking. I only open ONE box at a time...put the whole entire box away...then move to the next box. It's a process for me. If I get out of whack with it, I get overly stressed. I know...I know...I'm not right! Brent and Lou will be hanging all of our TV's today or tomorrow and Mom and I will be tackling the rest of the boxes at that point. From there, it is just a matter of hanging pictures, accessorizing, etc. We are just leasing the house we moved to - for a year or so - until we decide exactly what area of Naples we want to reside in permanently. The thought of moving again anytime soon makes me physically ill so gosh only knows when I'll be ready to attempt this in the future. I can't bare the thought.
Funny story...we were officially welcomed to the neighborhood last night with a citation on Brent's truck. He had it parked on the street past 7pm and apparently that is a no no. Never mind the fact that we were moving in and had a huge moving truck as well as my truck in the drive, etc. We couldn't believe it. My Mom goes..."Man, whatever happened to the days of people delivering brownies to your front door when you were new to the neighborhood?" Ha ha! We just couldn't get over it. The sticker across his windshield said that this was his only warning and that next time the vehicle would be towed. I guess they aren't messing around. We did manage to take our vehicles and get the labels placed on them for the laser at the entrance of the neighborhood yesterday. 75% of the neighborhoods here in Florida are gated. Therefore, you have to have bar codes placed on your windows in order to get in and out past the guard shacks. We found the time to get the cars bar coded and are now official. It's the little things that take all of the time to do. The little things that add up and cause your to do list to accumulate.
Oh and yes...we met with the new school this week. That went great. Brennen will start school Monday and Kenidi will be starting back on Tuesday or Wednesday. We loved all of the staff that were in the meeting and now we can't wait to meet Brennen and Kenidi's teachers next week. We here that Kenidi's teacher is awesome so we are very excited to get to know her. We have no idea who Brennen's teacher is yet but we'll find out Monday morning when we arrive. Aside from school appts., tours, etc., we've also had doctor appts. for prescriptions and physicals that the schools here needed in order to enroll them. Then, Mom has needed to go around and find a new bank, get a temporary p.o. box, and so on. Therefore, it's been quite busy - quite crazy - to say the least. Kenidi is doing a bit better as of yesterday. Once the boxes began to clear out and she saw some of her furniture from home, I believe she started to recognize things that she related to "home." The familiarity of simple things such as our great room couches just made her smile from ear to ear. We got her room put together as best we could last night and she loved hanging out in there while we were unpacking. On another funny note, she lost another tooth yesterday but we have no idea where. We are thinking she could have swallowed it without us knowing. Her dentist has assured me this happens all the time but I would have preferred her not. Unfortunately, she can't tell us when it is ready to come out - we just have to keep checking on it. At some point though, she must have bit into something and lost it on her own. She thought it was hysterical when we discovered it and made a big issue of it. :)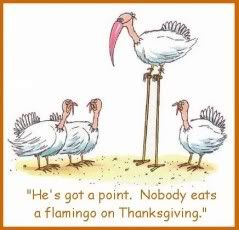 For now, we are off to enjoy Thanksgiving and all of its glory with our family. I'm sending huge hugs and big thanks to all of you out there who read this blog everyday, support my businesses, and who just treat our family as though it were your own. You guys mean more to us than we could ever possibly describe. I'm so blessed and thankful for each of your friendships. Much love and many blessings for 2010, Angie
Labels: 2009, Happy thanksgiving