A FAVORITE FIND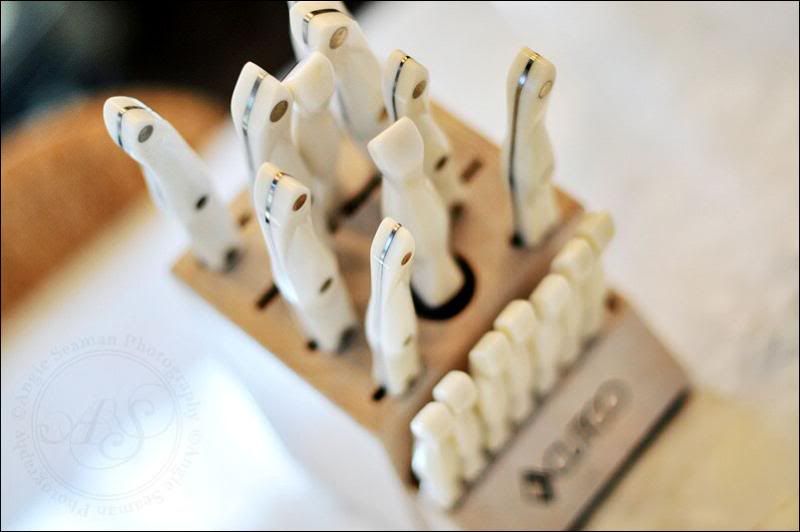 Well...as dumb as this one is...I'm going to share it anyway. You guys always like when I share my favorite finds and today...I'm sharing my kitchen knife set. HA! I was in the kitchen making chili yesterday as well as cutting veggies up to make some homemade guacamole dip. While doing so, I got to thinking - like I always do - about how much I love our knife set.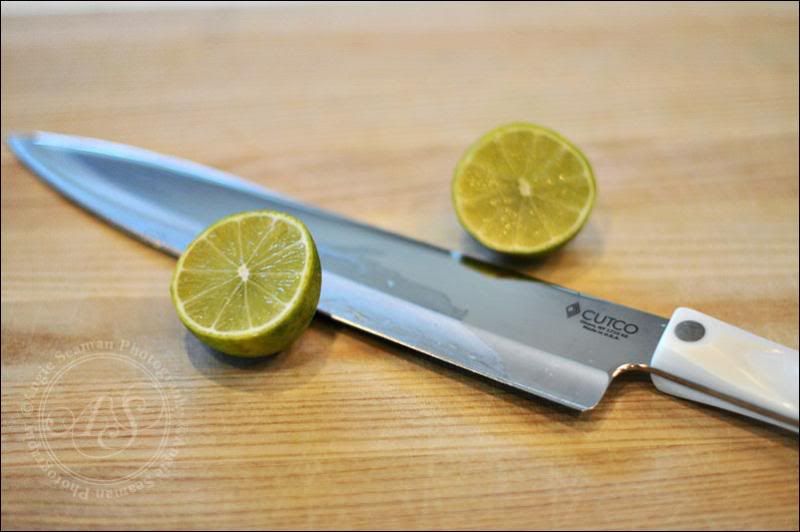 Years ago, my cousin was selling "

Cutco

" knives as a side job when she was younger. It was early on when Brent and I were married so we didn't have a lot of money to be spending on nice knives - let alone when I wasn't even much of a cook. However, we supported my cousin and bought 4 - yes just 4 - simple steak knives from the Cutco company via my cousin. It helped her commissions and it helped us cut up our steaks. :) For years after that, both Brent and I wished that we had gotten more from Trina back when we placed that order with her because the four pearl handled steak knives we bought were A-MAYYY-ZING!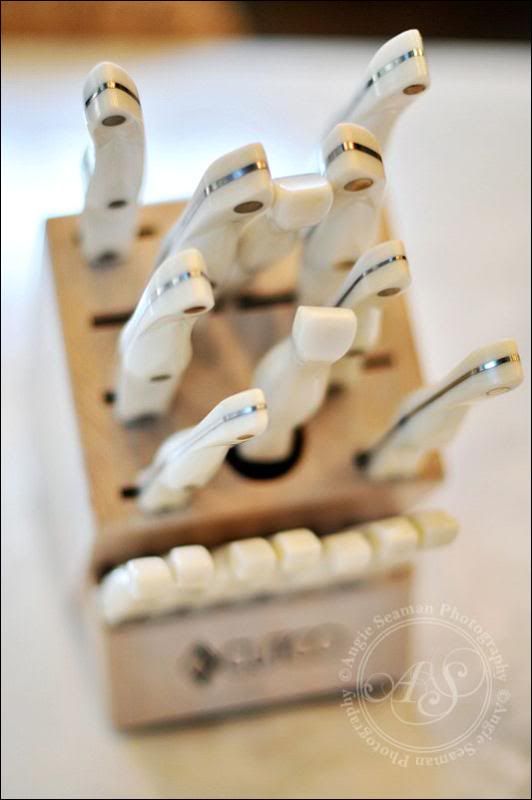 Fast forward to several years later when we had a stranger - a young college age boy - show up at our home via the referral of a friend of ours. Apparently he was working for the Cutco company & had sold some knives to our friends. Once the sale was complete, he asked for referrals from them. They gave our name. We allowed him to come pitch his 'spiel' to us and ended up falling in love with the full butcher block set. I remember at that time...thinking that the set cost as much as a small private island probably would. Looking back, I realize now that they were worth every bit of their weight in gold. I see now why they were so expensive. We've had this butcher block set for 7 years now and it still looks brand new. And the initial 4 steak knives that we bought way back in the early years...betcha' can't tell which ones those are while lined up with the other 4 - side by side in that butcher block, can ya? That's OK...neither can we. They are THAT good! We ended up getting the butcher block set and adding an additional 4 more steak knives to the 4 we already had from years earlier.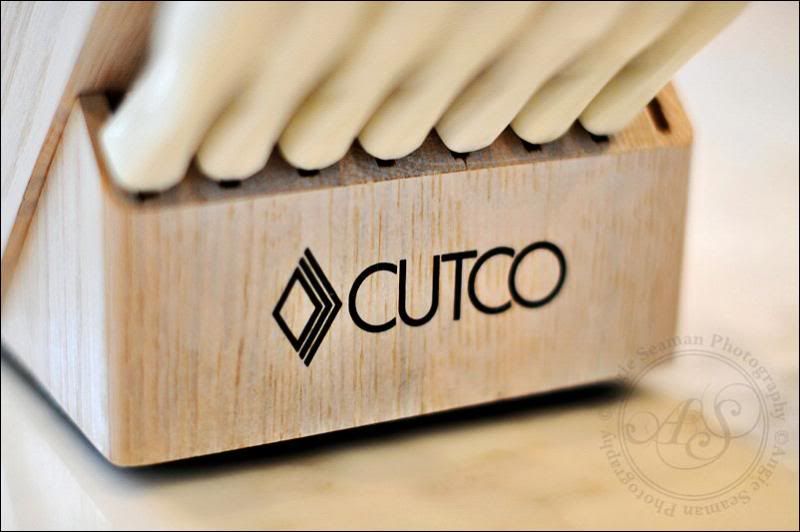 I was telling Brent yesterday that in all the things we've purchased or invested in thru our almost 16 years of marriage, this Cutco knife set has by far been the best of all of them. They have earned their keep 100 times over again. Anyone who has ever cooked in our kitchen and used this set, always LOVES them. I also love the fact that you can get them in the pearl handle design with the bleached wood butcher block. Uh huh...think beachy. White handles and a bleached wood base. :) They are amazing in their quality and will literally cut your torso in half should you ever try it. No joke! I've teased Brent with words like..."I will cut you" - many a times recently while holding the butcher knife shown in the photo above. And instead of a pillow over the face while he slept like I joked about doing

HERE

, I've recently teased about those knives again - reminding him that it is in his best interest to sleep with one eye open and his legs crossed at night. HA HA! No seriously though...these knives are top notch - the best EVAH! One of the major selling factors in the sales pitch that we had with my cousin Trina that time was watching her cut a penny right in half with their pair of kitchen scissors that they sell. Again...A-MAYYY-ZING!
So...while cutting up the veggies with my Cutco knives in my kitchen yesterday, I suddenly thought..."these knives are one of my all time favorite finds - I should share them on the blog!" (Actually my cousin Trina helped me find them but you get my point) If you are in need of these type items, visit

Cutco online

. They'll send a rep right to your front door. I promise I wouldn't steer you wrong. Not only that but you never know when your spouse might get outta' line and you should need a retaliation weapon. Hee hee! :)
xoxo, Angie
Labels: Cutco knives