48 HOURS LEFT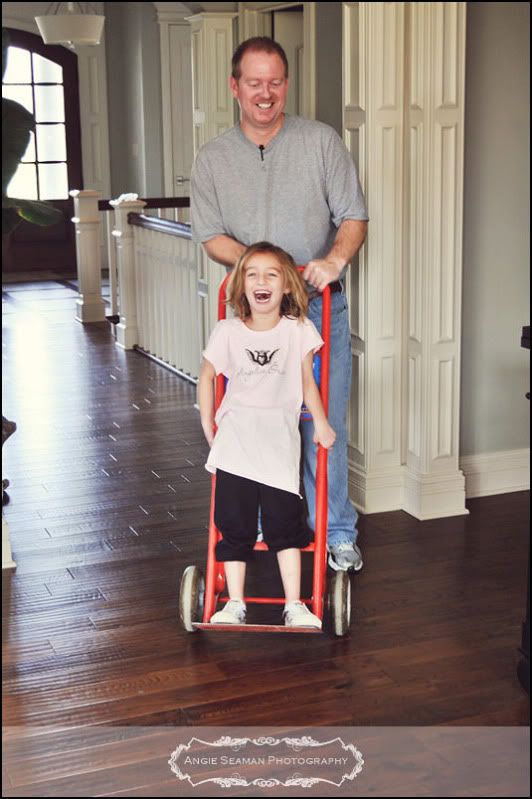 The fun moments of moving...
Kenidi being pushed around on the dolly by her Dad...
I love how she fits just perfectly inside the contour of it. So funny!
Also, I'm sure you can see that we are in the process of altering the blog a hair. I thought that I wanted to give it a new fresh makeover. You girls know how I love to change things up a bit from time to time - never keeping anything long enough for it to get stale. Same goes for my AGD logo. If you have a good eye, you'll notice that I changed up my logo design a bit. Well

Crystal

did it for me - I just told her what I wanted and she magically makes it happen. I had her remove the crown and the heart from my logo. I wanted only wings from here on out. Reason being, it is the wings that AGD is known for - not the heart - and not the crown. Not only that but I have had the logo just long enough for several people to copy the design. I'm not fond of the copying especially when one of them was supposed to be a good blog friend. Therefore, in an attempt to always stay ahead of the game and keep the AGD look but yet always keep it fresh and out of the box, I trashed the heart and the crown, and made it a bit more grown up. Less girlie and more cottage chic. Less zebra-ish or less of a black and fuchsia color scheme and opted for a more beachy look. A fresh and clean new vibe. Angie. I just wanted it to scream AGD & Angie. So...I'm thankful to have a look that isn't blending in with the over saturated amounts of wings, crowns, and hearts now. I love the look and think that

Crystal

and

Amy

ROCKED it like they always do. I hope that when you log onto this page now that you will instantly be propelled to the shoreline with us and that you will enjoy your time here as though it was a virtual vacation of sorts. I can't wait to share the Naples treasures with each of you.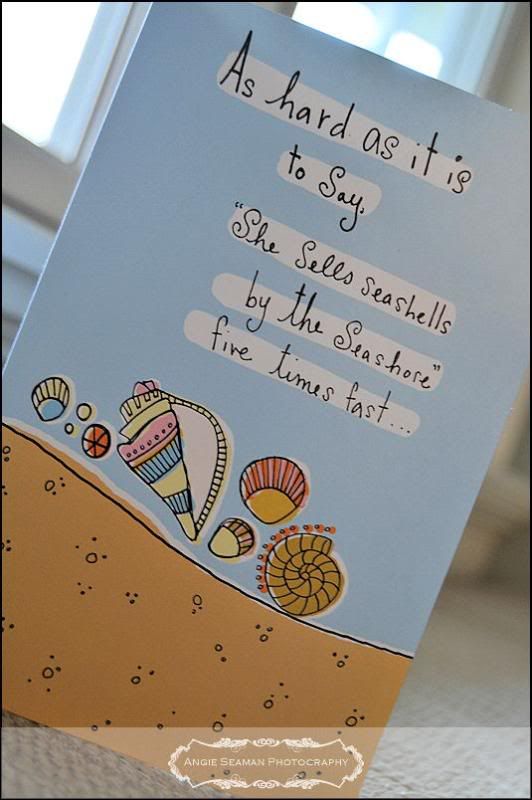 This card was given to me by my dear friend Tamara. I met Tamara several years ago when Brennen became friends with her son in 2nd grade. We've enjoyed our time with them ever since. They are great to vacation with and we love their company no matter where we are. Tamara and Joe are considering buying a vacation home in the same neighborhood that our Bonita Springs house is in. We are keeping our fingers crossed that they will so that they will have an excuse to come down and hang out with us all of the time. :) Either way, Tamara gave me this card after our dinner together the other night along with a bag full of "good-bye" gifts that I fell in love with. The card was my favorite though. The wordage on it couldn't be any more perfect. Just had to share...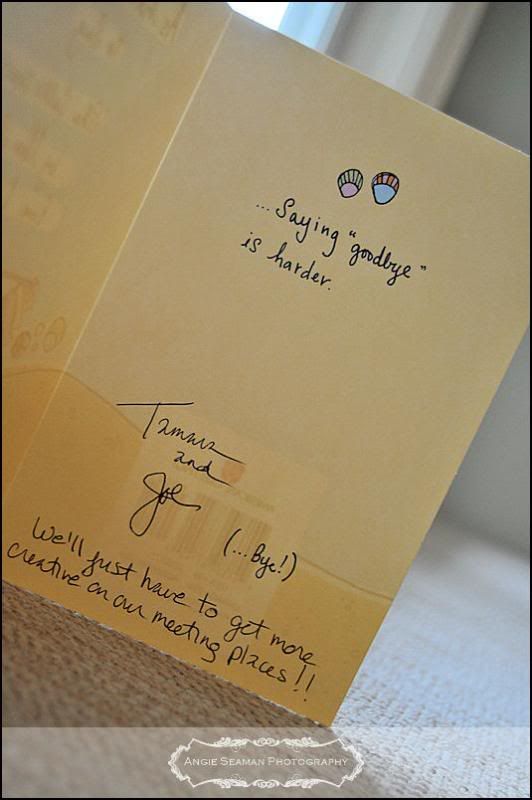 And speaking of Brennen...a couple of you have asked how the kids are taking the move. Well, it's like this...Brennen is now 10 years old and in 5th grade. He adores his friends here and will miss them terribly. We've assured them that they are welcome at our home in Naples anytime they want to come down. Fortunately, the area where we live has lots of families who go on Spring Break to the Ft. Myers Beach area each year. Beings that we will only be about 40 minutes from Ft. Myers Beach, we are hoping to keep in touch with many of his friends just on Spring break alone not to mention the rest of the year too. Brennen is excited and nervous all at the same time regarding this move. I am the same. Thankfully he is a pretty outgoing kid and makes friends easily. I'm praying that lunch time and recess will be a breeze for him that first day/week. That is my only worry - those moments in general. Brent and I decided that if we were going to move, we needed to do it NOW. It was going to be easier to transplant Brennen there in Naples now - rather than waiting until junior high or high school. He will be at the elementary school for about 5 months before migrating over into the middle school next year with everyone else. The next 5 months will give him just enough time to meet some friends to "move over" into the middle school with. We didn't want to throw him into the junior high next year to fend for himself. We truly believe that getting in the elementary school for the next few months will be a plus for him as he transitions to the junior high next year.
And Kenidi...well...she is a whole other story. Although she doesn't quite understand what is going on, I realize the transition will be tough for her into this new school - mid year. It will be tough for me as well to have to watch her adjust. However, without going into a ton of detail here on the blog...I'd rather watch her transition into a new school in Naples than have her stay in her current school even one more day. I have not discussed her school much here lately out of fear of hurting some feelings or causing an uproar. However, after meetings with the principal of the school as well as repeated conversations with her current teacher, to say that Brent and I are disappointed would be an understatement. Kenidi has come home with multiple incident reports from the school nurse this year - sometimes weekly and even twice a week - due to injuries she is receiving while at school. Sometimes the injuries are explained by acknowledging another child hurt her within the class but then there are most times when no one seems to know what happened to her to cause the injuries. The aide doesn't know, the teacher doesn't know, etc. As you can imagine, sending your child - who can't talk and tell you about her day - to a school where she is coming home injured on a regular basis, really makes your job as a parent even that much more heart wrenching. The school is understaffed and has admitted that they are short on aides and now her teacher has even left for the year due to maternity leave. Kenidi is extremely scared - more like "petrified" of a particular aide in the classroom. When I take her to drop her off, she breaks down and goes into a mode I've never witnessed before when she thinks I'm about to leave her with this particular aide. The bus driver has noted it as did Kenidi's speech therapist at the school. They all confirmed what we were seeing. I don't believe this aide is harming Kenidi but there are other factors that I know cause her fear when it comes to this woman. We've repeatedly asked the school to work with helping Kenidi and this aide transition together but no one is listening. And the final straw came just a couple of weeks ago when I went to drop Kenidi off at school one morning. Her teacher never came outside to get her as scheduled - nor did the aide who was working that morning. When I called inside the school after all of the buses had come and gone and we were the only ones left, the front office staff sent out a school janitor to come and get my daughter from me at the back of the school and walk her to her class. Oh yes they did. Now...I know the janitor is definitely an up and up kind of guy. The principal assured me that he would have released his kids to this janitor anytime. However, I am NOT the principal. I'm a parent who is responsible for the well-fare of my children and I'll be darned if I'm going to release her to a school maintenance worker instead of her teacher - as planned. That janitors job is not to get my kid to class. That is my job and her teachers job! Nuff' said.
So...let me repeat myself again...I would rather watch Kenidi have to endure the adjustment of a new school mid-year rather than to have to watch her go thru one more day of torment at her current school. Clearly there are issues there. People are dropping the ball and they've admitted it. The children in that special needs class have gotten less than 50% since the first day of school began. I'd like to say that her teacher "checked out" in recent weeks when she got further along in her pregnancy. However, the truth is...she was never "checked in" from day one. As you can imagine, this is hurtful for us because we had her in the best school with the best teacher and the absolute BEST aides last year.
Unfortunately, the district let most of those people go and then shuffled everyone else around to different areas. So...it's tough when one school, one principal, one teacher, and four different aides spoiled us rotten regarding the care and love they showered our daughter with when she was in their care - only to go to the polar opposite when the district changed her school this year. Thankfully, I've been able to remain good friends with her teacher as well as an aide of hers last year. We love them dearly and miss them being in her life more than words can describe. I used to always hear about the horrible time that parents of special needs kids have with schools before I had Kenidi. However, I never realized the drama and its complexity until I had a special needs child of my own. As her only advocate in life, Brent and I will do whatever we feel necessary to keep this child safe and comfortable. And at this point in time, that means moving her to a new school.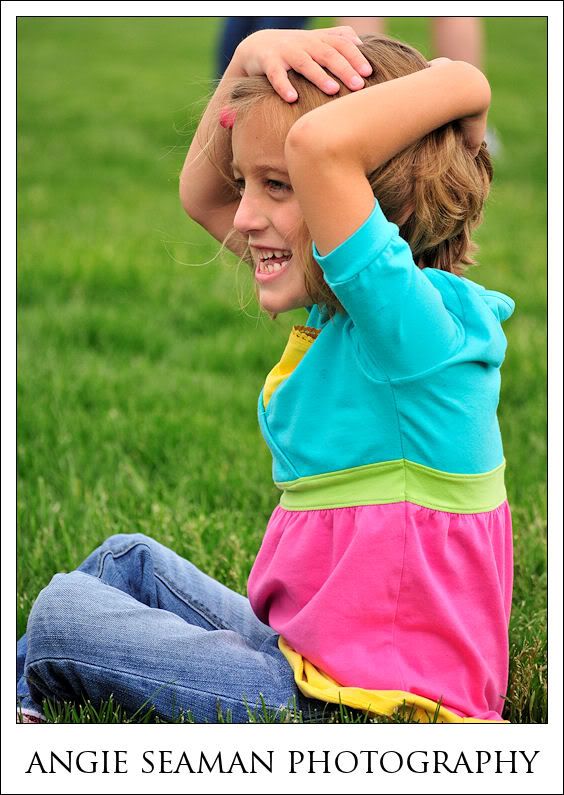 Are we moving just because of her school, No. Not at all. Truth be told...this move to Naples has been in the works for 10 plus years. Deep down, even you guys knew I'd end up there someday. An opportunity presented itself to go now, so we are going - before I change my mind again. I swore I'd never leave my parents and move there. Now look, I'm leaving my Dad and Cathy behind as well as Brent's mom. It's a tough decision. In the end though, life's curve balls helped me make that decision. My goal is to get to Naples, dig in deep, and go gung-ho with my photography business there. I want to make a name for myself and build a business that can sustain itself for my family. Photography is a HUGE passion of mine and I feel that I can promote it there better than here in Indy. I can shoot year round there. As a natural light photographer, I only get 5 months or so here in Indy to shoot each year. And that is if Mother Nature doesn't cause me to have to cancel sessions due to weather issues. Naples is a tourist area. People flock there for family vacations and tons of them want family photos on the beach when in town. I want to embrace those wants and cater to the those families willing to let me photography them. I've been there and know how hard it is to find a beach photographer or any photographer for that matter when on vacation in a tropical area. Due to my own experiences when searching for a photographer, I plan to hopefully saturate the market there in Naples and Southwest Florida in general. We'll see where the good Lord takes this. I'm letting him lead the way. For all I know, he'll get me down there and away from photography doing something else totally different. I heard a saying the other day that said something to the effect that God laughs at our "10 year plans." I truly believe that. He totally has his own agenda and I'm confident that his agenda is always best. :) Less than 48 hours to go...
xoxo, Angie
Labels: Bonita Springs, Brennen, Florida, Kenidi, moving, Naples