LOVE MY TERVIS!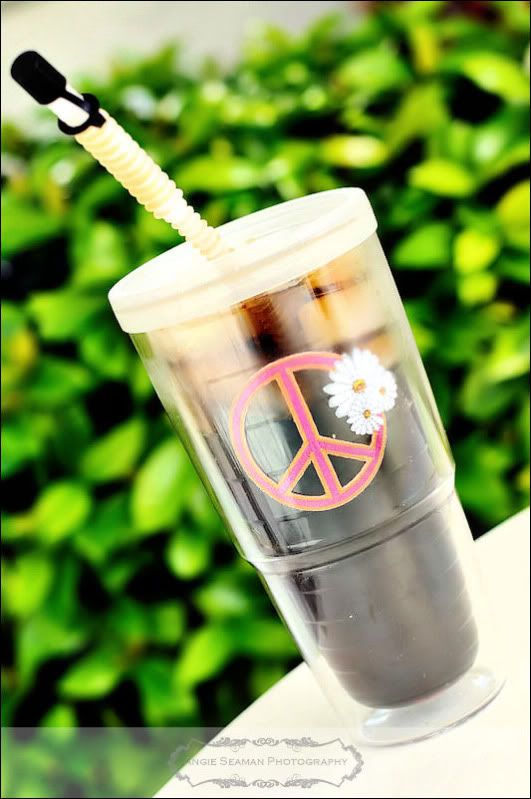 I got a text from a blog reader/friend from Atlanta last week and it read like this..."Do you have a Tervis Tumbler?" I immediately laughed out loud because I thought...Oh boy do I ever have some Tervis Tumblers! The Swoozie's store introduced me to Tervis Tumblers last year and I've never been without one since. This sweet friend from Atlanta was thinking of me and our trips to Florida. She was familiar with Tervis Tumblers and was planning to bring me one when we are here at Thanksgiving next month - and when her family is coming here to vacation that week as well. Our plans are to meet up in person for the first time EVAH and she was ever so kind as to question whether I knew of or had a TT because she knew I'd be able to put it to good use here at our Florida home (or anywhere else for that matter). In turn, I let her know that we had tons of TT's here at the house in FL and that I absolutely love them. I thanked her for thinking of me and continued to laugh when I thought about how much alike we must be. :) Fast forward to yesterday. I was sitting by the pool and looked over to grab a drink of my ice cold caffeine free coke. It dawned on me that I had poured it into my Tervis Tumbler. I again laughed and thought I'd take a photo of it for Heidi. (my friend in Atlanta) I snapped the shot and posted it on my facebook page for her. Well...I got several facebook friends who saw the note/photo for Heidi who then left notes reiterating how much they love their TT's too. But...I also got a ton of emails or private messages asking me what a Tervis Tumbler was.

So...let me formally introduce you...for those who aren't from the south or whom aren't familiar with Tervis Tumblers in general. The shot of the one above is a TT that I keep here at the Florida house. You can get personalized tumblers, tumblers with your own photos in them (LOVE!), breast cancer awareness tumblers, sports team tumblers, etc. The list goes on and on. The cool thing about these is that they are guaranteed for life. Tervis will replace a tumbler if one becomes defective in any way. Same goes for their lids and straws. These tumblers really last forever. No joke! They keep hot drinks hot and cold drinks colder longer. Hot drinks stay hot for up to 3 hours and if you use a lid, they'll stay hot for up to 6 hours - making them great for soups. I know some people who use their tumblers to eat ice cream out of. They are just grand for cold drinks on a hot day though. Thus, why they are perfect by the pool or on the beach. If you get the chance to visit a Swoozie's store and buy some Tervis Tumblers, getcha' some. If you don't have a swoozie's near by, check the Tervis website for a store closest to you.
On another note, it appears that our little Kenidi Grace has spiked a fever as of this morning. The doc saw her today and said to keep a close eye on it. If it continues to climb, he wants us to bring her back tomorrow morning so that he can test her for H1N1. If she tests positive for it, she is eligible for the tamiflu. (due to her seizure disorder/Epilepsy) So...we are praying that it is a fluke thing and just a weird bug she picked up while on the flight down here. Please say a prayer for her if you can. At the moment, she is playing fine and acts totally normal. You wouldn't know anything was amiss if you didn't know she had a fever. We are just enjoying the sunshine and the dry weather in the meantime. Speaking of that...I wanted to post another image for my Hoosier friends. The shot below is a little piece of sunshine & blue skies for each of you. The image reminds me of the tropics and nothing but. It was a little clearing that I noticed yesterday while sitting out by the pool. I decided to snap a shot of it and I'm glad I did. It is the epitome' of Florida - the swaying palms and baby blue sky line...
We heard it is still raining there in Indy so I just thought I'd post a shot of some warm and dry weather for y'all. High today is 90 degrees here in gorgeous Bonita Springs/Naples. Don't worry, I'm bottling up the sunshine and bringing it back for everyone. I promise! :)
PS...I'm apparently having email trouble again. A few people have emailed me and I didn't get their emails. If you've emailed me in the past two days and I haven't responded, I most likely didn't get your email at all. You might have to try resending. I'm so sorry. My Internet provider clearly hates me. Ha ha!

xoxo, Angie
Labels: Swoozie's, Tervis Tumblers