NO GREEN THUMBS HERE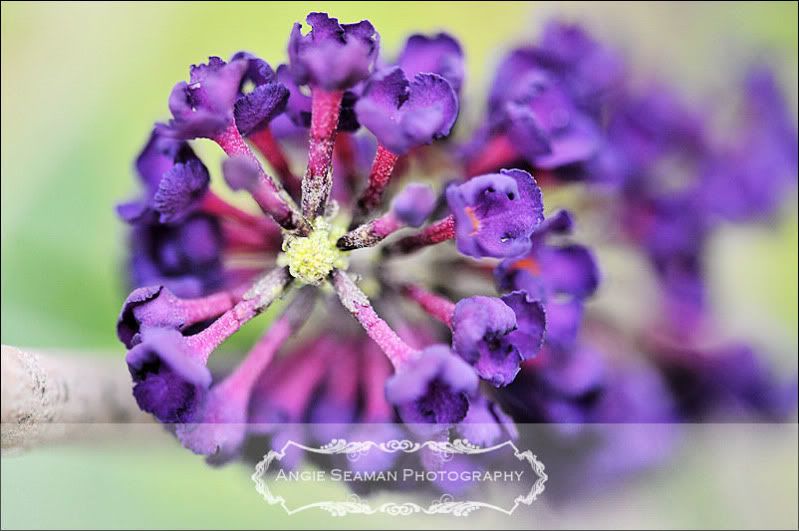 It has been so rainy and gloomy here in Indy recently. It's been so frustrating because I still have new AGD designs that need photographed on Kenidi but at this rate, it will be winter before I get outdoors. Either way, today...when the rain broke for just a skinny minute, I took my camera and went outside - just perusing the yard - looking for anything to photograph. Anything! I took my 105mm macro lens out with me this time and had fun trying to shoot something with what felt like 95 mile an hour winds. Yeah, I'm sure my neighbors thought I was a freak if they were watching my attempts at getting weeds and flowers to stand completely still. HA! :)
This holly bush above will soon be covered with snow. Such a scary thought. The cold and frigid winter season is right around the corner. Maybe the good Lord above will have found us a nice and permanent spot at the beach by then. Wink wink! ;)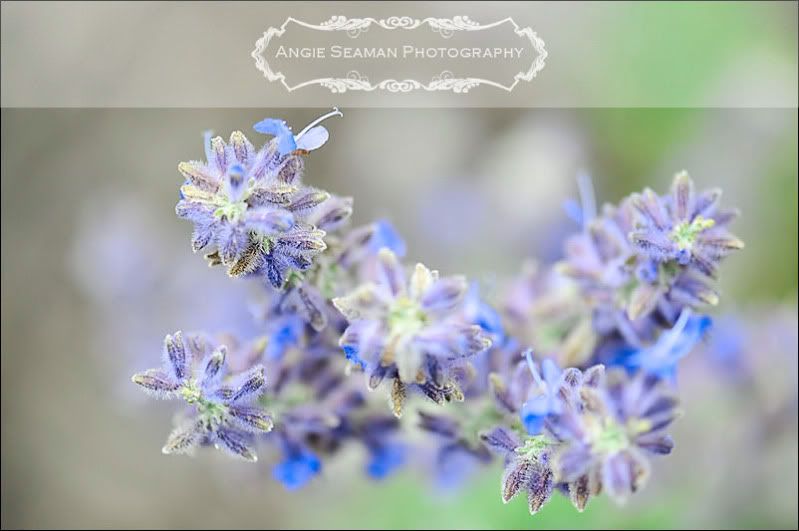 I am not a plant or flower person so I have no idea what the names of all these little flowers and such are that live around the exterior of our home. I am so far from a green thumb person that it is ridiculous. I kill any living plant or flower so I've since given up all hopes of ever being a "green thumb" kind of woman. However, I do love the looks of these little flowers in front of a macro lens. Gorgeous!
And with some decent lighting, even plain ol' green leaves/stems look good in front of a macro.

And speaking of not knowing what any of these plants and flowers are, I'm really stumped on what is inside these bad boys below. They were black and shiny. Very strange looking things. I'm wondering if they are bugs of some sort that make their home within these nut like - dead flowers. Just call me "clueless."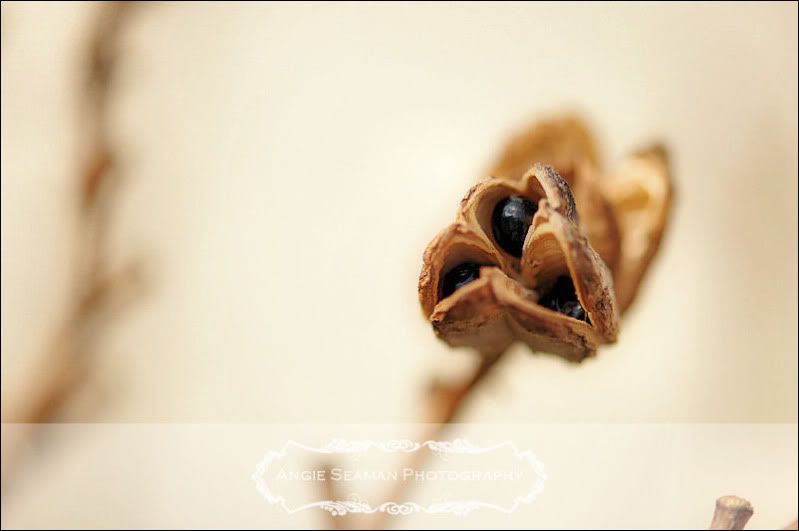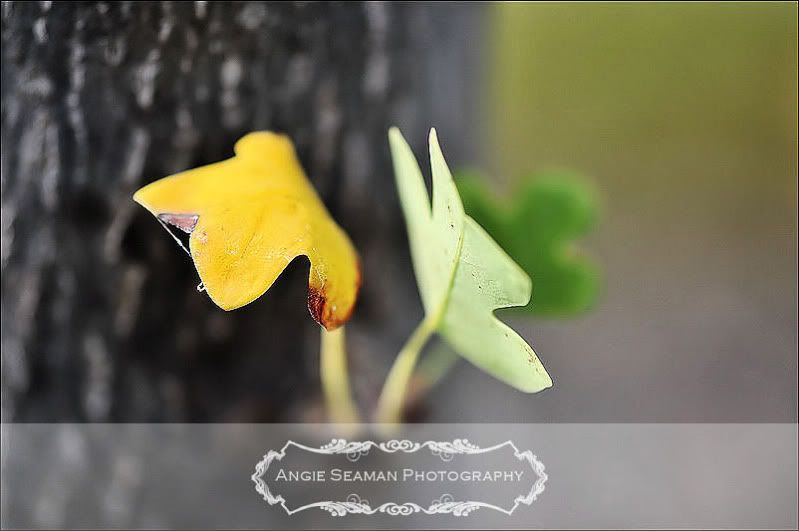 The two leaves above were so tiny - growing right out of the side of a tree in the yard. Evidence that fall is coming. The leaves are beginning to change colors already. One leaf is still green and the other is a bright yellow. I'll give Indiana credit where credit is due...the Fall season in the Midwest is nothing short of spectacular. If you've never been here when the leaves begin to change, you are missing out on one of those moments when God really shows off. The Fall season in Indy is a beautiful thing!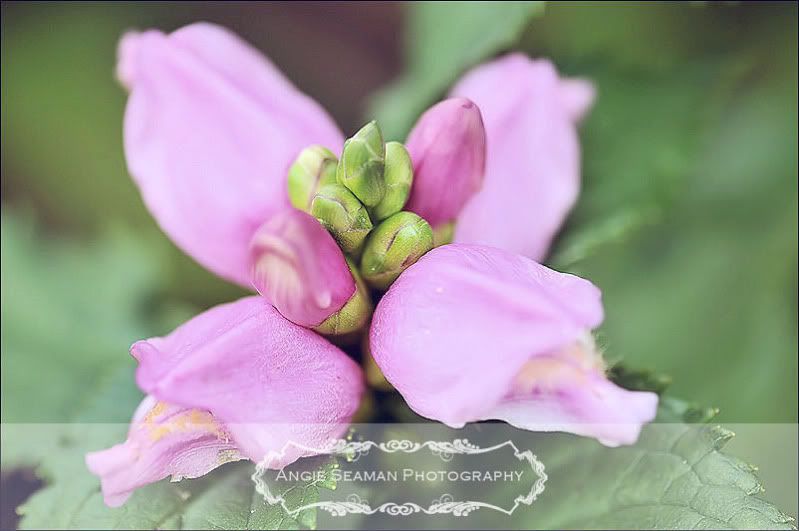 I added a little bit of an action over this image of the pink flower above. I love the coloring and what the action did for the overall image. Again, clueless on what type of flowers these are. They look tropical to me - like they don't belong in "Hoosier land." Maybe I just have the beach on my brain. What's new, eh?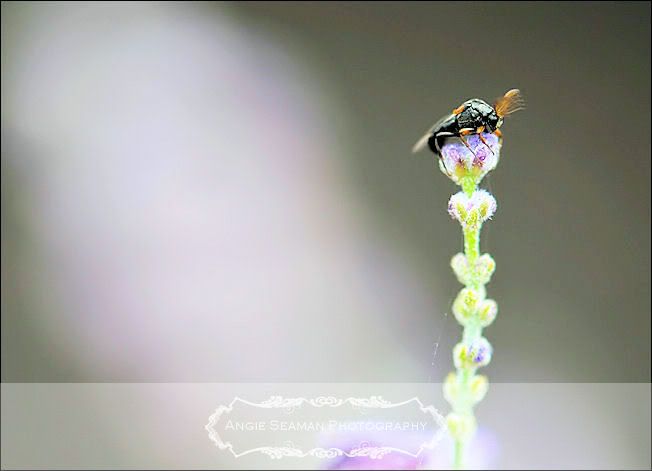 And lastly, this teeny-tiny little guy was just 'chillaxin' on top of one of the little flowers. He was so little - much smaller in real life then he is here. Just another reason why I love the macro lens. You can see anything with that glass - even teeny tiny little bugs that are normally microscopic to the eye. Just about the time I found this little dude, Kenidi & Brennen were getting off their buses so I had to get up off the ground and out of the mulch - ending my random shooting for the afternoon. Not only that but it began pouring down raining at that point in the afternoon too. It eventually let up again tonight and allowed us to make a family trip down to the Indianapolis Museum of Art grounds. I wanted to venture down there and scout out some spots before a shoot that I have there this coming Monday. Thankfully the rain stopped completely while we were there and I was able to soak in the grounds and find some FAB spots for the shoot. It's a beautiful place. For now, I'm off to go finish watching "Dancing with the stars." Maybe, just maybe...the rain will stop tomorrow and I can get some shoots caught up for the new AGD designs. Wishful thinking...I know. :)

xoxo, Angie
Labels: Angie Seaman Photography, flowers, front yard, Indiana, landscapes