MEET KAREN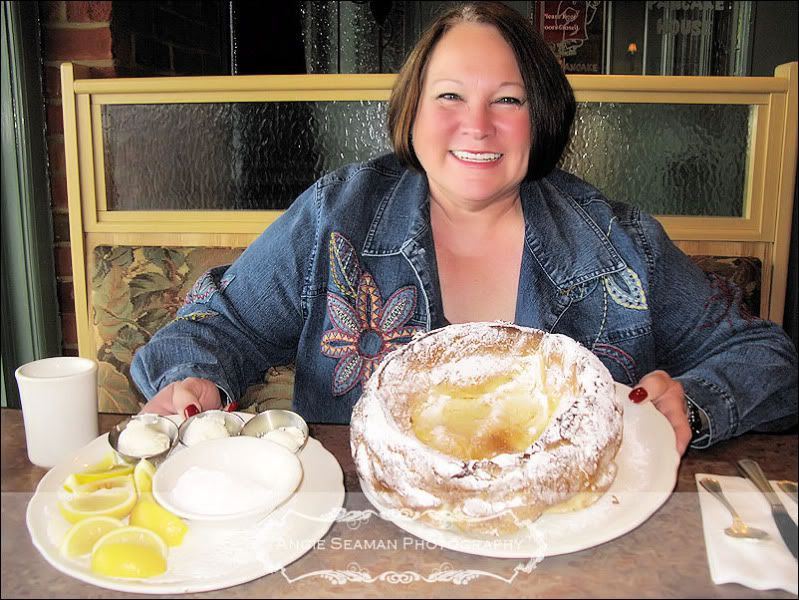 Meet Karen. Yes, that Karen. All of you have heard so much about or from Karen in the past but I've never had a photo of Karen here on my blog before. Karen started out -like two years ago - being hired as a sewing employee of mine. In the past, my sewing employee had been responsible for handling all of the overflow within my work whenever I was bogged down and too swamped to get to another order. By the time I hired Karen though, I had come to the conclusion that I didn't enjoy sewing as much as I did the designing part. Therefore, Karen immediately began handling the majority of the "sewing jobs" while I focused on designing the clothing and jewelry. Now my jewelry I still make on my own. It is something I truly enjoy constructing from start to finish so every AGD jewelry piece that leaves the studio was made solely by me. However, if you order a custom boutique clothing design, Karen is most likely the one constructing it for you. Once finished, I check it over (not that I really need to because she does such a FAB job) and then I ohhh and awww at her quality...get it packaged up and shipped off to you - my lovely clients. Some of you still get pieces made by me. For example, orders that have come in over the past month or two were handled by me while Karen has been in the process of a move. She and her husband just built a beautiful new home and they are still unpacking after having been in limbo for the past couple of months. Soon Karen will be back on the production line & we'll be cranking out the winter collection (if I could ever get the rest of the fall collection photographed).
Anyway, Karen is my gift, my blessing from God, and one who instantly went from being titled as "my sewing employee" to being titled as "a dear friend." I love Karen! She makes me laugh. She has great a great cell phone ringer - no I mean a really great one! She invites me to auctions with her and her bestie. She always brings me the best girlie gifts - like the pink sign for my studio last week that read "Well behaved women rarely make history." (one of my favorite slogans) She taught me one of my favorite spellings of one of my favorite words..."GUR-FREN!" (you'd have to hear how it sounds when recited in person. Too fun!) And...she introduces me to restaurants such as "

The Original Pancake house

" here on the North side of Indy. You must go to their website I have linked here and read about their food. And if you reside in Indy and have never been there, you MUST go! This image below is of Karen's breakfast last Friday morning. She and I met there for brunch and had "Jose" as our waiter. Jose was a hoot and we loved him! Karen ordered the "

dutch baby

" off their menu. I tasted it and let me tell you...for all of you carb lovers out there like muah...get this...get this...get this! I could have sat and ate that entire thing of dough baked to perfection like it was candy. YUM! They actually bring you the powder sugar, lemon, etc. to make your own glaze for it. Amazing! I still can't believe it is real. Ha ha!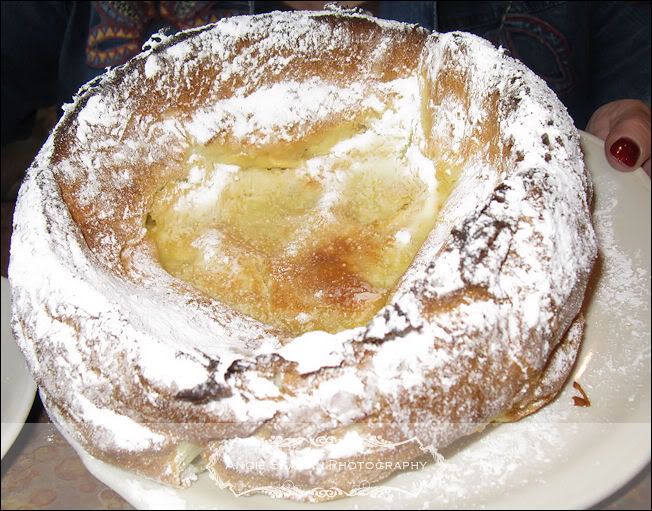 What did I eat you ask? Well I always order omelette's when I go somewhere for breakfast. But like potato chips without chocolate...I must have a slice of french toast after my omelette because I crave the sweet after the salty. I know...I'm totally messed up and very weird. Anyway...I had their omelette which is more like eating a small child. The omelette's there are massive. See photo below. The omelette is the big, brown, orange, cheesy looking thing on the far left of the image. Yeap...that is a(n) small child omelette! Notice they never let me order just ONE slice of french toast as a side either. Everywhere I go, they make me order a full order of french toast which I don't understand. I end up wasting the other two slices as well as half my omelette. I then walk away feeling like I thru out enough food to feed a third world country. It's ridiculous! In the end though, my belly loves me for it. My rear end and my thighs do not!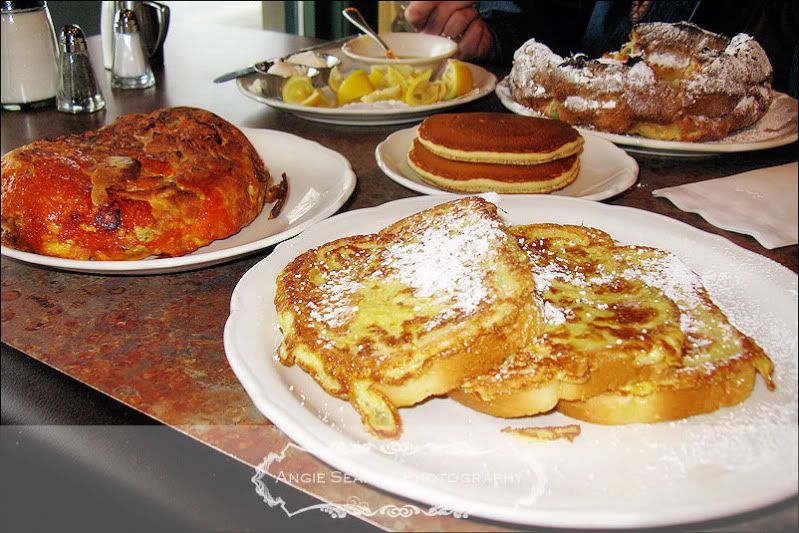 Oh and whose regular pancakes are those in that photo you ask? Yeap...mine too! Jose brought me out a full order of french toast which apparently included a full order of pancakes as well. Imagine my surprise and the guilt process I went thru as I just stared at all of this food. Ridiculous I say...ridiculous! The best part to the whole breakfast though was my down time with Karen. No work talk - no AGD assignments or supplies - just Angie and Karen. We got to just enjoy the girlie gab and have fun laughing with Jose, our waiter. By the time we were done, Jose had talked to us all about "project runway" as well as how his pug (dog) gets out and runs the neighborhood like a wild man. He went into detail about how he has to sneak up on him, bend down a certain way, and SCOOP him up before the dog runs off again. Jose was nothing short of hysterical! This all came on the tail end of a mail man calling Karen's cell phone about her dogs being loose as well as the end of our conversation about how

Jessica Simpson's dog just recently got snatched up by a coyote right in front of her

. Needless to say, we had a fun morning. A great 2 hours just chumming around and giggling like women should when with their girlfriends. I think Jose was tired of us taking up his table potential as we sat and gabbed about life. We eventually got out of there, stepped back into the Indiana rain, and headed home after a brunch full of good laughs.
Thank you Karen. Thank you for being who you are to me. As I told you last week, I truly appreciate your transparency and your friendship as a whole. You mean the world to me. Not only do you have some mad skillz when it comes to sewing and baking an "apple pie," but you have a huge heart and it shows in everything you do and say. Thank you for always being there for me. Can't wait for next months outing. Oh...don't be alarmed if you get recognized in public now. It is a little freaky at first but it's all good. Hee hee! Love you gur-fren! Hugs, Angie
PS...I must admitt that I used my Canon point and shoot for these images above. Big Papa was at home and I totally feel guilty for not taking him out on this rainy morning. However, I prefered to take his crazy cousin, the canon point and shoot, instead. It's easier to carry thru the rain. Wink wink! ;)
Labels: AGD, angelica grace designs, Indiana, Karen, sewing employee, The original pancake house