FOTO FIND FRIDAY - HATS
This week's FOTO FIND FRIDAY theme is "hats." This is my submission...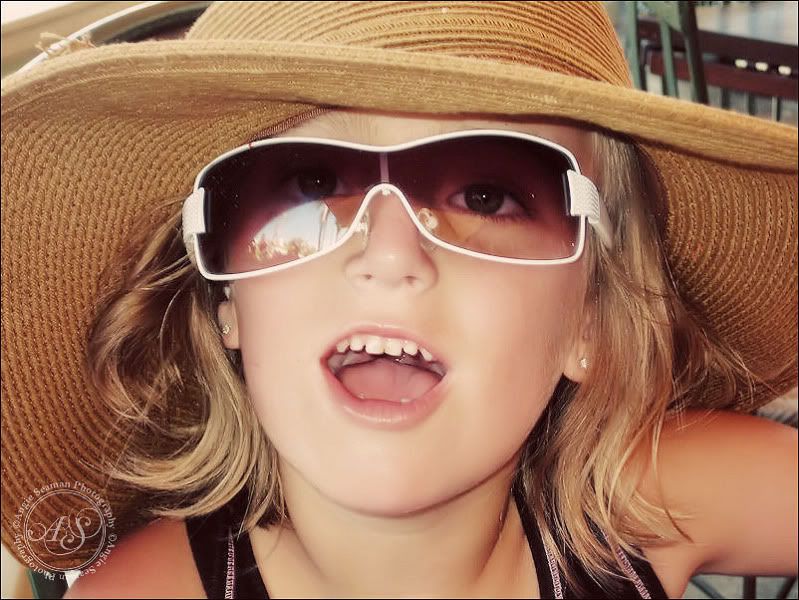 This is an old photo that I took of Kenidi back in May of this year. It was taken when we were in Naples, Florida over Mother's Day weekend with another couple friend of ours. At one point, my friend Tamara handed me her point and shoot Canon camera and had me take some shots of Kenidi with it while we were eating at the Tommy Bahama restaurant for dinner. Kenidi is wearing Tamara's sun hat so we were all laughing at how cute she looked with it and her crooked white shades. Tamara had me snap a couple of pictures for her and then I forgot about them. Fast forward to last night when Tamara sent me these copies as she was uploading 600 and something photos off her card onto her computer. She ran across these and sent me the pictures from that evening. Too funny! Thanks Tamara. Love these! I also love that you helped me come up with a last minute theme for today's FFF. Ha ha!
If you'd like to participate in the foto find Friday hat theme this week, please blog a post on your own blog that has pictures pertaining to hats. Also, please make sure that you mention and link back to this AGD blog when you place the post on your own blog. We need you to make sure your link takes us directly to that specific post on hats (and not your blog home page). Also, please make sure that your post includes the info that links back to AGD. If those two things are not there, your link will unfortunately be deleted and you'll have to re-post it the requested way. We are looking forward to seeing your submissions. Have fun with it! Much love, Angie
Labels: Angie Seaman Photography, foto find friday, hats, Naples Florida, tommy bahama restaurant