FOTO FIND FRIDAY - CAMERA PICTURES
This weeks theme for the

FOTO

FIND FRIDAY is "camera pictures." I have so many pictures on my

iphone

that I've taken over a vacation, day to day life, etc. when I didn't have

Big Papa

(my regular

DSLR

camera) around. Well thanks to the app store for

iphones

, I now have a really cool app called "shake it photo" that acts or replicates old

Polaroid

cameras. You snap your shot, it makes a noise like a

polaroid

picture developing, then you shake your phone like you would a

polaroid

as it is drying. Within seconds, you have a really

rockin

' image that has an old age look to it - like the

polaroid

ages anyhow. I love the app. It's fun! Anything to do with photography is fun to me though so I might be a little biased. With that said, these are my submissions for this week's theme. I am sharing some images that a few of you might have seen already if you are one of my

facebook

friends. These were all pictures that were taken with my

iphone

. Then, I used the "

shake it photo

" app on them for added character.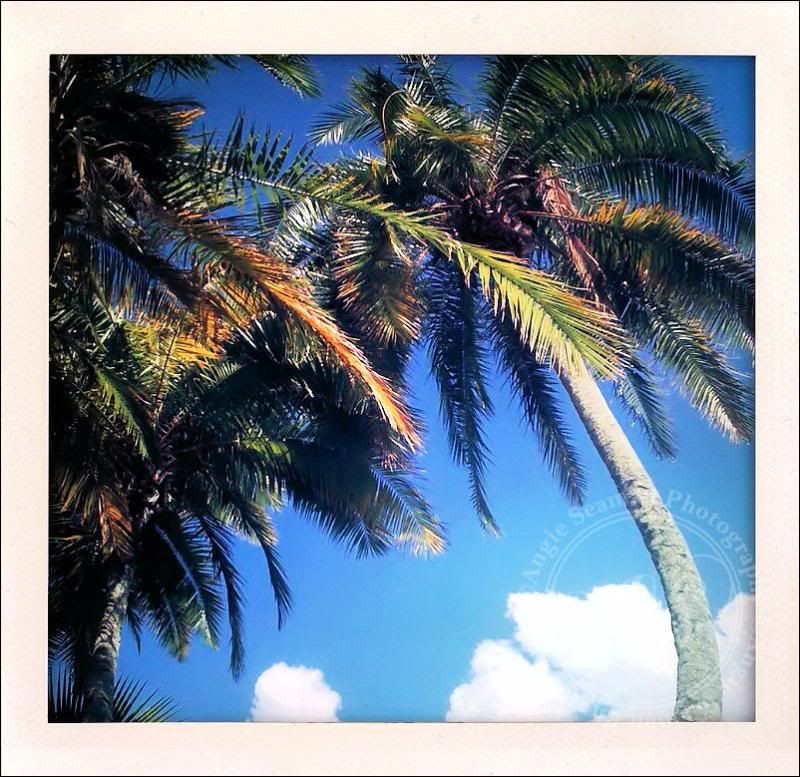 These are palm trees at the clubhouse pool within our neighborhood there in Bonita Springs, Florida. I took the above shot while lounging there one day back this summer. I remember loving the blue skies and the clouds on that particular day.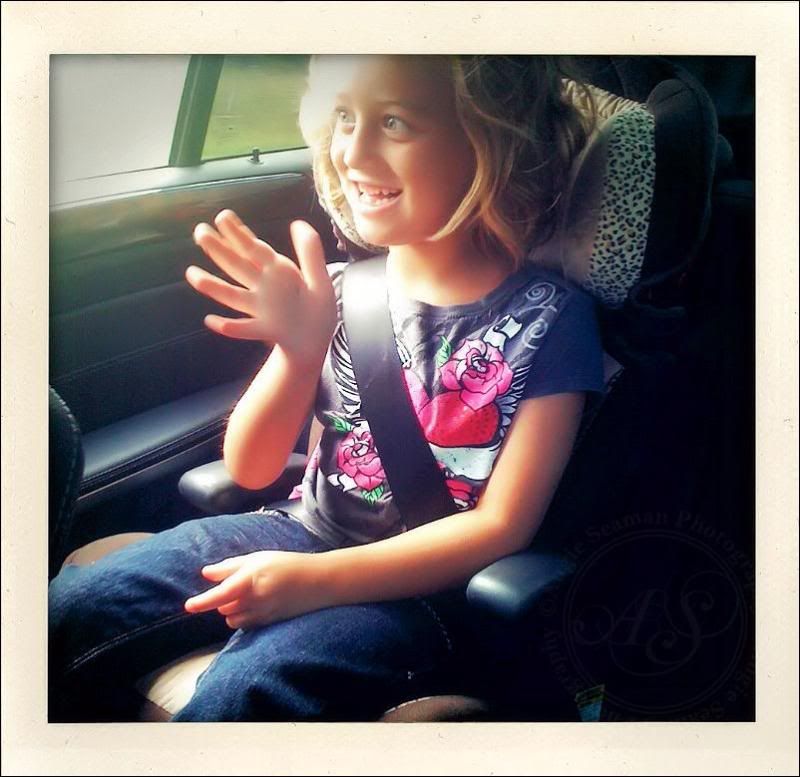 The above picture is a shot of

Kenidi

in the back seat of my car - waving - one day. We were at a stop light and she was waving to those next to us. (a usual social activity for her) I decided to snap a shot of the moment with my phone. The "shake it photo" app gives it that

polaroid

feel with the lighting and all. Love it!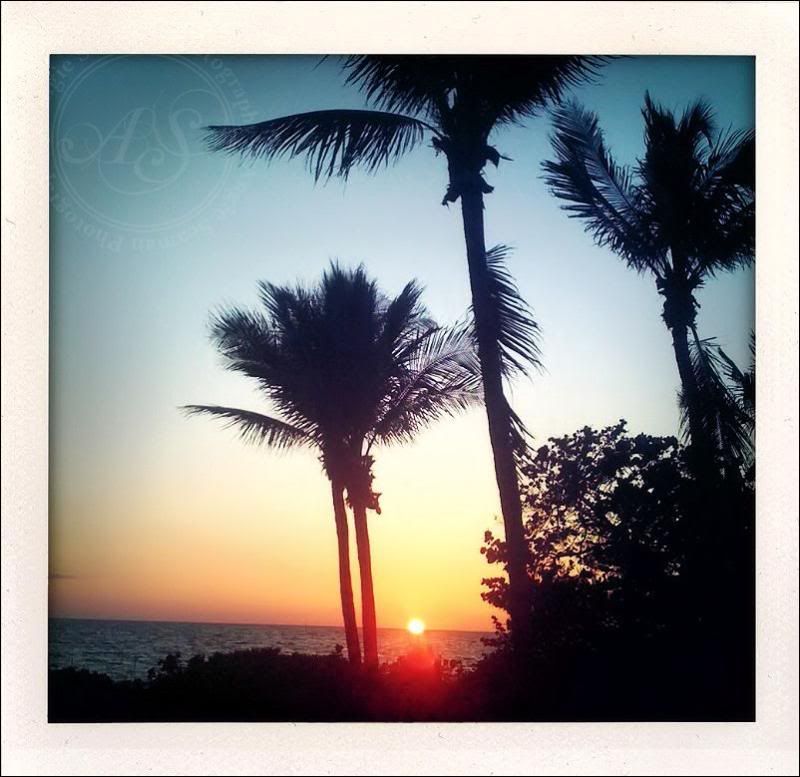 The above image was taken on Bonita Beach one night back in August. It was one of our last and final nights there for the summer I believe.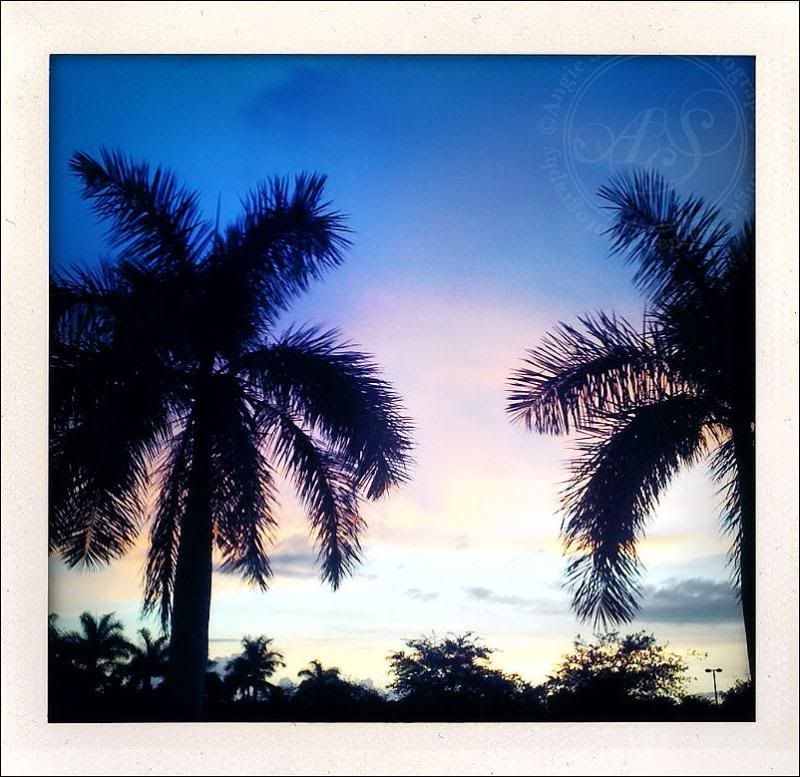 This palm tree shot above is one of my favorite camera pictures

evah

! It is actually my wall paper on my phone right now. Brennen and I were coming out of a store one evening over the summer and this was the view when we reached the parking lot. I remember saying to him at that moment that we "just don't have sunsets like this in Indiana." And we don't.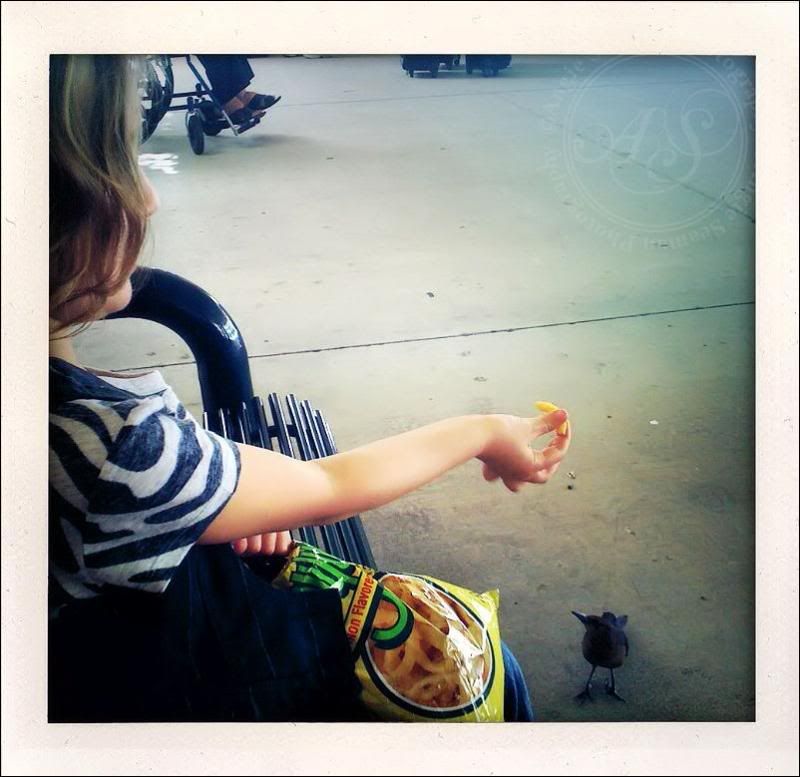 When we left for summer vacation back in May, we landed at the Ft. Myers airport. This particular shot above was of

Kenidi

the day we arrived. We were waiting for our taxi driver to pull around and take us to the house. She decided to whip our her

funyons

and begin feeding the birds. I snapped this moment with my camera phone because it was too cute to pass up. When all 500,000 Florida birds/pigeons showed up at her feet wanting her

funyons

, it was no longer a cute moment. It was quite scary in fact. Ha ha!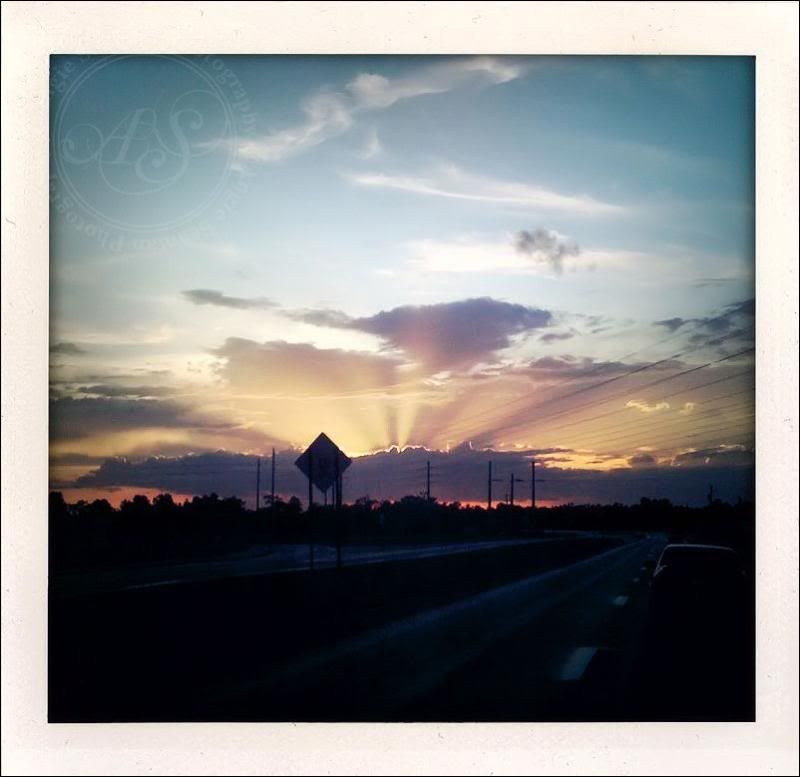 This was a shot I took from the backseat car window one night in Bonita Springs. My Dad was riding shot gun with Brent up front and my step-Mom and the kids as well as myself were in the back. It had been raining that evening but stopped after a short downpour. Following normal Florida

protocol

of course. These sun rays were peering out from a cloud as we came down the street and I decided to capture the moment with my phone. Beautiful!God is amazing!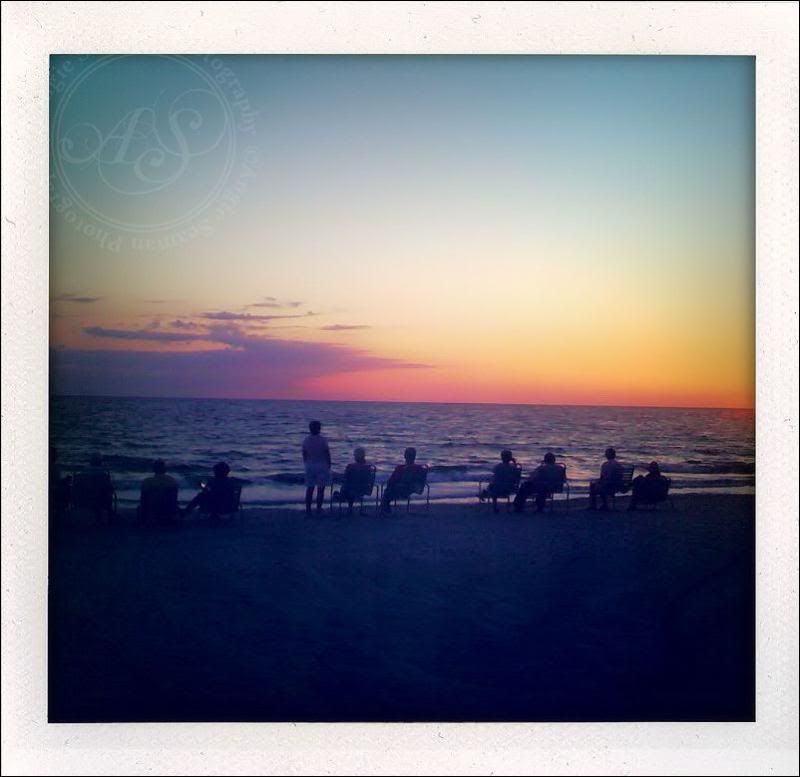 The above photo were some onlookers there for the show on Bonita Beach one evening. This is the private beach access for our neighborhood there in Bonita. You must live in the neighborhood in order to have access to this area of the seaside. We love it there and go almost every night when in town. The sunsets in Southwest Florida are

beautimous

. Just

beautimous

. On this particular night, I captured a row of family members and friends there to take in the stunning beauty as well.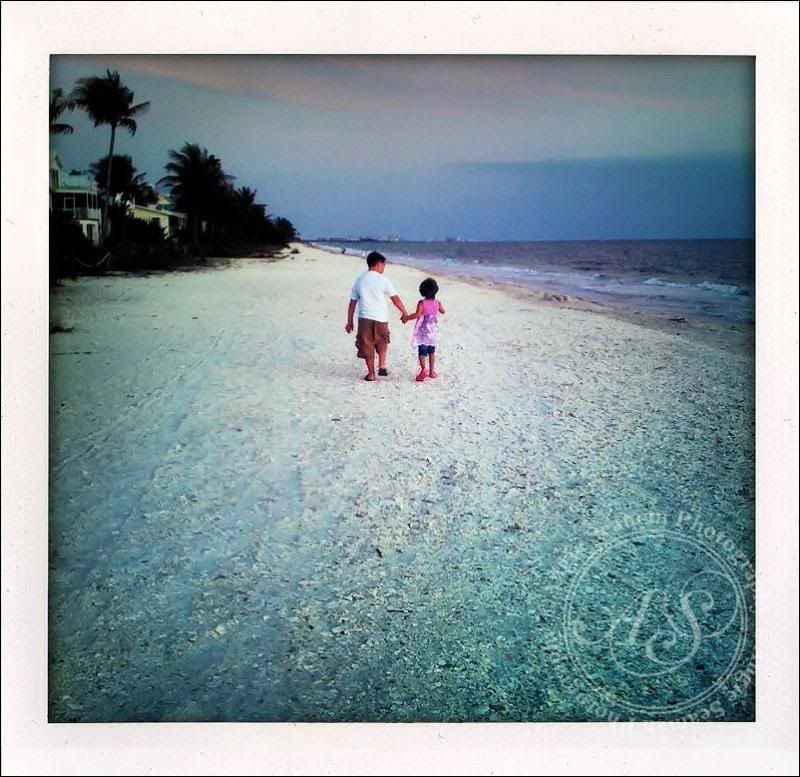 And I believe all of you have seen this last shot shown above. Although it is horrible quality because it was taken with my

iphone

...I still love it. It was a moment caught on the beach between Brennen and

Kenidi

over the summer. Very candid but very dear to my heart. This is Brennen at his true form. There is no denying that he loves his sister and protects her with every fiber of his being. Just his body language here shows that he is watching out for her, making sure she isn't about to trip and fall. I love the way that he loves her! And I love the way that she loves him.
As you can imagine, after viewing all of these pictures, I'm dying to get back to the house in Bonita. We leave approximately 3 weeks from now for Fall break. The 21st of October cannot come soon enough. Although it will be just that...fall break...a short stint for the kids away from school...it will be just enough time to rejuvenate the skip in my step. I'm looking forward to sharing more images with all of you from our stay.
If you'd like to participate in the

foto

find Friday "camera pictures" theme this week, please blog a post on your own blog that has pictures pertaining to images that came from your camera phone. It doesn't have to be an

iphone

- any camera phone will do. Just blog your favorite camera phone images and share them with all of us. Also, please make sure that you mention and link back to this

AGD

blog when you place the post on your own blog. We need you to make sure your link takes us directly to that specific post on camera pictures (and not your blog home page). Also, please make sure that your post includes the info that links back to

AGD

. If those two things are not there, your link will unfortunately be deleted and you'll have to re-post it the requested way. We are looking forward to seeing your submissions. Have fun with it! ☮&♥, Angie
Labels: Bonita Beach, camera phone pictures, foto find friday, iphone, Naples, shake it photo app