LOVIN' CHI-TOWN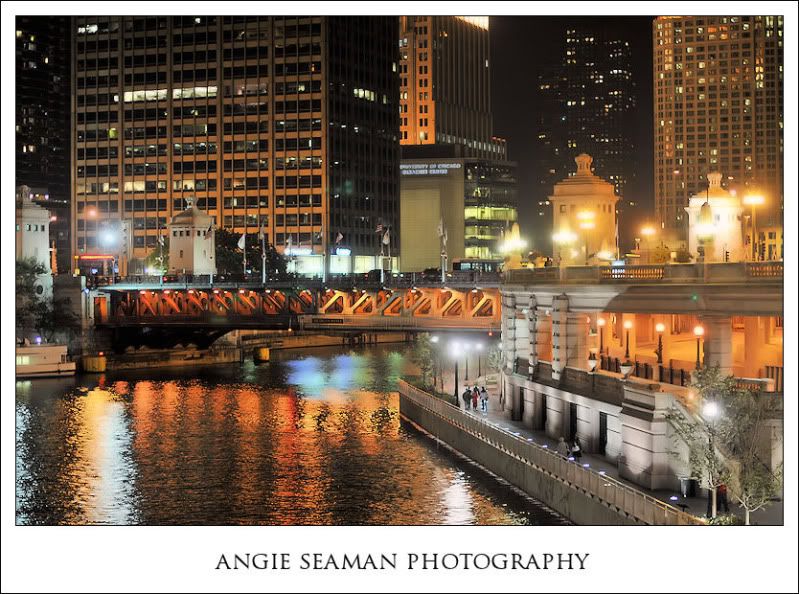 Incredible. Just incredible. Chicagoans have no idea how blessed they are to reside in a state that has a city as gorgeous as Chicago. Each time I'm here, it reconfirms how much I love this city and just how simply stunning it is.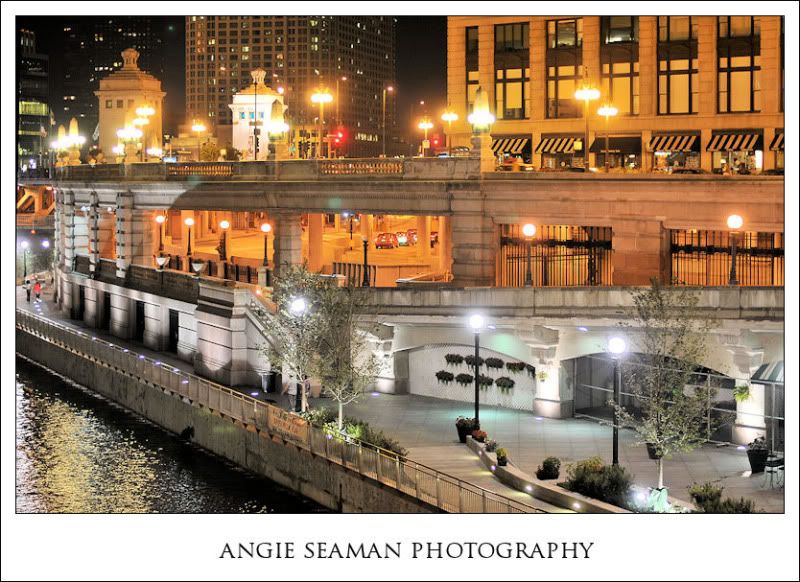 Aside from the two hour bumper to bumper traffic I sat in on the highway yesterday while attempting to get here (traffic was because of a horrible accident), the ride in was wonderful. I lived it up in the car for 5 hours (was supposed to be three but the accident ruined that idea) during the drive in completely alone. It was just me, God, my Rob Thomas & my Kings of Leon tunes. I enjoyed every second of being able to crank up the stereo without busting my kids ear drums. And let me just tell ya', if you don't have any Kings of Leon music, GET SOME - like now! I love their band - love their style - love their sound. Either way, I rolled onto Michigan avenue at about 6:15pm last night. I made the dinner on time with the rest of my workshop attendees. They are all great! So fun and so nice. It's great to be in a group where each of us could sit and talk photography for hours on end and never flinch. We did just that last night. After our incredible dinner together, we hit the town and had a ball playing around with our cameras in the midnight hours. If you've ever been to downtown Chicago, you'll know that the city is still A-L-I-V-E at that hour of the night so it is almost like it is day time due to the amount of people out and the lights still on. We hit the river front which is conveniently right across the street from our hotel, and snapped some cool shots while experimenting with panning and slower shutter speeds. We also hit this under pass and practiced slowing the cars waaayyyyy down to get this ribbon streaming from their lights. Very, very cool. I had a lot of fun with this...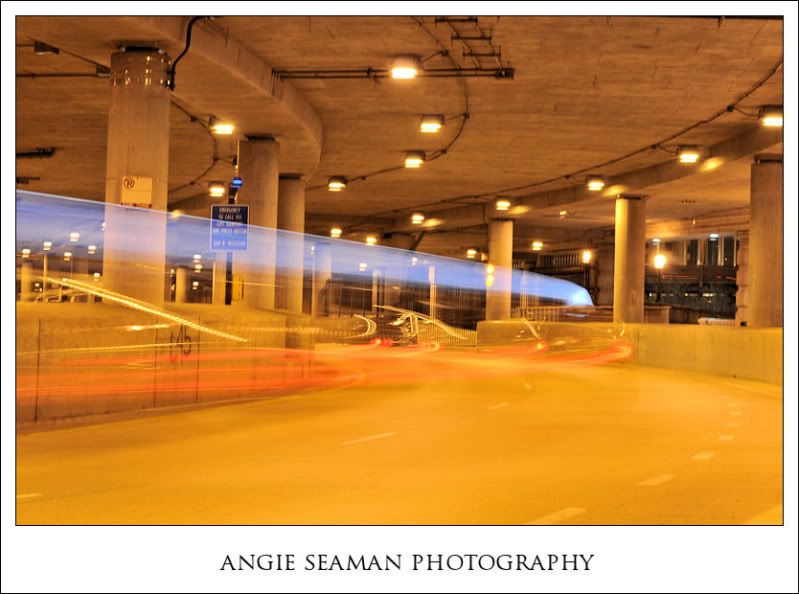 Looks wicked, doesn't it? Almost like the cars are ghosts and the only thing you see is their lights passing you by. Too fun!
After practicing with cars, we hit the river front and I managed to capture this cool shot of a river yacht going by while I was shooting. I slowed it waaayyyyy down as well but attempted to keep the rest of the scene crisp and clear - even getting some star bursts on a few of the lights...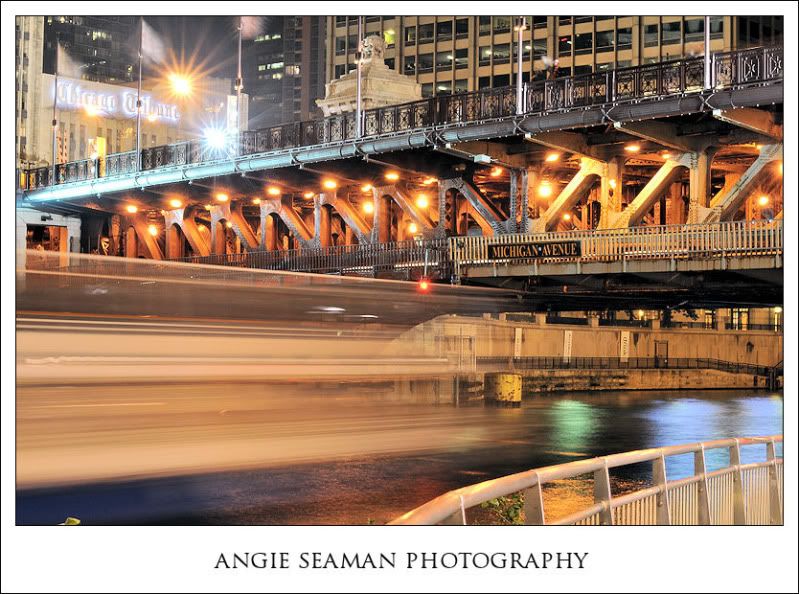 And here is the tail end of the river yacht. Love the squiggly ribbon lines from its lights. Everyone on the yacht was waving to all of us (all 11 photographers with 11 cameras and 11 tripods - we looked like a force to be reckoned with and got quite the questions on the street. I think some thought we were the paparazzi and that a celeb was in town. HA! Some guy stopped me and said..."What are we looking for, I'm from another state and need to know." Ha ha!)
Needless to say, I'm having an absolute blast. We had a fabulous night with spectacular weather last night. We are hoping the rest of the weekend will prove to be the same. We just finished up a wonderful breakfast together this morning at the

Corner Bakery

and are now headed out for a day and night full of non-stop shooting. Our day will be chocked full all the way up until at least 10pm tonight according to our instructor. I can't wait to share our "captures" with all of you once I return home to Indy. For now, I hope you enjoyed the night light shots above. Enjoy your Saturday. And hey...if you happen to be off Michigan avenue or in downtown Chicago today or tomorrow - and run into a group of 11 women packing cameras, flag us down and say hello. :)
Much love, Angie
Labels: night photography, panning, photography workshop in Chicago, slow shutter speeds