HOME JAMES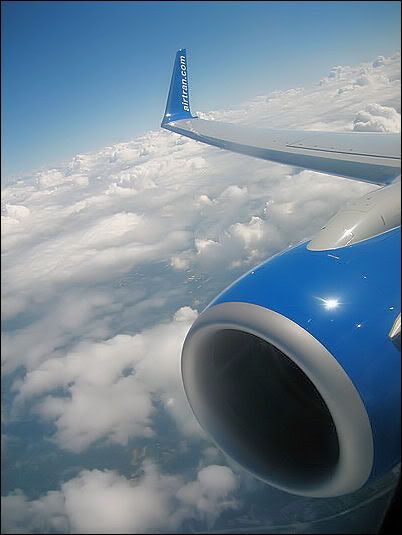 We touched down back onto "Helliana" (a.k.a. Indiana) ground late last night. We rolled into our drive way sometime around 11:15pm I believe. It was a long night and an even longer flight. True to Indiana form, the ol' Hoosier state decided to welcome us home with ferocious winds, 5 inches of rain, hail, and massive turbulence while approaching the state line into Indiana airspace. We knew it was going to be bad when they came over the speakers and told the flight attendants to remain seated once in the air. We weren't 5 minutes into the flight when the plane decided to take a dip just like you would on a roller coaster ride at King's Island. (a big Midwest theme park for all of you non-Midwesterner's) Once I lifted my head up from out between my legs and pried my knuckles off the arm rests, I looked over at Brennen only to realize that he was sobbing uncontrollably. Keep in mind this is my 10 year old son who normally makes fun of me for being worried thru turbulence. However, this time it was bad enough that he was scared to death. So were the other 12 children seated immediately around us. By the time the flight touched down in Indy, all of them had taken their turn at screaming and crying. I don't blame them. I wanted to scream and cry myself. I was convinced that God was once again, teaching me what it was like to "need him." Oh boy do I "need" him. As I prayed, I kept thanking God for being him. I was repeatedly reminded that "what if I didn't have "God" to pray to during a moment like this?" What if there wasn't anyone like God to ask for peace within a horrifying event like that? I'd be a mess - I was a mess - however, I was a lot less of a mess because I had God to pray to. I kept telling him that I knew he was ultimately flying that plane and that we WOULD be touching down in Indy - safely - in just 2 short hours. In the meantime, I needed him to pick me up off the floor and grant me peace throughout the duration of the flight. My heart was beating out of my chest due to the fear and because of the worry over Brennen being so upset. I was trying to stay calm enough to convince him that we were going to be OK. When one of the flight attendants was finally allowed to get up, she came by and saw him sobbing in my arms. She asked if he was OK and I explained to her that he was a little nervous over the flight. She attempted to assure him that it was all going to be alright. Brennen shook his head like "Yeah, sure, I understand but I don't believe you" type response. :) I felt for him because I know what a horrific feeling that is. I've told you all about that horrific flight to San Francisco that time with my parents. Due to that experience, I've never been the same on a flight again. One small sign of turbulence and I freak out. It immediately takes you back to that one bad flight that started out a bit bumpy and eventually lead to us dropping however many feet from the sky - totally unexpectedly - leaving a flight attendant injured as she went up and then came back down - falling and slamming the side of her face on the arm rest of my step Dad's seat due to the force. You know that plane that left several injured this past week that we all saw on the news (due to turbulence)???...it was the same experience we had on that flight to San Francisco. Exact same ordeal! It was terrifying. Absolutely terrifying. So when Angie feels bumpiness on a flight...I worry that we will eventually drop or take a nose dive like we did on that flight I experienced. The flight home last night was no different. That initial dip we did was enough to make me want to cause a scene so bad and so noticeable that they'd have to kick me off the plane and do an emergency landing ASAP. If they did, I'd be off the plane and that is what I wanted. I'm thanking Mother Nature for making the weather so flippin' grand on the way home that it in turn provided us with a very eventful flight back. Again, Hoosier style - true to Indiana form! How could I possibly expect anything any different? Have I told you how much I love Indiana weather lately? Wink wink ;)

In the end, true to the good Lord's promises, we landed safe and sound via his grace. As the wheels hit the ground on Indiana soil and the flight attendant came on and said "Welcome to Indianapolis"...the crowd/passengers on the plane began to clap and gave the captain a warm "sitting" ovation for his job well done. I heard several people thanking him for getting us home safely as we departed his aircraft. I in turn, found myself thanking the big man upstairs because I knew it was really "his" aircraft and that "HE" was really the one flying that plane. How does the old saying go..."God is my co-pilot?" Well, he was my captain fo' sho' last night. No co-piloting about it. Captain big man - captain big daddy! Yeap, that is my almighty God. Captain BIG daddy!
We walked into a very cool, air-conditioned, house after our almost midnight run to Steak and Shake, following the flight. I always love the first smell of home when you walk across the thresh hold after having been gone for a long time. It was a year ago yesterday that we moved into this house. It still has that new construction smell when you've been gone for a while. As you walk in, you can smell it - and the smell of your family in general. It was great to be back in my real kitchen, and my real bedroom/bathroom. I've spent the day today sorting thru a mail stack the size of Texas, laying aside new supply lists for school that we still need to go and get, talking to the bus garage about the kids new bus #'s, pick up times, routes, etc. In less then a week I will have a 5th grader and a 1st grader. Amazing! Brennen is quite stoked that he got the teacher he got this year. The mail stack had a letter in it that revealed whose class he is in and he was extremely happy - until he found out that his B/F/F isn't in there with him this year. He is coping now. For Kenidi, she is beginning a new school this year. (again) So...I'm dreading that whole process and the fact that we will once again be "new to the school" and totally out of our element. However, I'm trusting that God has BIG plans for us over the next year and I know that he won't let us down. We are yet again holding on for the ride. This seems to be the story of our lives.
For now, I'm off to relish in the fact of being home after 10 beautiful weeks away. I'm running my hands along the walls, smelling in a little deeper, scooting my feet along the hard woods, and just thanking God for the big and the small blessings today. I'm not looking forward to unpacking the 10 weeks worth of suitcases and fed ex boxes that I'm up to my heiney in right now but it's so good to be home. (especially without the snakes)
PS...A HUGE congrats to

Kristin

out in Baytown, Texas for participating in and winning the AGD give-a-way contest. Brennen drew her name out of the bowl yesterday. I know she will love the beach bag full of goodies. Also, a big shout out and thanks to the rest of you who participated as well. It means so very much to me that all of you took your time and effort to participate in this. You guys are all da' bomb! :) I'm so very sorry to those of you who emailed me and asked me to extend the deadline. I really wanted to but I didn't think it would be fair to those who had already entered during the allotted time frame. We'll be doing another give-a-way for my 1000th post so stay tuned for that. I'm on 790 posts now so it won't be long. Thanks for the extreme loyalty and kindness each of you have shown me over the past 5 years. I have the best blog readers ever!
xoxo, Angie