WHERE IN THE WORLD IS AGD?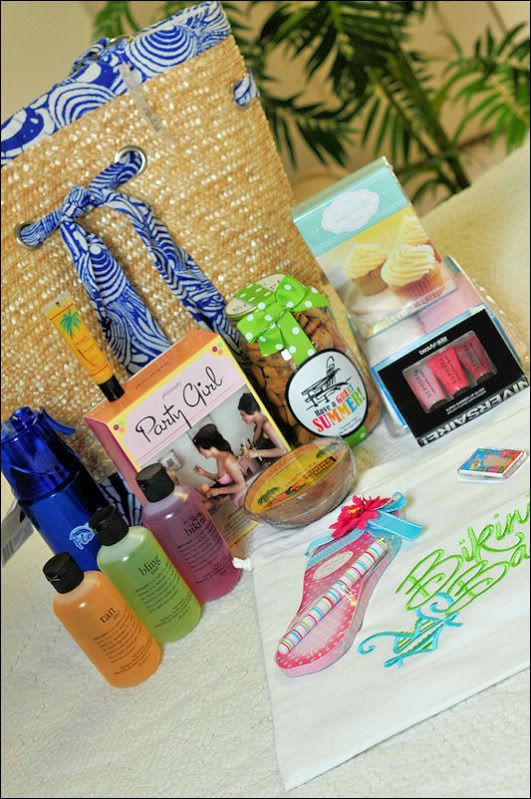 Well this is it friends. Time for the contest/give-a-way in honor of my 777th post. I've had many of you email me in regard to this contest questioning when it will begin and end. Therefore, I've listed some basic details about the contest below...
In order to enter the drawing, you must take a photograph and include a sign of some sort reflecting that "AGD was there" within that shot. The sign can say something like..."AGD was here in Dallas, Texas" or something like "We love AGD in Canada!" Feel free to be creative if you'd like to. The picture would be even more awesome if it could reflect something within your city, country, state, etc. along with the signage. Anyone can be in the photo as well. You don't HAVE to have people in it but it would be just as fun if you did.

PLEASE LINK DIRECTLY TO YOUR POST ABOUT AGD

and not to your blog in general. When linking on MckLinky, we must be able to click and it take us directly to the AGD post.

You must leave a comment in the comments area here on my blog once you've linked to McKLinky.

The contest runs from today (Friday, July 31st) thru Monday night at midnight. The MckLinky list will close at 12:00am on Monday, August 3rd. Therefore, you must get your photograph taken and placed on your blog by then. Once you have, please link to your blog from mine by way of the McKLinky list. By doing so, everyone visiting will be able to travel to your blog, check it out, and see the AGD signage for the contest as well. Not only is this just down right fun but it will promote blog traffic to your blog A LOT!
If you are not a blog reader, no worries. Just email your photo to me at Angie@AngelicaGraceDesigns.com between now and Monday at midnight. I'll add your photo to the blog as well as enter your name into the drawing.

If you have friends that are bloggers whom which you can coerce to participate, have them post a blog and a photo as well. Then, notify me that this person is your friend and has added a post via their blog too. By doing so, you will get 5 extra entries into the drawing. Your friend who participates will also be entered into the contest drawing as well.
I will have one of my children draw the name out of the hat on Wednesday, August 5th. I'll announce the winner of the contest shortly after that. The winners name will be posted on my blog once we've pulled the name.
Here are some up close shots of the beach bag and the goodies that will come inside it...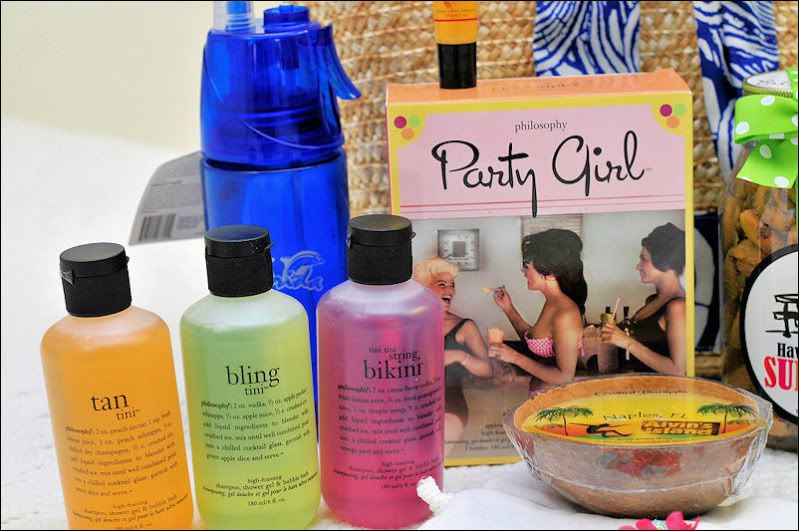 ABOVE: We have Philosophy's "

party girl trio pack

." I love, love, love these. They came from Sephora and include three shampoo, shower gel, and body washes. The names of them are ROCKIN'! Tantini, Blingtini, and teeny tiny string Bikini. Too fun! Not only are the names and colors cute but the smell/scent of these are to die for. You will love them too! I'm sure of it. The

blue

tumbler

you see in the background that reads "FLORIDA" on it with dolphins in the logo is not only a tumbler you can drink out of but it is also a mister too. You can drink out of one spot and then if you are in the sun and hot, there is a button you push that actually "mists" you as well. I love those down here. Perfect for summer! I've only seen these here and can't get them back home. Imagine! Another thing I can't get back home is the candle in the coconut shell that you see there. It is the "crushed pineapple" flavor. Love these! They have an incredible variety of scents but I went with the crushed pineapple for you guys because it is so beachy smelling and because it is my favorite scent. Ha ha!
Next up, we have a trio pack of super shimmer lip glosses from Sephora. These are a great collection of shades. they are perfect for the summer time as well. Then from Swoozies, we have their ever famous

cookies in a jar

. These are chocolate chip and come packaged in an adorable "Have a great Summer" jar. Also included is a set of

Turbie Twist towels

for your hair after a shower. I was so shocked at how many of you had never used these when I had them on my blog a while back ago that I just had to throw some in as well. They are addicting. You'll never be able to use a big ol' regular towel on your head again after using the turbie twist towels (positioned underneath the cupcake box above on right) And then, we have "

The Cupcake Deck

." I love these. Beings that I love cupcakes so much, I thought they were fitting. Not necessarily beach related but at least they are "Angie related." Ha ha! They are a box of oversized cards and on each one of them is a different recipe for another type of cupcake. There are 25 different recipes and cards in all. These will be great for parties or just for fun with your kiddo's.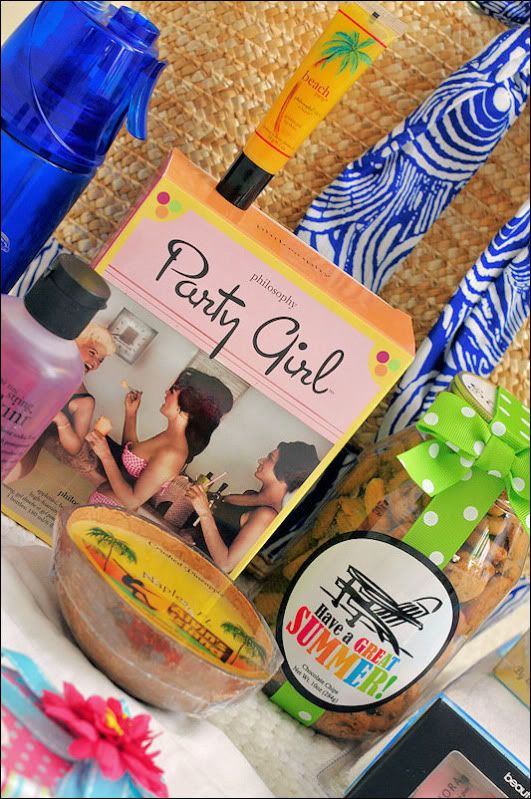 In the shot above, we also have the "

Beach Party Golden Girl Lip Shine

" by philosophy. You guys know how much I love this product so I thought I'd include one of them as well. I actually featured it on my blog a few months ago.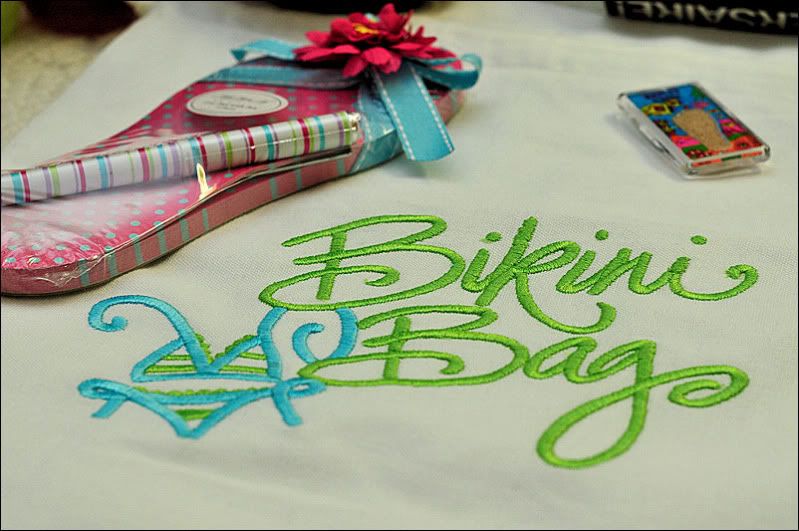 In the shot above, it shows a really cute flip flop note pad and pen set from the Coconut Point Swoozies store. Adorable. Also from swoozies is the uber fabulous "

Bikini Bag

." I love these bags. They are great for your suitcase or your beach bag. I use them to put my cell phone, hair ties, key fob for my car, etc. in the inside of my beach bag. It keeps those specific items from getting wet or getting sand in them. How cute are the colors on this bag?Also as just a little "souvenir" gift, I shoved a small lil' magnet in the bag (shown above) that has Naples, FL on it with a little foot. The foot is filled with sand. Too cute! And lastly, one thing not shown here is from Kaye Mackay. She is so generous and is offering up one of her

custom made family tiles

for the winner. It will be shipped directly to you via her. After the winner is announced, you can contact her and give her your info and she'll then make the custom personalized tile for you. thanks for doing this Kaye. I know our lucky winner will love your product. You are a gem!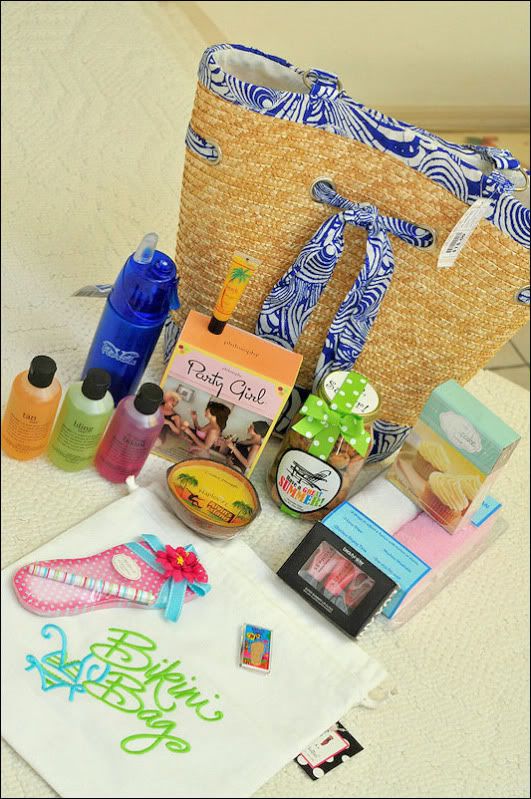 So, you've seen the goods and you've got the rules. Feel free to email me with any questions. For now, let's get this party started friends! Thanks for all of your undying support over the past 777 posts. If someone would've told me back in 2004 what AGD would become as of today, I never would've believed them. And in the end, without you guys, none of this would even be possible. Thank you from the bottom of my heart - for helping to make my dream with AGD a reality. I love you guys!
Much love and gratitude, Angie
Labels: 777th blog post, celebration, where in the world is AGD?