WAVING SESSION FEE
UPDATE AS OF 7/28/09: Due to the overwhelming response to my portfolio building (waving of my session fee), I'm no longer taking any addtional clients for that particular promotion. However, for those of you still interested in booking a session with me, feel free to contact me for a separate discount code should you want to book a sitting. I'd love to share that discount code with you which is good for sessions booked thru November of 2009. A HUGE thanks to all of you with the undying faith in my photography skills and whom now will be participating in the PB promotion. And for those of you out of state readers who contacted me, should my travels ever lead me to your neck of the woods, you guys will be the first to know. I am humbled by the response to this promotion and can't wait to work with your families.
Much love and gratitude, Angie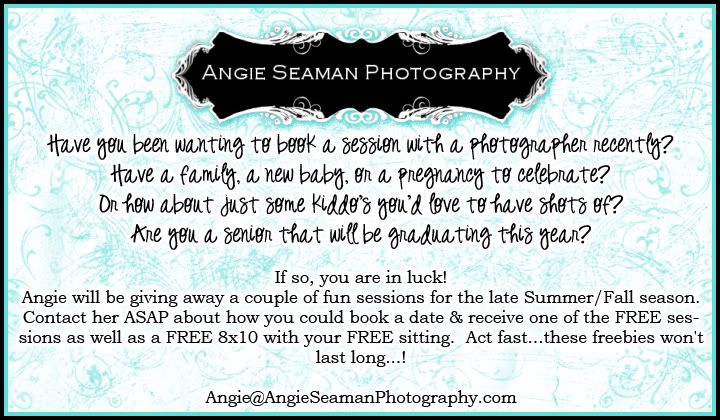 Yes, you read the above correctly. I am waving sessions fees for a handful of people as I work on building my portfolio. If you fall within one of the categories above, please feel free to contact me. So far I have one couple, one maternity session, a 3 month old, a 4 year old, as well as a 3 year old and 11 month old brother and sister participating in this awesome event. I'd like to include a few more before completing my portfolio. The inquiries are rolling in and my September and October dates are booking up fast. I still have room for a few more if you anyone is interested. If you reside in Indiana and would like to be included in this incredible offer, please email me at the email address listed above. Thanks for everything!
PS...I have a real desire to photograph special needs children as well as babies or kids battling a life threatening situation. If you know of a child, be it a premature baby not expected to live, a child battling cancer or something similar, or a special needs child, please let me know. When I first began this new photography endeavor, I mentioned here on the blog how I wanted to photograph special needs children. I truly believe that we are put on this earth to give back in any way we can. Therefore, I'd love to give my services to families who are walking a trying journey with their child. In these circumstances, I would wave my session fee for the family experiencing the ordeal. Given that my own family has been touched by a child with special needs (our daughter Kenidi), I understand first hand what pictures mean to us and how hard it is to capture those children at times. And for the families whose child has limited time here on this earth, what a better way to savor those days with that child then through the memories of photographs. So...if someone comes to mind that you feel would be deserving of this type of gift, please forward them on to me. I'd love to work with them.
xoxo, Angie
Labels: Angie Seaman Photography, portfolio building, waving session sitting fee