SEEKING THE BEAUTY
When you look at this picture in general, what comes to mind? What do you see? If you were driving down the road and passed this lot/property, would anything register? Pay close attention now...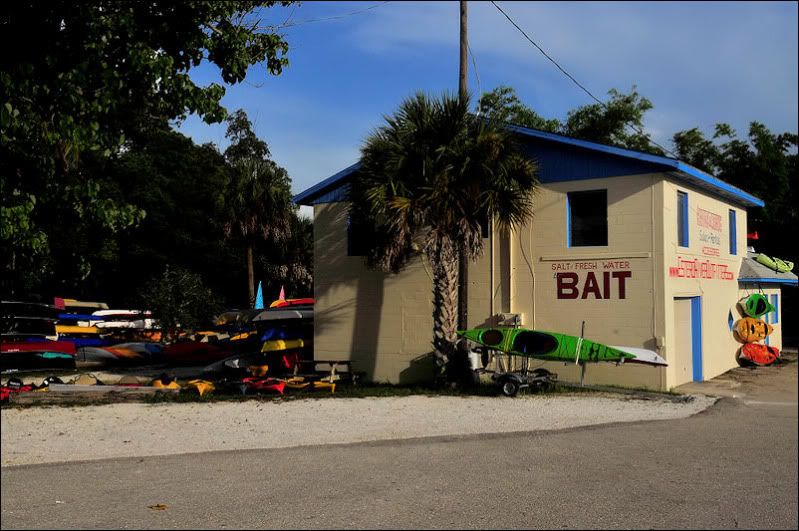 Maybe come in a little closer. Now what do you see...?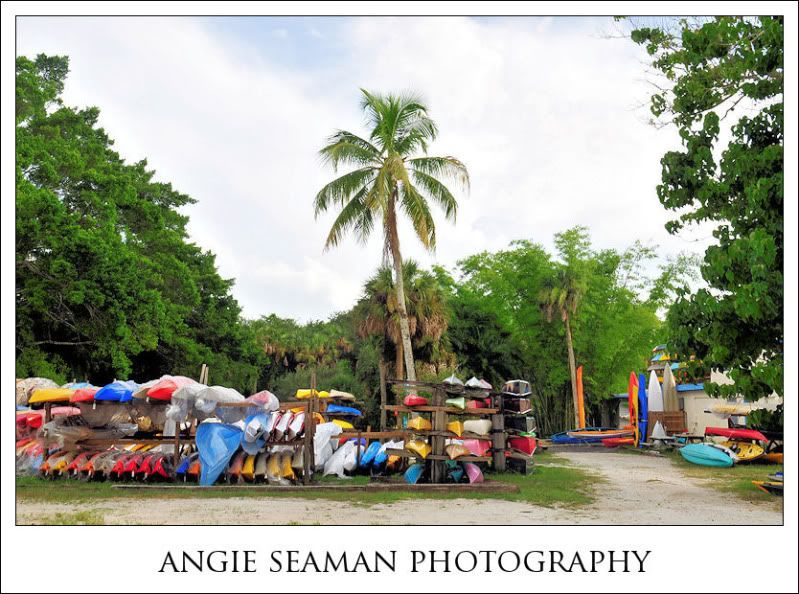 Well let me show you what I see.

I see these...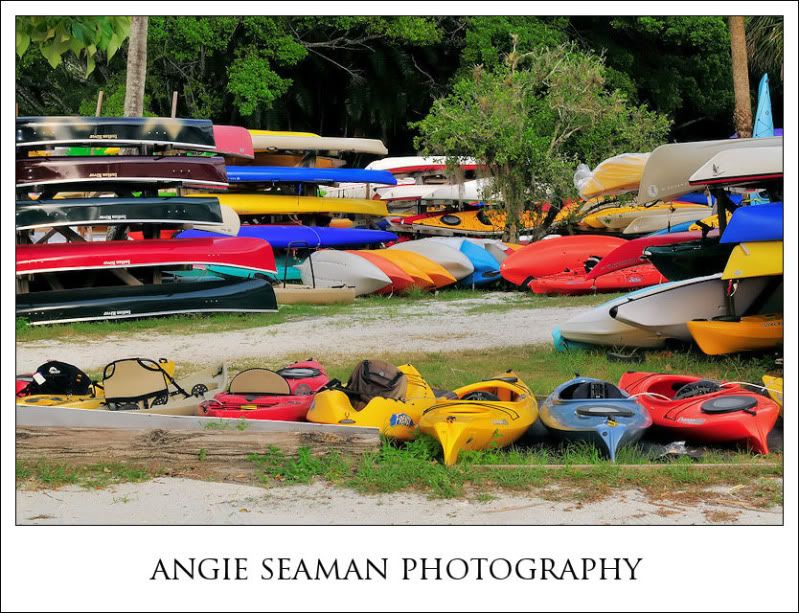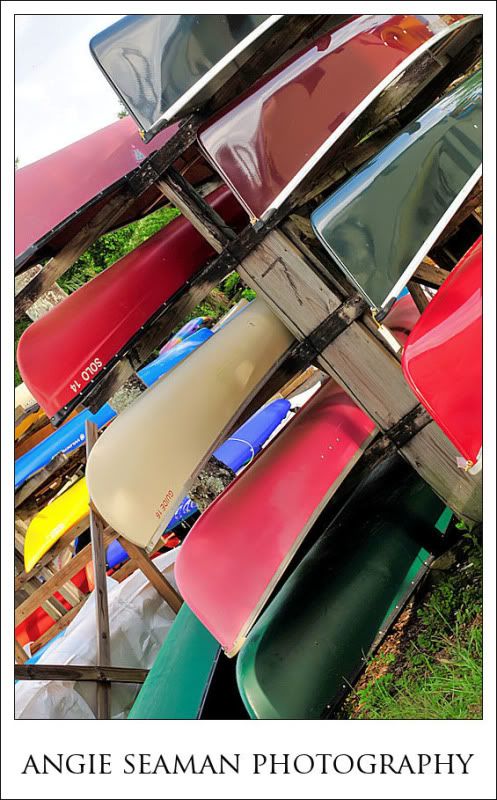 And my eyes see tons and tons of color. More color then my brain can wrap itself around...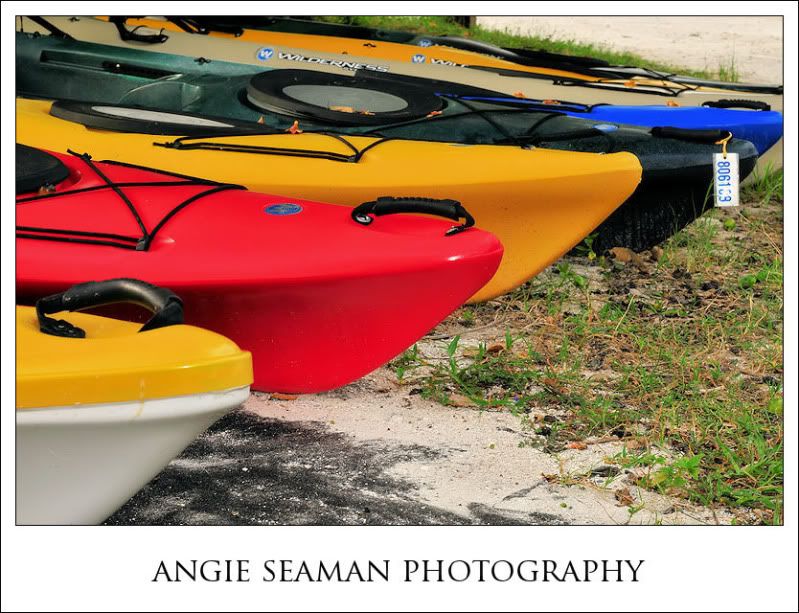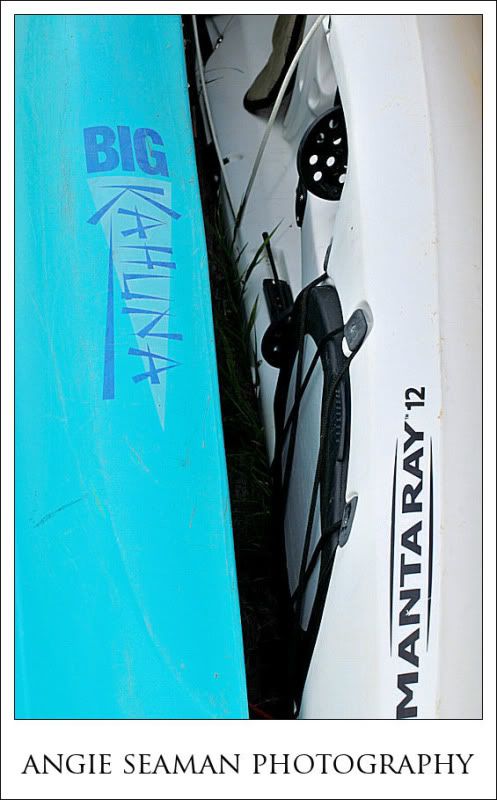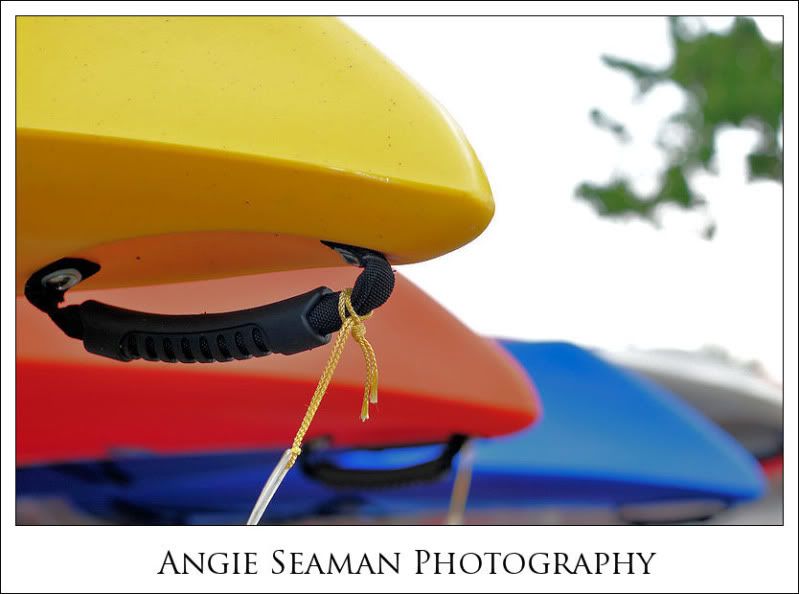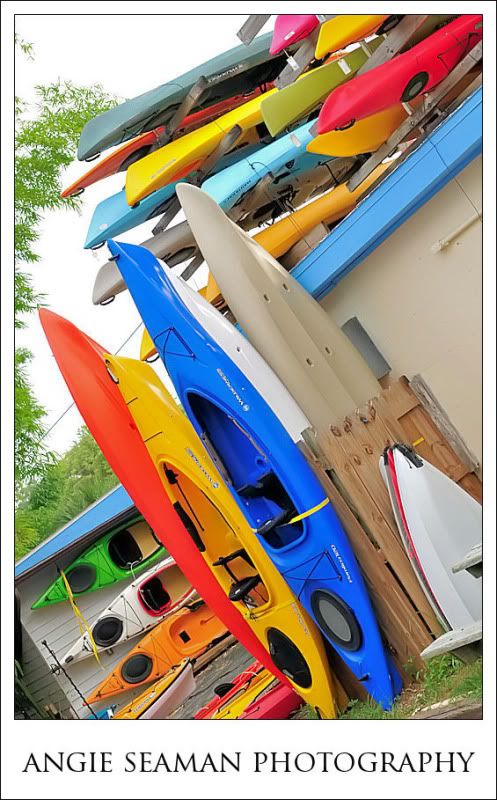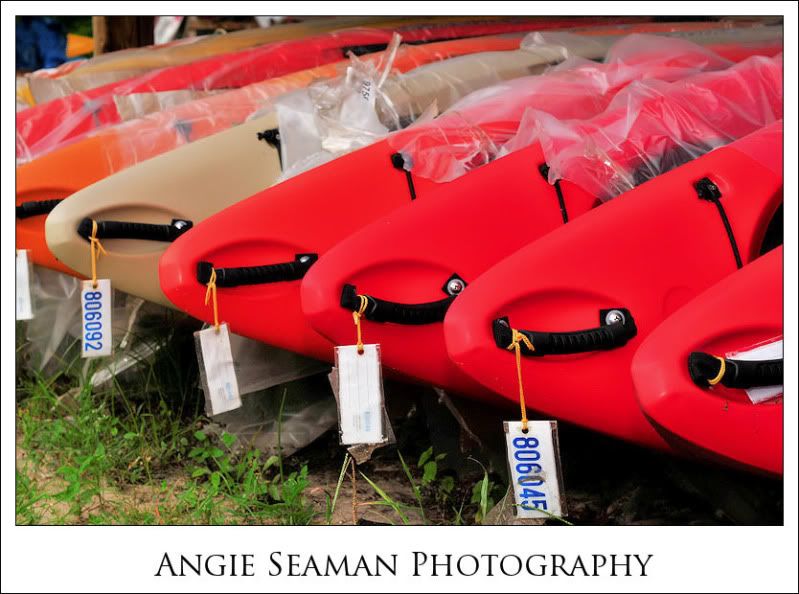 How about this pink canoe (shown below) by the way??? Think we could letter it up with some AGD wings maybe? I think so!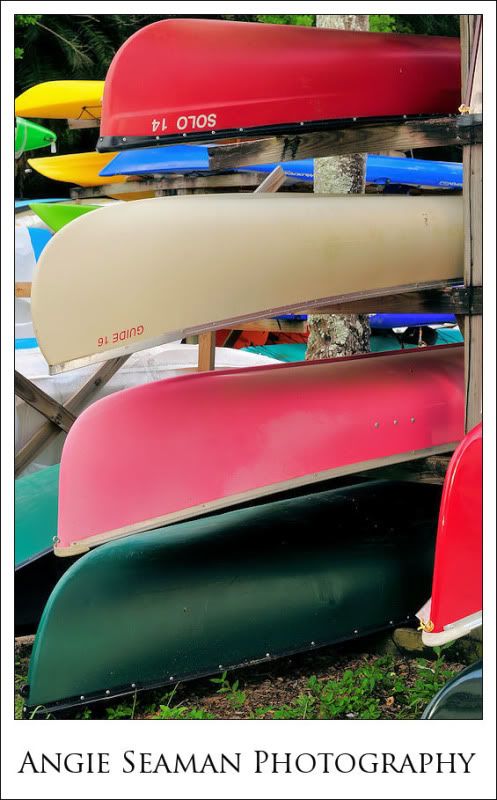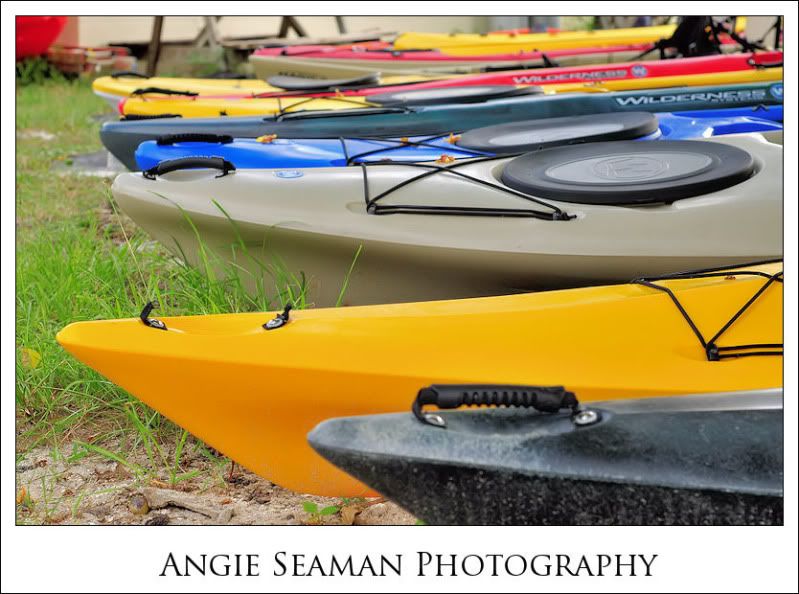 Needless to say, despite the no-see-um mosquito type bugs that ate me alive the whole time I was shooting as well as the fear I had that a snake was going to come crawling out from underneath one of these stored kayaks and bite my ankles, my camera, my lenses, and myself had a ball capturing all of this color - this intrigue - these photographs.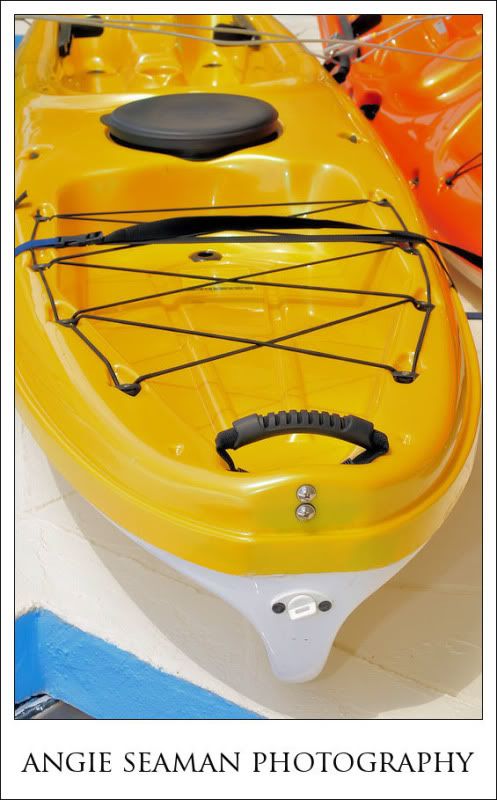 You see...this is a small kayaking business off the side off the road which I happen to drive down many times a week while here in Southwest Florida. And each time I pass this store, my heart skips a beat (well it does that normally but you guys know that story - Ha ha!). Anyway, my heart skips a beat whenever I look over and see all of these phenomenal angles coming off the boats as well as all of this outrageous color. I have continually had the urge to get back there on this property and shoot these boats.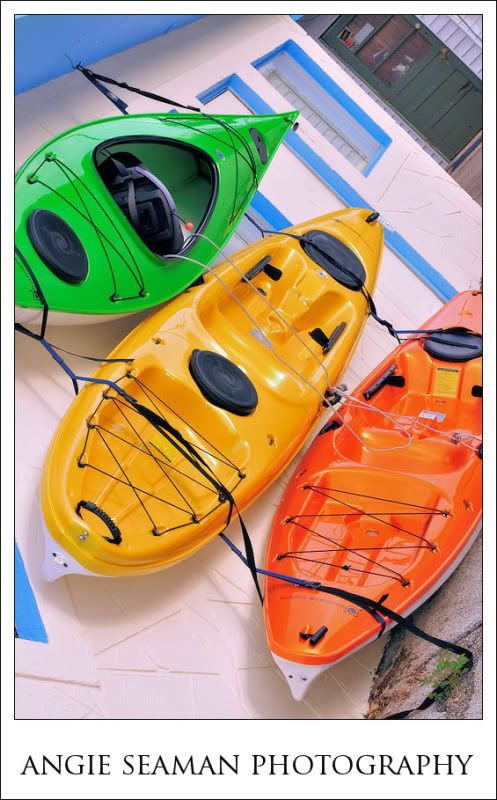 Finally one day, I got up the urge to call the owner of the business. I wanted to ask permission to get onto their property after hours and shoot. Although the woman I spoke with on the phone that day seemed confused on why I'd want to shoot there, she gave me the OK. She asked me if I could do it during the day rather then after hours. I explained to her that I wanted the evening hours so that the sun wasn't so harsh in my shots. Again, confused...but she gave me the permission I needed. She asked me if she could get copies of any of the shots I did and I told her "of course!" Definitely! We agreed that I'd leave my business card in her mailbox once I had completed everything. So, I waited until the perfect evening - where the sun was going down and we had a bit of an overcast cloud cover in the sky. Finally, it happened. The sky was perfect. The clouds were perfect. Even the palm trees on their property were perfect! Wink wink! ;)
I can't thank the owner enough for allowing my heart and I to skip a few beats together during this process. Yes, as the old saying goes..."Beauty is in the eye of the beholder." However, my intention of posting this shoot here on the blog was to prove that although that saying is somewhat true...I believe that there is beauty to be found, to be seen, to be had in everything if we will just take the time to look for it. I've said it before but I'll say it again...One of the best things about being a photographer is that life looks completely different from inside a camera. The things we'd normally pass up in day to day life become things we can't pass up behind a camera. Photography allows you to see things you never saw before. One of the major misconceptions people who aren't photographers have about photography is that the art of it is all about the beautiful things in life. Photography is about all walks of life. The good, the bad, and the ugly. Again, it's all in how you choose to see or view it. The other cool thing about photography is that you are the artist. It's your gig - you make the rules. Therefore, if you want to shoot an old lot full of kayaks...you can. And I did.
So today...I'm encouraging you to go seek out the beauty in the mundane or the not so pretty today. Find it. Hunt it down. It's just another way to actively turn the negative into a positive. And with that comes a better day then maybe the day you had before...you can be sure of it. Thanking God today for all of the beauty in life. Even when it comes to kayaks. :)
PS...Should your travels ever bring you to Southwest Florida and leave you wanting to take a kayaking trip for the day or leave you wanting to go canoeing, be sure to look up

Estero River Outfitters

. They have a great selection of boats and have a wonderful owner who was ever so kind & gracious to me.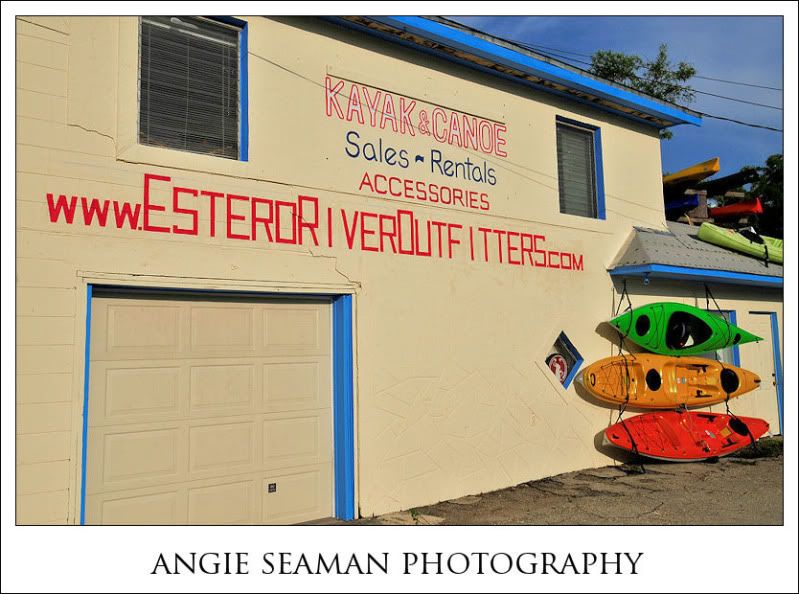 xoxo, Angie
Labels: Bonita Springs, canoe, Estero river outfitters, Florida, kayak rentals, Southwest