PHOTOSHOP FUN WITH DAISIES
Remember when I told you that I wasn't going to let photoshop kick my butt?
It was no joke! Photoshop will not win. I'm learning ladies. Learning lots! It's amazing how much you can learn through one on one private classes. Slowly but surely...I'm kicking photoshops butt...one day at a time. Today was no different. I finally learned how to make blog it boards. (thanks to my last photoshop instructor as well as my web gal) It might not seem like a big deal to you but boy oh boy is a huge deal to me. I have wanted to learn how to do these for soooooo long. Love, love, love the placement of blog it boards on blogs. Very fun!
I shot these shots up in the bathroom underneath the sky lights earlier today. As I was cruising thru the grocery store yesterday, I saw these Gerber daisies and knew that they'd make some great colorful photos as well as would brighten up the kitchen. So, I grabbed them and decided to take the time today to photograph them. They made for great practice with the blog it boards. YAY!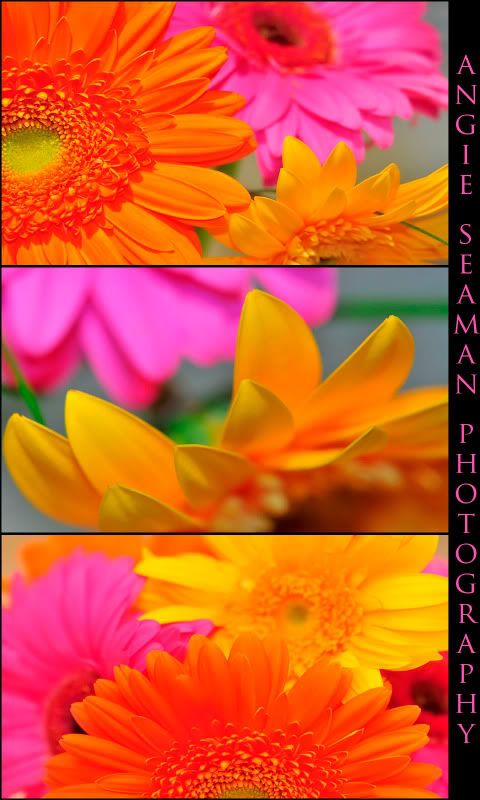 We spent the evening in Marco Island last night and I was hoping to catch some shots of a few interesting sites while there. However, I was so overwhelmed by the all of the beauty on the island that I got lost in the moment and never once stopped to use my camera. Imagine that! So...this was all I could come up with for blog material today. Hee hee! We are off to lunch for now. I hope everyone is enjoying their Friday. My Friday just got even better now that I finally sat down and took the time to figure out these boards. I might just love photoshop by the time all of this is said and done. Yes, we might just be B/F/F's at one point or another. Stay tuned...the learning never stops. To be continued...
xoxo, Angie
Labels: blog it boards, gerber daisies, photoshop