LOU COOKS AGAIN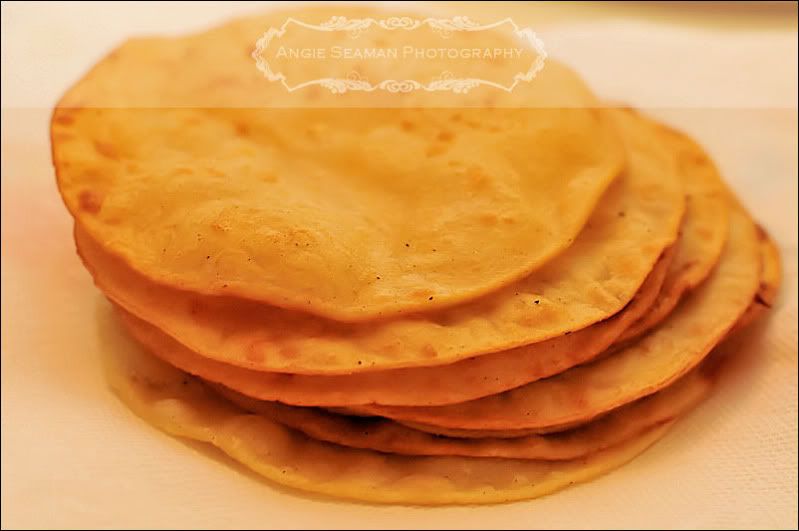 Lou (Brent's friend) has already gone home to Michigan but out of appreciation for his good Mexican cookin', I had to post a couple more photos of the dinner he made for us on the 2nd night he was here. He made taco's as well as cheese/onion enchilada's. I was in heaven. Again.
I didn't really get my cameras settings where they were supposed to be before I took these because we were all in a hurry to eat. So...you get what you get - don't throw a fit. Ha ha!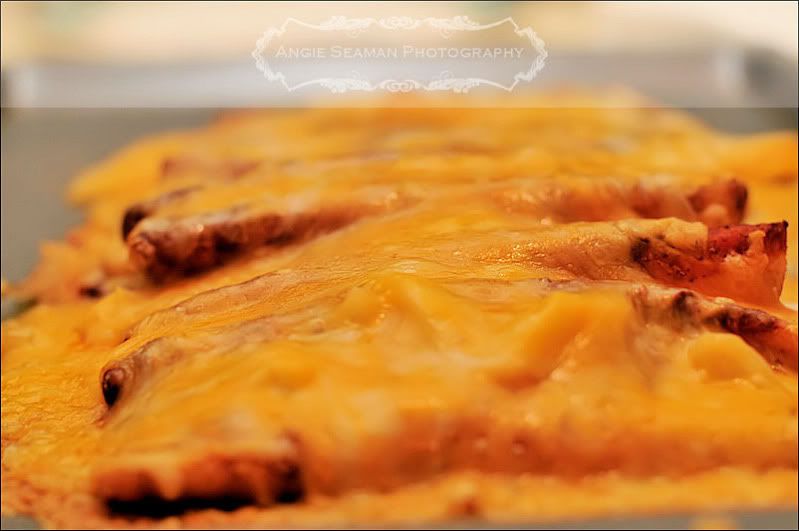 Lou also made more guacamole dip for us beings that I "wanted to marry it" by that point. :) Lou not only is a great cook but he is also an artist. For those of you who know us well, you've seen the drawings that Lou has made for us. He takes original pictures of our kids and then hand draws them for us. We have a couple of them in our home framed already. Well, see the little yellow lobster on the side of the bowl below? Lou made that. He sculpted it with Brennen's clay. Too funny, huh? He actually had Brent and I print out some new and recent photos of Brennen and Kenidi so that he could take them back to Michigan and draw them out for us. I can't wait to get them. I know they will be gorgeous. They always are.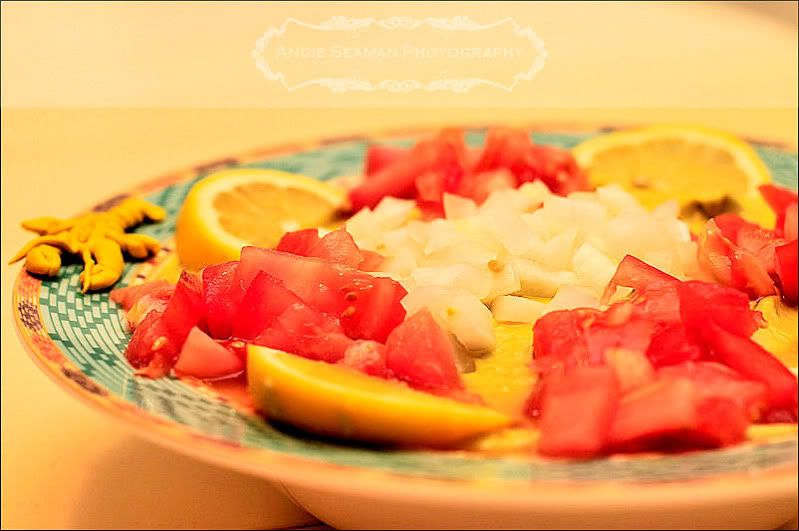 Needless to say, I'm probably 20 lbs. heavier since Lou left. His cooking was just too good to pass up. :)
For now, I'm off to go check in on the photography workshop I'm leading. Can I just tell you what a wonderful group of 24 women we have in that class? They all have such awesome talents and are doing great in the course. I'm thoroughly enjoying getting to know each of them all that much better. Of course while teaching the basics of beginner photography to each of them, I myself, am also still taking classes of my own. I've enrolled in more photoshop classes as well as some composition/style photography classes. Then, at the end of August, I have a 3 day workshop in downtown Chicago that is sure to be a blast. It's taught by a very talented instructor and I can't wait to learn from her when there. And finally, I am so very stoked for the middle of September to roll around as well. Reason being, I registered and got into "The Learnfest" workshop that is held in Atlanta. The last time this workshop was offered, it sold out in 4 hours. I am very thankful to be "in" the workshop for September's class. I thought for sure it was going to sell out before I could register this time. The Learnfest is a 4 day/3 night workshop at a Chateau in Atlanta that is put on by some very "prestigious" photographer's within the industry. Basically they spend that 4 days with you teaching you everything that they can in that time frame. As the site says, you experience in-depth instruction on shooting, post-production, marketing, business strategy, revenue generation, and studio and daily work flow. It's also a great way to get to know and network with other photographer's from around the world. The photographer's teaching you are ones that have shot for or had images place within People magazine, Vogue, Pottery Barn kids, Kids R Us, the Disney Store, O Magazine, Elle, Town & Country, Martha Stewart Living, Parenting Magazine, The Knot Weddings, Food & Wine, Brides Magazine, The Knot, Modern Bride and Inside Weddings. Needless to say, I'm sooooo very excited to learn from these photographers. Nervous? Yes, that too! Very much so. These are shots that are done in person in different lighting situations and such. I am nervous but so very excited to learn too. September can't come soon enough. Not that I'm wishing summer away by any means. Ha ha! :) The August workshop in downtown Chicago is an urban shoot. We'll be going as a group around the streets of downtown Chi-town and shooting professional models that will be there for our use during the learning process. How cool will the streets of Chicago be for three days??? I'm going to be on cloud nine! I can't wait to meet the other photographers in both of the workshops too. It will be great to make the connections with each of them. I'm ready for all that the next couple of months has to hold. Exciting times for sure! And for the many of you who have asked me...yes...I will be teaching another beginner photography workshop class online. If you are interested in it, stay tuned. I'll be announcing the new dates for it next month. In the meantime, have a great night and sleep well.

xoxo, Angie
Labels: Bonita Springs, Florida, Lou cooks, Mexican cuisine, Summer 2009