AUTHENTIC MEXICAN SPREAD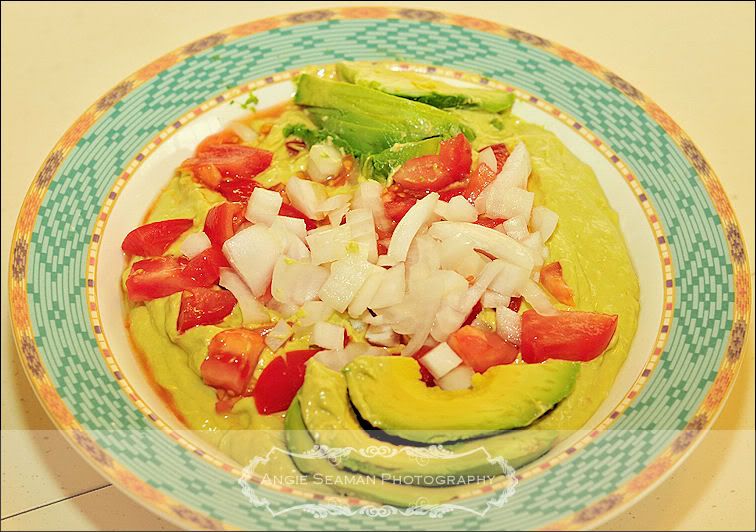 For whatever reason, whenever we have guests into town while down here in Florida, they always "want" to cook for us. When my Mom was here, she cooked. When my step-mom and my Dad were here, they cooked and grilled out for us - together. When my inlaws, Debbie and Ron were here, they cooked and grilled out together for us. And last night while Lou (Brent's friend), was here...he cooked for us. I'm always amused at how people come on vacation and then want to cook for us. Brent and I always try to detour them from it but they always insist on doing it. Gosh knows I don't cook on a normal day let alone while on vacation. Ha ha! So as you can imagine, Brent, myself, and the kids are always grateful for their cooking considering how we normally wouldn't do it if it were just the four of us.
Last night though, I ate so much of Lou's cooking that I almost needed to check myself into a hospital or better yet into a Rehab center for over eaters. I haven't stuffed myself like that in a looonnngggg time. Ya see...Lou has "Mexican" running through his veins. So when he arrived last Thursday, he was adamant that he would be cooking a meal for us while in town. Again, we tried to assure him that we could hit a great dinner out instead but he was bound and determined to cook. So...we let him. We took him to the local grocery store and found some things. However, they were lacking a few "authentic" Mexican ingredients. Therefore, Brent ultimately took him to a little Mexican grocery store that we knew of here in Bonita. Thankfully, they found the real thing and the main ingredients that he was after. By the time he was done, we had THE BEST guacamole dip I have ever tasted in my entire life. And I am not just saying that because he is Brent's friend and this is my blog. I assure you that it was the best recipe you will ever taste when it comes to guacamole dip. Unfortunately, I didn't watch him make the whole thing. Therefore, I'm unsure of his recipe. And when my facebook friends got a prelude to the pictures and the news last night, he had a fan fair of people wanting the recipe. The emails were rolling in - my FB friends wanted a taste of his "Mexican" cuisine. However, he told me that the recipe was straight from the interior mountains of Mexico. He told Brent and I the story of how a lady he had met gave it to him many, many years ago when he was out in the middle of no where - in the heart of Meh'-hi-co! And in the end, he kept the recipe a secret and wouldn't cough it up. I should have paid more attention because I NEED THAT RECIPE. We had FB friends emailing in telling us to "tell Brent that he needs new friends. Better friends! We want that recipe!!!" It was hysterical. But...yet still...he never gave up the goods. I can assure you all though that I watched him put in a full brick of cream cheese when making it. Apparently this isn't typical. I believe that is part of what made his guacamole dip so creamy and delicious. Brent and I sat there and ate through this HUGE entire bowl of guac dip until the bag of chips were gone. This is a big like serving bowl too by the way. It's not just a "side bowl" of dip. It was massive - I assure you. We were pitiful! Just pitiful!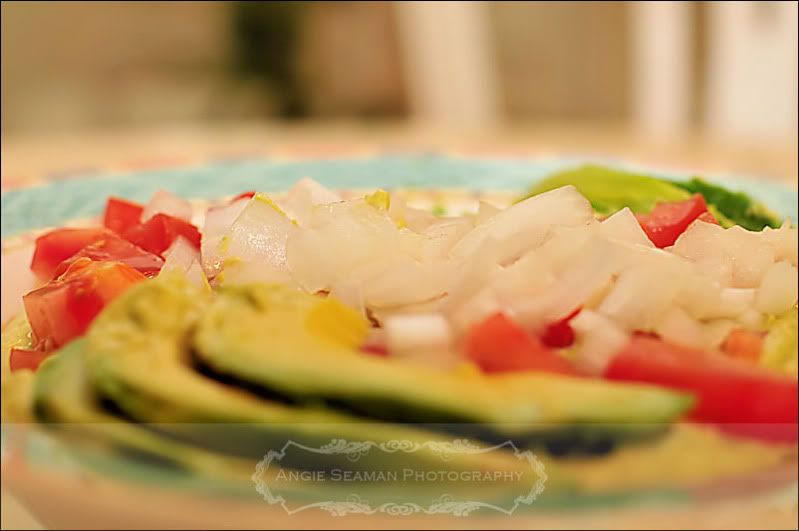 And as if the guac dip wasn't enough, we still had "dinner" to go. Yeah, the dip was just a prelude to the dinner he was making. And for the dinner, he made chicken flauta's. Oh my GAWSH...heavenly I tell you. Heavenly! I'm not a big meat eater so it is saying something for me to sit down and actually consume any kind of meat - including chicken. Ask my Dad...he cracked up a few weeks ago (when here) after witnessing me sit down to a filet off the grill and immediately alert everyone that the meat smelled like "wet dog." I just couldn't eat it. It truly smelled like a wet dog from outside. Come on you guys...you've been there. I know there has to be someone out there who can relate to the moment when red meat has smelled like cooked wet dog to you, right? Surely I am not the only freak-a-zoid on this planet. I mean I know I'm a nut job but you know you guys are lying if you say you've never thought your red meat smells like wet dog. HA!
With that said, I carefully watched the chicken flauta's being cooked and assembled. I wanted to make sure there weren't any macaroni style veins ending up in my flauta's. Come on peeps, you've seen the macaroni vein I'm speaking of before. They are on chicken legs or drumsticks all the time and boy are they disgusting. But anyway, back to the assembly and cooking...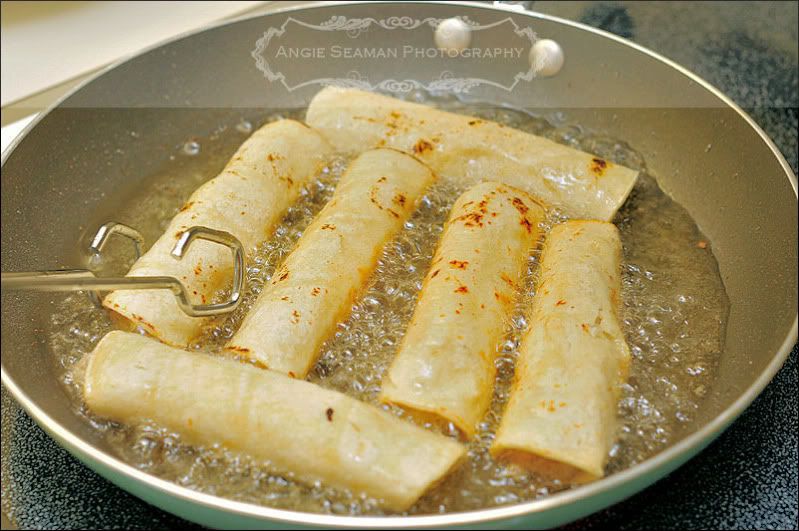 Check out all of the oil in that pan. And yes, my pans are turquoise. You didn't possibly think I'd pick any other color than turquoise, did you? Hee hee!

These photos are while Lou was deep frying these babies up. Chicken Flauta's - authentic chicken flauta's at that. None of this - Chi Chi's or South of the Border type Chicken flauta's. They were layered on the inside with well seasoned meat, spices, and ingredients that made them so scrumptious and out of this world. Check out their coloring...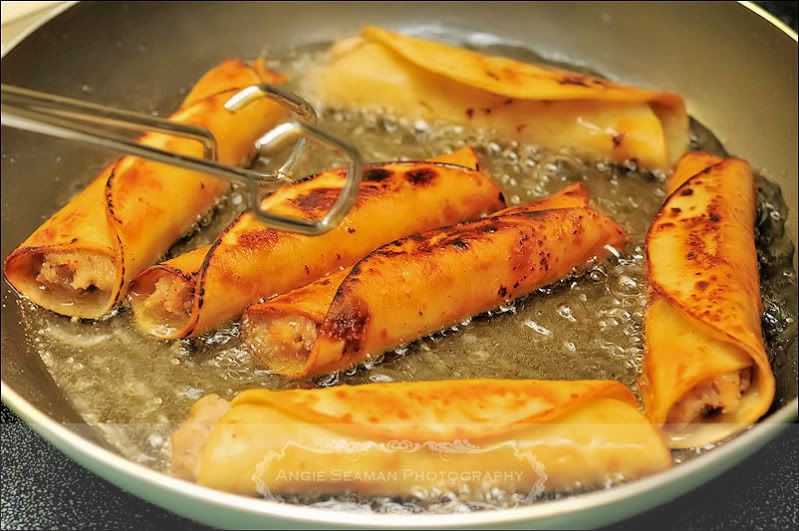 When all was said and done, Lou served up these flauta's with heap loads of the guacamole dip and a heaping spoon full of sour cream. Also along with them came a special Mexican red sauce that graced the top of them. (I failed to capture a picture of that though - sorry!)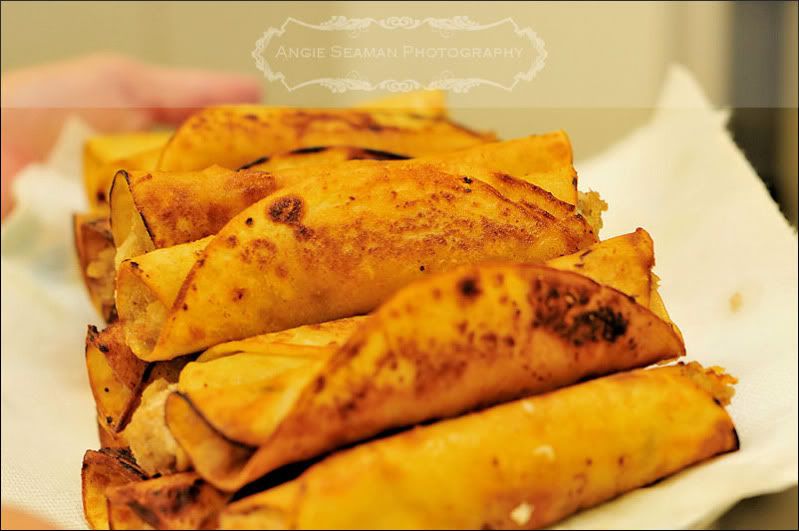 Once Brent and I finally quit eating, we had to be rolled away from the table. It was bad. Real bad! I've never eaten anything quite so wonderful in all my life. I love Mexican food too so this was beauty at its finest to my tummy and especially to my taste buds. It was great to step away from the Florida surf and turf for just one night and then experience the interior mountains of Mexico - authentic style! And I'm embarrassed to even admit this but I'm going to anyway. Because you know...we keep it real over here on the ol' AGD blog. Truth is...after we rolled ourselves away from the table...we rolled ourselves right on into the car and then rolled right on down the street to the Coconut Point mall for what else? ICE CREAM! Oh my L-A-W-D! Can you believe it? Yes, ice cream on top of all that. Lou said had he known we would have wanted ice cream - he would've made fried ice cream for us. No matter what, we ate ice cream after that huge meal. I told you we were pitiful! Fun thing was though, when we got to Coconut Point, Pagelli's and Hemingway's restaurants were having a huge hoppin' party on the water. There were singers, dancers, Elvis impersonators, etc. It was a great time and a beautiful night. For those of you who are facebook friends of mine, you already got the privilege of seeing pictures from the party last night via my phone. I don't ever post my phone pictures on the blog - just on Facebook. We had a great time. And yes, my cookie dough ice cream from the Marble slab made the night even that much more grand. YUM!

Before I sign off though, you didn't think I'd post all of those pictures of Lou's yummy foodwithout posting a photo of him too, did ya? Here is one of him and Brent. They are great friends. They share a bond like most will never know. To say they have been through a lot together is the understatement of the century.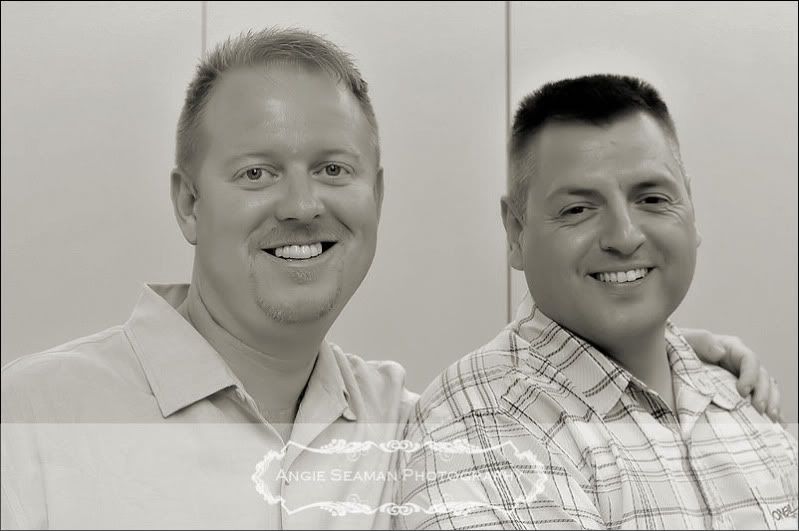 Our "authentic" Mexican Chef. Ha ha! Love it! (although is was raised in Michigan). Hee hee!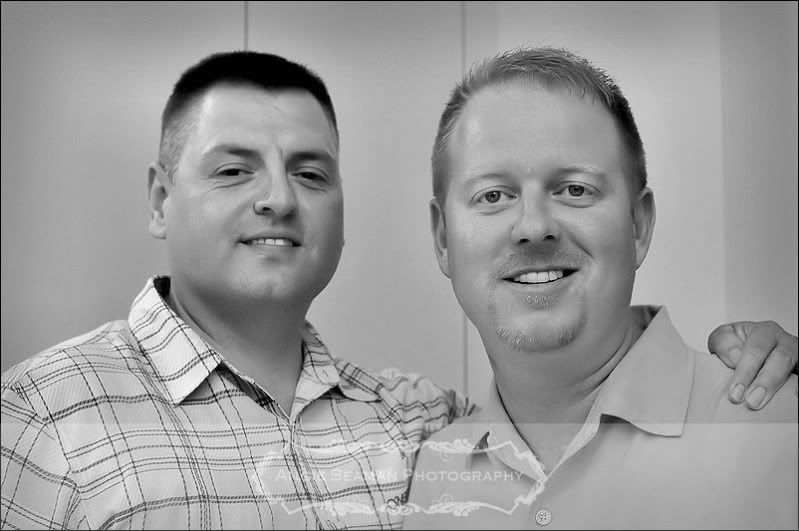 Thanks Lou! We enjoyed every bite of your fabulous creations. As you know, Brennen would like to hire you as his full time chef. HA HA!
Hope everyone is having a superb Saturday! Blessings, Angie
Labels: Bonita Springs, Brent, chicken flauta's, dinner, Florida, guacamole dip, Lou, Summer 2009