STOPPING TO SMELL THE SEA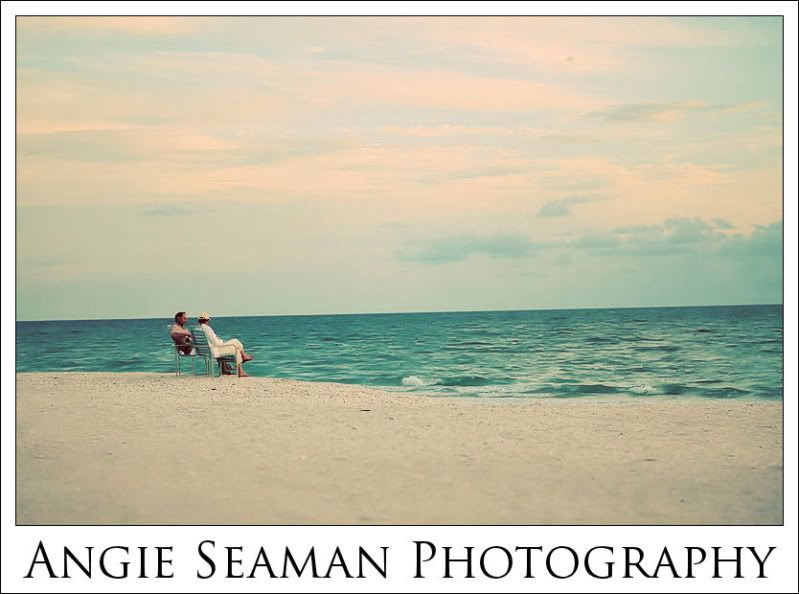 We watched the sun set from the beach last night. It's becoming a nightly ritual and I love every second of it. Bad thing is, come time to return home in August, I'll definitely be having withdraws from our nightly rendevous with the sea. I'm setting myself up for a major bout' of depression once we return to Indy and loose the option of sugaring our toes in the sand amongst the golden back drop of the sun setting each evening. This will not be a good thing. In fact, this could be a really bad thing for all of you readers because you are no doubt - bound to hear and read about it here - once that depression sets in. It's a vicious cycle to come and go. To come to this incredible place and then leave each time. It's a teaser to the soul.

When there last night, I noticed an older couple off in the distance. They had two chairs, a bottle of wine, 2 wine glasses, and each other. That's it - nothing more. As I watched them, I decided to grab my camera and snap an unassuming shot from afar. They had no idea. (as usual) I didn't break out my telephoto lens and zoom in on them because I wanted to respect their moment together. Had I gotten out the 70mm-300mm lens, I could've told you what they were saying. You know my motto on that lens..."You can see people in space with that bad boy." Therefore, I left my 50mm 1.4 lens on and shot an image that took note of their quiet moment against the sea from way back. I knew when I took it that it was going to be one of my favorite pictures ever. It wasn't until I got home and reviewed my images that I realized just HOW MUCH I would fall in love with that moment - with that shot.

Rarely do we take time to stop and smell the sea roses in life. This couple was doing just that. As I watched from afar, it made for an incredible word picture. You know how I am about my word pictures. Ha ha! If I only knew who they were so that I could send them this image - this moment caught in time - just the two of them and a

gift from the sea

. They looked so small against that huge but beautiful ocean. Their world looked so peaceful and so stoic all at the same time. I hope and pray that when Brent and I get older, we will continue to make time for each other in this same spot that they were. Our nightly sunsets with just the two of us - no matter what beach - even if our kids are grown and gone and we aren't chasing them as the sun sets anymore. Yes, just two chairs, a diet coke and a caffeine free coke, two glasses, and each other. What a gift from the sea that just keeps on giving so long as we take the time to stop and savor it. xoxo, Angie

PS...I'm once again participating in Kelly's Korner show us your home tour. This week it is focusing on office's. Therefore, I submitted an old post and some images of my office at home in Indy for the tour. This post and the pictures were taken about a month after we moved in last year. Therefore, they are a bit out dated and the room has changed a bit since then. However, you at least get the jist of it. Feel free to visit that post HERE.
Labels: Bonita Beach, Summer 2009