ODDS & ENDS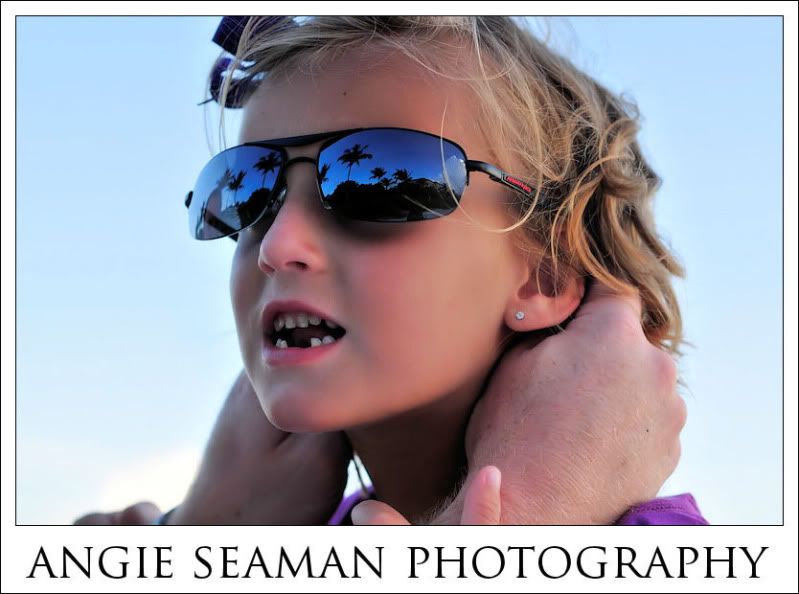 I love the reflection of the palm trees in the sunglasses in this shot. Brent was letting Kenidi play with his shades on the bach the other night and I managed to get a snapshot of her wearing them. That of course was no big deal but the reflection in the lenses is what I loved.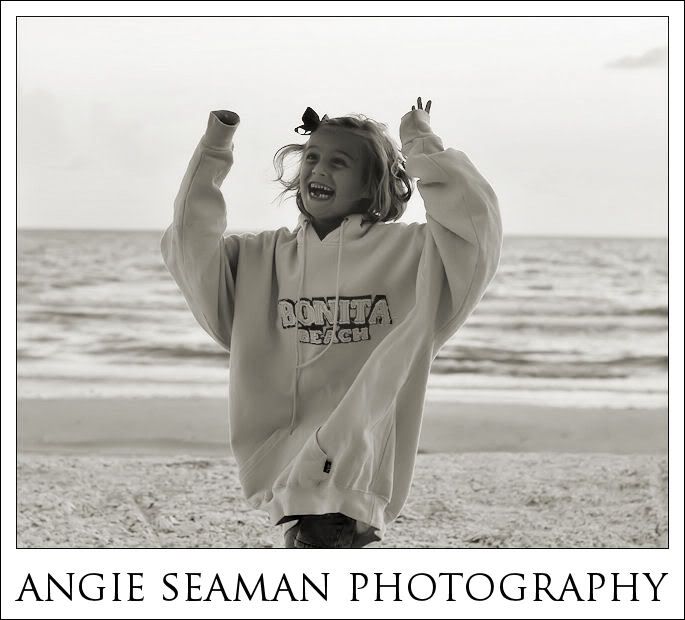 Kenidi loves wearing our clothes. Whether it is Brennen's shirts, Daddy's, or mine...she just loves them. Brent teases me because I have such a collection of Naples and Bonita Springs clothing. He jokes and calls me such a tourist. However, you can never have too many sweatshirts. I am constantly cold in life. Cold in restaurants, cold on air planes, cold at home because Brent keeps our house at 68 degrees - yes I said 68 degrees. It's basically a meat freezer in our home. We laugh and say you could kill hogs in there. HA! :) So...as you can imagine, I keep a trusty ol', big, baggy, sweatshirt near by all the time. Each time we are here, I manage to come home with a new sweatshirt. Kenidi loved wearing my pink one around the beach the other evening. I take it to the beach because I can't stand the 'no-see-um' bugs that bite like mosquitoes. Not only that but Kenidi is allergic to mosquito bites. Therefore, the more coverage at night, the better - for me and her. I love the shot of her below - just sitting out and staring off into the big, blue, sea.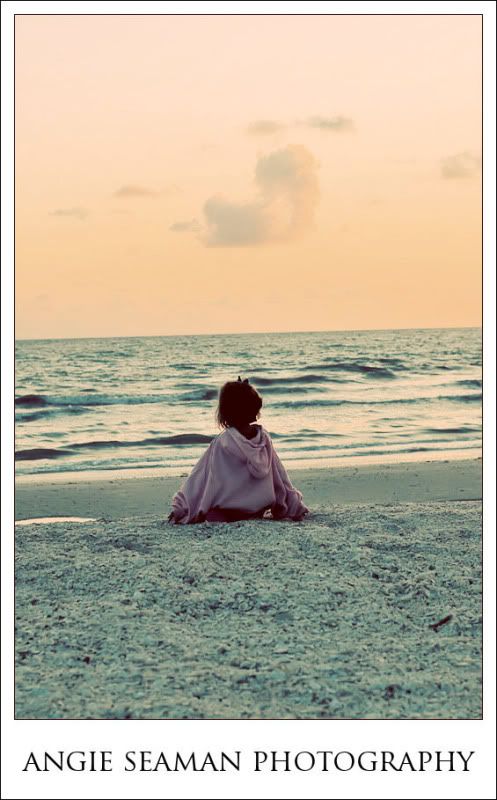 I might have mentioned this already but one of my favorite things about watching the sunset at the beach each night is when the onlookers clap and cheer together as the last of the sun dips down into the ocean and becomes invisible. Everyone bursts out into a crowd of roars and cheers as a way to celebrate another beautiful day gone down in history. This shot below is of everyone who was there to witness the sunset the night before last. Take note of the 80 something year old lady in the turquoise shirt on the chair. She had a yellow Lilly Pulitzer mini skirt on with her turquoise cardigan and she was stylin'! She was extremely tan, had beautiful silver hair, and just ROCKED her look at 80+ years old. I told Brent...only here would you see a gorgeous grandma wearing a mini-skirt, tanned and looking healthy, at 80 something years old. She was beautiful!
And then more of the sun setting...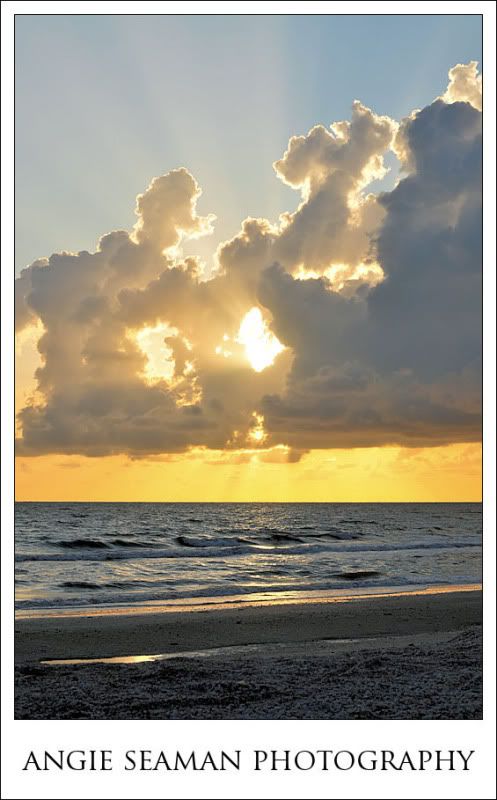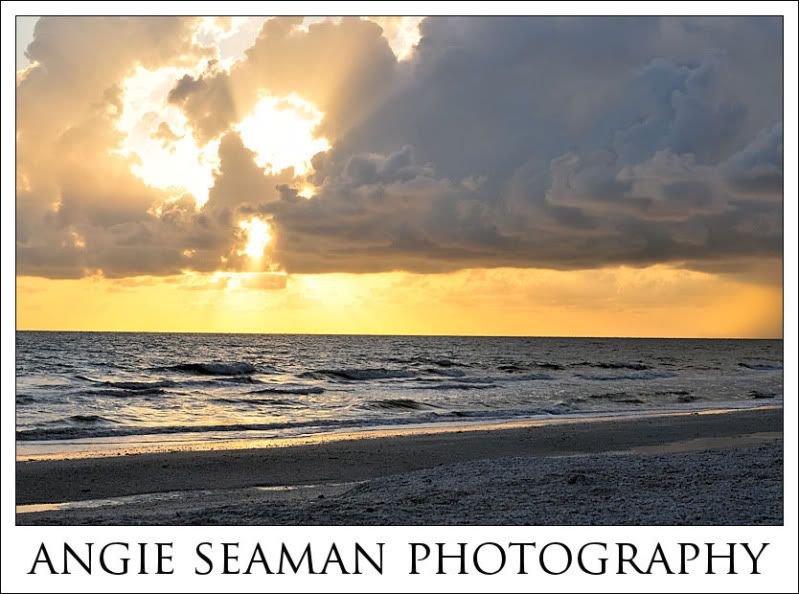 Love the rays of light beaming out of the clouds on this shot below...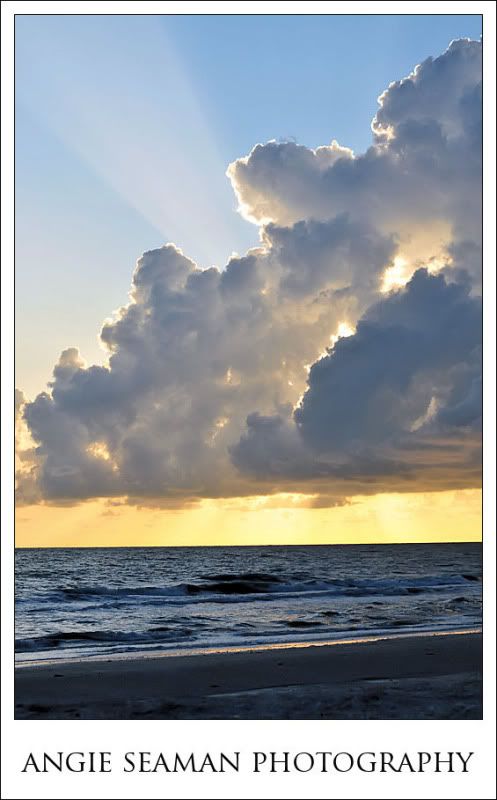 And Kenidi Grace sporting her tee that reads..."Happiness is being at the beach!"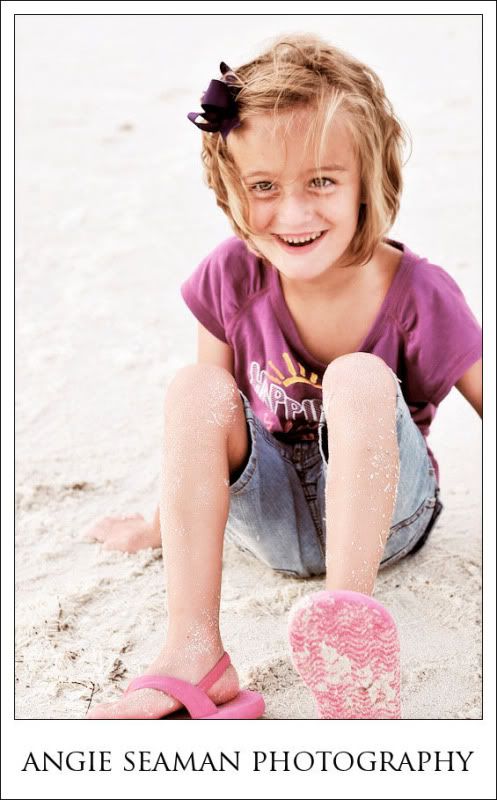 And finally, a fly by from our beach B/F/F's...

I'm headed out to enjoy the pool today with the fam. And yes, we got my Mom picked up from the airport just fine yesterday evening. In fact, I just woofed down some bacon, eggs, and toast compliments of my Mom's cooking. They were incredible if I do say so myself. :)
PS...We've had a great response in regard to the photography classes. I'm going to look into finding a forum this week that we can use for those who are interested in participating. My thoughts are to do a 4-6 week class where we discuss new topics each week via the online forum. You'll be able to ask me any and all kinds of questions related to photography and we can do weekly assignments pertaining to those topics of learning. You will also be given a collection of my notes to keep for future reference far after the class is over. They are notes that have truly kept me going in the realm of photography. This class will be a basic photography class that is for those wanting to learn more about their cameras, what the settings do, how to shoot outside and indoors, the difference between a DSLR and a point and shoot camera, how best to upgrade to a DSLR when you are ready (if you haven't yet), and just an overall "beginner" photography course with a ton more odds and ends. If all goes well, we can do an intermediate class after the beginner class for those wanting to move on and learn the next step in photography. This will be a very informal class that is laid back and taken with a very fun approach. It doesn't matter the type camera you have (point and shoot or DSLR). Anyone interested can participate if you are. I hope to announce more finalized plans in the coming week concerning dates, pricing, etc. Keep your eyes peeled and your ears open here on the blog. I'll announce the confirmed details here once I have all my ducks in a row later this week. Thank you to all of you who are interested. I'm excited at the response we got. I know a lot of friendships will be formed via this forum and the class in general. I've met some wonderful friends taking online classes like this and bettered my photography skills at the same time. We are sure to have a great time. I look forward to getting to know you guys even more during our class time together. Stay tuned...
Hugs, Angie
Labels: Bonita Beach, Summer 2009