THE NAPLES PIER & THEN SOME...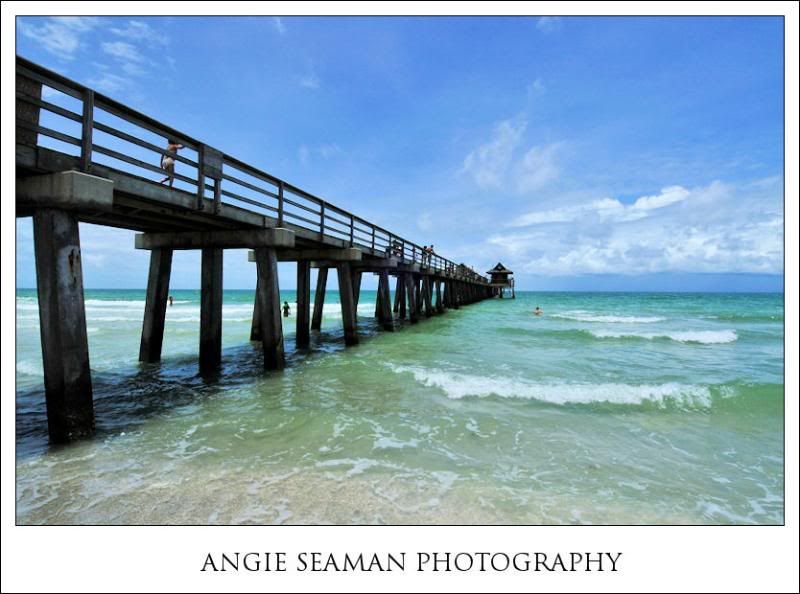 When Brent and I had our date day on Sunday, we hit the Naples pier and did some sight seeing. Any boy were there some sights. I love Naples but I love the beach in Bonita much more. Sunday just confirmed that. Ha ha! Bonita Beach has pristine beach areas with very clean views. Naples has very upscale homes and exquisite shopping but boy does their beach get a tad bit, well ummmm...let's just use the word "crazy." Especially by the pier. Ha ha! We'll just leave it at that.

While enjoying our time there, I snapped some of these shots. I apologize for any individuals that ended up in my pictures with just a bathing suit on. Word of advice to the ladies, unless you are laying down in the sand or at a pool catching some rays, put a cover up on when you get up to walk around. Especially when walking down a pier. I've never understood the reasoning behind why girls and women walk the streets or similar areas near beaches & pools half dressed. (i.e., no top over their bathing suit on their chest, no bottoms over their bottoms, etc.) God invented designers of cover ups so that we'd wear them. Don't walk around with your chest hanging out and then question why guys are such dogs when it comes to them staring at you with their tongues hanging out. Poor guys, as women half dressed, we leave the guys nothing else left to look at. How can they help from staring when that is all there is in their sight? I'm a female and couldn't look any which way without seemingly landing on some women's chest because they were just e-v-e-r-y-w-h-e-r-e! Brent and I got such a kick out of the sights and the total disregard for lack of clothes. There were so many young teenage girls getting pawed over and it was incredibly sad. I also saw so many women my age or older though who were apparently getting a kick out of the pawing. They too were half dressed. Wear those cover ups, sarongs with a cute tee, etc., when you are up walking around sista's! There is nothing attractive, classy, or lady like about walking down the street or a crowded pier in a bathing suit with nothing covering you. In my opinion, we are somebodies daughter. Therefore, we should act like it. Wouldn't we want that for our own daughters? Just my two cents!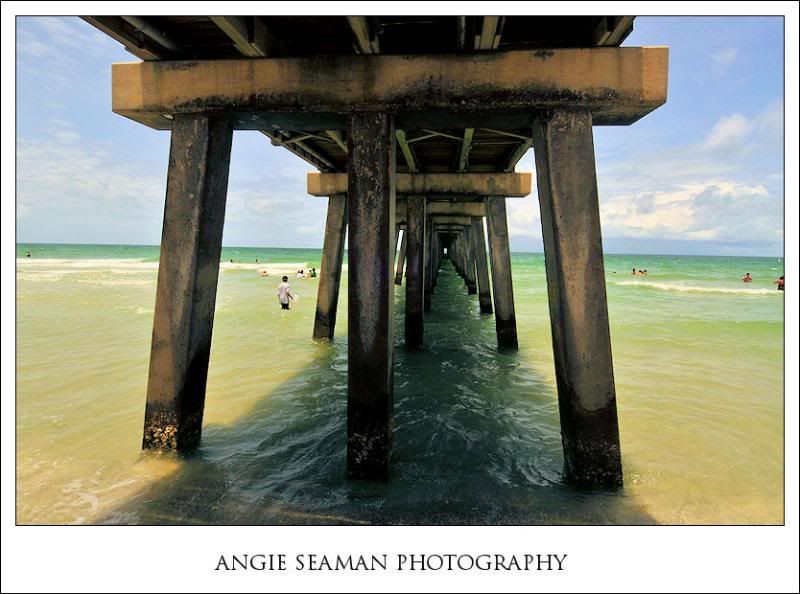 I had to step around all of the individuals hanging out underneath this pier in order to get this shot above. Again I say just a wee bit "crazy."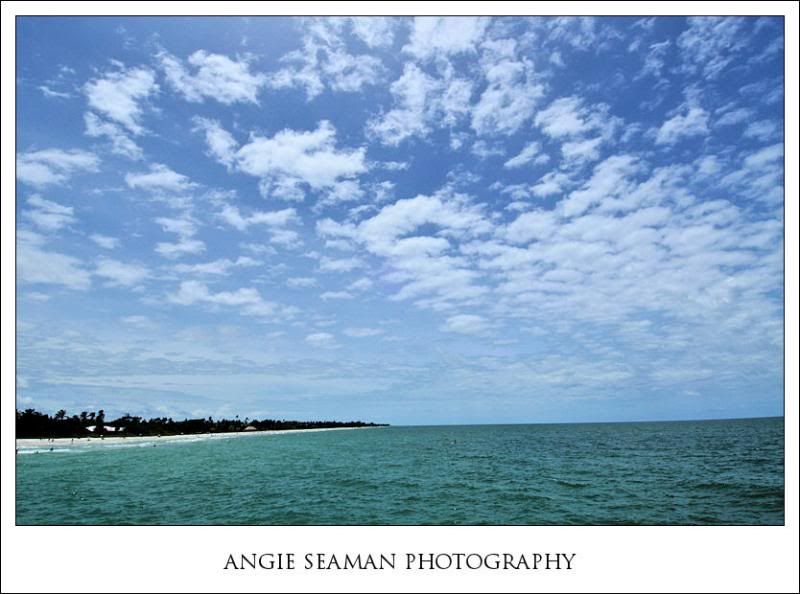 The clouds were my "besties" on this day. They were amazing. Love what some cool clouds and a wide angle lens can do for an image. Good stuff! Makes my heart skip a beat. A few beats actually.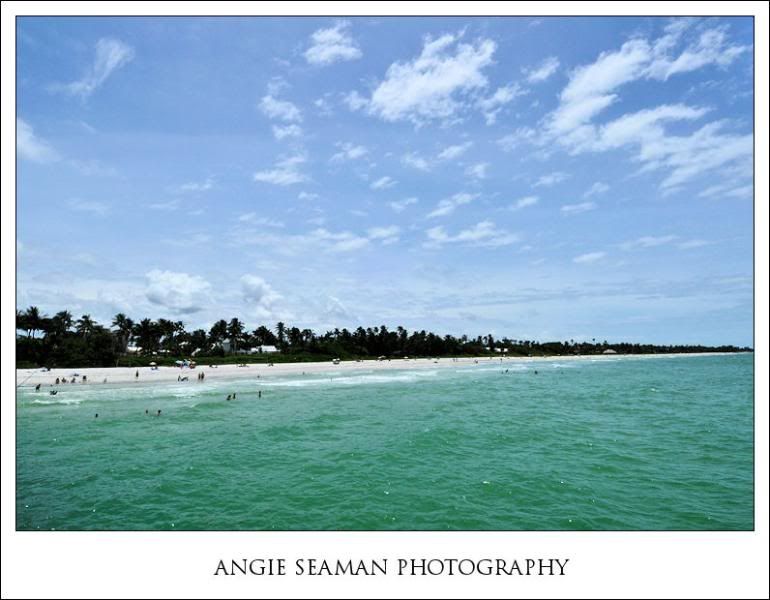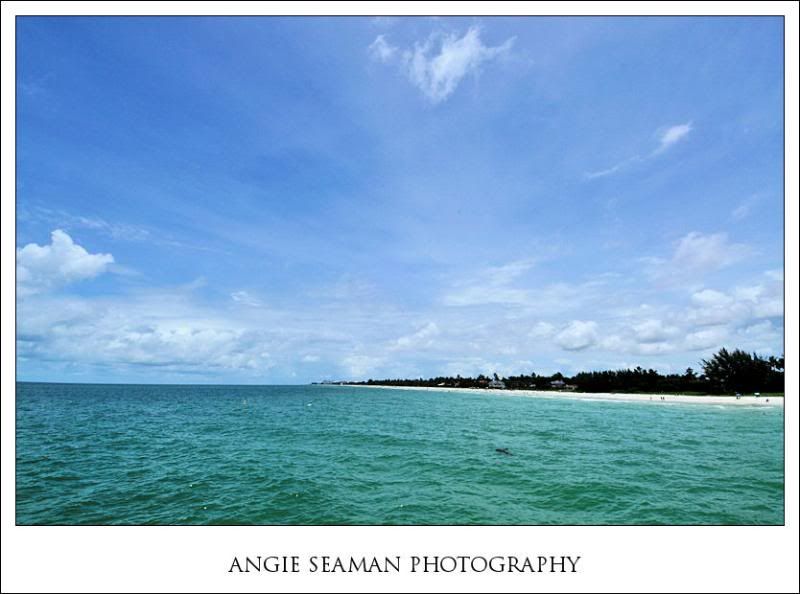 If you look really closely in the shot above, you can see a dolphin swimming along in the water. He is right above the G and the R in the word photography. He was just as fun as he could be.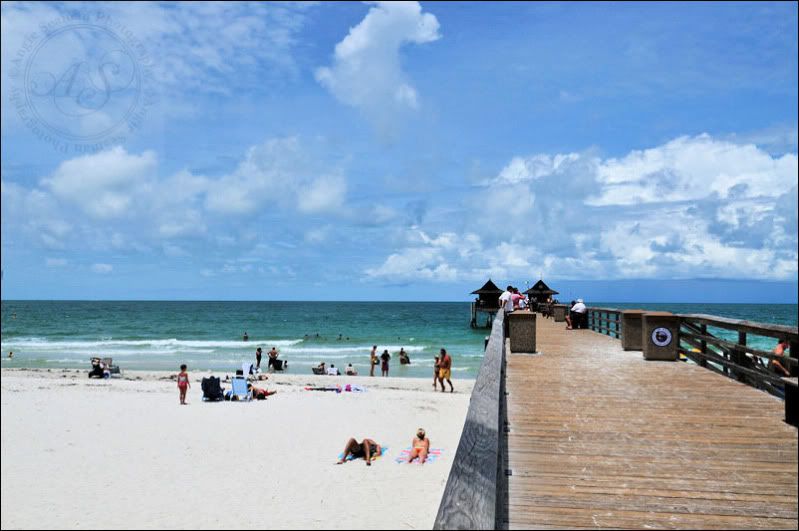 This is a shot of the pier that I stood back and waited FOREVAH to get so that I could shoot around all the half dressed women coming at me head on with their ta ta's hanging out. I'll say it again...cover ups ladies, cover ups. They are a GOOD thang'! No one wants your boobies in their vacation pictures. Wink wink! ;)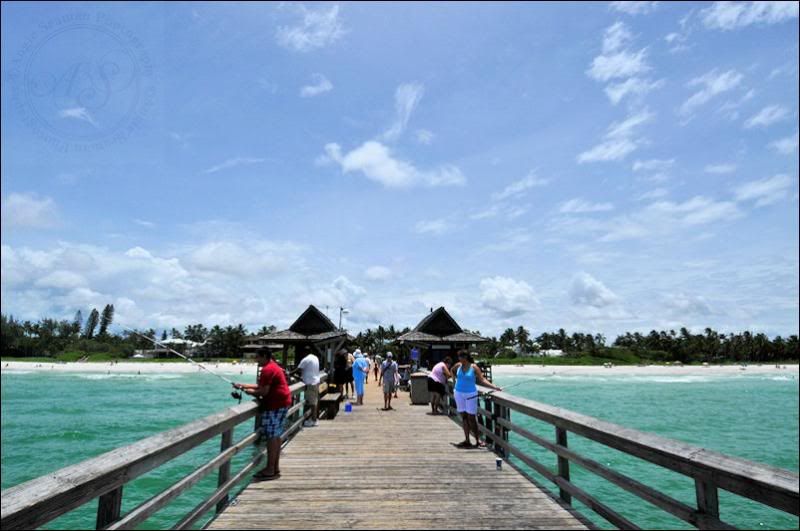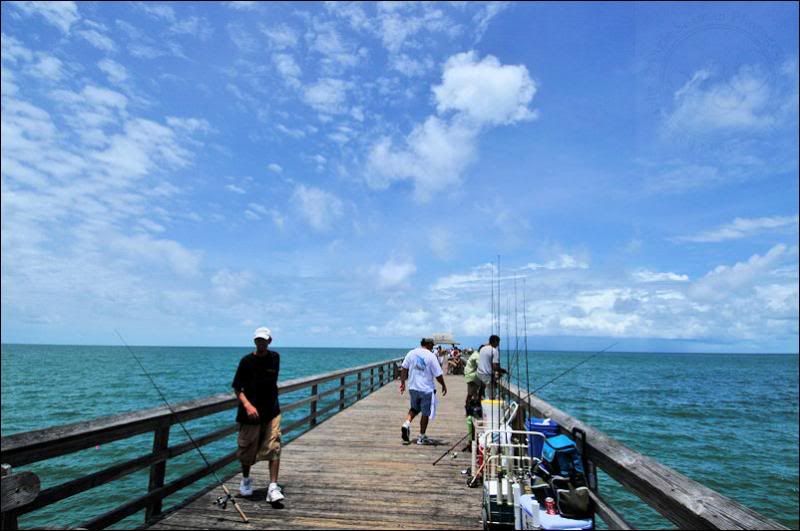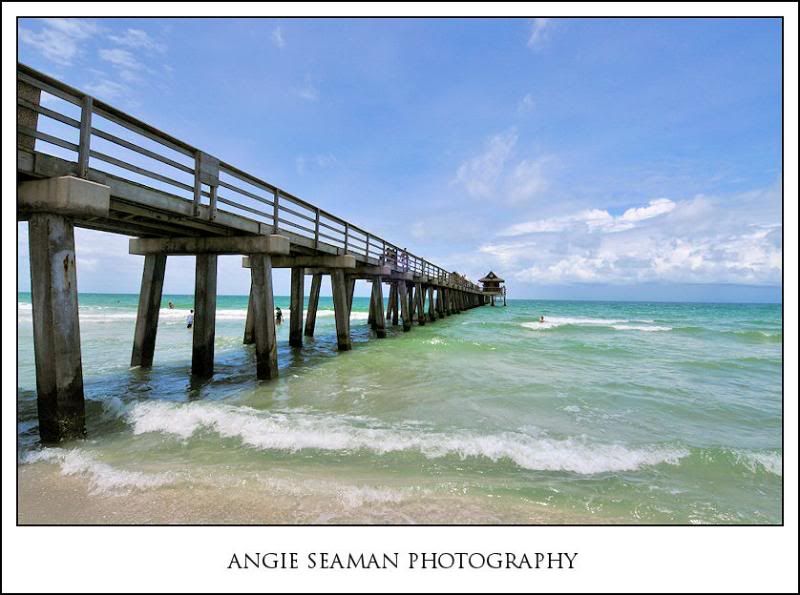 So there you have it, the Naples pier - minus the ta ta's. HA! I should have just used a mega-phone and stopped everyone by going..."Everybody listen up...I'm trying to take some pictures here but I can't because of your lack of clothing. I've got a blog to run and cannot post pictures of your hooters on my blog because I have sweet, sweet, young girls as some of my readers and they don't deserve to see all that - all of you. This is a PG rated blog - not triple XXX. Everybody get some clothes on - PRONTO - so that I can snap some shots without feeling like I'm snapping pictures of your boobs or your heiney being so prevalently revealed. Understood? Oh...and stop walking so slow or deliberately stopping in front of my camera lens as if you WANT me to get a shot of your hooters. If you are in need of attention, I'm not the one to give it to you. Neither is BIG PAPA (a.k.a. my camera)!!!
It's a done deal. Next time we head to the Naples pier, I'm packing a megaphone. :O) Happy Tuesday friends! xoxoxo, Angie
Labels: beach, cover ups, Naples pier