SEA SHELLS BY THE SEA SHORE
I grabbed these candid shots of the kids the night before last while hanging out on the beach. We took dinner over and ate it on top of a blanket as we ran our toes thru the sand and waited for the sun to set. Needless to say, it was a perfect evening in every way.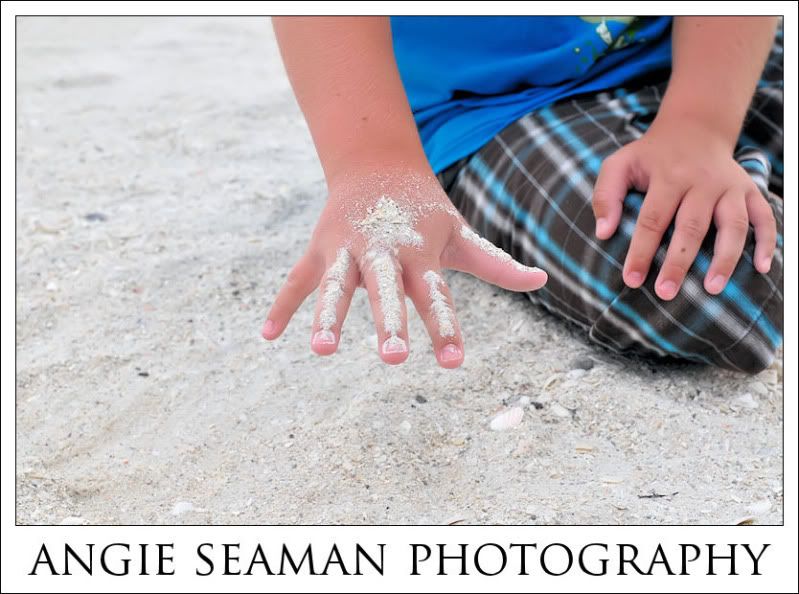 I love watching Brennen and Kenidi soak up the beach and the sea side in general as much or even more so than myself. They savor each second there - you can see it in their eyes. They feel it with their hands and experience the journey with their feet. Everything matters when at the beach. Everything is just better when at the beach. Even shells with holes - because they then fit your big toe like a hat. Side note: Kenidi put that shell on her toe, not me. She reached right over her dirty flip flops and stuck it on her tootsie all by herself. I just happened to have the camera ready before she kicked it right back off. Oh the little moments...the little memories that reflect so much...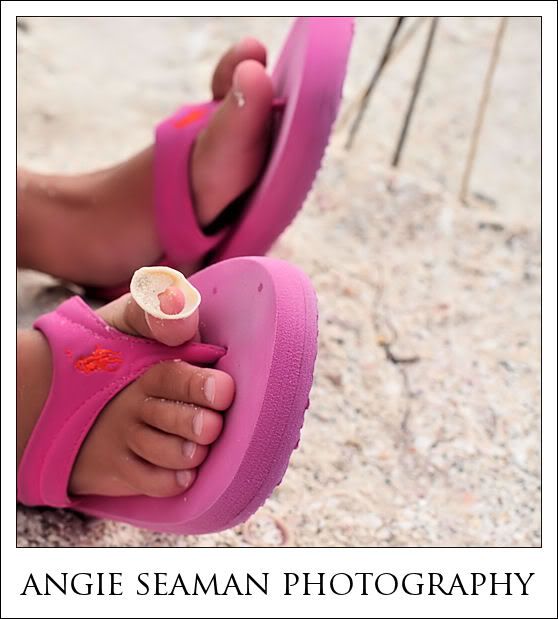 She is getting soooooo big. It's hard to believe that she is going to be a first grader in two months. This shot below proves just how much of a "big girl" she is evolving into. Can I mention how much I just love her little tan lines? My Dad always calls her a little "brown bean." By the end of this summer, she'll be a little "black bean." No matter how much sunscreen I put on her, she continues to brown up. Her legs even tan through the water when she is swimming all day. I don't know how but they do. She looks like the Coppertone baby with all of her tan lines.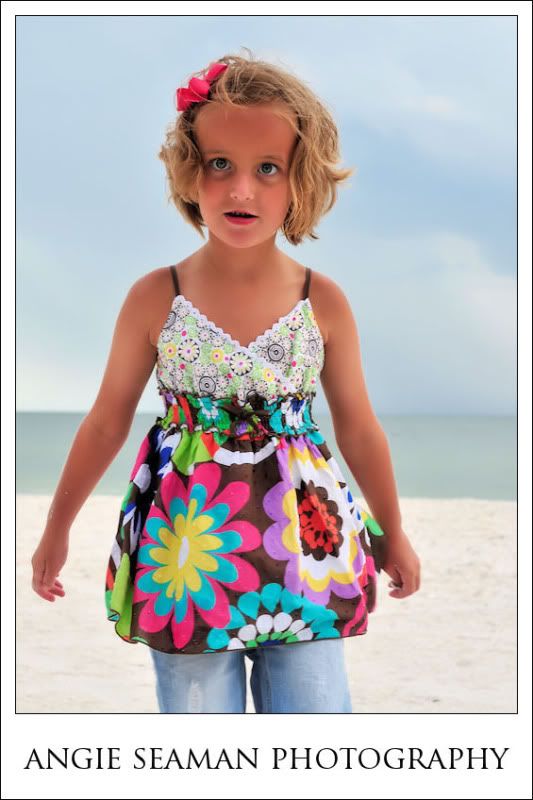 And did we mention that she lost another tooth last week? Yeap, she lost it the day before we left for the trip. The tooth fairy brings her books. Beings that she isn't into money, we figured the tooth fairy would be better off to bring her some reading material rather than money. Needless to say, she was thoroughly impressed. You can really see the new teeth coming in when you look at the shot below. She is a hoot - cracks me up!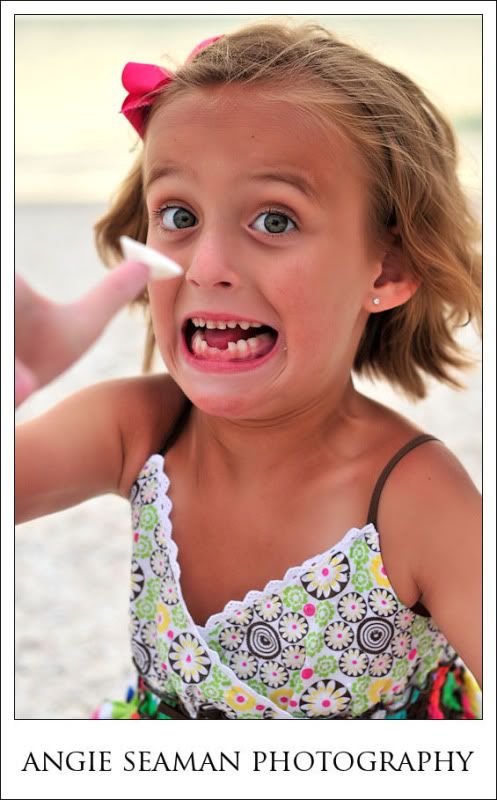 Brennen loves to build things. Whether it is building things with craft supplies or beach debris, he just loves to build and build some more. He had quite a time the other night building a fort out of driftwood and shells. He totally gets that obsession with building things from his Dad.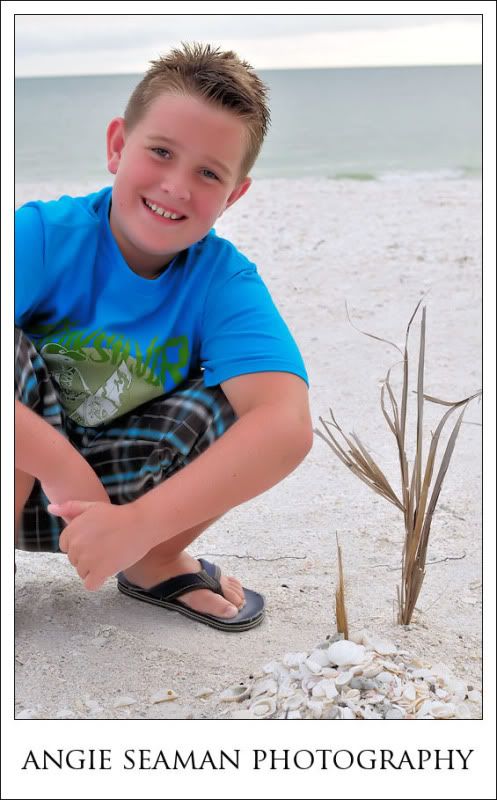 Miss priss and her shell friends again...
She has a fetish with balancing them on her fingers and toes...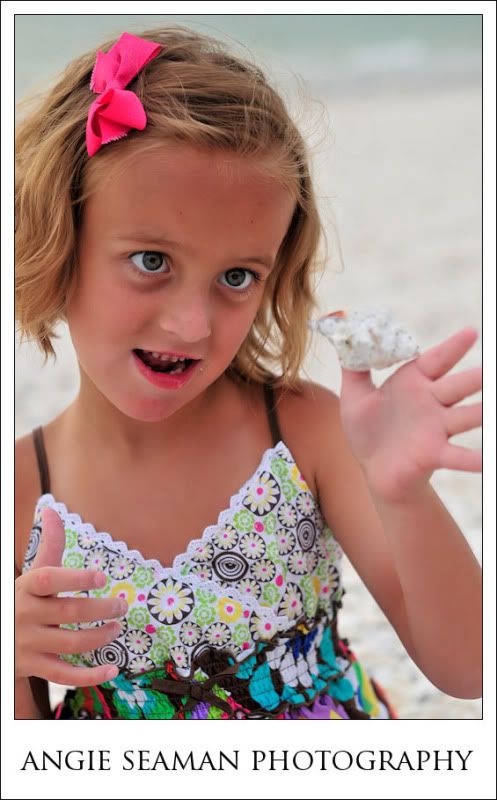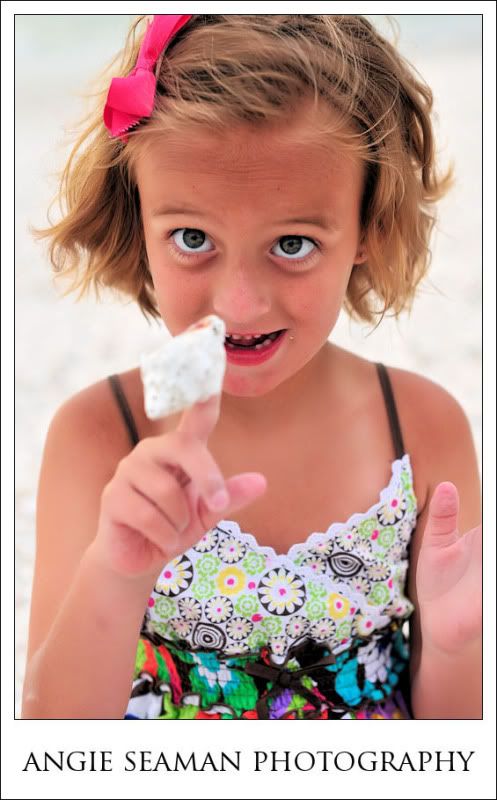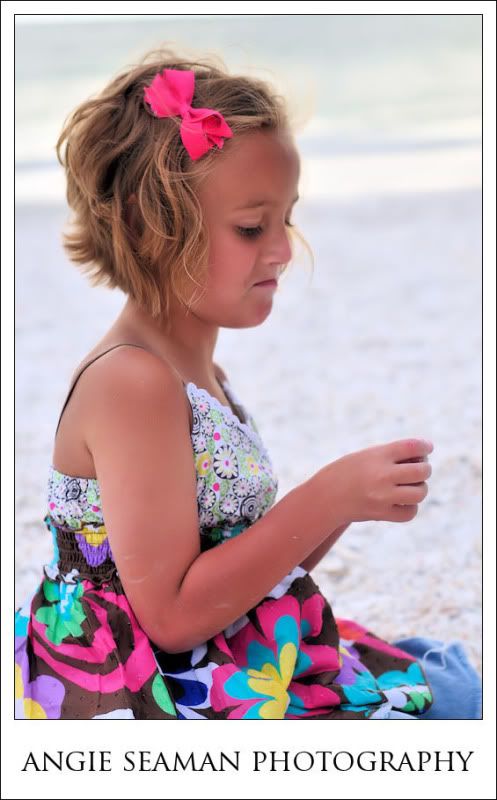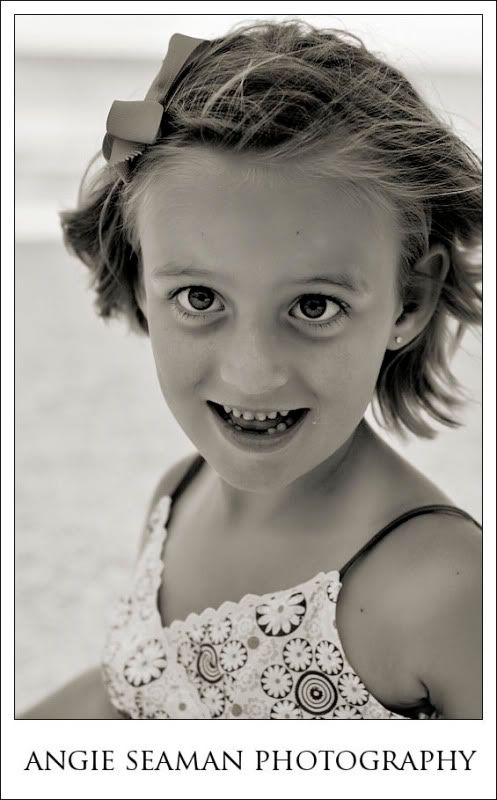 This piece of driftwood that you see in her hand (below) came all the way back home with us last night. She refused to let it go. To say she was infatuated with it would be an understatement. I don't know if it was the texture or what but she loved it. Maybe it reminded her of our kitchen island raffia counter stools back home in Indy. She picks those to pieces until there are crumbs of each one laying on the floor below her. Before long, my counter stools will be nothing but wood legs after she finishes picking them apart. This piece of driftwood will find a home on one of our shelves with our shells and other beach finds from past trips. It will make a great addition to the memory bank.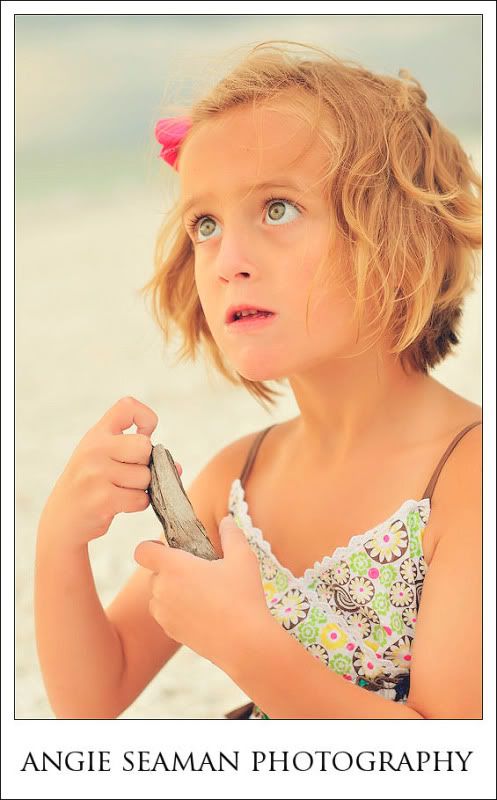 In the meantime, I can't help but look out into the ocean each day and be heartbroken for the families and loved ones of the passengers on that missing Air France flight. The sea is such a powerful place. Once of many mysteries and many depths. It is gut wrenching to think that those passengers are resting on the ocean floor and quite possibly will never be recovered. When you stare off and out into that big, mysterious, sea of blue, your body aches for the families. It literally gives me chills. Please keep these families in your prayers. What a horrific tragedy. My heart is heavy for all of them tonight.
PS...On a side note, if your travels ever take you into the Naples, Florida area and you find the urge to stop at Chili's restaurant off of Tamiami Trail, please request "Mr. B" as your waiter. It is rare to receive good service anymore let alone good service where the person truly enjoys waiting on you. Mr. B was our waiter at Chili's this afternoon and we were totally impressed with his mad skillz. We left a note for his boss on our receipt as we left and let them know how much we enjoyed Mr. B and how he ROCKED it as a waiter. Yes, I wrote that "our waited ROCKED!" I also left there and looked up the phone number for their district manager and later made a call to him in regard to "Mr. B." I let them know that many times now days we are so quick to complain when service is bad but rarely do we ever take time to note or commend someone when service is great. So today, I wanted to stop and take the time to let them know what a valuable employee they had on their hands and that we would definitely be coming back and requesting "Mr. B" again. Therefore, here is a HUGE shout out to "Mr. B" at the Chili's in Naples, Florida (4251 Tamiami Trail North). Thanks for making our lunch such a pleasant experience. Our kids loved you!
Blessings, Angie
Labels: beach, Chili's restaurant, Florida, Mr. B, Naples, Tamiami Trail