FOR THE LOVE OF PELICANS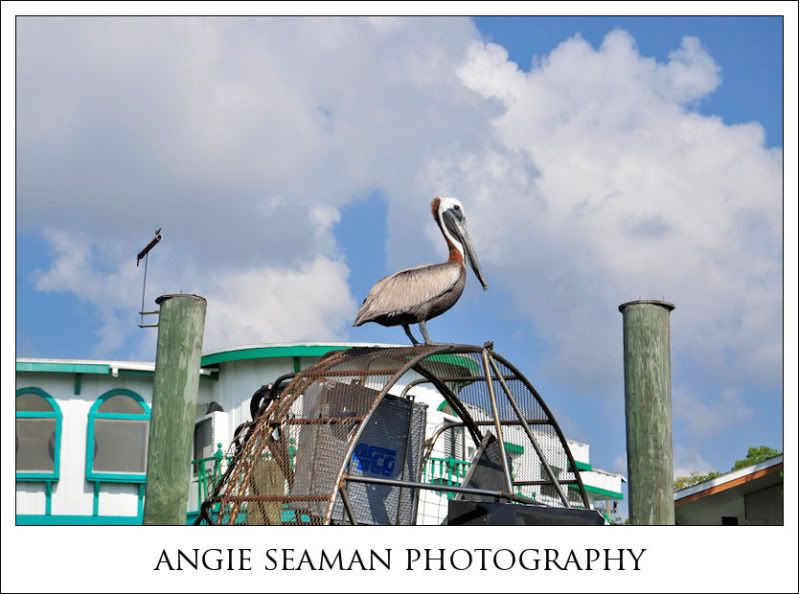 Because I had so many pelican shots after our 2nd airboat ride with my parents last weekend, I thought I'd make a post just for the pelicans themselves. I took my 18-55mm lens with me on the 2nd trip beings that I knew I'd get some up close and personal opportunities again. With that lens, I was able to get much closer to the animals and the gators. Gator shots to come. For now, the pelicans reign. :)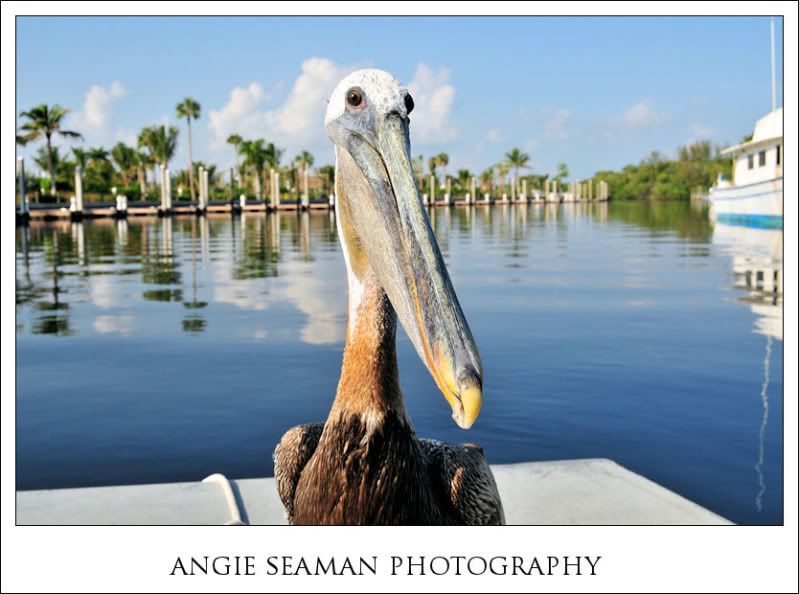 These birds crack me up. They are so ugly that they are cute! I love how they LOVE my camera. They are always poking around at the very end of my lens like "hey...what's that?" Hysterical stuff. They are a bit intimidating at first because they get so close to your face. You almost feel as though they are ready to peck your nose off or something. Lord knows I could stand to loose a few inches off my nose but I think I'd rather not have it be taken off in that fashion. In the end though, these birds just want to hang out. Oh yeah...and they want some food too.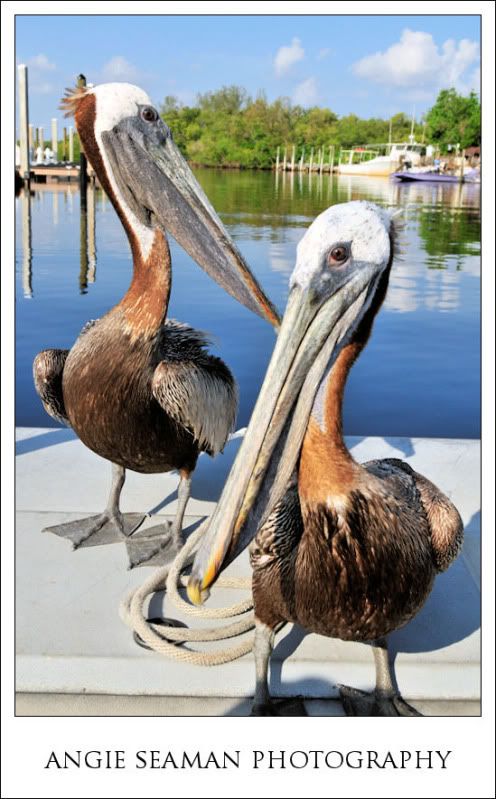 Our boat captain taught us some things about these guys on the 2nd trip around. I learned that the lighter their eyes are, the older the pelican is. He said that as they age, their eyes lighten up. The darker they are, the younger they are. And as they age, they begin to go blind from hitting the water so hard as they dive face first for fish into the ocean. He said that once they begin to loose sight, most times mother nature (a.k.a. - the alligator's) keep them from having to suffer long. Basically the food chain takes over and as they go blind and start goofing up and making mistakes, the gators eventually get them. So sad!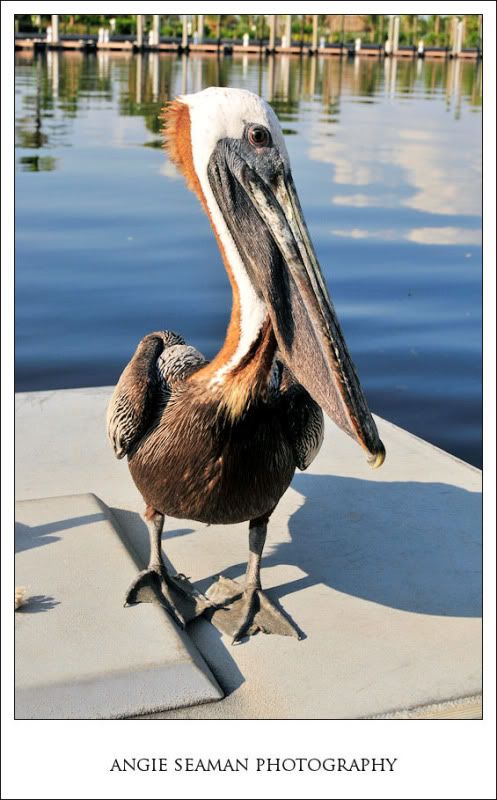 The captain also said that a pelican usually lives around 14 years or so. Doesn't seem like very long, does it?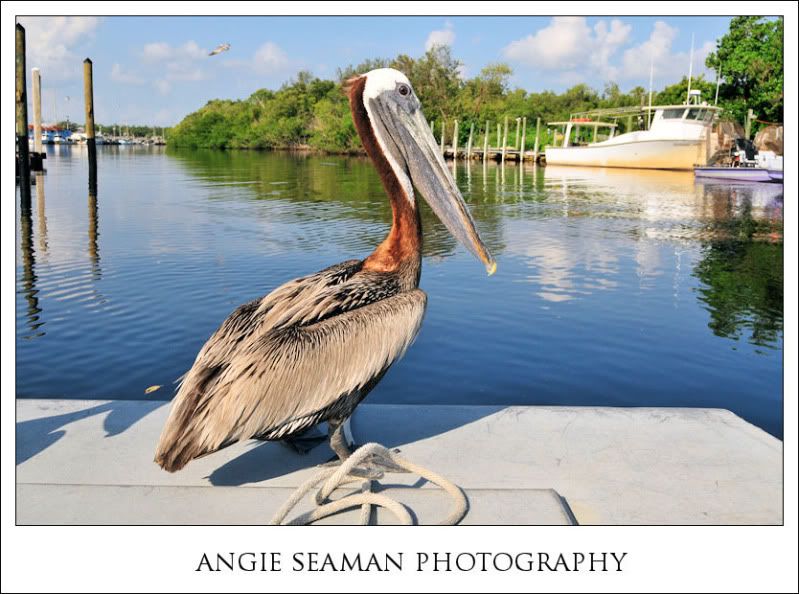 My favorite part about them is how they are so trusting of people as well as how they soar and hover in the air. We were on our way back from Captiva Island tonight and as we cut thru Sanibel, there were tons of pelicans flying low above our car on the bridge. They are so graceful in how they are able to hover over one area. They also fly right along side your vehicle as you are going over the bridge - almost like they are in a race to keep up with you and your car windows. It's really neat to watch.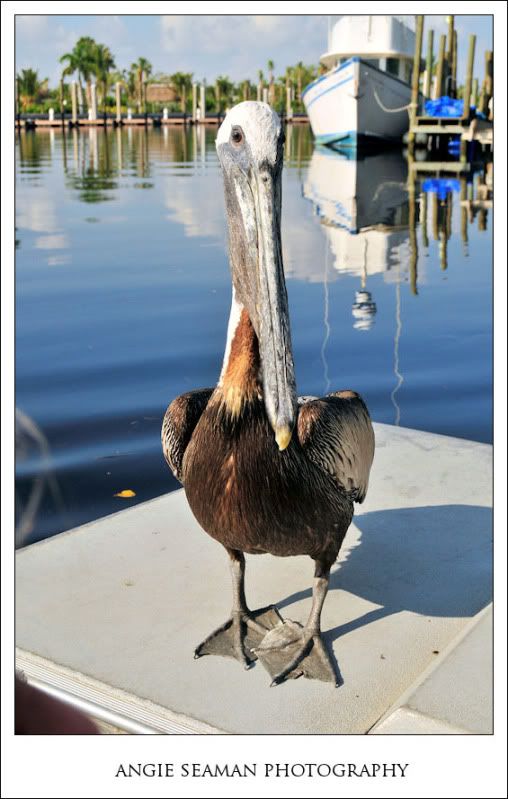 The hook like thing at the end of their beak and their wing span alone is a force to be reckoned with. They really are such amazing birds.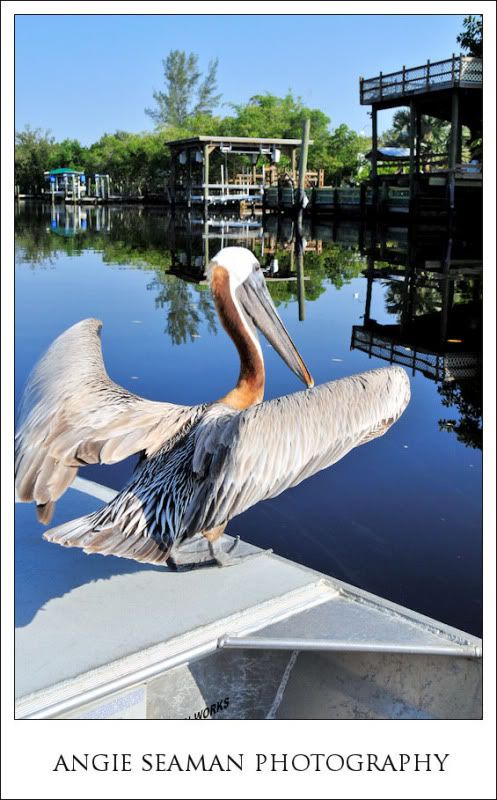 So there you have it. An educational bit of background on the pelicans in Southwest Florida. There will be a quiz on all of this tomorrow. Take notes! :) Just kidding.
Well, we are winding down for the night. It's 9:50pm and we are just coming in from a grand dinner at the Bubble Room restaurant on Captiva Island. Love that place! I have dreams about their bubble cheese bread. Oh yes I do. Dreams, lots of them! For a perk, we brought home their chocolate fudge cake for dessert. I haven't eaten it yet but you better bet your bottom dollar I will. Maybe for a midnight snack or breakfast in the morning. Uh huh...I said breakfast. Come on...you know you are all guilty of chocolate consumption for breakfast from time to time. Don't act all innocent and whollier than thou regarding that topic. I know better my sista's!

My parents fly back to Indy in the morning so we are fixing to miss them. It's been great having them here over the past week. They fly back down at the end of July again too so we are looking forward to having them back here then as well. Brent's Mom and Ron fly in on Thursday so we are gearing up for Grandma Debbie and Papa Ron's arrival now. So fun! It's great that our friends and family come in and out to keep us company all summer long. We'd really get bored without them. Really, we would.
For now, I'm signing off. I'll be back tomorrow night with more pictures. Maybe I'll share the gator shots from trip #2 to the Everglades...
Hugs, Angie
Labels: birds, Everglade City, Everglades airboat ride, Florida, pelicans