BRENT'S NEW LOVE
Brent has found a new honey. Someone that makes his heart swoon and his palms sweat. He's found someone that makes his heart race and his feet go numb. He's found his love. He found "Lola." Let me introduce you to her...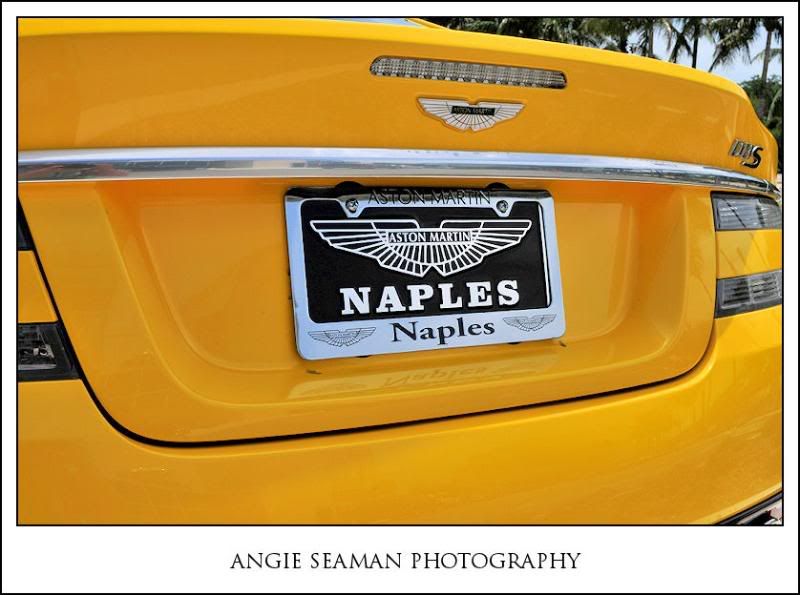 Yeap, this yellow and oh so stunning vehicle is his new love. It's an Aston Martin. For those of you who haven't frequented our blog for very long, you won't understand the joke to this car lot. See, Brent and I peruse this lot together each time we are in town. Sometimes it's a late night jaunt down there on a warm Florida night, other times it's during the day such as the trip with camera lights blaring. Last May, this same lot helped me make my decision on my new car. It all started there. This year, Brent is in store for a new vehicle soon. He's trying to decide whether to go for an SUV again or a car this time. Needless to say, when he saw "Lola," I think his little heart had made a decision. At a $280,000 sticker price though, I think his wallet begged to differ. Ha ha!
One of the other reasons why I love Bonita Springs and Naples is for this reason right here. I love to see the amount of "rare" (or rare considering we don't see this stuff rolling around Indy much) cars that line the streets here like candy. Eye candy! I'm not a big car girl but I can appreciate a nice ride. And these vehicles are nothing short of a nice ride. The car key alone for this Aston Martin is $2000. Yes, you read that right...$2,000.00. The key is laced in sapphires and is truly just there as a "hey, let me show you my key" kind of detail. Most people spending this much money on a vehicle have more dollars then cents. And in Bonita, that equals out to be just about every 35-60 year old man at each intersection. Brent just recently turned 35. Enough said. :o)
I do have to say...he does wear it well...Wouldn't you agree? I was holding on for dear life down in a ditch while trying to get this shot of him below. As I was whining about how to do it, Brent says to me..."Do your job...this is what photographers do!" HA!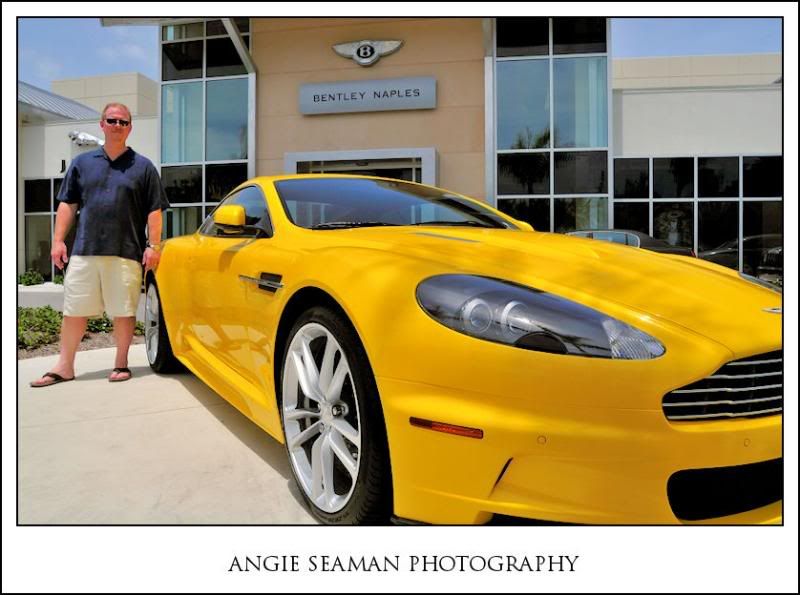 And oh yeah...I was down on the ground in a skirt mind you - getting these shots. Thank goodness the dealership was closed. I didn't care about all of the other hundreds of cars passing by on U.S. 41/Tamiami Trail behind me. Ha ha! They were all going just fast enough that it didn't matter. Never saw a thing. They might have suspected that they did, but I assure you that they didn't. HA!
There is that handsome stud of mine. Like his new shades? Those were a Father's Day gift from the kids and I for him. He wears those well too. Yeah, yeah, yeah...Mama is trying to rub her sun glass fetish off on Daddy now too. Big deal! Guys need a few really good pair of shades just like we girls do. :o)
Beings that we frequent this dealership a ton...this day was no different. However it was a blast this time because I had my camera with me again and could snap Brent in action.
Action, "what action" you ask? Well, take this moment for example...
He tried telling me that he thought that this silver Bentley "might make a good family car." Note...it is only two doors. Ha ha!
Then...how about the persuasion that came with this one below...???? This Ferrari. "Look Ang...you can see the engine via glass on the back of the trunk lid. Now that is cool, right?" Oh yes, very cool babe! Very, very, cool!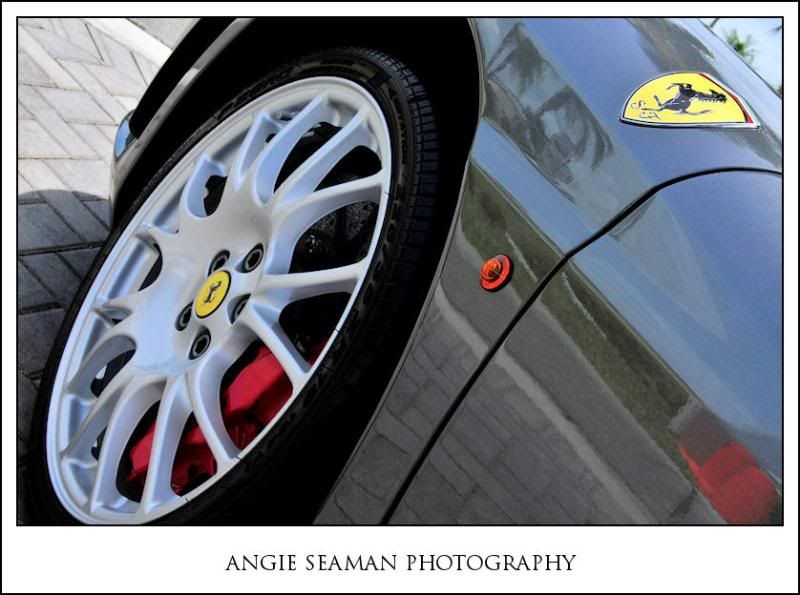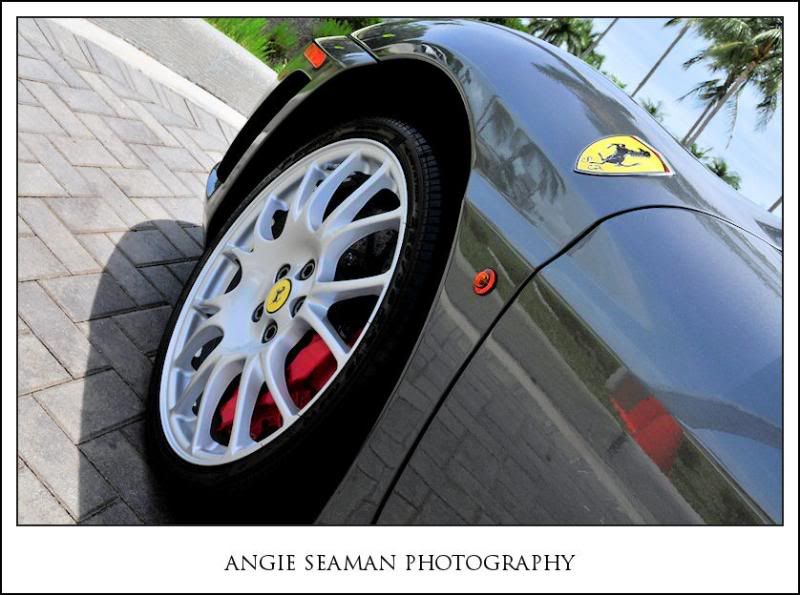 Brent: "Oh but what about this one (shown above and below) babe...?? It has 4 doors - it would DEFINITELY make a good family car."
ME: "Oh really, what is the cost on this one b-a-b-e?"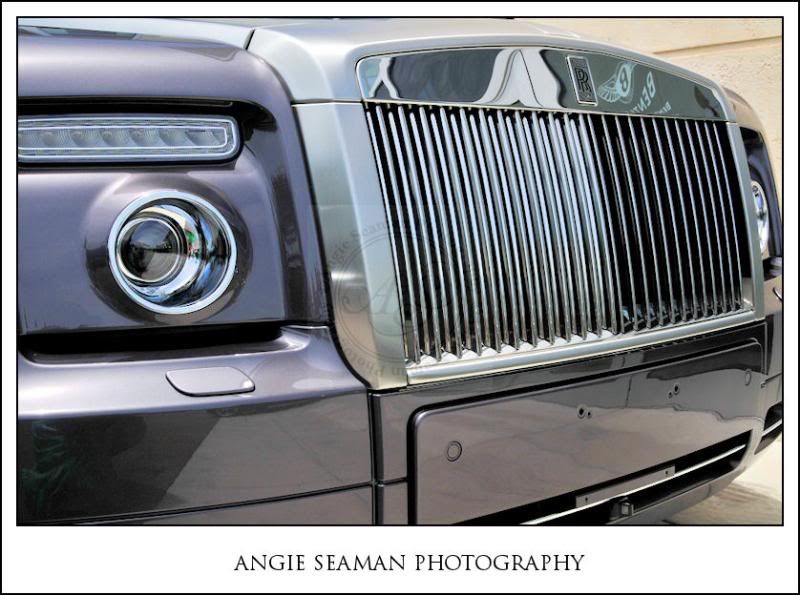 Brent: "Here is the sticker. Let's just get a picture of it why don't we? Ha ha!"
ME: "Why? What does it say? It can't be any worse then $280,000 for the Aston Martin. (a.k.a - Lola)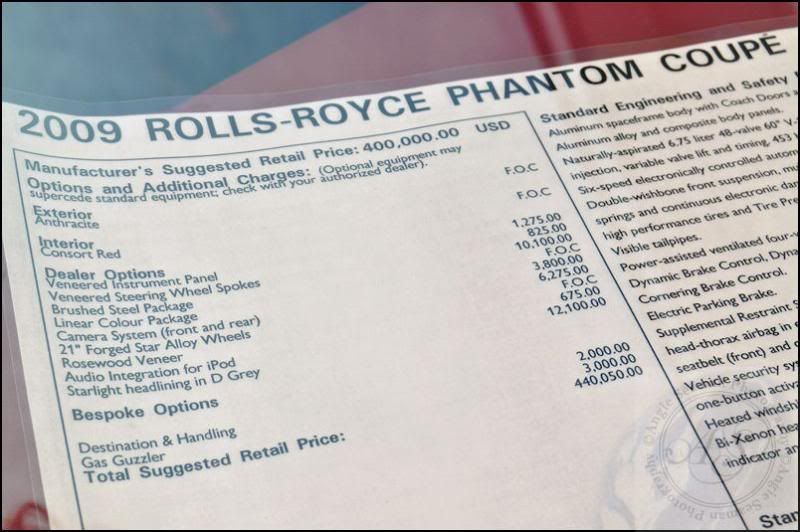 ME: "WHHAAATTTT? That is the price of someones house rolling down the road!" What in the world?

$440,050.00

- That is just pure craziness my friends. Pure craziness. Someone is smoking some heavy wacky weed if they are buying a $440,050.00 vehicle. And don't you just love the and 050.00? Like yeah, $440,000 and $50 dollars. What is the $50 for? Why bother? Let's just round it up to a mere $441,000.00 shall we?
At the end of the day, we got in some good laughs. Brent and I spent the day out shooting - well I was shooting - he was my get-a-way driver. We had lunch and walked the Naples pier together. All the while I was snapping shots with my camera. I'll be sharing more of those shots tomorrow. It was a beautiful "date day" and I'm so thankful that my in laws offered to stay behind with the kids so that we could go enjoy ourselves for the afternoon. We hit the marina's, tin city, some residential areas, stopped to snap some old cars on top of the new ones you see above, and so forth. It was great fun! Brent has really taken an interest in the photography world with me and it's a ton of fun to have him there by my side while doing what I love to do. I'll leave you with some more random shots surrounding the cars before I sign off. First up, Mamasita's choice...ummm...yes me. The Maserati. With a smidge of tinted windows on this car and some different wheels, we'd be stylin'! :) Enjoy...
And some other Bentley colors...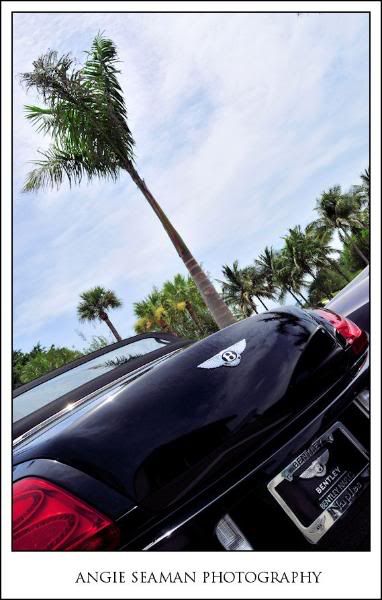 Good times~good times! Thanks for an incredibly awesome date day babe! I had a blast! Love you, Ang
For now I am off to plug in and take a new photography class online for two hours today. It starts at 12:30pm and runs thru 2:30pm. It's my first ever online and live class. (I'm taking the course - not teaching it this time) I've got headphones and a mic all ready to go. Should be interesting beings that I have never participated in this type set up before. Wish me luck. Especially considering the other classmates in regards to the two crazy kids I have roaming in the background. Thank God for mute buttons, eh? Ha ha! Enjoy your Monday. Talk tomorrow...Ang
Labels: Aston Martin Naples, Bentley of Naples