AIRBOAT RIDE THRU THE EVERGLADES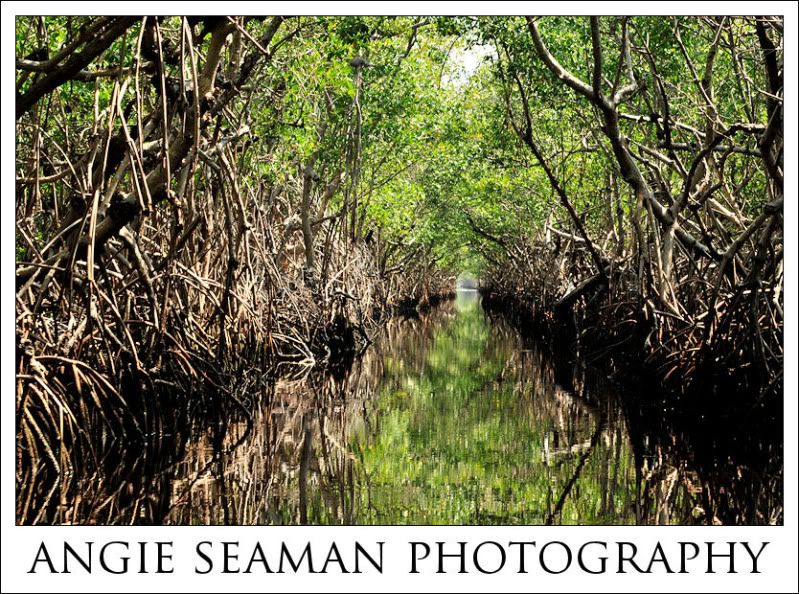 WOW! In the 10 plus years we've been coming here to Florida, we had never done one of the air boat tours thru the Everglades. Yesterday, that changed. Can I just tell you how fun the air boat ride was? If you are ever in the Southwest Florida area and have the chance to do an air boat tour thru the Everglades, please do! I promise you it is an adventure worth every minute of the drive to get there. (It took us about an hour and 10 minutes to get to the Everglades from Bonita/Naples)
While on the tour, a boat in front of us broke down. Yes, it literally broke down in the mangrove swamp lands of the Everglades. Soooooooo glad it wasn't the boat I was on or I would have been freaking out. Reason being, aside from the alligators and the 27 different species of snakes - 5 being deadly - there are also swamp raccoons and other little critters that would not make my stay in the swamp lands an enjoyable one. I'm sure of it. We eventually had to pass the boat in front of us (shown in the photo above) as the captain was wading thru the thigh deep dark and murky water - all while pushing his broken down boat out of the way. Ewwww! I couldn't believe he was out in the water. YUCK!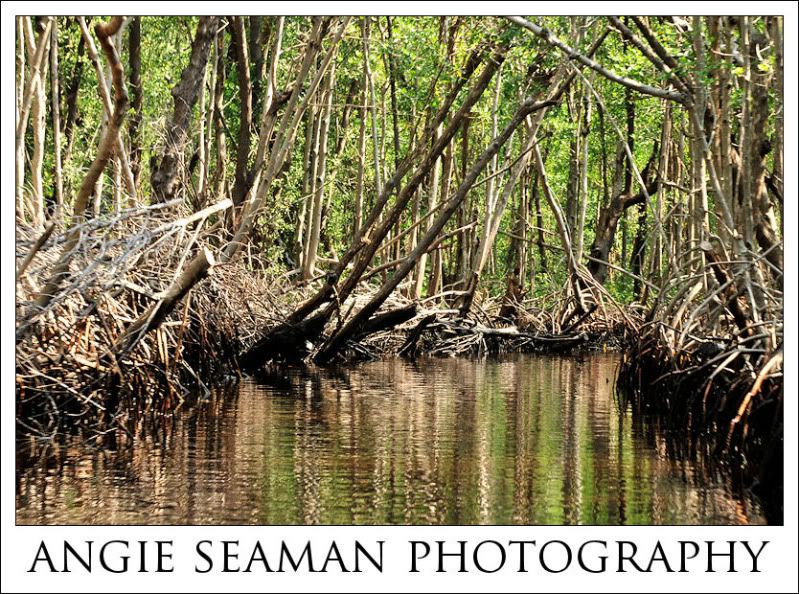 The mangrove area eventually opens up into the Everglades and then the R-E-A-L fun begins. Our captain (Captain Ken from Captain Doug's Everglade Tour company) ROCKED! He had tons of experience and was very knowledgeable with the area, the animals, the gators, etc. If you go to the Everglades, request him as your captain if you use Captain Doug's company. Our captain did quite a few tricks, spins, turns, sprays, etc. when driving us around the Everglades. We got a tad wet on our legs and feet because we sat in the front row. However, we were in 90 degree heat yesterday so the water felt great. We needed the cool down! The boats are fast. Kenidi had a life jacket but there aren't any seatbelts which made me a tad nervous at some of those speeds. It made for a great thrill ride along the way though. :)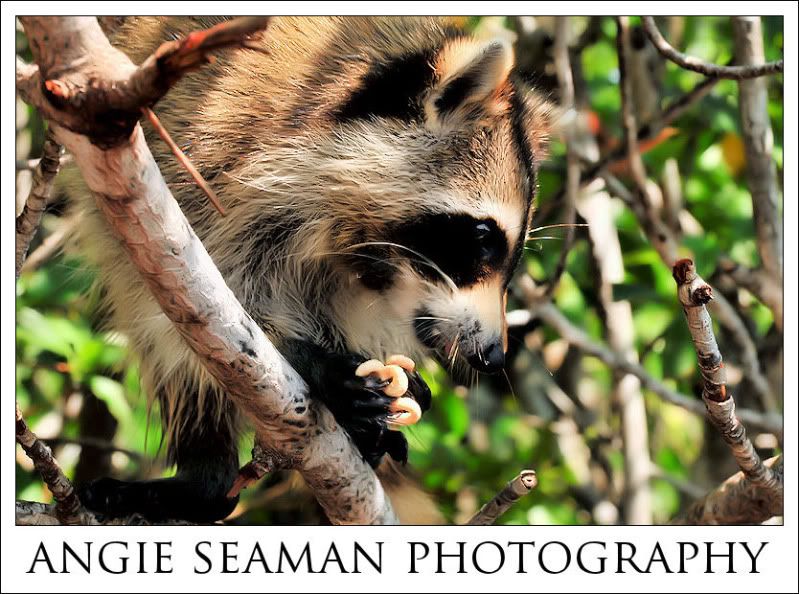 This little critter is a swamp raccoon. He is much smaller then the coons we are used to in the Midwest. He was a cutie too. Brennen was able to feed him Cheerios's straight out of his hands. Very tame. Very friendly. They are waayyyy used to people and it showed. The captain shook the cheerio can and he came right out onto the branch and ate out of Brennen's hands.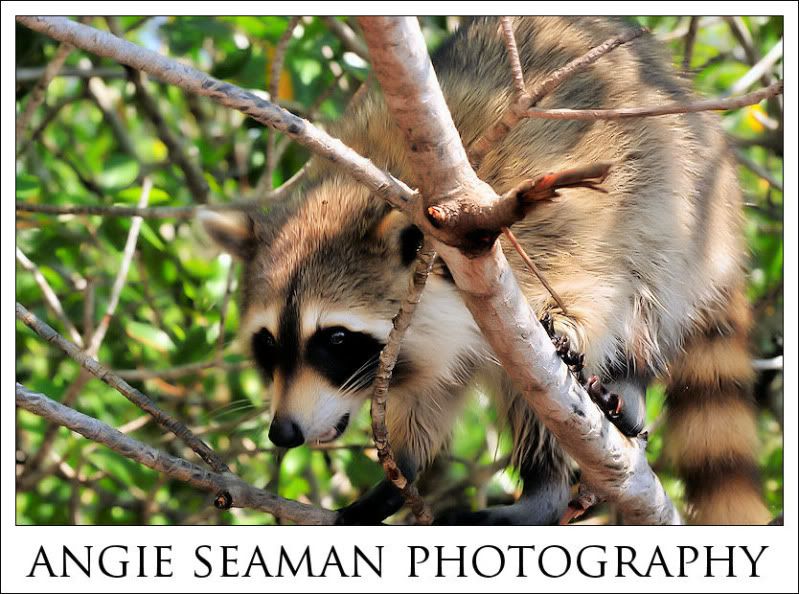 And here is Brennen actually feeding him the Cheerios's from his hand...The little fella' reached right down into the palm of his hand with his own little paws to get the Cheerios's. It was so cute.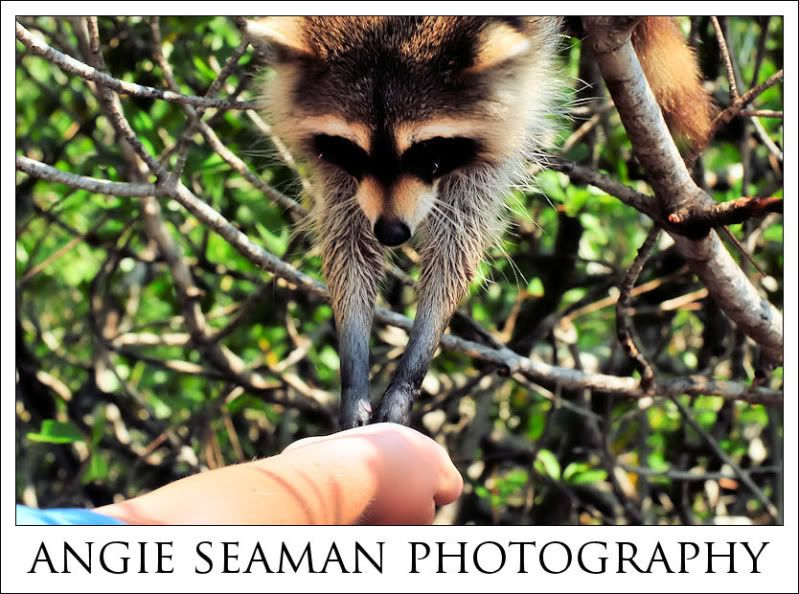 Then came the "big guy."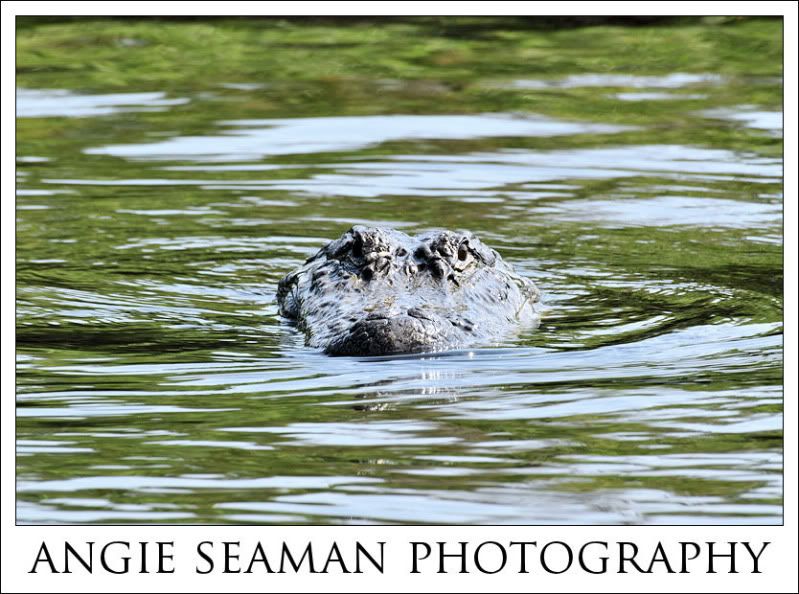 We found him floating around out in the Everglades all by his big, bad, self. The captain stopped the boat, grabbed a fish, and dangled it above our feet at the side of the boat. Up came the alligator - ready to eat. Talk about craziness. He was about 15 feet long and looked like he had NEVAH skipped a meal. He had some "hissing" thing he was doing that really gave me the heeby - jeebies. WHEW! Good thing I was inside the boat. The bad part is that Mom and I had just watched on TV the night before - some story about a woman getting attacked by a gator. Needless to say, it didn't leave warm and fuzzy feelings for us as we came eye to eye with this big, bad, dude!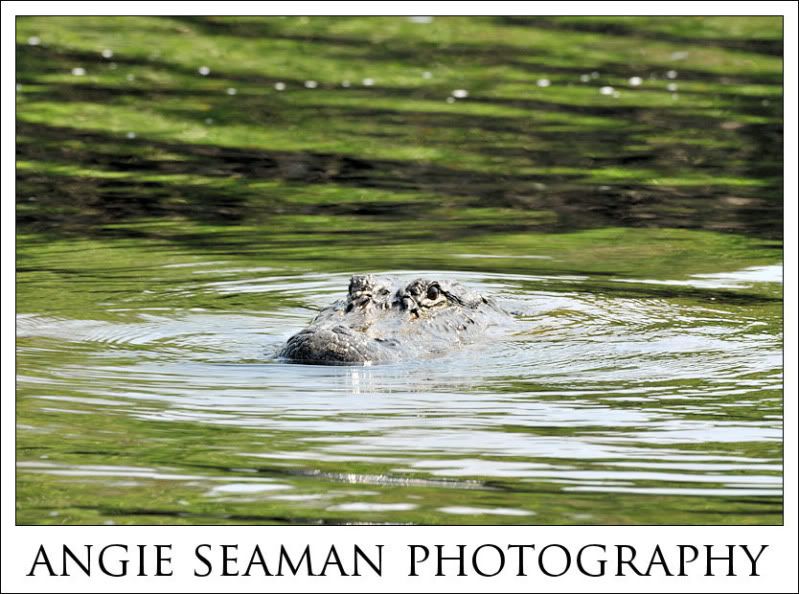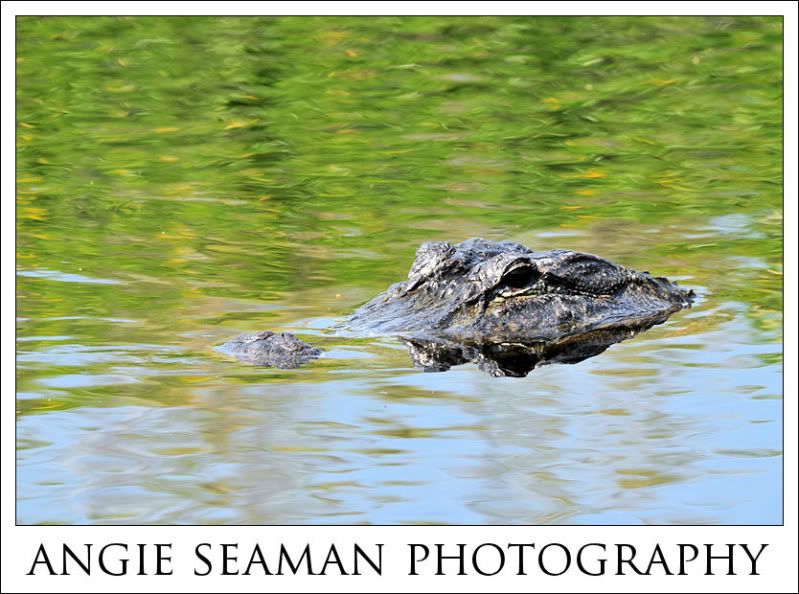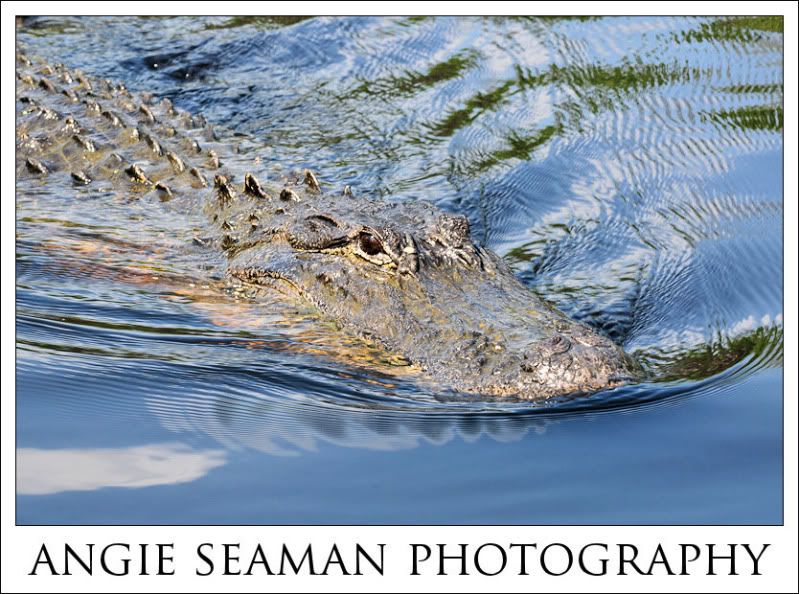 Look at this guys teeth. And his eyes...eewwwww! Scary stuff I tell ya - scary stuff!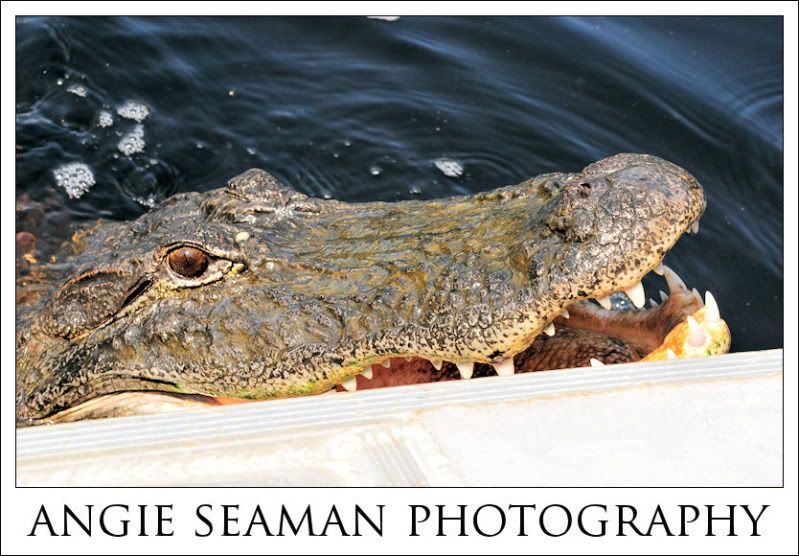 We actually saw two gators during our ride. One was a bit smaller - more like 8 feet long. The Captain fed him too. Straight from his own hand. Again, he seemed VERY experienced and VERY knowledgeable. Aside from being an educated and fun captain, did I mention that he also let my son get up in the Captain's seat and drive the boat? Yeap, he taught Brennen what to do and then let him give us a quick ride. Needless to say, Brennen had a ball!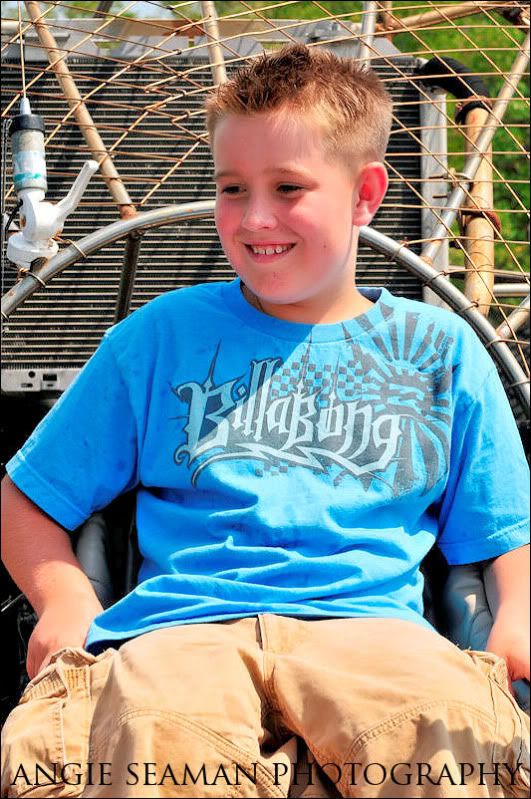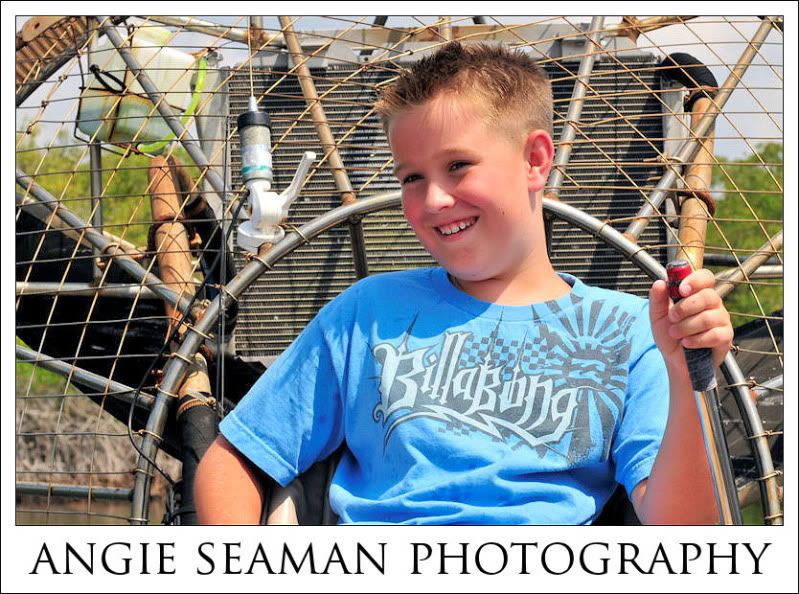 On the way out to the Everglades as well as on the way back in to the drop off dock, the captain spotted two pelicans and did some sort of whistle call to them. When he whistled, they'd coming fly in - right at us - head first. Then...they'd land on the boat at our feet. I was in heaven. My beach B/F/F's...they were there - up close - front and center. Bad thing was, I had my 70-300mm telephoto zoom lens on my camera and could only get really close up shots of them because they were at my feet and I had no room to back up. Had I known we'd be able to get so close to everything, I would've brought a smaller lens. Therefore, don't mind the chopped up shots of these birds. Beings that they were at my feet - literally - my lens was too big and cropped too much of them out.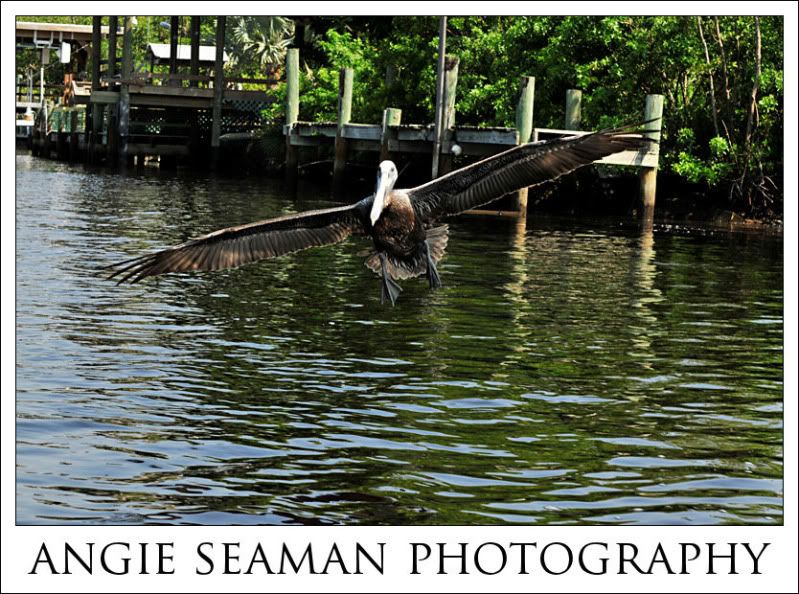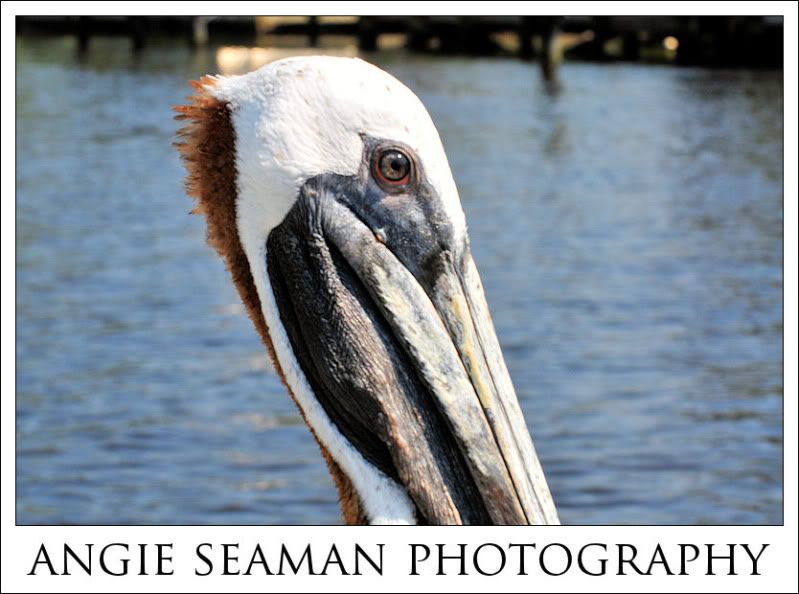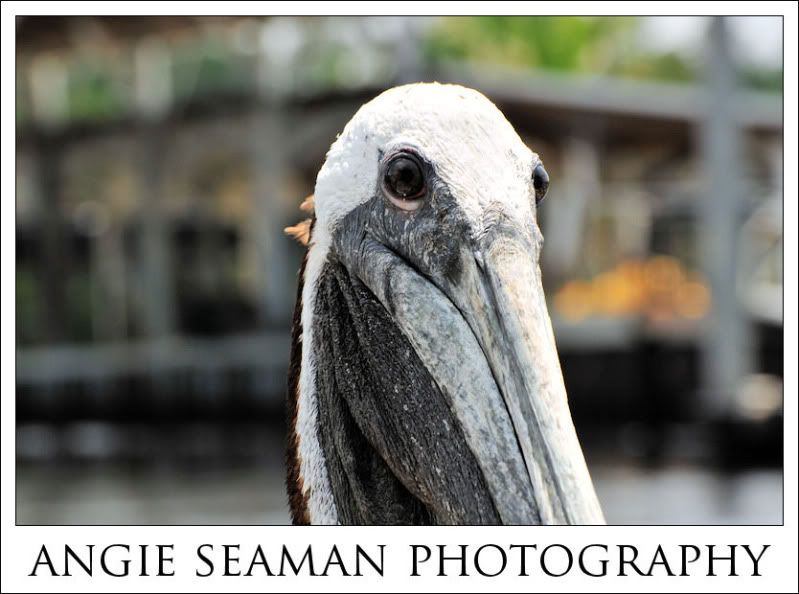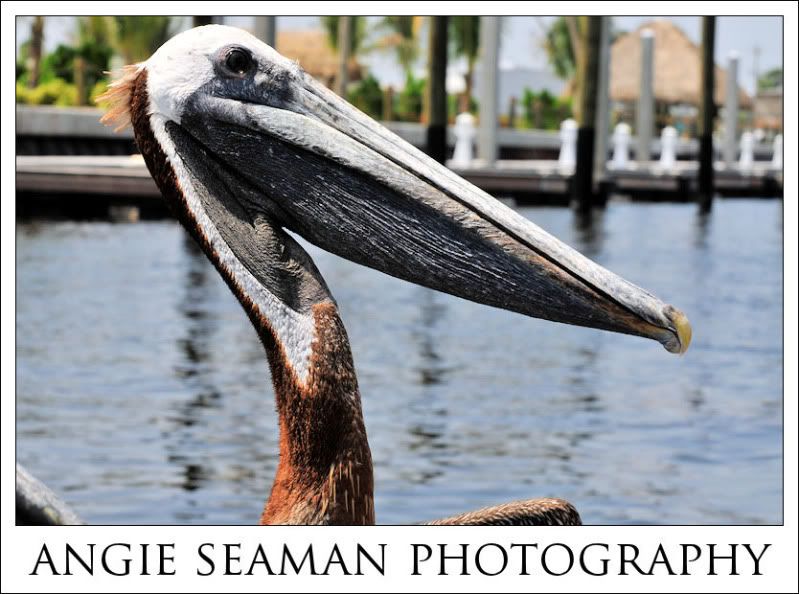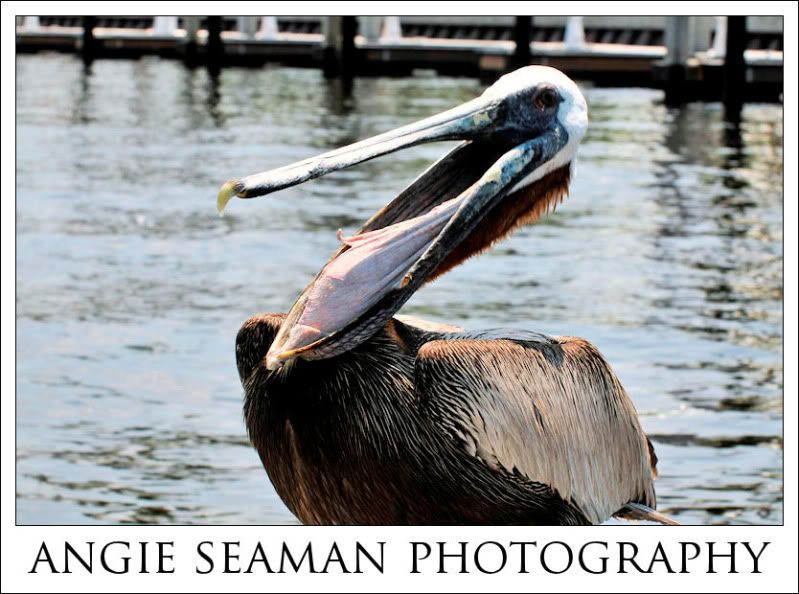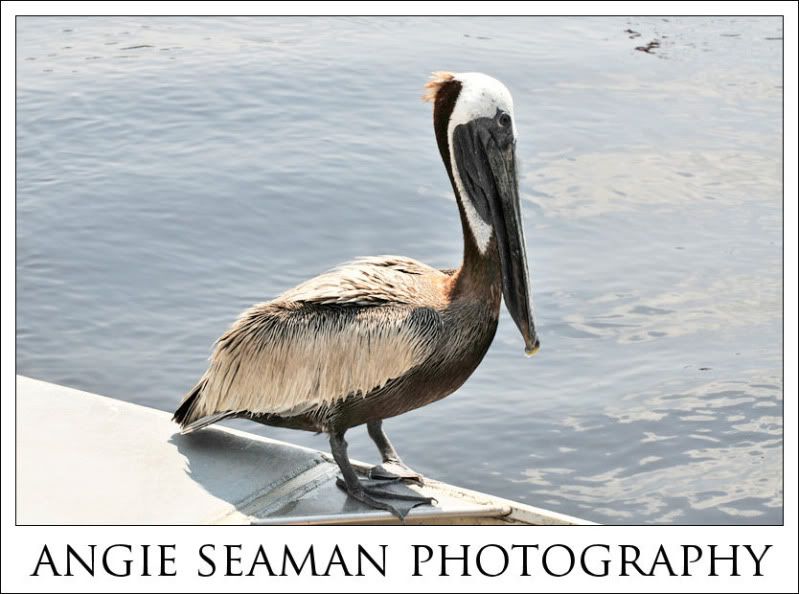 It was an incredibly fun ride and we WILL be going back. When we do go back, I'll be taking a different lens with me next time. I think we are going to take my Dad and Cathy back there next week once they arrive here in town. My Dad will definitely get a kick out of this adventure. It was amazing, scary, beautiful, eerie, etc. all at the same time. A "must try" if you ever get down this way.
We took my Mom back to the airport this morning. In fact, she should be landing in Indy as I type. We had a great time with her here but unfortunately I think I only got one photo of her the whole week. Her request was to just veg out and so we did. We ordered in every night so we didn't have to get cleaned up and go inside restaurants. We hung out at the pool every day and watched movies every night. You know the old school kind like...Adventures in babysitting and Dirty dancing? The classics! So sad to watch Patrick Swayze in that movie today knowing how sick he is. Breaks my heart. He is such an incredible actor and was such a good looking guy back when that movie was filmed. We also watched some new movies like 7 pounds with will Smith. I loved that movie. Very - VERY - good. If you haven't seen it yet, rent it! It was gut wrenching but so very good. We also watched "He's just not that into you." It was a cute show too. Definitely rent worthy even though it was a bit choppy and slow in the beginning. And finally...we also watched "Not easily broken." That was good as well. So...we pretty much just ate and got fatter all week as we laid around and did nothing while Mom was in town. It was nice. We miss her already!
Lastly, there are only 6 spots left for the photography workshop that I'm hosting. Just six! Fourteen seats were sold yesterday immediately after registration opened. So...if you are pondering becoming a part of this class, do it before those 7 seats fill up. Many people have asked if I will do this again in the near future. To be honest, I don't know. It will just depend on the feedback I get from the students participating in this first class. I want to get their feedback first once the class is said and done before I commit to any future classes. Therefore, if you are on the fence, jump off and join us now. Sign ups/registration can be found in the blog post directly underneath this one from yesterday.
Much love, Angie
Labels: Captain Doug's Air Boat tour rides, Everglade City, Everglades, Florida