SHOW US WHERE YOU LIVE-DINING ROOM
Well, I have gotten in a ton of trouble for not participating the past few weeks in Kelly's "Show us where you live" home tour. If I had a dollar for every email or blog post I've gotten asking me when I will be participating again or why I'm not participating now, I'd be rich. We've been so incredibly busy, were out of town over Mother's Day weekend, and have just had the hectic chaos and craziness of trying to pack and head South for the summer. Therefore, I really have had zero time to participate. However, better late than never, eh? Kelly did dining rooms this past Friday so because I already had some photos of our dining room taken earlier, I thought I'd throw a few of them together today - on this rainy day in Indiana - with a couple of new ones. So welcome...the first three shots are of our entry way/foyer...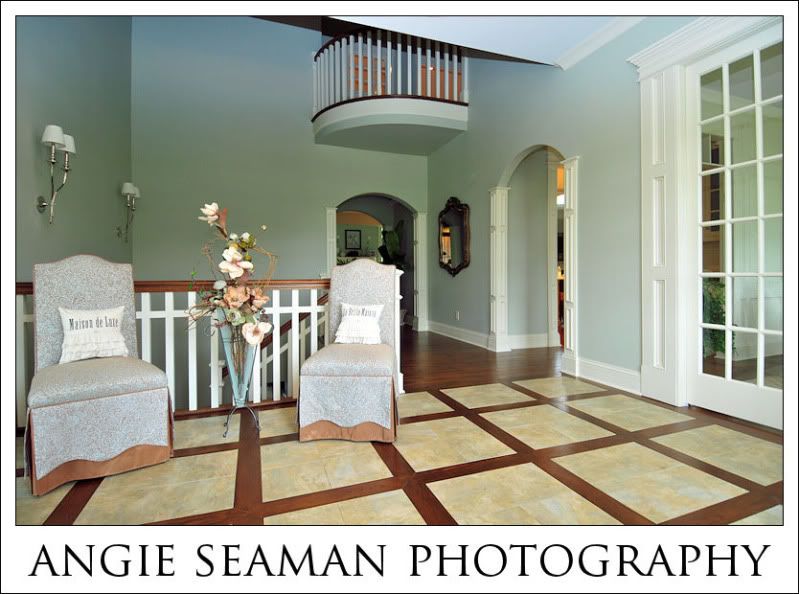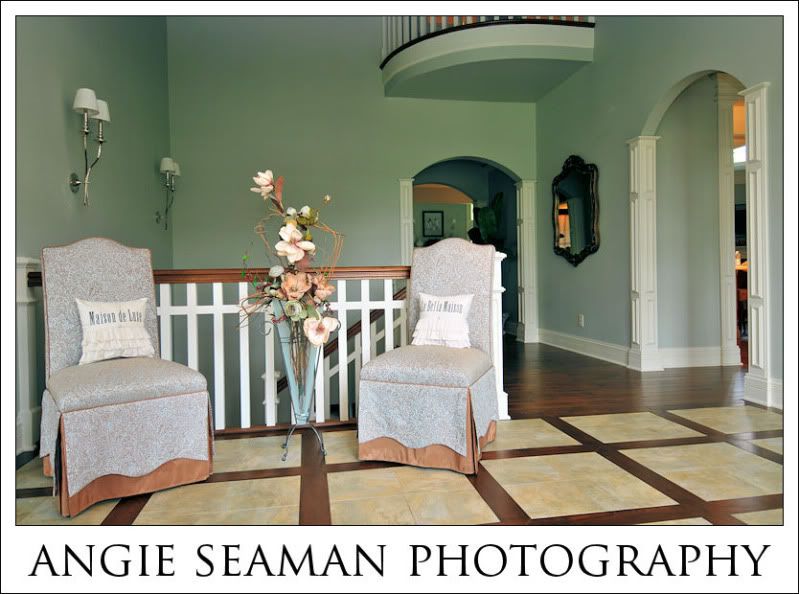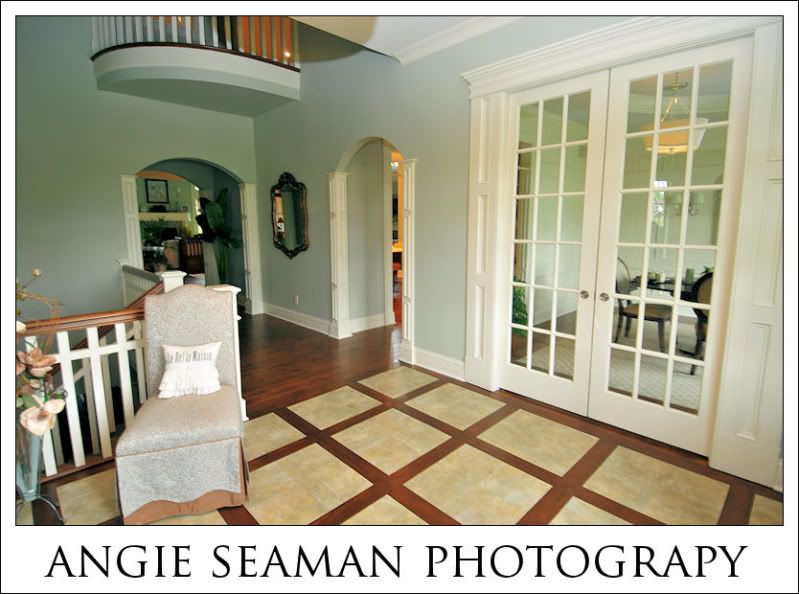 Immediately to the right after entering our front door and then thru these glass pocket doors (shown above) is our formal not so formal dining room. Oh and as a side note (because I always get asked this...) the carpet on the floor is not a rug. It's actually carpet built into the hardwood floor. It is not movable.
First, I don't consider this dining room a "formal" dining room. I'm not real big into showey formal dining rooms. Meaning, I don't like buying expensive formal dishes that sit - unused - on a formal dining table - just for looks. I'm not big into spending a ton of money of dishes or good china. Quite frankly, I don't understand it but that is just my personal opinion. If people have good china, they rarely use it. It's typically stored away somewhere or in a buffet cabinet left untouched. I'm all about cheap, bargains, and functionable. My Dad and Cathy gave me some family china that was handed down from Cathy's grandmother. I absolutely treasure and adore it. Guess where it is, in our butlers galley behind glass cabinets. I'd never use it because I'd be scared to. Therefore, as far as our personal things, we purchased everything you see in this room either from Ballard Designs (dishes), Crate and Barrel (napkin rings), Home goods (place mats, napkins, and table runner), and Target (floral arrangements). I have yet to find the right side board table or hutch for under my mirror in here as of yet but I'm hopeful that I will. I'm looking for just the right antique, beat up, old, and green piece. We are still on the hunt but I know without a shadow of a doubt that it is out there. Next...if you remember from our kitchen tour, the shot below is the butler's galley that leads into either the kitchen (left) or the formal dining room (right).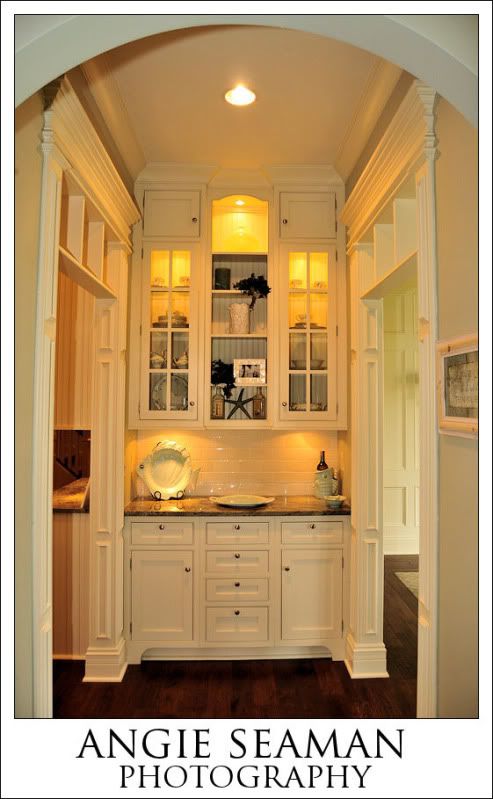 I was going for a simple, non-formal, Bombay-esque, style in this room. The window treatments had a tinge of browns and greens in them so I just decided to run with that idea.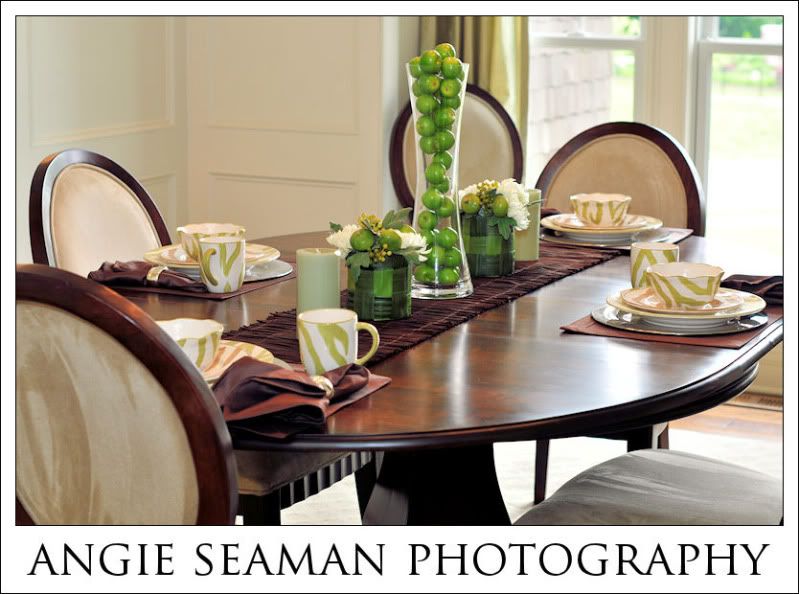 All of you know my obsession with animal prints - mainly zebra. When I saw these dishes, I knew I had to have them. I also bought two separate sets so that I could mix and match the colors rather than go with just the carmel brown or just the apple green. I thought it would be more exciting if I spiced it up a bit with two different color combo's. I used a chrome colored plate charger under each setting with chrome napkin rings because the lighting fixtures are all done in a shiny chrome design. I was trying to tie that in somehow with the Bombay-esque feel.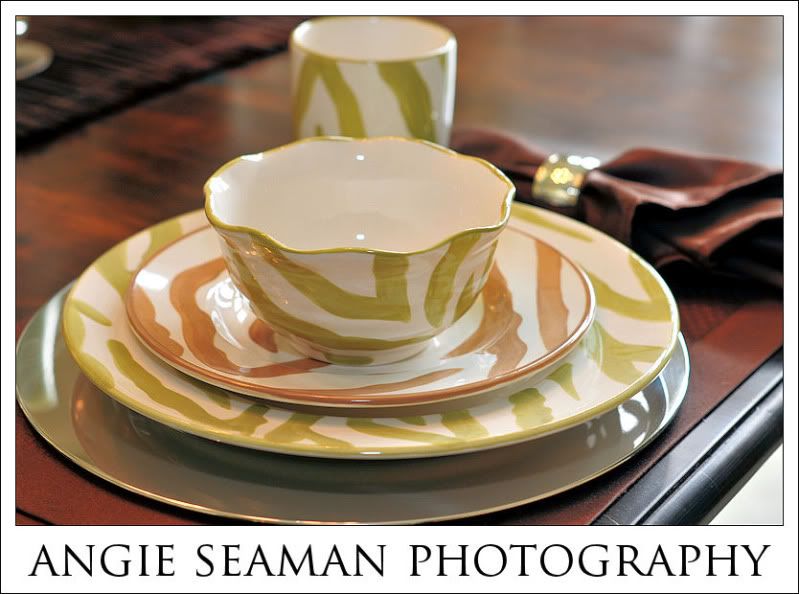 Don't ask me how apples (shown below) came to be in the Bombay-esque theme. I'm guessing it was just the green that jumped out at me. I knew it would match the dinnerware. Notice how I don't call it "china" because it isn't china? They are just insignificant but oh so ROCKIN' zebra plates.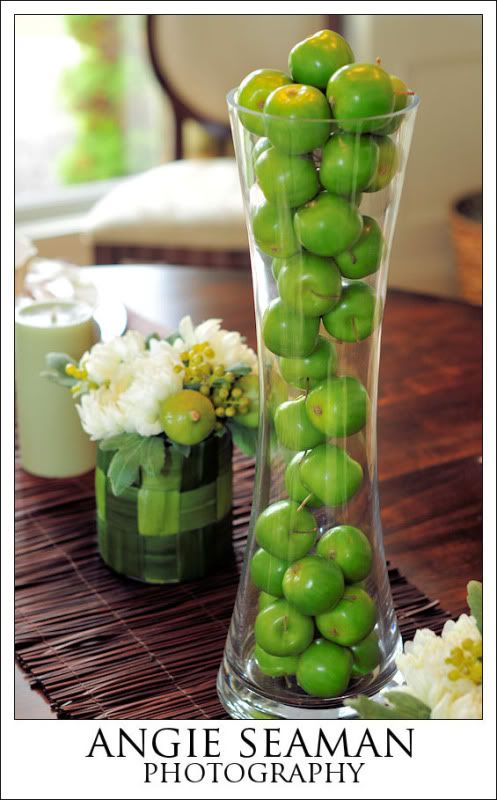 The floral arrangements from Tar-jay (below) are just there to lighten up all the green a bit as well as the dark decor from the bamboo runner and table itself.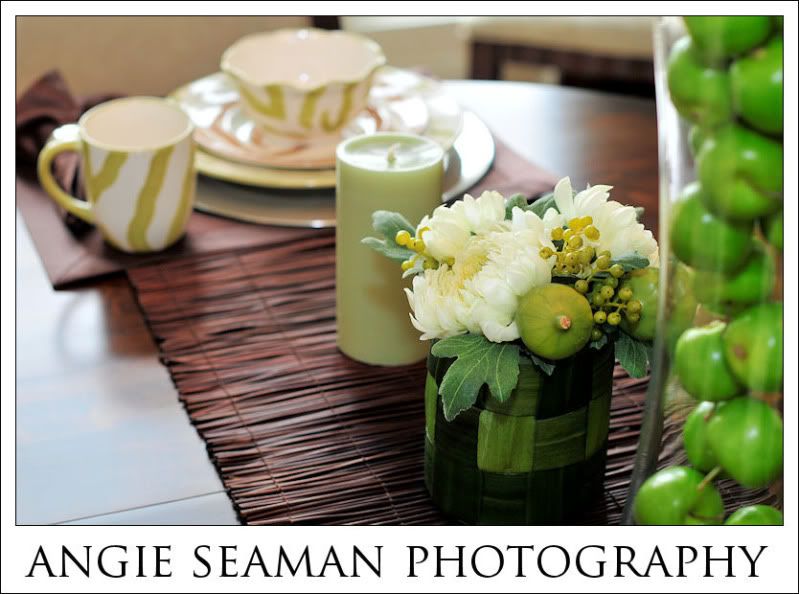 I will have to say that the bamboo table runner is probably my favorite accent piece to the whole table. Definitely bombay-esque. :) Somehow it all ties back to my love for the beach. I'm sure you figured all that out by now though. Hee hee!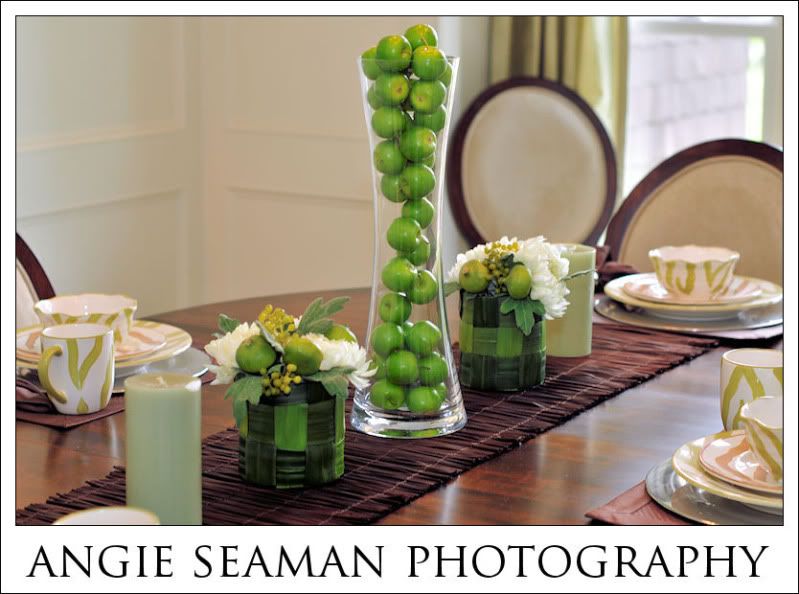 Below you will see the mirror. It sits in between to lights - one set on the right and one set on the left. The sideboard or buffet table will eventually go right underneath this mirror. I just haven't found the perfect piece yet though. Stay tuned...it's out there. I'm going for an old vs. new look and definitely want an antique style buffet table underneath that mirror. I want it ugly and beat up. Totally distressed!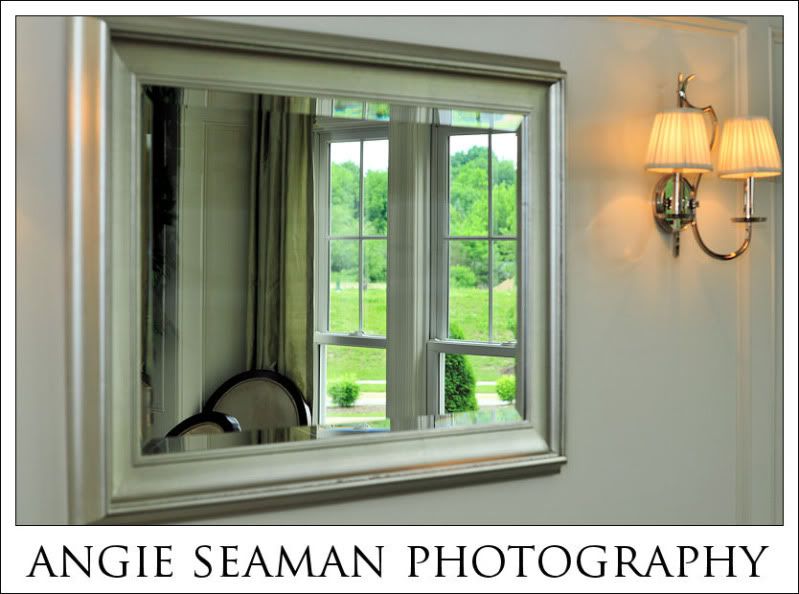 Below is just one of our extra chairs for the table. We keep them in the corner near the window treatments should we need seating for 6 instead of four. There is a leaf that goes in the table should we need it. Again, notice the brown, cream, and green in the window treatments?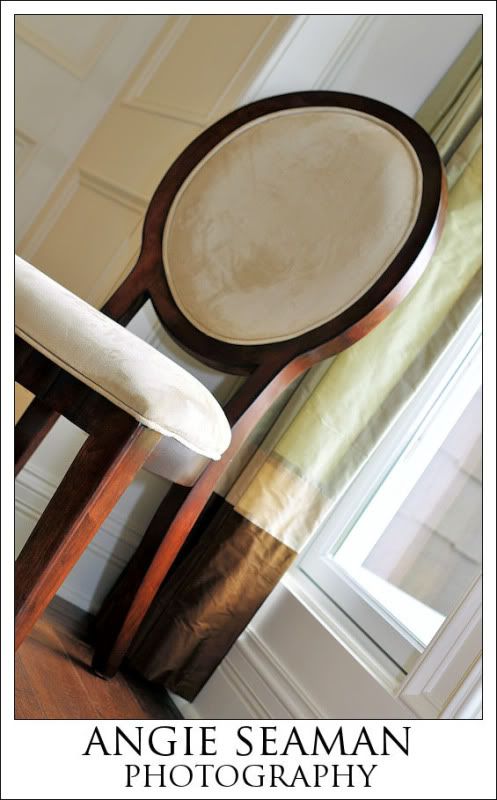 We've only sat at this table and eaten in this room a handful of times. We normally eat at the vanilla white table in the hearth/kitchen area or at the island in the kitchen itself. So, this room is generally for when guests are here. It's been fun sharing again like usual. All of the dining rooms on Kelly's home tour are sure to be a beautiful sight. I unfortunately, have not had the time to get on there and peruse the tour yet but I plan to soon. You should go have a looksie for yourselves and take part in the fun as well. Click

HERE

for Kelly's tour. Thanks again for always hosting this Kelly. It's great fun!
xoxoxo, Angie
PS...Check back here on the blog tomorrow for a guest blogger surprise. YAY! :)
Labels: formal dining room, Kellys Korner blog, show us your home Friday