GUEST BLOGGER-SOUTHERN HOSPITALITY
As a surprise for all of my readers following the incredible holiday weekend, I thought I'd share with you a ROCK STAR in the blog world. Most of you already know her but for those who don't, you MUST

get to know her

. I love her southern flair and her ability to turn anything into fabulous and chic'! Meet Rhoda of Southern Hospitality. She has a knack for decorating but also a knack for decorating on a budget. She enjoys garage sales and thrift shopping and manages to find the most amazing things thru both. Her and I switched places today so she is guest blogging for me over here on the ol' AGD blog and I was asked to guest blog for her over on her blog. She asked if she could feature our great room over on her turf so that is what my guest blogging topic is about over on her blog today. But for now, stick around and read up on Rhoda and how she has a big passion for white dishes. Beings that we all love those white pieces, I just know you will love her topic here for today. Take it away Rhoda...

RHODA'S BIO:
I'm Rhoda, a woman raised in the South who loves life and enjoys all the blessings that God has given me and I enjoy sharing my creative endeavors. I'm originally from metro Atlanta, GA and after my hubby and I got married in 2005, we moved to Birmingham, AL at the end of that year. I'm step mom to my husband's three 20-something young adult children and they are all living out of state, in school and working.

I worked for 30 years in the Corporate world and now I'm a stay at home wife, with a small decorating business from home and I absolutely love what I'm doing. Join me as I share my creative ideas of decorating on a budget, while I hunt down yard sale and thrifty bargains, pass on those tasty recipes, dig in the dirt a bit, as well as enjoy many excursions around town and especially in the South.

With a little creative thinking, anyone can have a pretty home without breaking the bank. That's the main focus of what I talk about on my blog. This is simply my life in the South, sharing what I do and how I do it. This is real life living, with real projects and real results.

Collecting White Dishes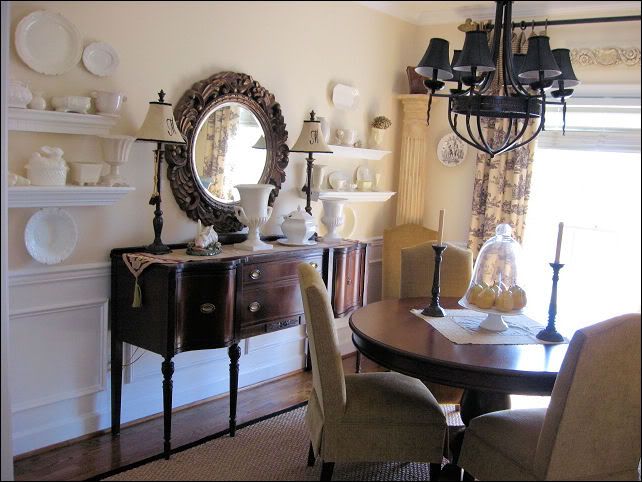 Over a year ago, I decided that I really wanted to collect white dishes. I had seen several other collections of these in magazines and on blogs and figured that would be a good collection for me to start and it would work in my home. So, being a yard sale fanatic and thrifty shopper, I set about seeing what I could find at yard sales and thrifting without breaking the bank. Fortunately, there have been many pieces to be found and now my collection has grown tremendously. I especially love white soup tureens and have managed to find several of those too, along with odds and ends of other pieces that all mix together very well. The best thing about these white pieces is that you can mix them all up. . It does not matter what shade of white they are. Some of mine are creamy white and some are darker, some lighter, but they all look good together.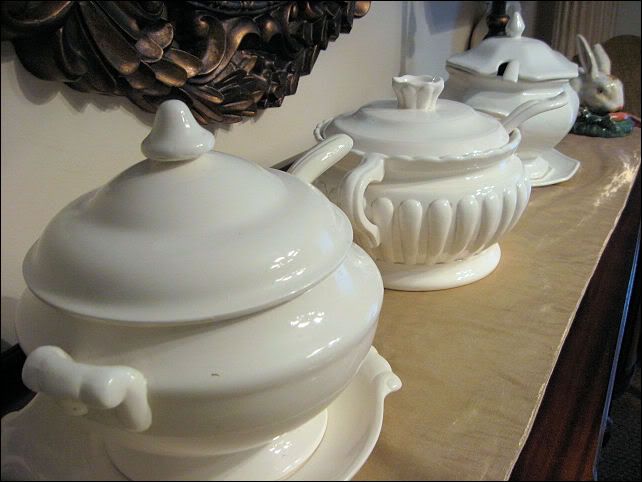 I changed out my everyday dishes to a set of white dishes and then hunt was on. Amazingly, it did not take long for my collection to really grow. I have got them displayed on white shelves in my dining room and really enjoy them. My dining room was red for a few years and I recently changed it out to Antique White and the dishes look right at home in that space. I really enjoy old pottery pieces like vases and planters in white and those are pretty easy to find too.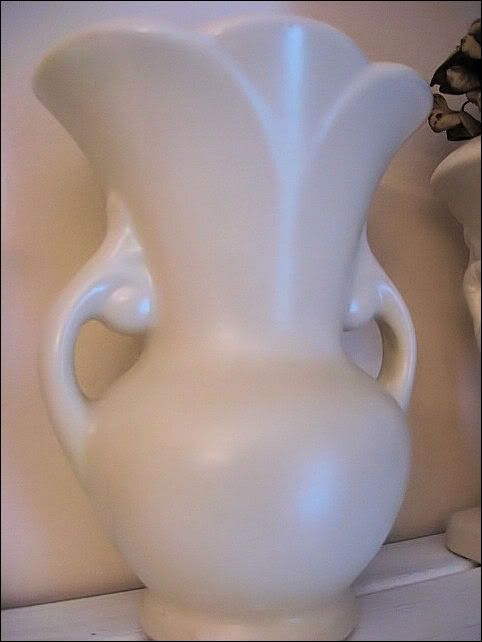 I really enjoy decorating on a budget and this is one of the main focuses of my blog. How to have a pretty home without spending a fortune. I have seen expensive English ironstone out there at the antique stores and those are simply out of my budget. But, these pretty cream ware pieces can be found anywhere, from a yard sale, to a thrift store or antique store for not much money. And they all work beautifully together. So, if you're looking to add some personal touches to your home, think about a dish collection. It does not even have to be white. It can be whatever color YOU love.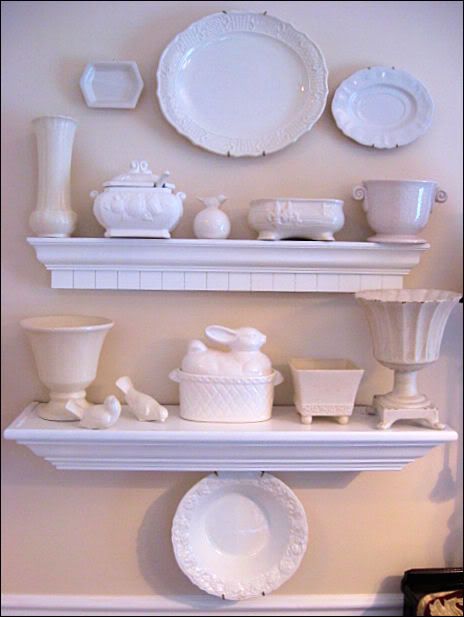 Thanks, Angie, for letting me come and guest blog for you. I have so enjoyed getting to know you and look forward to more fun in the future. And for the rest of you, feel free to visit my blog HERE should you have any questions. ~Rhoda
Labels: Guest blogger, Rhoda, Southern Hospitality, white dishes