BLOG STRUCK & VINTAGE BOTTLES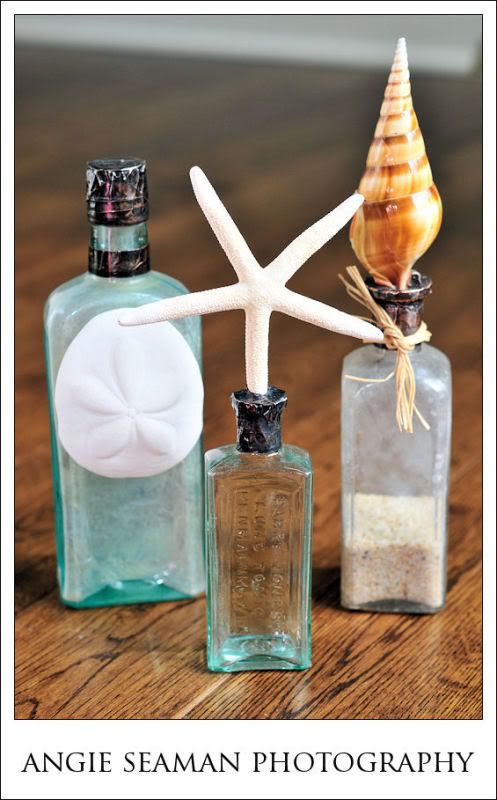 Well, first off...I MUST, MUST, MUST start off by telling all of you thank you so very much for your incredible compliments regarding our kitchen/home in the post below. I was overwhelmed at the amount of blog comments, private emails, new facebook and twitter friends, etc. that came in off of Kelly's "Show us your home" blog tour. You guys are beyond sweet and paid way too many undeserving compliments on things like my decorating and such. I love all of the new "friends" I've met off this post. Kelly's blog alone drove over 1000 new hits to my site in a day and over the past 3 days is just unbelievable. I must thank Kelly herself for the fun and for getting this blog tour going. She'll be featuring different rooms in the home in the coming weeks. She has announced that this coming Friday will be 'living rooms.' I hope to try and participate in that one as well even though I'll be out of town. I might try to schedule an update to automatically post for that event while I'm away.

I also have to thank fellow bloggers such as Edie (

life in grace

), Rhoda, (Southern Hospitality), and Susie Harris (

Bienvenue

) for their sweet comments and compliments on my blog as well. They along with Kelly drove more traffic to my blog. When I saw their comments come thru, I about fainted. Literally. Yes, I was blog star struck! Along with Kelly herself, these three women are like true celebrities in the blog world. Talk about talent...these women combined have more talent in their pinky fingers than I would in my entire lifetime. They are amazing at decorating and crafting. Fierce forces to be reckoned with! You women made my day with all of your visits and your compliments. I'm so thankful to have had you here and am officially stalking each of you. Ha ha! And Susie Harris, Yes...I'd be honored to be a guest blogger for your blog girl. What a privilege that would be. Anytime sista' - anytime. You just say the word! For now, I must pick myself up off the floor and refrain from looking and acting like such a "groupie" for all of these amazing women. They are going to end up filing restraining orders against me eventually - you watch. Wink wink! ;)

So tonight...I wanted to share these images of some of my glass bottles within our home. I had several of you email me within the last few days asking me about my love for glass vintage bottles. (mentioned in one of my posts below) A few of you were wondering what I meant by "vintage glass bottles" and asked for me to share pictures of a few of them. Not a problem!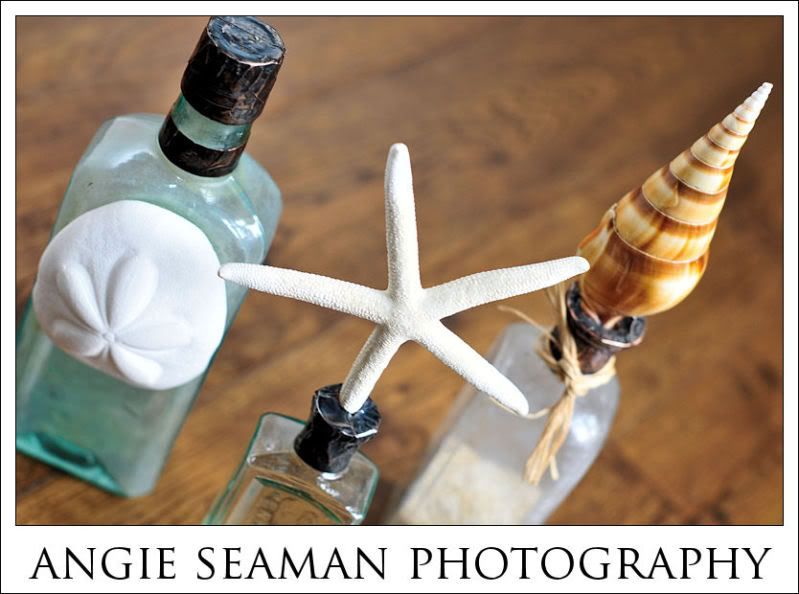 These are a few of my favorite bottles because they house some of the best beach accessories on top of them. Each bottle was an older bottle that carries a story with it. I love the shell, starfish, and sand dollar that are housed on these. They are the epitome' of my love for the beach. The shell bottle even has some sand inside it. You can no longer open these bottles because they are sealed closed with the toppers on the caps. They are made more for looks and to accessorize with.

I keep this particular trio of bottles on our hearth room mantle - just above our fireplace. They go best in here because of their coloring and because of the other beach related items I have in this particular room. Oh...and have I mentioned how much I love my 50mm 1.4 lens when photographing still images such as these? LLUURRVVVEEE it! The sharp, crisp, image that it produces is just amazing. Not to mention the "bokeh!" Don't even get me started on the bokeh it produces. WHEW WEE! I believe I've died and gone to heaven.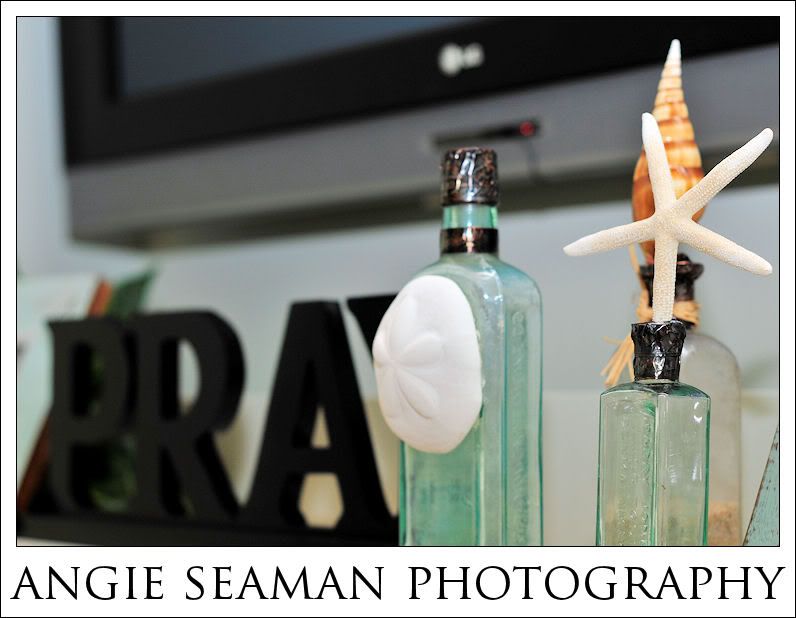 On other related notes, Kenidi got the clear from her pediatrician today to fly this week. As most of you know, we are flying out Thursday morning and I was fearful that her ears wouldn't be clear enough in time to put her on that flight. Thankfully the doc thinks that she is good to go. I had him check Brennen's ears though because he has a deep chest cough going on and oddly enough, his left ear was inflamed they said. He told me to give him some sudafed and mucinex in hopes of drying up anything that is trying to transpire in there before we leave. Please keep him in your prayers for a painless flight. He says that his ears are fine and haven't bothered him one bit. I'm hopeful that it is the tail end of something he never even realized was there.

Secondly, I just have to send a HUGE congratulations out to Kenidi's teacher, Mrs. Alison, on the birth of her new baby girl. Ironically, she had her baby on Brent's birthday - April 28th. She wasn't due until the end of May but apparently she decided to come early. Brent is pretty stoked that she made her grand appearance on his birthday. I think his words were something like..."Important people are born on important days like April 28th." Ha ha! We are so excited for her teacher and their family. Baby and Mom are home and resting well after a long labor that ultimately lead to a c-section. Both are perfectly healthy though. What a praise! And let me just tell you that she is STUNNING! I can't wait to pass off a little something from Kenidi to her. You know...one diva to anotha'! Ha ha! CONGRATS Alison!
It's currently 6:05pm here in Indiana and I must sign off for now. I've got suitcases to pull out and begin stuffing. You know I'm good at the stuffing part. Just ask the baggage claim guys who pick up our suitcases and put them on/off the planes. I'm way behind on my to-do list after a fun weekend spent with Brent and the kids this past weekend. Until the next update...enjoy your Monday evening. We'll be routing for Melissa to dance on Dancing with the stars tonight. How about you? Poor thing - fractured ribs - that has to be painful! I'm pulling for her to win the whole thing so I sure hope she can overcome! xoxoxo, Angie
Labels: Indiana photographer, photography, thru gods lens