A SYMBOLIZATION OF ME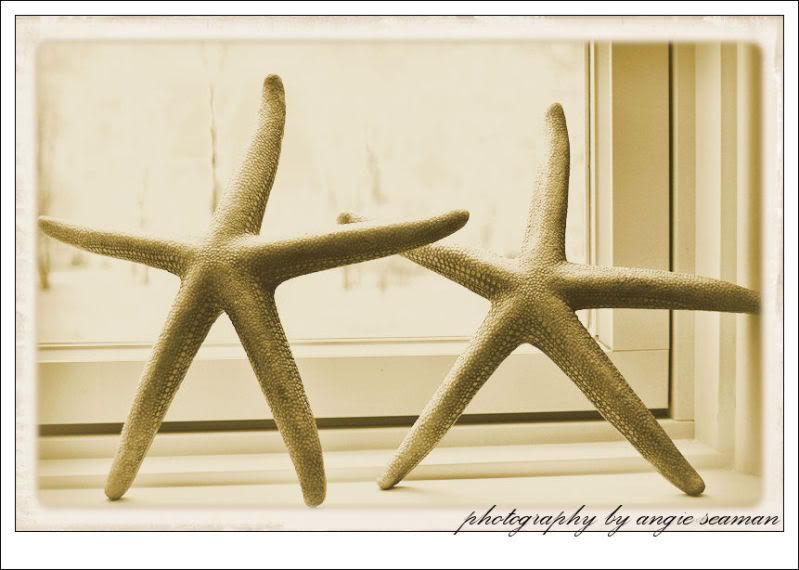 Well, it's pouring rain here in Indiana again today. So, what does Angie do when it's raining outside...she plays with starfish and likes to close her eyes and pretend that she is somewhere else. I'm getting quite skilled at it too. Before long, someone is going to walk in and find me bathing in my kitchen sink - pretending as though it is a big body of water (a.k.a. the ocean) with my beach towel spread out on the counter with store bought sand from Target underneath it. You think I'm kidding don't you? Some of you might not know me as well as you think at this point. HA!
No really...I've been knee deep in this incredible new photography course. (Yes Leigh, it's Sheye's course. Thanks for commenting on the blog yesterday girl!) Our week one homework assignment or task was to take a picture and submit it revolving around something that describes us. We had to come up with an artistic expression of ourselves. Something that introduced everyone else to who we were or what made Angie - Angie. Something that symbolized our self. So...after considering my faith, my family, my sewing/beading, it was ultimately my love for the seaside that I wanted to convey. I felt that anyone who knows me well knows just how much the beach is embedded in my genes. It started when I was 7 years old. My very first trip to Florida was with my Mom. In an odd way, as I reflect back on my life, I realize now that our trip in particular that time was meant for thought processing and reflection on my Moms part. It came at a time when my Mom and Dad had basically separated and their marriage was finalizing a chapter. Finalizing the end actually. When we returned from that trip, life as I knew it was forever different for me and for them. (My Dad and my Mom) However, looking back, I know that it was all in Gods plans for us. I love my life. I love who my parents have raised me to be - even though they weren't a family unit when raising me. I have an amazing step Mom who is literally my 2nd Mom. I wouldn't have gotten her if it weren't for he demise of my parents marriage. She means the world to me and rates right up there with my own mother. She is amazing enough that even my own Mom thinks so. Now that is saying something when it comes from an ex-wife. We always say that Cathy (my stepMom) is an exception to the rule in divorced families. She was meant to be in my life. No doubt about it. My upbringing was also helped by my (ex) step Dad, Bob, whom many of you don't know. Those who grew up with me know him extremely well. However, for those of you who met me after I was 18 years old or older, you've probably never met Bob. For those of you who do know him though, you know what respect I have for him and how thankful I am for his existence in my life. Bob helped to raise me while he was married to my Mother from the time I was 7 until I was 18 years old. As an adult, I look back and realize how different my life could've turned out had Bob not been my Step-dad. And in a funny way, he is still raising me. Whether being there in my thoughts as I go around from room to room flipping my index finger up and down - reminding Brennen to turn off the lights in each room he leaves - just as Bob used to do to me - or just old phrases & sayings that remind me of him as I raise my own kids. The finger thing with the light switches drove me crazy as a kid but its small moments like that which cause me the fondest of memories. The deepest respect. I miss him. He taught me to value things. All the way down to electricity. And I do. Amazing how someone makes such a lasting and loving impression on your life, eh? It was through Bob's love for traveling that I also learned to become obsessed with the tropics. I was fortunate enough to embark on many vacations with him and my Mom. Through those vacations, my fondness for the sea grew more and more each trip. My bedroom used to have big pink blown up palm trees in it. Tacky now - but so fun back then. I should have recognized the addiction when my own mother had little itty bitty pink palm trees placed by the logo on my very first car. It was already in her genes which meant it was now in mine. I had a white car and she had hot pink palm trees made to fit near the cars make/model sign. At the time I detested them. (the palm trees that is) I detested that they identified my car so much and that they were hot pink at that. It was a color only my Mom can understand. :) And I mean like neon hot pink. Not just hot pink. Like poster board neon pink. You get my drift. HA HA! If you are still confused, go back and read this old update/blog post and you'll get a clear visual once you get to the end of the post. :)
In the end, I know it was those early travels as a child that created the passion I have for the beach. The ocean. The sand sugaring my toes. The white wave caps. The smell of the salty air. The surf and turf dinners. ;) Wink Wink! I also know that we are instilling that same obsession for the sea in our own kids. Brennen and Kenidi show us more and more with each trip how much they have a need to soak up the oceanside as well. They are truly infatuated with all that the beach has to offer. I'm so glad that they appreciate one of God's greatest gifts to us. It's one of his most amazing creations. I pray they always cherish it.
So...when I was asked to submit a photo of something that described me, the starfish you see in the images above seemed only fitting. I have no idea what the instructor will say about my images as of yet. However, I'm eager to get the good, the bad, and the ugly from this course. Critique away as I told her. I can take it! We only learn from our mistakes and I make many in the realm of photography at this point. She did pay me some great compliments yesterday in regards to my tulip photos. Some of her words were...
"They're very lovely and certainly print worthy - I can see them as greeting or postcards!" Of course being the rockin' pro that she is, my heart swooned when I read her feedback. I am not naive though. I have a long way to go. However, I'm sure enjoying the ride as it comes. The best part about photography is that you can establish your own artistic flair with it and that people will either like your images or not like your images. In the end though, as long as you are happy with them and having fun, that is all that matters. And boy am I having fun. :) I got a new set of photoshop actions yesterday and I've been playing with them ever since. For those of you who don't dabble in photography, "photoshop actions" probably doesn't mean jack diddly to you. However, to me, it's like another new sewing pattern or another new set of glass lampwork beads. Basically...it's a new set of canvases to experiment and add over or onto your images. We call it post processing. I call it an addiction. Sheye mentioned to another student in class yesterday a quote or statement that will stick with me forever. It read: "Other people will always turn out amazing, inspiring images. It doesn't mean you can't but you will be turning out your own amazing images - completely different to theirs. If we all created the same thing, it wouldn't ever be anything other than ordinary."
I've now printed that out and framed it in my studio.
So...my question for you today would be...if you had to submit one photo of something that describes you, what would it be? Think about it. It's tough but fun! If you have a photo you want to take and share, post it under the comments here and refer us back to your blog. I wish I knew how to set up a Mr. Linky box but I don't. If I did, that would be easiest. However, still feel free to share a link to your photo if you have one. I think it would be neat to see the symbolization that each of you come up with for yourselves. No worries about professional style photos. Snap shots would be magnificent too. I've already gotten a couple thru facebook. Too fun! Hugs, Angie
Labels: class, photography course, starfish