SPRING BREAK FUN
Hi all. It's Sunday night and I'm just now sitting down to do an update. I apologize for the slow updates this trip. We have family in town with us this time so we've just been enjoying their company and I haven't really slowed down much to play on the computer (other than doing a quick status update to all of my homies/you crackbook friends of mine.) Therefore, here are a few of the photos I have managed to snap in the time we've been here. There are a few of Kenidi and Brennen and then there are some below of my brother and sister in law (Brad and Aubree) with their daughters (Evie & Lily) as well. The only time I've really picked up the camera was to capture these shots for you guys. Other than that, I'm just maxin' and relaxin' with the fam.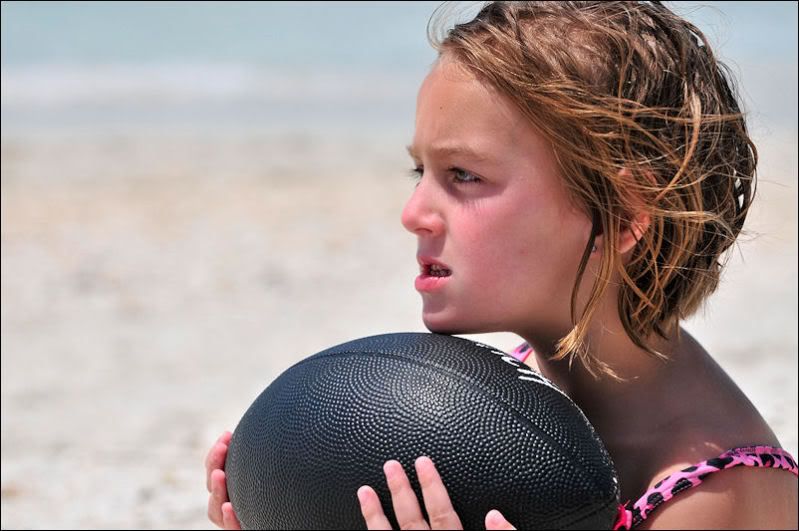 Above...Kenidi with the beach football. Love her far off stare here. Wish I had a penny for her thoughts. And below...my little Rock star straight out of the ocean...(sorry for the harsh shadows from the sun. Drives me crazy!)
This shots above and below are Brent in the water with Kenidi and Brent's brother in the water with one of his little girls, Lily. Aubree (my sister in law) is on the board enjoying the waves.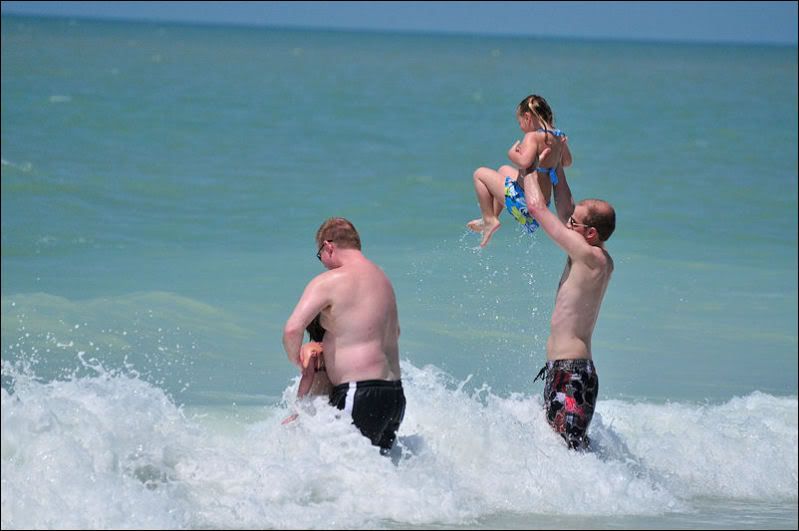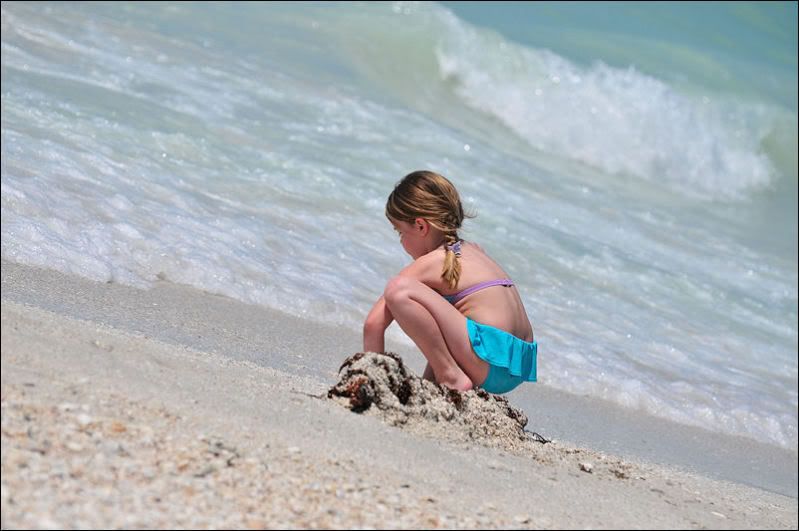 Above...this is Brad and Aubree's daughter, (our niece), Evie...playing in the sand. Her sister, Lily is shown below...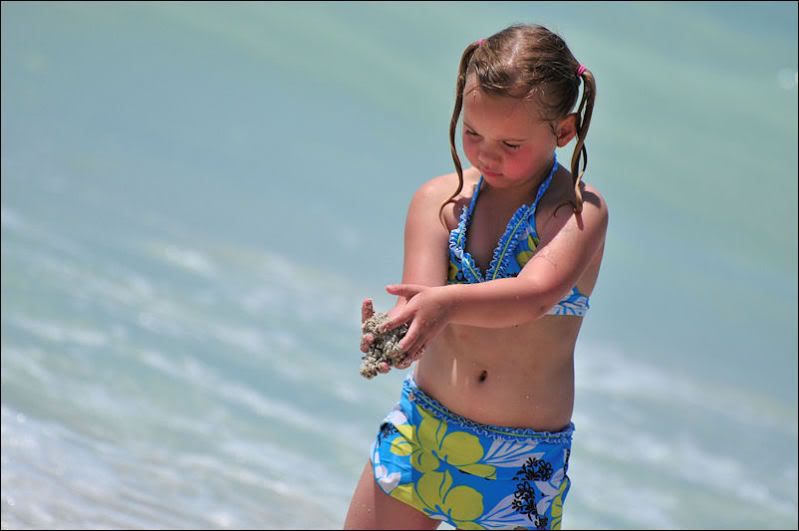 Above...here is Grandma Debbie enjoying the ocean with her sons (Brent and Brad) and some of her grandchildren. I soooooooo enjoyed seeing all of them playing in the Sea. What a grand sight. Family...there is just nothing like it!

Above: Lily with her board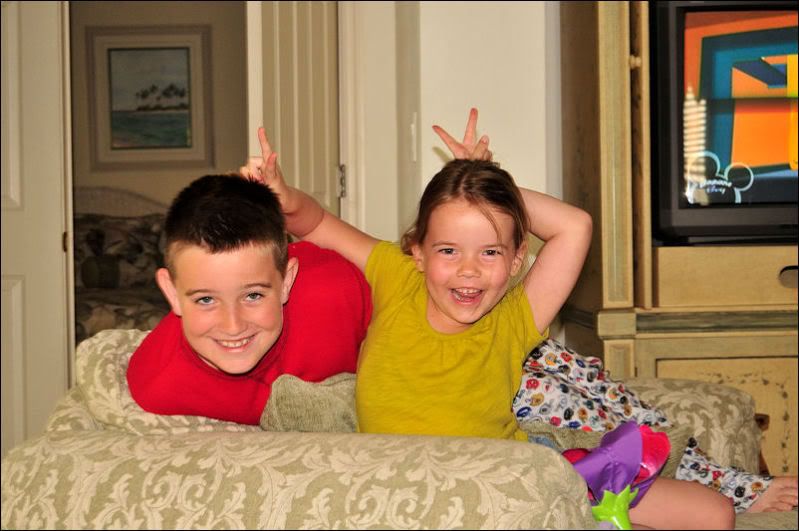 ABOVE: Brennen with his cousin Evie. Evie has a "crush" on Brennen so I thought this might be a good shot for her to frame in her bedroom. And below...Brennen with both Evie and Lilly. Check out Lily's "America's next top model pose." I LOVE IT! It's hysterical. I won't get into the story about her turtle song that she sung to me. The turtles name was Tiny Tim. I had tears rolling down my cheeks last night from her humor. She cracks me up! What a hoot!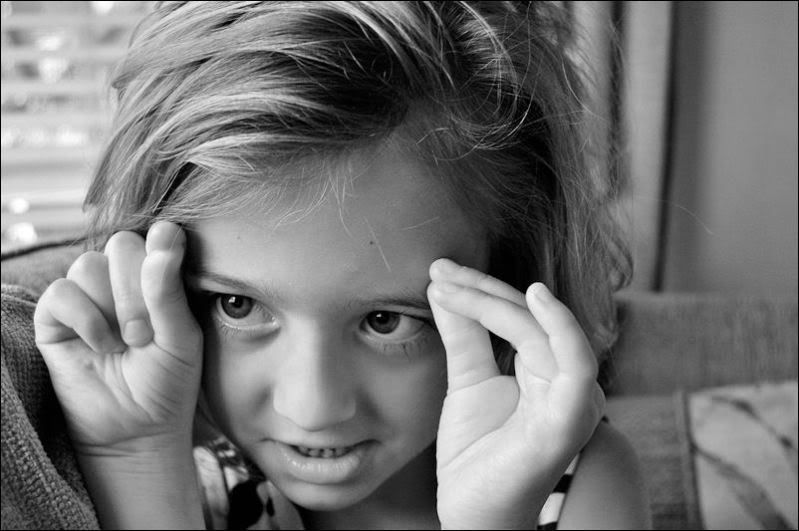 ABOVE: Here is a shot of Kenidi on the couch early this morning. She was sitting in front of the lanai doors and the sun was coming in on her ever so perfectly. There is just something about the picture that I loved. Notice those two teeth on the bottom front? Well...one is ready to come out. That left one is extremely loose. The tooth fairy might be visiting us here in South Florida before we return home. It's Kenidi's first ever loose tooth. What fun!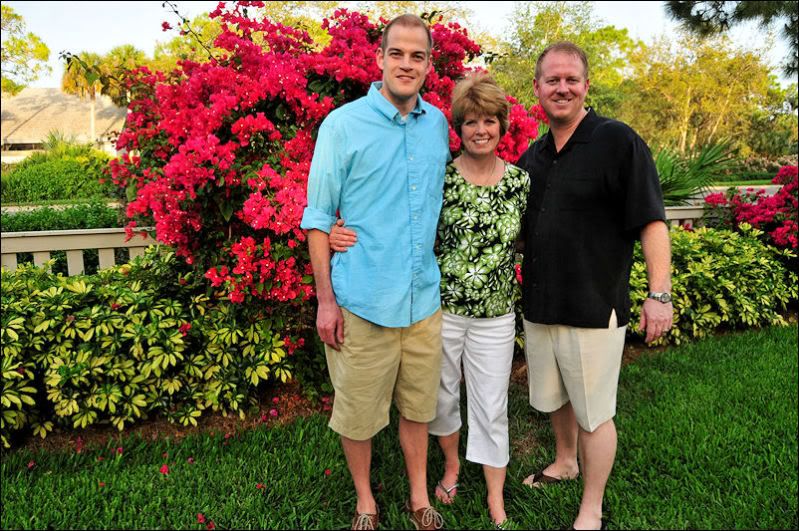 ABOVE: This is Debbie (my Mother in law) with her two boys. I love this picture. I plan to frame it and print it for the house once we return. Look at those flowers and that green grass. Indiana??? What is Indiana? Ha ha! Here is another image of them below with Brennen. Unfortunately, Kenidi was half asleep when I took all of these.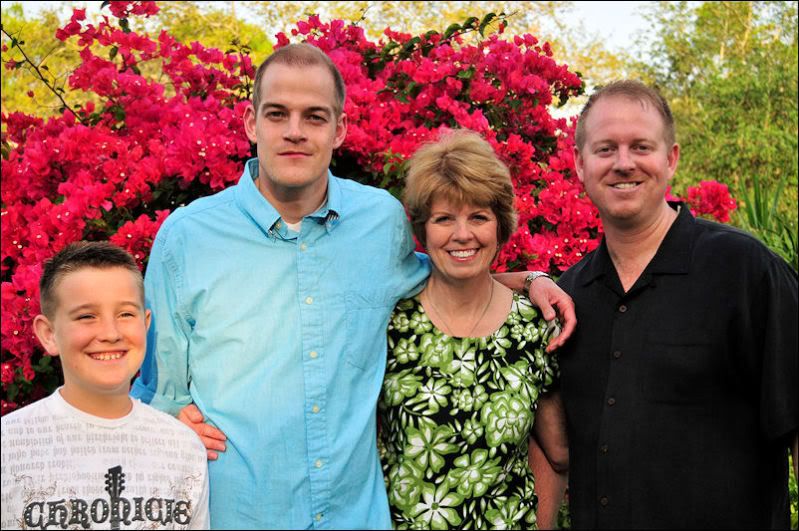 Here are some shots of Brad, Aubree, and their girls. If you remember right...Aubree is due with their third child in late July. It's a boy! We can't wait to meet him once he arrives.

And lastly...one of my favorite images yet...of just Brad and Aubree together (shown below). Love all of those Florida colors in the background.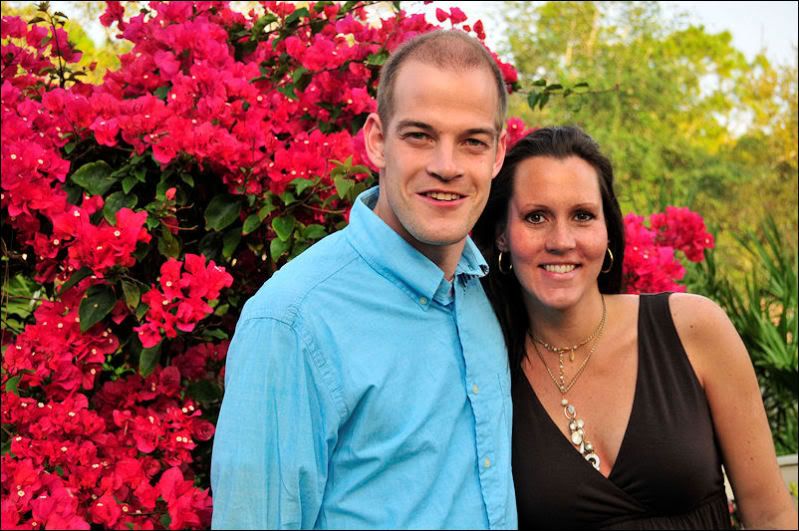 We are vegging out here at home tonight - all of us recovering from some pretty crispy sun effects. Brennen had a friend from Indiana over today and he just left to go back to the hotel where they are staying. (It's one of his best buddies from his class at school) We ordered "in" for dinner and just decided to relax after a fun day outside in the 90 degree heat. Yes, the high was 90 here today. Again...gotta' love South Florida - no matter what time of the year it is.
We are hoping to have my Dad's good friend hook us up with a captain for a boat charter to the island of Cabbage Key here in the next day or two. That will be a great all day excursion that I haven't done in 10 years. Last time Brent and I visited Cabbage Key, I was about 5 months pregnant with Brennen. When visiting we left our dollar bill on the wall that read..."Brent, Angie, and Baby Seaman were here!" It's a tradition to leave money on the wall with your signature written with a black marker on the bill. There are thousands of them all over every square inch of the restaurant. It's an amazing sight!
Right now, I'm just thanking my lucky stars that I won't be in Indy over the next few days as the temps have dropped into the thirties, are full of rain, and snow flurries are expected. That is a BIG difference in comparison to the 90 degree heat we are experiencing here in Bonita. Although our flight here last Thursday was one of the worst flights I've ever been on due to the weather and turbulence, it was well worth the heart palpitations I endured as I prayed that God would just fly the plane and land us safely on the ground before I hurled vomit all over the person in the seat in front of me. There was a woman caddy corner from me that was putting down bloody Mary's right and left. Although I don't drink, I was almost ready to start by the time I got off that flight. Any longer and I would have asked the lady caddy corner from me if I could join her in her bloody Mary fest. I was ready to demand that she share after two solid hours of non-stop dropping, bumps, hills, speeding up, slowing down, climbing, descending, etc. In the end though, I'm alive and I didn't have to become a drinker to stay alive. God is good! :) HA!

Until my next "really late, blog slackin', Florida is causing me to loose my bloggin' mojo"(Thanks Natalie!) update...sleep well and enjoy your Monday.

Angie
Labels: Bonita Beach, family vacation, Spring Break 2009