SIMPLE GESTURES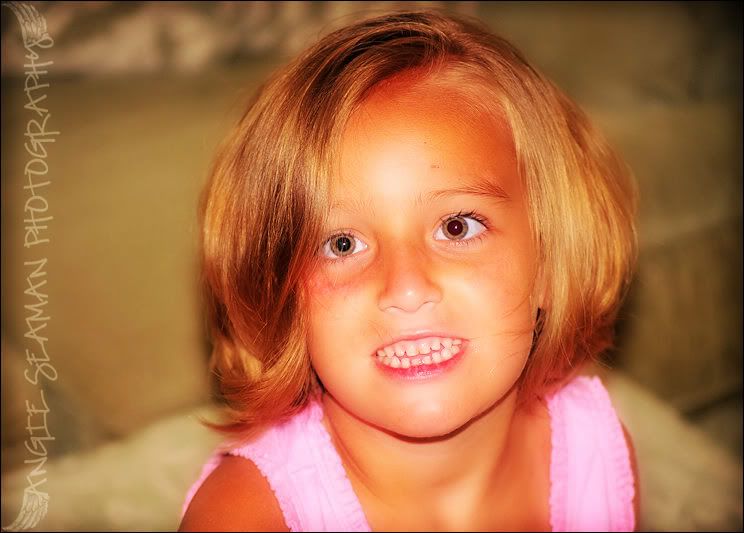 We are home - safe and sound. We made it back last night around 7pm. It was good to walk into the house and smell "us." Isn't weird how after you've been gone on vacation and been away from your home, you can come in and "smell" your family within the walls of your house? Strange but yet oh so comforting. I love that about 'home.' Although we left sunny and 89 degree weather for 40 degree temps and pouring rain here in Indy today, I'm thankful we leave Bonita at some point. If we never left, we'd never learn to appreciate our comings and going there. When we come home and go back, we always take advantage of our time there to the fullest extent. If we lived there full time, I honestly believe the beach would become second nature to us and I'd NEVER want that to happen. I also love coming home back to our house here in Indy which for me is truly like our beach house away from the beach. Our vacation was grand. Just grand! Especially the last 5 days of it. I've included some close up shots of Kenidi that I took while there. This third one down from the very top ended up being a photographers faux paux- very blurry - but yet there was still something I loved about it. She is getting so big and so very beautiful. I felt like these shots - for the first time ever - showed that she really is almost 6 years old. Many times Brent and I still consider Kenidi like our baby mostly because of the developmental delays she has. Although she is 5, she functions more on a two or three year old level. However, these shots really prove that she is getting older, growing taller, and just becoming a young girl right before our very own eyes.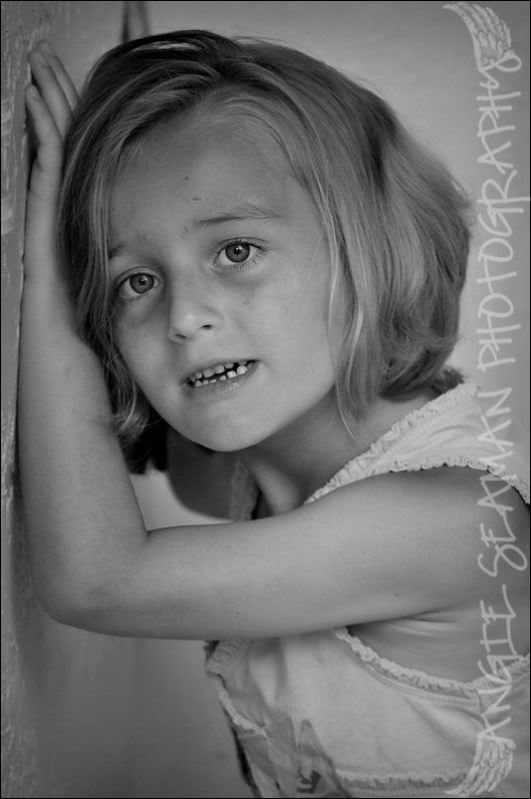 I've determined in our trips back and forth to the beach...that if our flights were just 2 hours even...they might be perfection at its finest. However, because they are 2 hours and 35 minutes most times...those last 35-40 minutes with Kenidi on an airplane are like a ticking time bomb. It's truly a very stressful event for me as I pray with all my might and give her non stop attention as we color, play with play dough, do crafts, play toys, dolls, animals, etc. that she will make it thru the entire flight without one of her meltdowns. This trip - there and back - was no different. Thankfully, we didn't get kicked off the flight or have to make an emergency landing anywhere due to her screaming. We always sit in the back of the planes near the engines in an effort to drown out the sound should she get wild and crazy. Sometimes it helps - sometimes it doesn't. Either way, we made it thru this entire trip without having to go to jail over someone making a rude comment about Kenidi and her screams, outbursts, etc. Brent did have to stand up at a restaurant on one occasion as we were leaving dinner and remind two businessmen who sat behind us "to be glad God gave them words to speak." He told the both of them (after a full dinner of their eye rolling, head shaking, and blatant comments out loud) that God didn't bless Kenidi with very many words as of yet and that for the time being, she gets frustrated at certain moments in an effort to try and communicate with us when wanting something. He reiterated to them that we were leaving and that they could carry on. One gentleman replied with "What a shame!" My words to him were that he had obviously forgotten what it was like to raise children let alone a special needs child at that. He just shook his head at me and I walked off. Satan tests my patience a lot when it comes to the stares and comments we get regarding Kenidi. I'm not a shy character. Nor am I one to just sweep things under a rug and pretend they never happened. Some people can do that. Brent and I cannot. There are individuals in this world who can't stand conflict and will endure years of silence in an effort to keep the peace and avoid any type of conflict whatsoever. In the long run, I truly believe that one looses one self when choosing to remain quiet at times when you feel hurt or wronged. If you know Brent and I well enough, you know that we are outspoken and not afraid to let you know when you've upset us. To pretend otherwise and fake your way thru life would be a crime to your inner self and a lie within your core. Silence creates walls and barriers over time that mold you into someone different - someone other than the real you. The real me cries when I'm angry. The real me screams when I'm royally ticked off. And the real me has a hard time forgetting specific words and hurtful statements that in a nut shell can never be forgotten - no matter how much of a Christian someone is. I'm clearly a sinner. I'm no perfect Christian. Far from it actually. I'm God's worst student and am always carrying a failing grade when it comes to the option of turning the other cheek. Where Satan really tempts my tummy is during those moments when Kenidi is being shamed or I feel my family is being stepped on. I've said it before and I'll say it again...Life is too short! Call me rude - call me mean - call me what you want. In the end though, we don't have time for the pain. We are in this life to love unconditionally and treat people fairly. If someone can't reciprocate that, then we walk on - never looking back - praying for them while on our knees and praying for ourselves on how to soften our hearts and handle it/them best. I was raised as an 'Angie' that comes out swinging. If there is one thing my Christian mother always taught me, it was to never let anyone _ _ _ _ on me. Sometimes that can be good - sometimes it can be bad. In the end though, it's the REAL me. The real Angie! Brent calls it the Mafia mentality. I'm an extremely loyal person and will do anything for anyone when given the chance. However, when you attack my family - either with words, actions, demeaning innuendo's, etc., I'm not one to immediately look the other way and pray for peace. I'm actually the one praying I don't go to jail as I'm about ready to throw a punch. Yes, this is the REAL Angie. And when my life is said and done...I hope someone will stand up at my funeral and say that "you always knew where you stood with Angie. Angie was the REAL DEAL. No secrets. No shame. No fakeness. Just transparency at its finest. Rawness. Pure truth!" And in the meantime, I will continue to fight for that in which we believe in. That would be things like fairness, genuineness, realness, unconditional love, loyalty, friendships, relationships, kindness, generosity, and the right to be loud and be me when I need to.

We have two pictures that hang in our hearth room and depict our family to the fullest extent. I love these pictures because they are "us" summed up in a few sentences. They are realness - not fakeness. They are life. It's our life. And we love it! I took a photo of them for you shown below. I found these at Hallmark one day last year and got them for our house and also got one for a good set of friends we have. Friends whom we are never afraid to be REAL with. Friends who are just as real themselves and that is why we love them so much.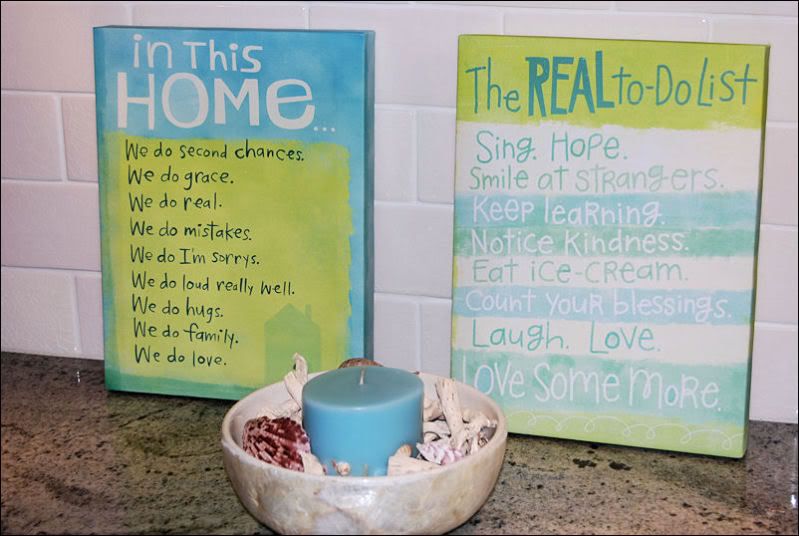 With all this said, I must give a huge shout out to the Mom of four at the Bonita Springs Target store last week whom I will probably never see again in my life and whom will probably never read this because she has no idea who I am. As Kenidi was screaming in the aisles, I told Brent I was going to make my way to the car with her and that I'd catch up with him out there. I headed to the front door praying I made it out alive and without going to jail as people began to stare. As I dropped the cart back off and headed for the automatic doors, a woman came up to me with one child on her hip and three others in tow. She looked dead at me and said..."I just wanted to tell you that it is going to be OK." She began to tell me that she has been in my shoes and just wondered if I needed any help getting thru the line and paying for something. She offered to go take anything I had back and in thru the cashier line if I needed help. Luckily Brent was handling what we needed and I was just making a mad dash for the car. However, I told her what a pleasant surprise it was to get someone that was blessing us rather than cursing us when it came to Kenidi or our life. I fought back the tears as I told her that Kenidi had special needs and that 90% of the time we are getting stares and comments made about her behavior. She explained to me that she had a dear friend who had a child with autism and that she felt for me given what she knows her friend goes thru on a daily basis. She also told me that she has a normal healthy child (and pointed to the one on her hip) that screams and throws fits for no reason and he was completely healthy. She said "And he knows better!" We laughed and I told her thank you for her kindness and very simple gesture that had made my world. She looked at Brennen and asked him if he was a good big brother and I made sure I told her what an AWESOME child he was. Brennen gets the short end of the stick a lot when it comes to Kenidi and our life. This past week was no different. If there is one piece of advice I can pass on to people out there...it's be careful what YOU think YOU have under control. Just about the time you are smiling and thinking you've got life down pat, God throws you a curve ball that ends up being a really big rude awakening. In the meantime, lend a shoulder to cry on for those currently or already experiencing their curve balls in life. Don't condemn, judge, or criticize them during those moments when you think you could do it better. Fight fair!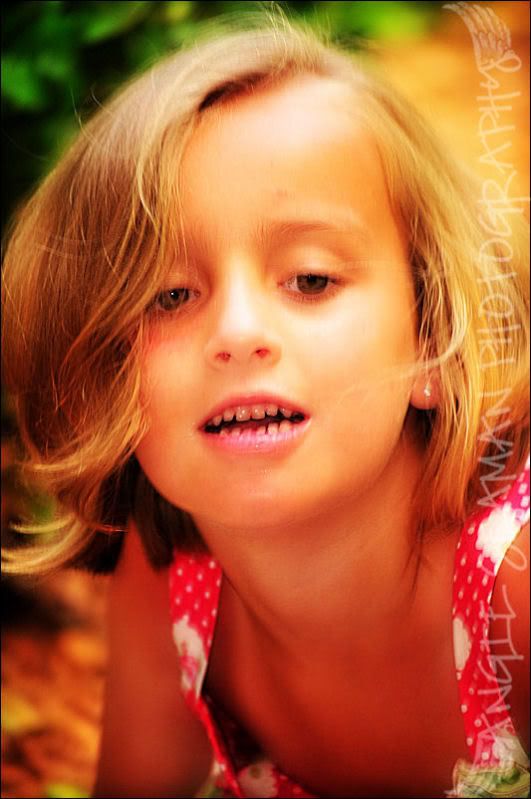 (ABOVE: Horribly blurry shot but I just couldn't part with it. It makes me smile - everything about it.)
There is one thing in life that I believe to be a guarantee...that would be..."words will come back to haunt us!" No question about it...we reap what we sow.
For now, I'm climbing down off my soapbox and headed out in the rainy Indiana weather today to run some last minute errands since returning home. I have so many posts to update you with but no time to do it all in right this moment. First off being the three new AGD designs that I got photos of while on vacation. I'll be back with those soon. In the meantime, hug a fellow parent today and let them know that everything will be OK. Let them know that you've "been there." And if you haven't been there...pretend that you are and put yourself in their shoes for just a second. Walk a mile in them maybe. You'd be shocked at what a life changing event that one little gesture can be for somebody.
xoxoxo, Angie
Labels: Bonita Bay, Bonita Springs, family vacation, Florida