MORE RANDOMNESS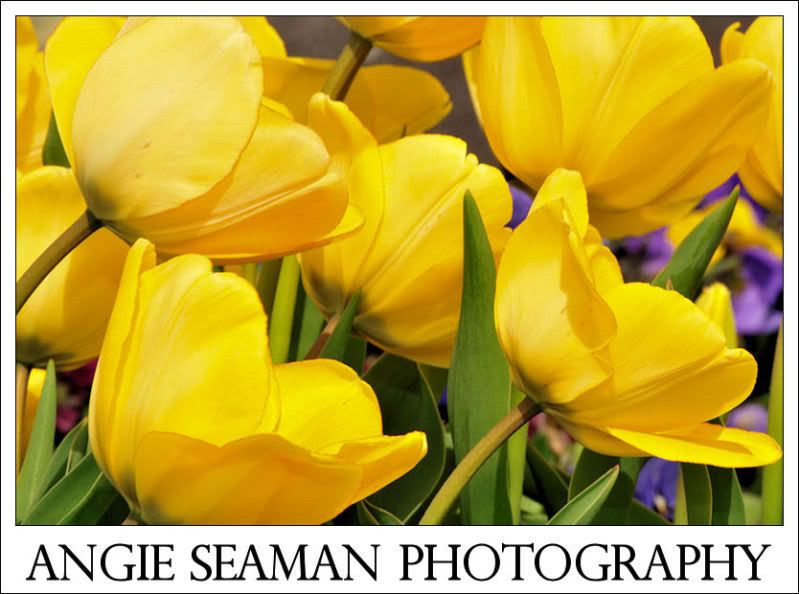 Guess what? Yeap, a whole bunch of randomness again. Two days in a row, eh? I know you guys can tell that I'm just bustin' to be outside. Today it reached almost 80 degrees here in Indy. So...after a very exciting business meeting I had with Brent and a soon to be introduced person/organization, I left bee boppin' out the door today for another photo shoot before the kids got off the bus. I drove around in my car, killing time, and scoping out pretty things to snap shots of. Out of the corner of my eye, I spotted these tulips at the entrance of a neighborhood near ours. I did a hard left - then a u turn - and ran back to the spot where I'd seen them. After pulling over on the side of the road and parking up the street, I hoofed my way back to these beauties and captured these shots...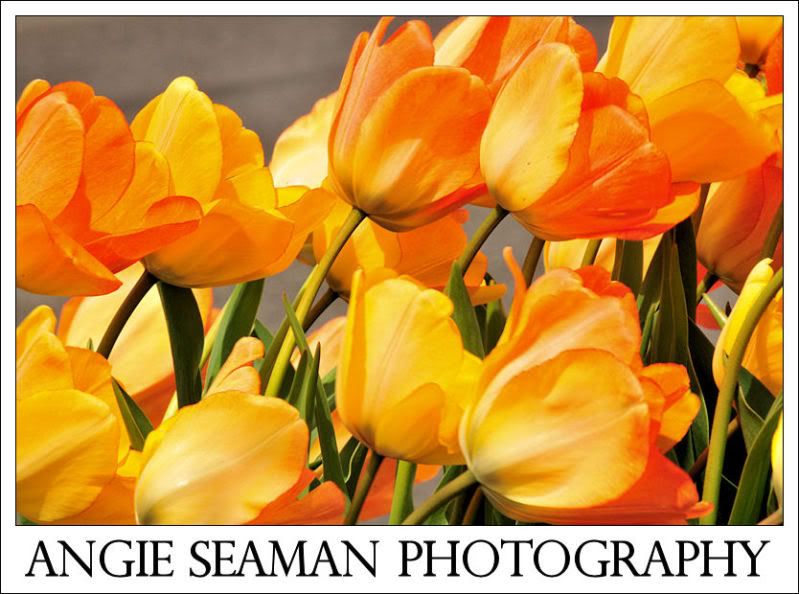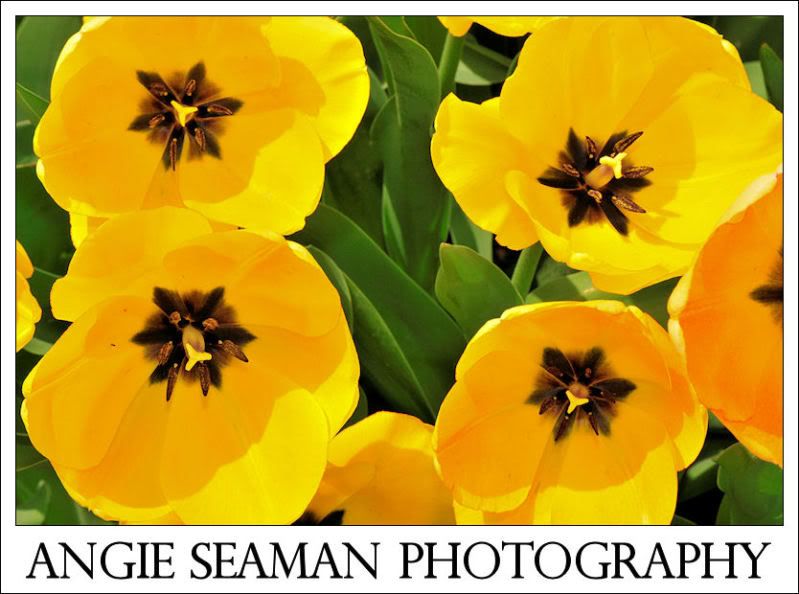 It was smack dab in the middle of the day so there was tons of harsh sunshine hitting my lens which then equals tons of shadows - ugly shadows. However, I just couldn't quit snapping away. Shadows or not, I was embracing the sun.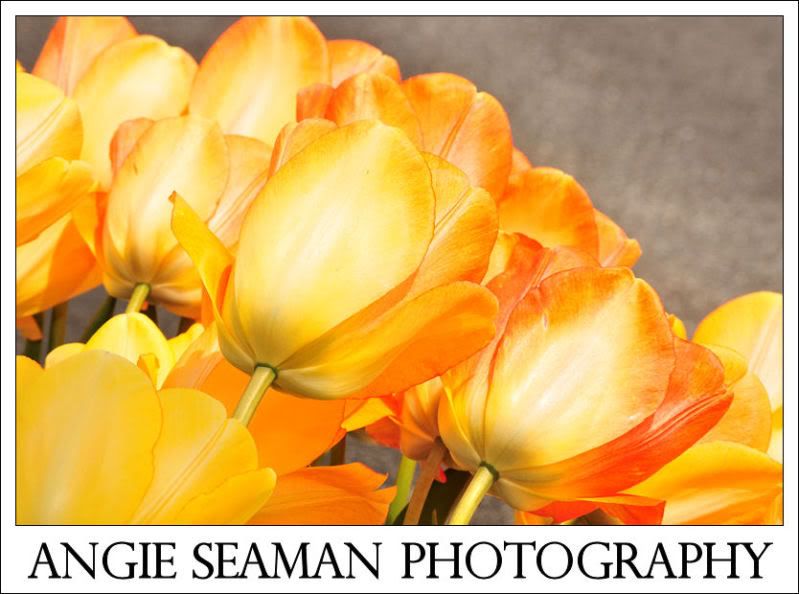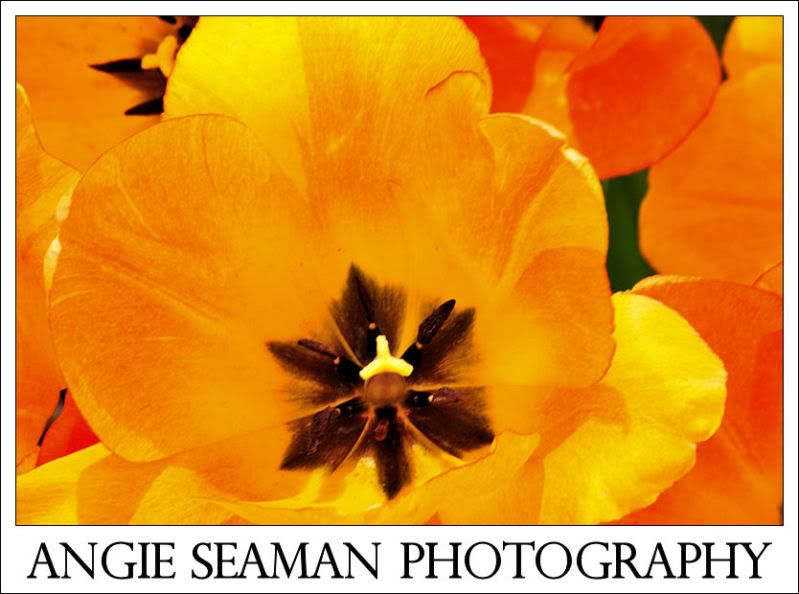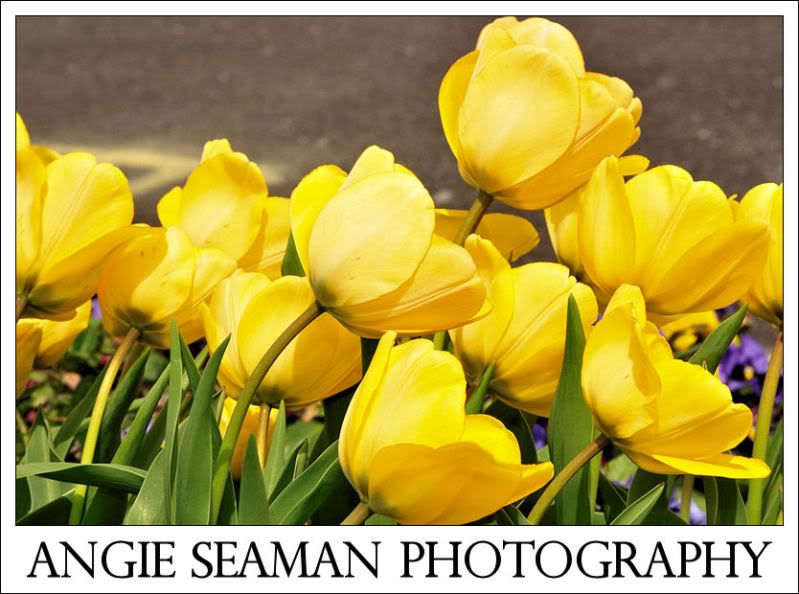 Love how this little guy (see below) had a streak of red growing inside of it. Nothing like standing out - having an "out of the box" look. Why be normal? Dare to be different as I like to say. Ha ha! Too fun!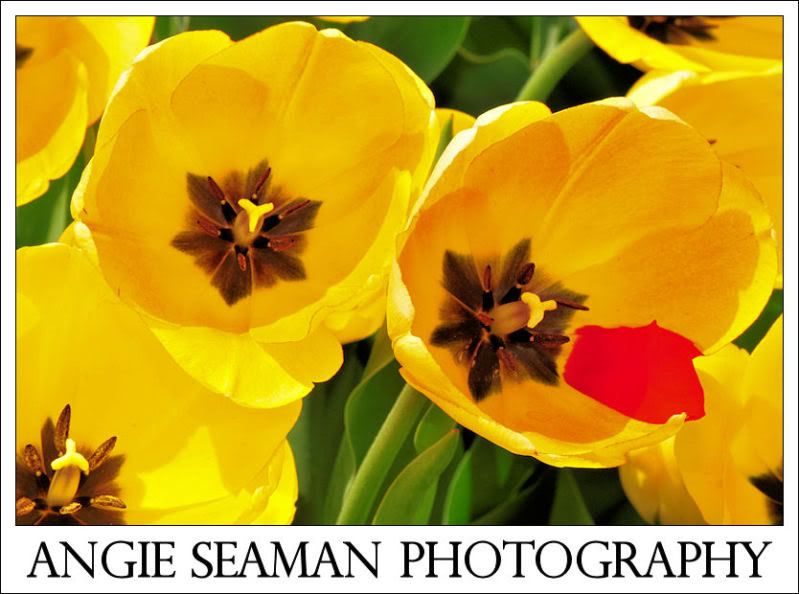 (To see more pretty tulip shots, go to my friend

NATALIE'S blog

. She does Iphoto friday and has a great collection of images going there too. Also, my blog friend,

Beki

, does Fingerprint Friday each week and thought the flowers would be a good depiction of God's fingerprints this week. Go check her blog out to see lots of other cool photos of peoples ideas of finerprints from God.)
Then, yesterday Brennen had some tutoring at a teachers house in a neighborhood close to ours. As I dropped him off, I saw this stunning little park area inside the center of their sub-division. What did I do? I dropped him off at the session, ran back to the house and grabbed my camera, then took Kenidi back there so we could kill some time while waiting on Brennen. There was an area above my head that was screaming to be photographed at one point. The sun flare was amazing. I just had to capture it. Also, see those lines and angles again? Yeap, love love love them!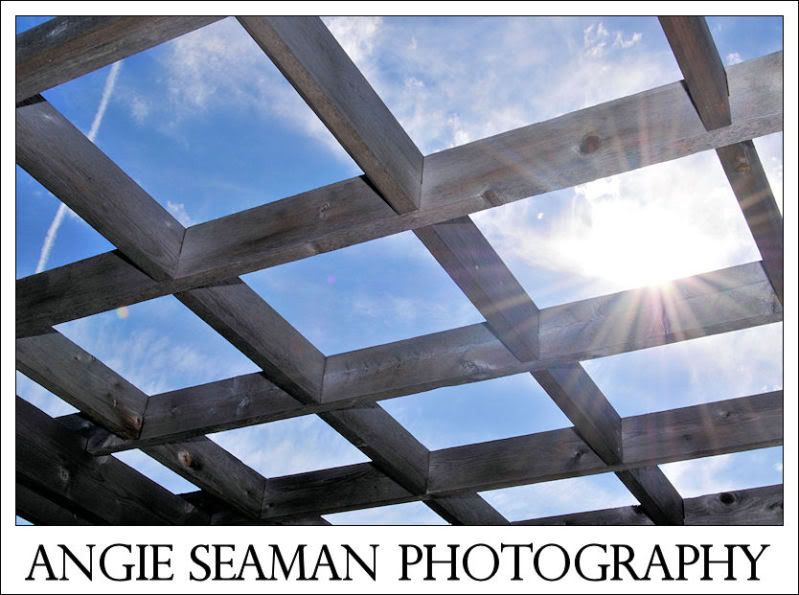 In the little park area of their sub-division, I found these brightly colored adirondack chairs that immediately propelled me to somewhere else. Somewhere like Bonita Beach maybe. Ha ha! They were all different colors and just screamed to be photographed. Again, this was smack dab in the middle of the afternoon so there are horrible shadows everywhere (even with my lens adorning its lens hood). However, I couldn't pass them up. Someday soon I plan to go back on a more overcast day and grab some REAL shots of these again.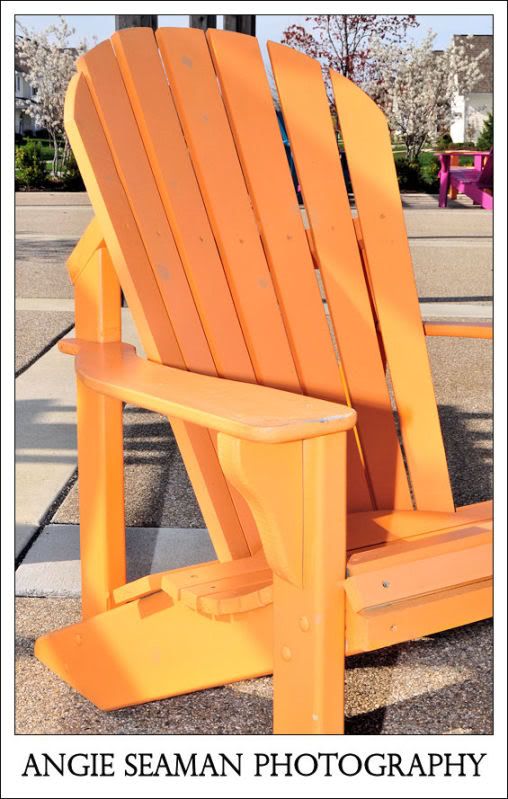 I'd love to capture a shot similar to this one below on an overcast day and then have it made into a big canvas for our house (minus the shadows). I think it would go great with the beach theme.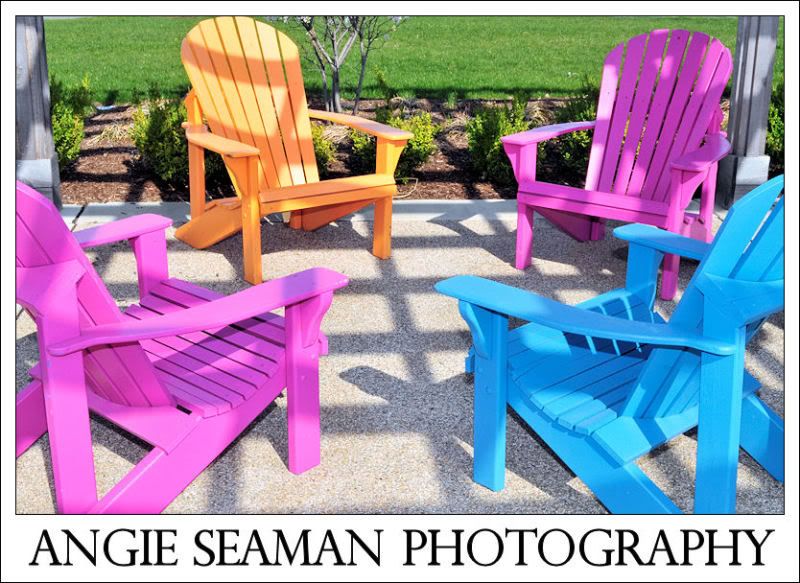 These colors are just amazing, aren't they? Sooooooo yummy!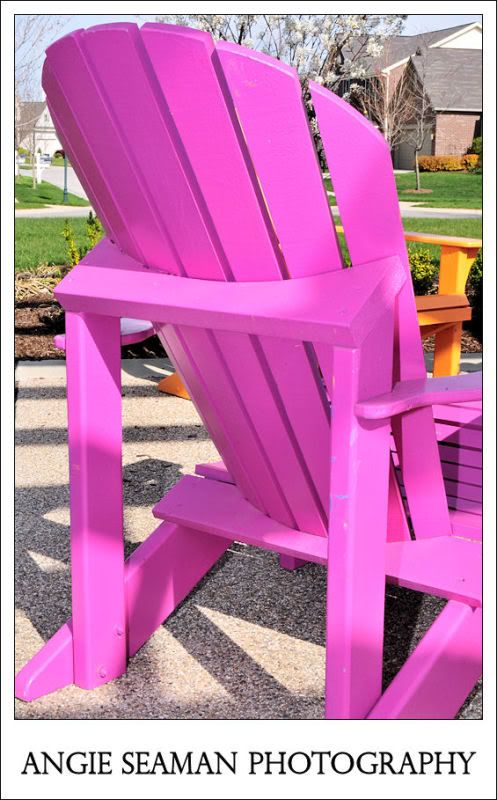 Speaking of Bonita Beach, I snapped these shots (shown below) while there a couple of weeks ago. I wanted to share them with each of you. Ya'll know how much I love my palm trees, right? Well...because of that...I just thought I'd post these here and share. I got a polarizer & some step rings for my camera lenses recently so I can't wait to go back and try them out against the blue skies at the beach in a couple of weeks. They will really help to make shots of the sky like these POP!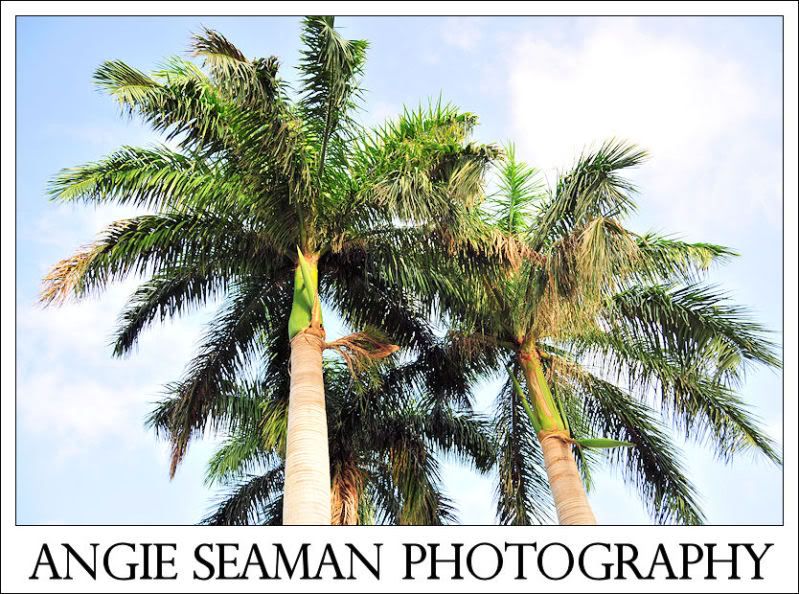 Why can't we have palm trees in Indiana? It's so not fair!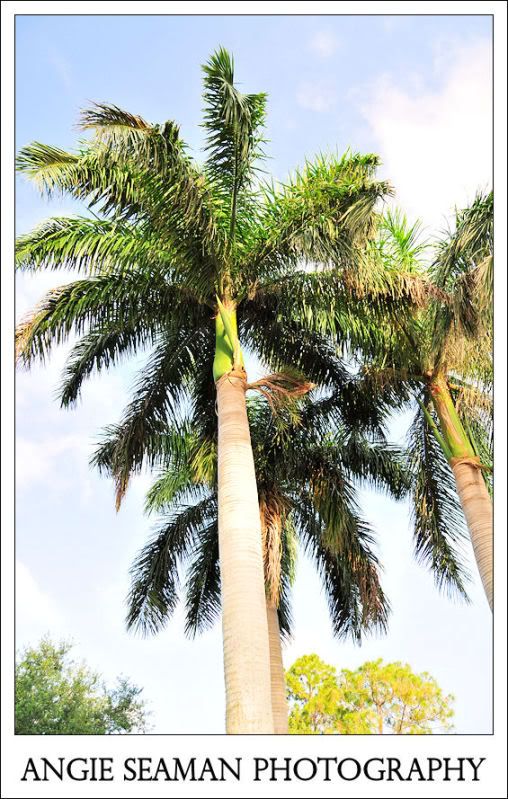 And just for fun, I thought I'd post this very candid shot of Kenidi (below) talking to me yesterday while in that sub-division playing in their park. She had me cracking up. She has become really animated with her hands and arms lately as she is trying to verbalize. This was a great depiction of what she looks like when communicating these days. One of her aides sent home a note from school yesterday letting me know how she has made HUGE progress in her gross motor skills since last Fall. I would totally agree. Kenidi has come a long way since enrolling her in their new school back in August. And although I, as her Mom, am totally struggling and missing her REAL teacher (Mrs. Alison) because she left on maternity leave a couple of weeks ago (as she awaits the birth of her first child) and won't return until next January, I still know that Kenidi is in great hands with the aides in her classroom. Did I have a big ol, sobbing baby, cry in the shower the morning her teacher called to tell me? Yes...I sure did. She called me at 7:15am the morning we were set to fly out for our Spring break vacation. Our flight was leaving that morning and she called before we left for the airport to tell us. After I hung up with her, the tears began to flow and I ran straight into the bathroom where Brent was getting ready and just cried like a two year old. We were both extremely sad and were very heart sick in the pit of our stomachs that she was leaving so soon. We always knew she'd miss the last couple of weeks of school due to her pregnancy but now she was not only leaving sooner than planned, but she also wouldn't return until the 2nd semester of next years school year. Like I told Alison, I feel like I've lost an appendage. (nothing like making her feel bad, eh?) Like someone has cut off my arm or something. We miss her dearly! However, I know that she needs this time away in preparation for her new little one. I'm glad that she has the opportunity to be a stay at home Mom as she welcomes her first child. The real test will be whether she will EVER come back though after having that new little baby at home by her side for almost a year straight. I must confess that for my own selfish reasons, I'm so worried that she'll decide to quit her job and become a full time Mommy at home with her new baby. Thus meaning that we'll never have the opportunity to have her in our lives again. I pray that if that should that happen, I'll have the maturity level to not throw myself down on he floor, kicking and screaming, and begging for her to change her mind like a mad woman. I can almost promise that it won't be a pretty sight if it does come up so get ready and be prepared Alison. Ha ha! We love and miss ya tons girl!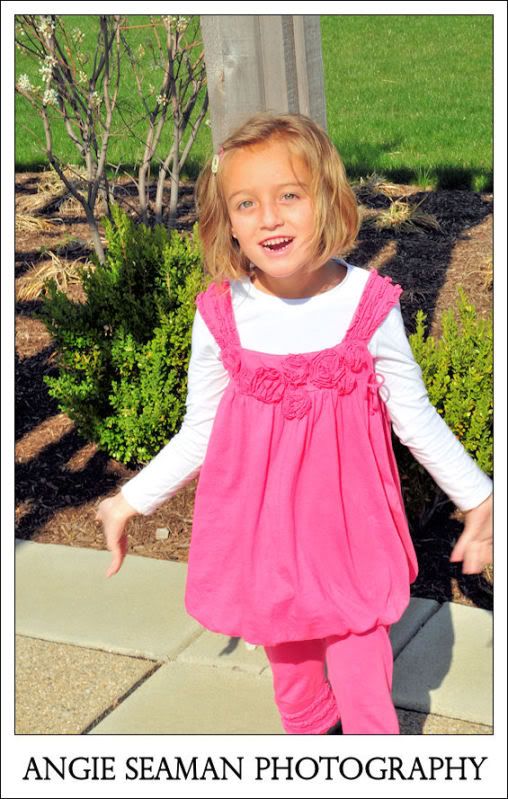 Where are you Mrs. Alison? I miss you! Love, Kenidi
PS...A ginormous thank you to all of you caring and oh so loving souls who've emailed me about my new friend, Mr. Migraine. Your concerns and caring spirits never cease to amaze me. I didn't discuss it much here on the ol' blog because I'd been --- well...very frustrated and in total irritation of it all. After not having had to go to a doctor for basically 33 years of my life, I've now seen the inside of an Emergency Room twice in the past 60 days. (the heart related issue and then the head problem) After a week and a half of a severe migraine - nonstop I might add - which I've never had before - along with my eyelid suddenly swelling and then drooping/dropping on a whim due to the migraine, the doctors then thinking it was a massive cluster headache following a healthy CT scan, etc., I'm happy to report that I believe the miracle drug, prednisone, is now working. I hate to speak to soon or jinx myself but for the first time today in 11 days, I'm not feeling the pain as I had before. And although the prednisone prescription threw my heart into a very unexpected and not so fun synus tachycardia rhythm (heart palpitations with the rapid pulse and extra beats) which had to be addressed, I'm glad that I'm at least feeling some relief now from Mr. Migraine. For those of you who suffer from migraines, I feel so bad for you. I've never experienced anything like this and was totally down and out about all of the doctor visits I'd been having. I just couldn't fathom how I could be healthy for 33 years and never have to go to a doctor - to now all of a sudden having to endure multiple doc visits, ER trips, CT scans, heart testing, blood work, and so on. In my own personal rolodex I now have every doctor you can think of at the touch of a speed dial. Cardiologists, Neurologists, family doctors, and so on. Not only that but my measly one medication (birth control) that was the only pill I've ever had to take, has now grown to a full fledged drug house with 6 new bottles of pills. If someone came into my bathroom right now, they'd probably swear I was freak if they saw the amount of prescription bottles living on my counter. It's depressing beings that I'm not a pill girl and don't like to take medicine as it is. I've not handled it well at all. Let's just leave it at that! I've been mad, ticked off, frustrated, in wonderment, confused, stressed, worried, tired, and every other emotion under the sun. Oh and might I add that at the same time all this is going on, I also ended up at the dermatologist with two skin spots that popped up on my chest after our vacation which now have to be monitored and watched over the next two months. If they aren't gone before we head South again next month, they'll have to be removed and biopsied. Although my dermatologist feels that they don't look like anything to worry about at the moment, of course it is hard not to worry. I'm praying and trucking on like normal - knowing that God is in control. Oh and before I get the sunscreen lecture from my friends out there who want to harp on me about lathering up in protection, my dermatologist tells me that this isn't suncreen/sun related. We had a long talk about my love for the sun and believe it or not, he assured me that in his opionion, I was ok to keep soaking up the sun like I always have - even without sunscreen. Yes...I was shocked to hear him say it too. However, he thinks (his opinion only) that sunscreen will not keep you from getting skin cancer. He believes it will help slow your aging process due to sun damage but he said if you are going to get skin cancer, you are gonna' get it with or without the sunscreen in the end. He asked me if I'd rather age with my age or stay indoors with sunscreen on all the time and have the rest of my body look like my butt (no joke - these were his exact words) and then end up with osteoporosis when older from my bones being so frail due to lack of vitamin D. (sun) He told me it was my choice. He is a direct guy - very dry in personality - but I love how he tells me like it is. So...in the next few weeks, will you just be praying that my health gets back into "normal" gear and that I can stop having to worry about these issues? I'm using up a ton of my prayer quota with regards to the big man upstairs in the last 3 months of this 33rd birth year of mine. Guess I'm making up for all of the other years when I wasn't swinging my way in and out of ER hospital doors. I'm sure the good Lord above is about ready to cancel my membership up there if I continue to keep being so needy. HA HA! Nevah! I know better than that. Again...I can't thank all of you enough for your undying support and caring hearts. It means more to me than you'll ever know.
Big, huge, hugs...Angie
Labels: landscapes, photography, thru gods lens