BARNES & NOBLE - GOOD FOR THE SOUL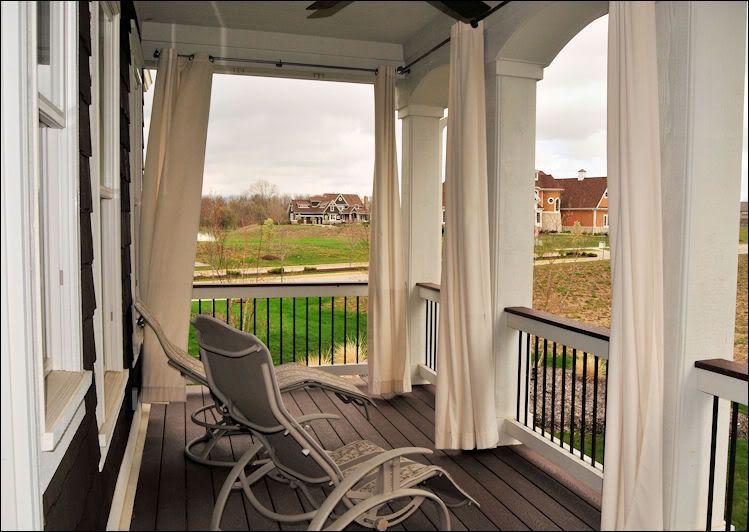 Our back master bedroom deck has been calling my name lately. When we moved into our new home this past August, I didn't do anything to it and barely got to utilize it before the seasons changed and the weather turned cold. I've been waiting for the weather to break so that I can head up to crackle barrel and grab some of those gorgeous white rocking chairs they sell. I plan to replace these tan loungers for the rockers. My hopes are to find a great outdoor runner/rug as well as a wonderful insignificant but statement making side table to withstand my spring afternoons with my glass of white grapefruit juice and a good book. Speaking of books, I was supposed to head out and shoot (with my camera this morning) but as Indiana weather goes...it turned out to be cloudy, cold, and rainy. IMAGINE! Therefore, I found myself yearning for a book store. A Barnes and Noble book store. So...off I went.


Yesterday evening marked one solid week that I've now had a lingering headache. Why - who knows? All I know is that I'm over it and it's stubbornness. Apparently it has found a new home inside my head and REALLY likes it there. So...in an effort to help pass the time and this oh so gloomy day today...I ended up in the aisles of Barnes and Noble for two solid straight hours today. The end result...these...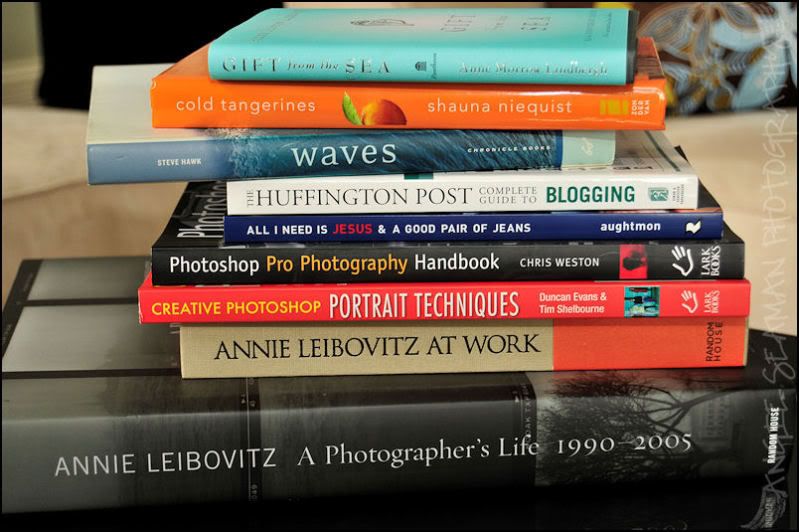 Many of you know that I'm obsessed with Annie Leibovitz. Annie is a world renowned famous photographer who has graced the cover of every important anything and has gained notoriety for her images that revolve around the world itself, celebrities, tragedies, etc. Her pictures have always boggled my mind and the woman never ceases to amaze me. I had been searching for the "perfect" coffee table book for our great room. I finally found it today. After grabbing a couple of books on Annie's life, I also hit up the normal photography section and grabbed a couple of things to do with photoshop, a blogging book that appealed to me due to the writers involved, some Christian books that friends have referred to me, as well as some books on the Sea and Waves. I'm sure those are a real shocker! HA!

I have combed through these Annie Leibovitz books all afternoon. They were both wrapped in cellophane and closed off so I couldn't wait to get home and discover what was inside. I was truly like a kid at Christmas time trembling with delight as I pulled them from their protective/private wrapped covers. I'm not much of a reader. I'm more of a picture book gal. Therefore, stuff like this really hits my soul. I heart them - BIG TIME!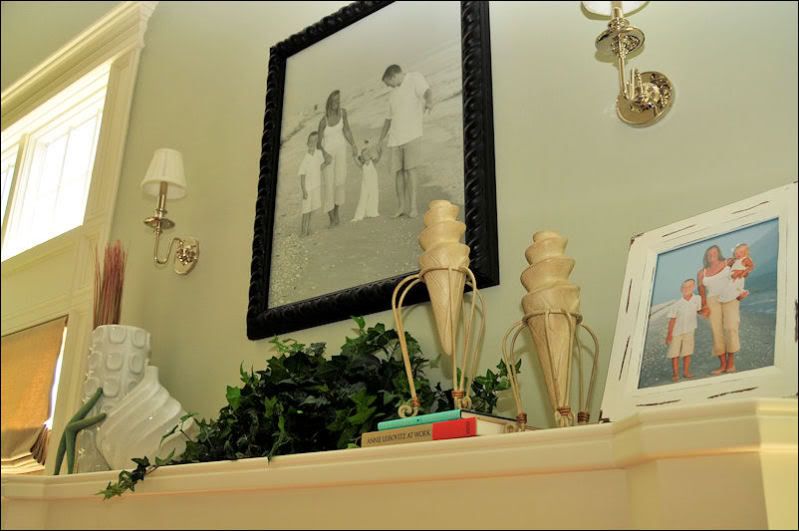 I've always loved to take books and use them on our fireplace mantels for decor purposes too. They add great height to accessories where needed and add character to the space in general.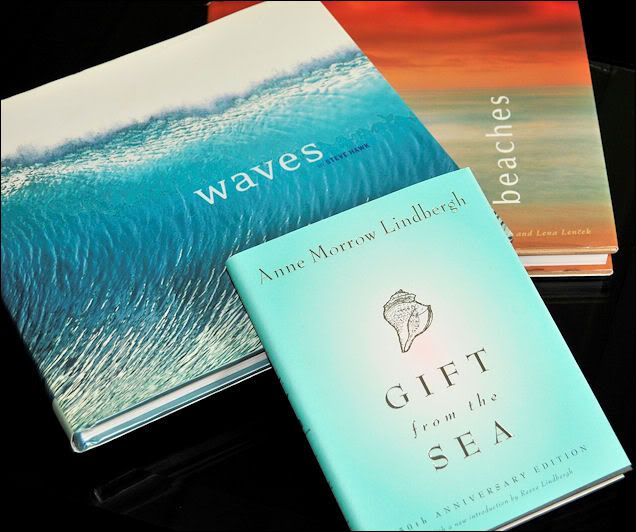 This "Gift from the Sea" book by Anne Lindbergh appears to be superb as well. Her writings make me week in the knees. Such a stellar woman with so much advice and so much goodness to share about life as a woman. She writes from her summers by the sea - while on Captiva Island, Florida in a little beach side cottage actually - and that in itself grabs me and never wants to let me go. Captiva Island is about an hour from Bonita Springs. We frequent there just about each time we head South. Anne's daughter starts out the introduction to the book talking about her mothers novels, the fact that she has read GIFT FROM THE SEA about 50 times and her Mother's impressive writing skills. Anne Lindbergh was the first woman to earn a pilot's license in a first class glider plane back in 1930. This adorable turquoise book jumped out at me when I discovered it on the shelf one because of its title and color but also because the author writes her words as an offer to breathe and to live more slowly (per her daughter). "The book makes it possible to quiet down and rest in the present, no matter what your circumstances may be. Just to read a little bit of it or its entirety - is to exist for a while in a different and more peaceful tempo." LOVE THAT! I need books to mesmerize me and captivate me within the first 2.2 seconds or I'll put them down and NEVAH pick them back up. You could easily say that I have attention deficit disorder when it comes to most reads. This book however has already engulfed me and brought tears to my eyes even though I'm not even out of her daughter's introduction yet. Anne's approach per her daughter - gives the reader freedom. Freedom that comes from choosing to remain open to life itself, whatever it may bring: joys, sorrows, triumphs, failures, suffering, comfort, and certainly always, change.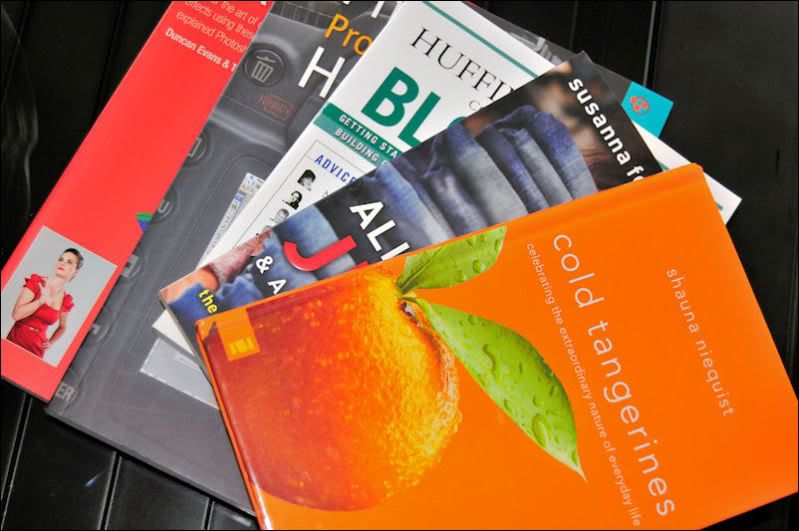 A sweet friend, Kate, recommended this "cold tangerines" book to me several months back for reasons that I will choose to keep private. I'm extremely excited to jump into this one as well because I can tell by the first few pages that it is right up my alley. I also found the book, "All I need is Jesus and a good pair of jeans." Can't wait to read it either after reading a promising review on it.

Below you will find some images straight out of the big coffee table book by Annie Leibovitz. They are HUGE and amazing. Her shots take my breath away and make me feel like such a lllleeewwwssseeerrrr in the realm of photography. This woman's talent is beyond attainable. She has a style within her photography that is all her own. I'm so inspired by her images after thumbing thru these books that I can barely sit down. I'm taking a new photography course over the next 4 weeks which I am so stoked about and am just busting at the seams to be a part of. And needless to say...I'll be putting BIG PAPA to work - lots of work - due to this class and these new reads. I'm beyond inspired at this point. More like over the top obsessed!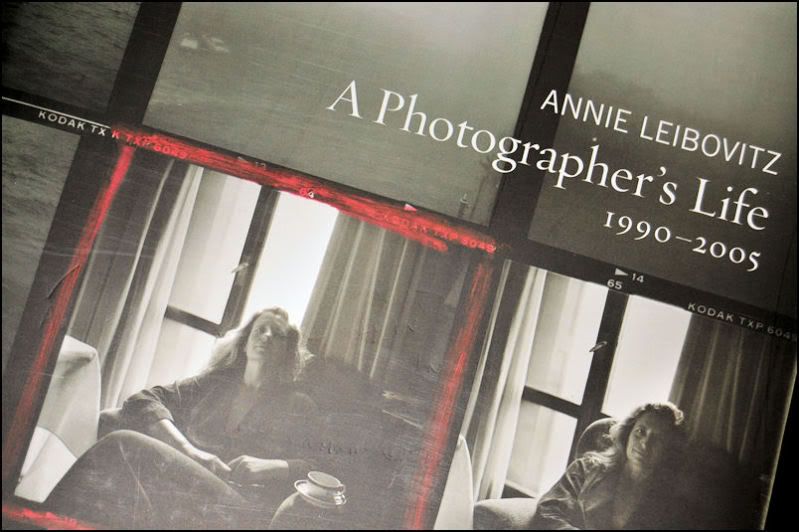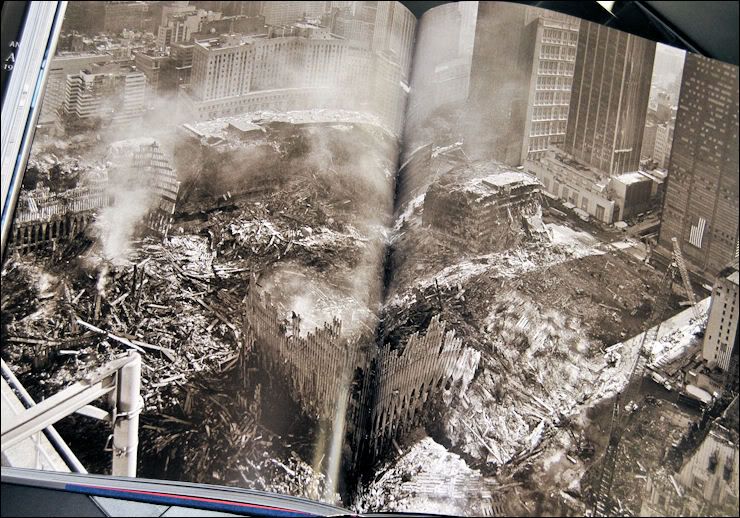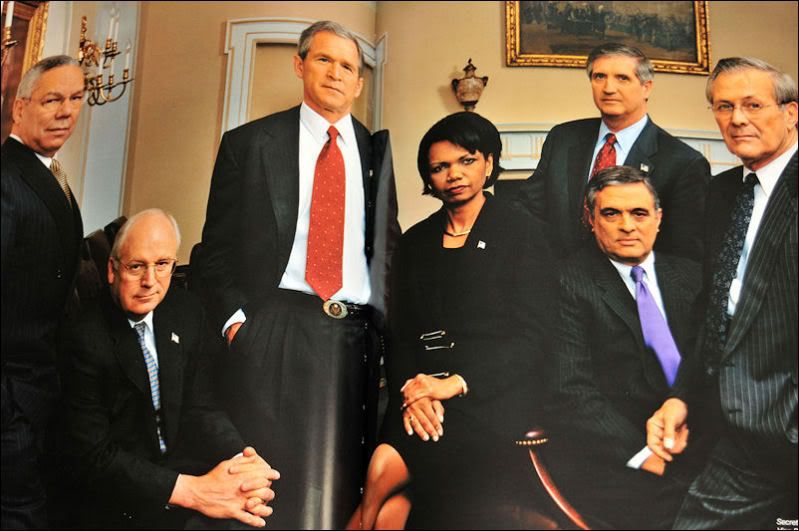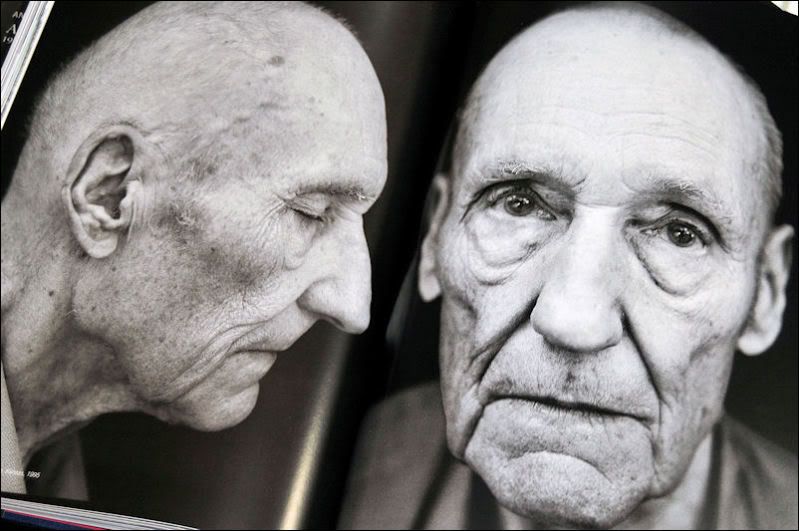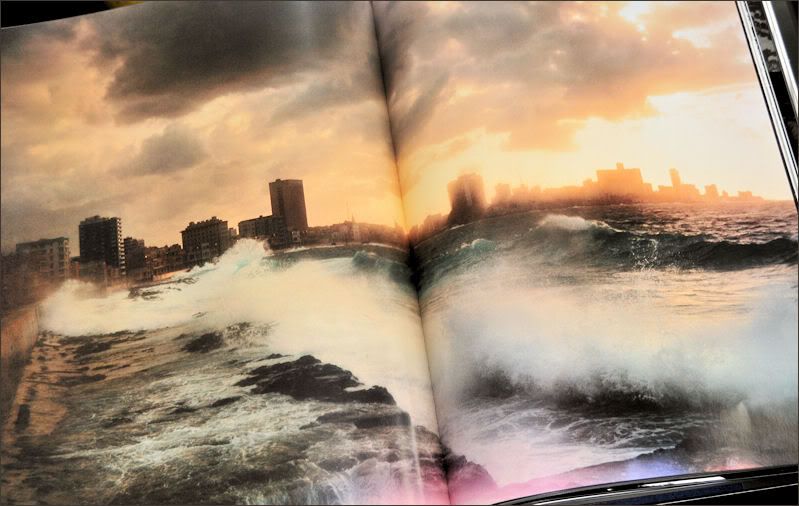 In the end, I spent two solid hours crawling around on the floor of Barnes and Noble like a big kid. In my tattered old jeans, my big, baggy, but oh so warm sweatshirt, and my beat up old running shoes, I read books and thumbed thru pages until my eyes were literally crossing. I stood on my knees and walked on them from lower shelf to lower shelf as I combed every square inch of that store. Literally! Aside from praying that I didn't run into someone looking like the drenched rat and bummified bum I was, I had peace. Quiet. Myself. I walked out of there with my treasures in tow and thanked God for this rainy day as well as for the two hours that he allowed me to forget about my new friend, Mr. Headache.

Indiana temps are supposed to rise into the 83 degree temps by weeks end. If that ends up to be true, you'll be able to find me here...outside on our master bedroom deck...enjoying the view, the peace, and the quiet while pouring over pages and pages of wealth and knowledge in these new books. I've got to find something to do while the kids are at school, eh? :)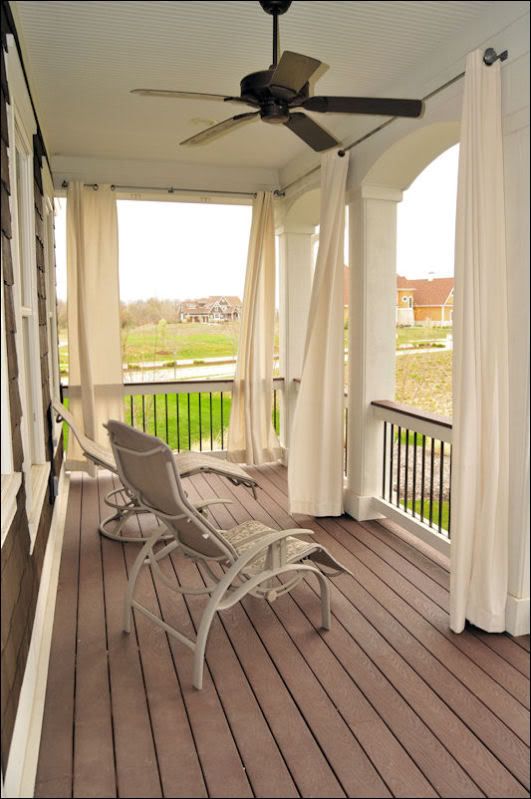 In the meantime, I'm working hard to keep updating the blog. My video card went out on our computer in the office so it's now in the shop until at least tomorrow. I'm hoping to get it back ASAP and return to my normal blogging schedule. Until then, thanks for always being so patient. Here is to good reads, white grapefruit juice, rainy days, white rocking chairs, and un-tameable headaches.
xoxoxo, Angie
Labels: barnes and noble, books, headaches