HIPPOTHERAPY - PART 2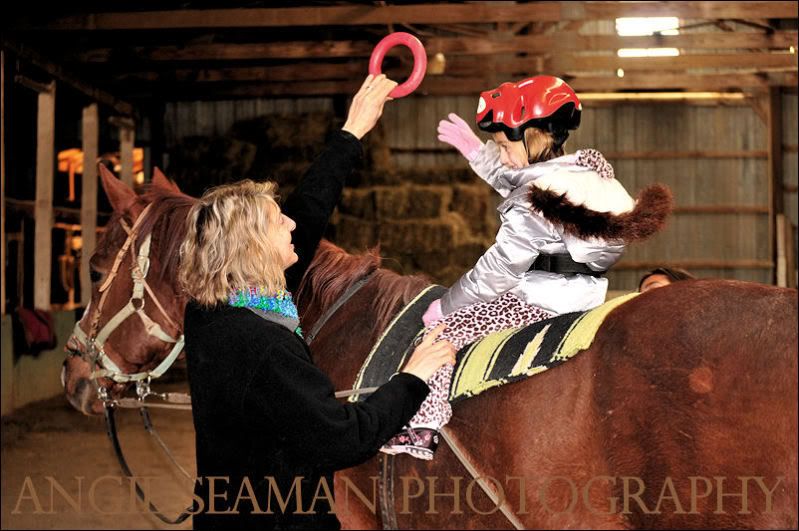 Thought I'd share some more images of Kenidi during her hippotherapy sessions this past week. Ironically, we got into another hippotherapy clinic for PT on Friday while we await an opening on the waiting list at the place she is currently getting OT hippotherapy from. This 2nd place was a bit different - much dirtier - like a barn would be on the inside - and definitely colder. It was an indoor barn but didn't have the heat factor going for us like her new place does where she gets OT from. Either way, we threw on some heavy coats and took it like big girls and big boys (Brennen was with us). Kenidi had a full hour on the horse this time and loved every moment of it. I didn't get a lot of shots because this barn was so dusty that I was literally shaking at the thought of bringing out my camera and lenses while in there. The last thing you want to do to a digital camera is take it around dust. It can really dirty up your sensor and cause major headaches if it does. The first therapy clinic actually wets down their dust on the ground of the arena so it wasn't as bad. This 2nd place however, was DDUUUSSSTTTYYY!So...please just bare with what I got. Again, it was a challenge even though we had more light coming into this barn than we did the first indoor arena. Never fails!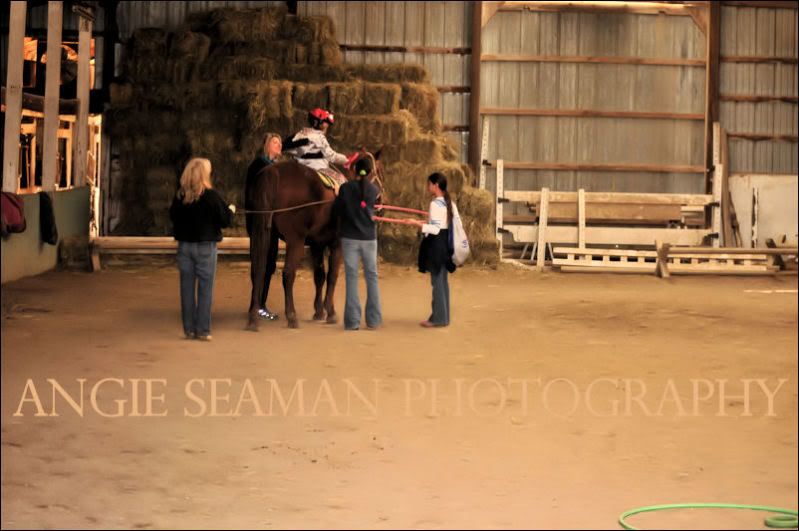 The above image is of Kenidi tossing weighted rings into colored hoolah-hoops. She had to walk the horse around to each colored hoop and then drop the appropriate/matching weight into that specific hoolah-hoop.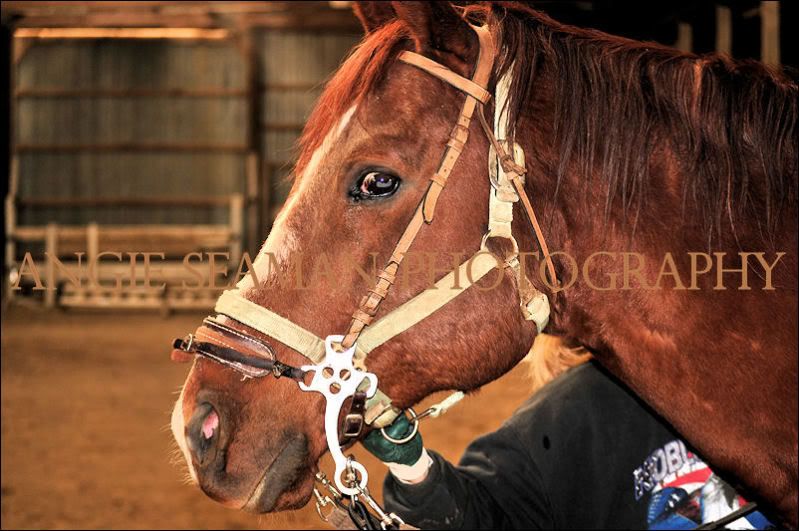 Meet Buddy! (shown above) Her horse on this day was wwwayyyyyyyyy larger than that first one she road. Scared Mommy to pieces! He was as calm as calm could be though. The trainers and side walkers stated that he was "bomb proof." When I asked what that meant, they said that if a bomb were to go off in here, Buddy would continue standing still - not moving at all. Somehow though...I find that very hard to believe. Ha ha!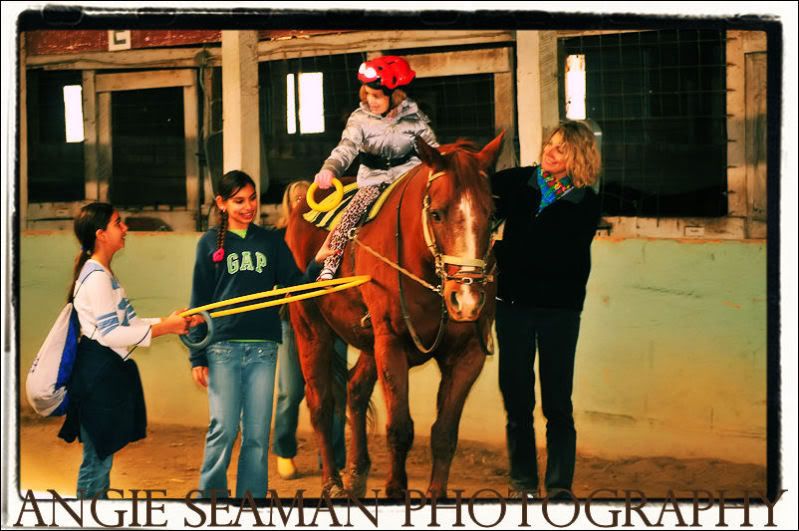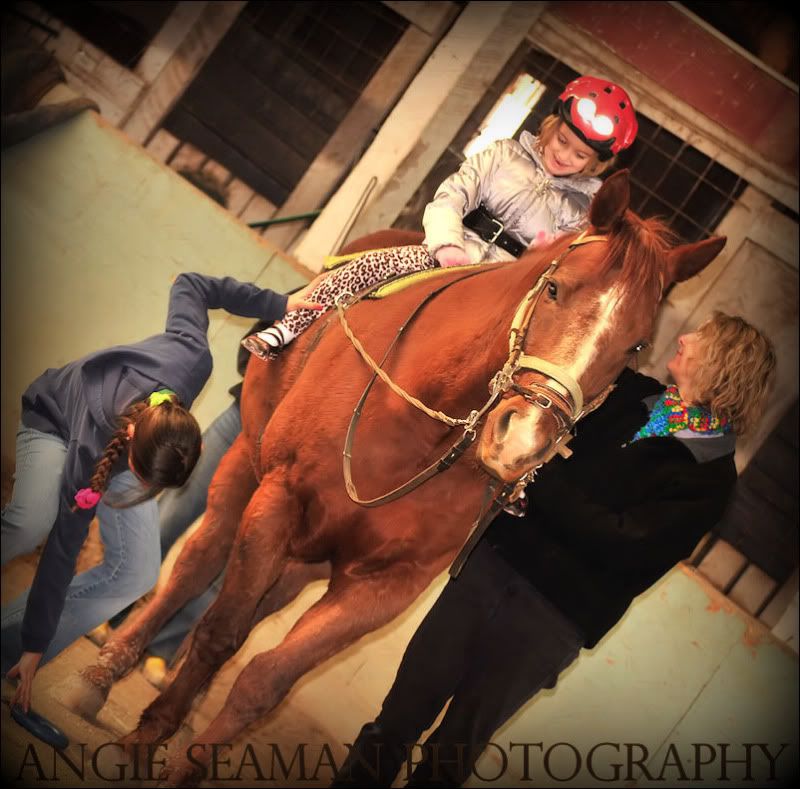 These horses have been trained to handle any and all kids - pinches, pokes, prods, mane pulling, etc. It's amazing to watch what they are willing to endure for these children. Trainers at their hoofs, people leaning toys over them, placing toys on top of them, etc. It's crazy what they will put up with.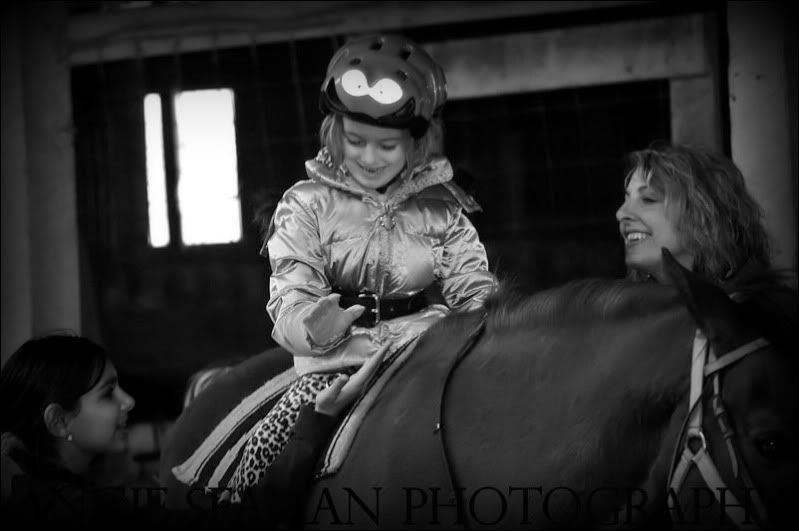 In the image above, Kenidi is getting a high five from one of her side walkers for a job well done. You can tell by her smile that she doesn't consider this type of therapy "work." She is having a ball with it.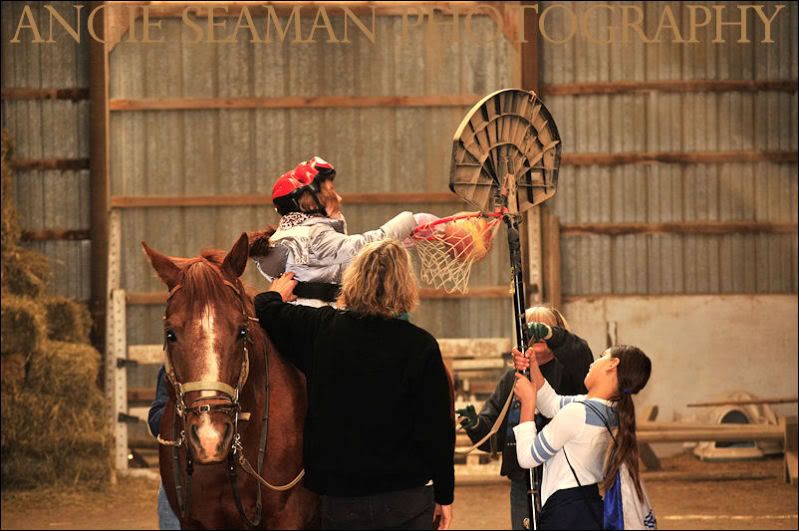 Above, shooting some hoops while on top of Buddy. Buddy didn't mind the goal at his side whatsoever.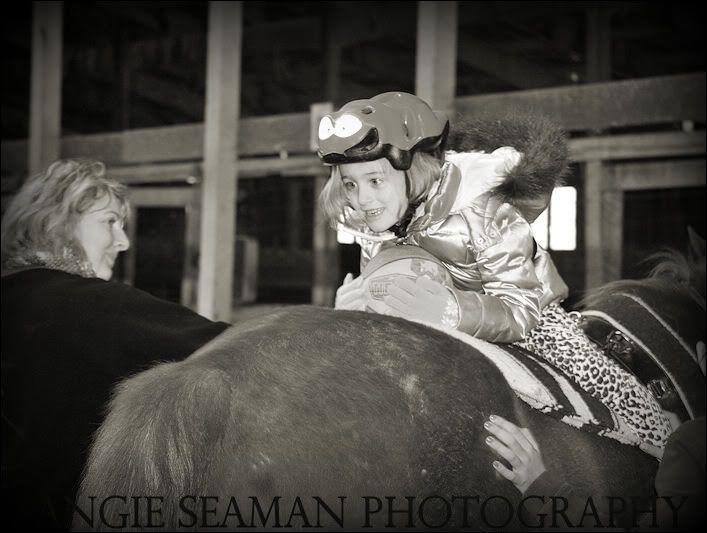 And above...she is riding backwards again...
This next shot below is one of my all time favorite pictures - EVAH! I love the dust being kicked up by the horses hooves as the daylight sun shines in on the floor of the barn. I love the stride of the horse at that moment as well as Kenidi's facial expression as she looks down to enjoy it all and take it all in.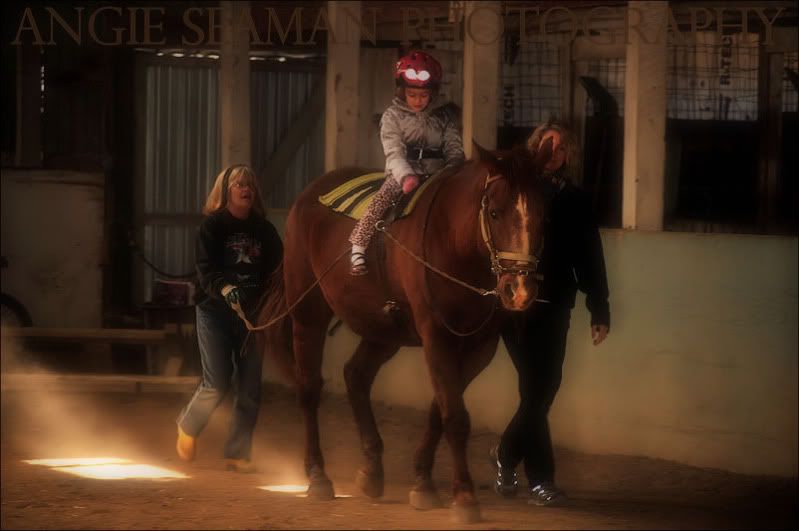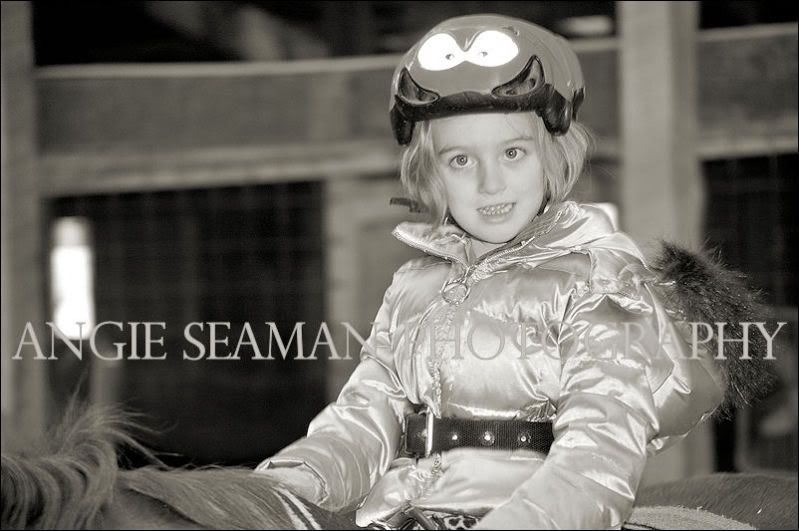 With that said...while on the topic of therapy and special needs...won't you help us spread the word to end the r-word.
As many of you know, we had a great and somewhat heated debate last week here on the ol' AGD blog regarding Obama's off the cuff remarks regarding the Special Olympics and his bowling skills. Well just this weekend, I was invited via Facebook to join a group that is promoting awareness in regards to this topic and the slang term of "retard" when joking with others in life. I'm sure we've all heard someone say at some point..."You are such a retard!" (or something similar) It is because of that term that I've chosen to join forces with the Special Olympics to help promote the deletion of that terminology in every day language. It is hurtful and offenseful! As you view the photos of my daughter above and think about the daily grind she goes through as well as the hours of therapy sessions she endures just to attempt to be somewhat normal - like the rest of her peers - will you also consider her feelings and the feelings of others when that slang (the r-word) as well as other insensitive comments such as President Obama's are used? Will you help us by sharing the banners shown above and below by placing them on your blogs as a topic or at least as a side banner? The more people who are willing to place this logo on their blogs, the more awareness we will bring to the pain caused by those who choose to so loosely use these terms in their every day lives - as jokes. Disabilities are not a joke. They are real. They rob my child and other children like her in this world of a normal life. Disabilities do not have a conscience. They feel no remorse. Disabilities just are! Please help us turn such a negative ordeal (in regards to Obama's insensitive words) into a HUGE positive by promoting this pledge and the awareness of the pain inflected when "joking" about those with disabilities. Whether your words are meant to be a joke or not, they are painful to those who suffer day in and day out from the life that a disability stole from them.

Thanks in advance for all of your support! And many thanks to all of my facebook friends who accepted my invitation to join this pledge and this group via facebook. There are no words that can express my gratitude for your compassion. I thank you and Kenidi Grace thanks you as well.

Always,

Angie, Kenidi, and family

Labels: Hippotherapy, horse therapy, pledge to quit using r-word