BRENNEN'S SUNDAY CELEBRATION
First off, I want to thank all of you for your overwhelming amount of support regarding my post on Friday. I am floored and humbled at the amount of comments and private emails as well as facebook messages I received from each of you who wrote to let me know you were praying for me. Many of you wrote to share your similar stories. I cannot begin to express how comforting it is to know that all of you are surrounding me in prayer right now. It means more than you can possibly imagine. Tomorrow will mark one week since I gave up all sodas as well as my beloved chocolate/sweets. Unfortunately, cutting out the dews and/or chocolate haven't helped. I do have my first appointment with the cardiologist tomorrow morning at 8am. I'm eager to hear what she has to say even though my holter monitor results will not be in her hands until later this week. I also meet with my new family doctor come Wednesday morning and I'm hoping to ask more questions and get more answers there as well.

In the meantime, Brent's Mom (Debbie) had a small celebration at her house yesterday for Brennen. It was an early birthday celebration for him beings that his 10th birthday is this coming Friday. Grandma spoils him rotten and yesterday was no different. He walked out of there with an electric guitar as his gift. Yes, a real one - amp and all. He had been asking for a guitar and guitar lessons. Debbie asked if she could purchase that gift for him because she loves music so much. She is a pretty famous piano player around here. At least in the community we moved from anyhow. Her skills at the piano are just intense. The woman is amazing. She is definitely gifted in the arena of music and much much more. Brennen got to share his special celebration with all of his cousins on Brent's side of the family. Of course, 4 of the 5 cousins are girls and lets just say that they all think he hung the moon. Some of them think that they are going to "marry" Brennen someday. Hee hee!
Don't you love how the girls are dressed (above)? They get to Grandma's and play dress up with all of her jewelry and old dresses/clothes. It is hysterical to see what they all come out wearing each time we are there.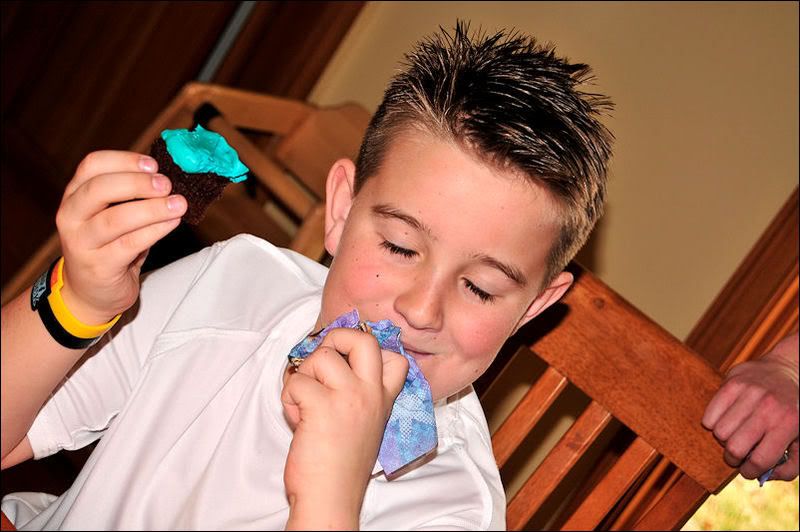 Ummm...yummy...cupcakes. They looked soooooo good but Mommy sat that round out. No cupcakes for me at the moment. In fact, the sight of chocolate almost makes me sick to my stomach right now. I think it is God's way of helping me go thru the withdraws easier. I've lost 5lbs. in the past 6 days just from not eating chocolate or drinking the sodas. Hummmm...imagine that! Part of it could be the stress of it all too. I really haven't had much of an appetite. However, that didn't stop me from snapping shots of my adorable nephew Carter while he wolfed down a cupcake right in front of me. Look at these eyes. They are just piercing...
Lil' Carter and Papa Ron are the absolute best of buds. Inseparable actually.
Then, I got to snap some shots of my nieces together. Below...this is sweet Evie and Lilly. These are Brent's brothers (Brad) children with his wife Aubree. They are the ones expecting the new baby boy come the end of July.
Then, below...we have our other set of nieces. These two sweeties belong to Brent's sister, Jill, and her husband. Meet Abby and Allie. Again...the eyes...just like their brother Carter.
I managed to capture this moment (above and below) with Kenidi and her uncles while she was playing on Grandma D's piano. On the left is Uncle Ken and on the right is Uncle Brad. I've always loved how her uncles adore her and show her so much love. She is definitely spoiled by them - no doubt. Uncle Brad likes to cuddle with her and Uncle Ken is the one who gets drug around the yard and helps swing her on the play set, etc. whenever he is around. You can tell they both have two girls in their own houses. Ha ha!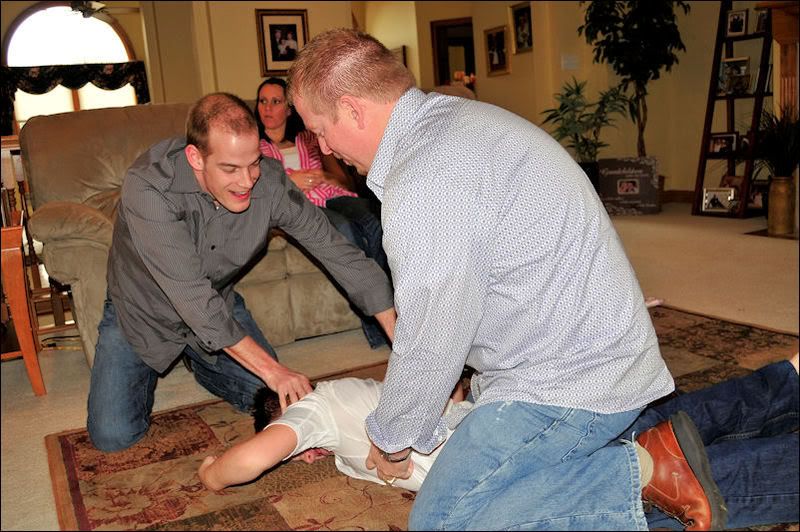 And lastly...The B-Ster just can't stop wrestling with his Daddy and his uncle Brad. Anytime he gets the chance, he is wrestling with Dad especially. It wears me out. Scares me to death. Boys will be boys I guess. Baby Carter even got in on the action before it was all over with. Too funny!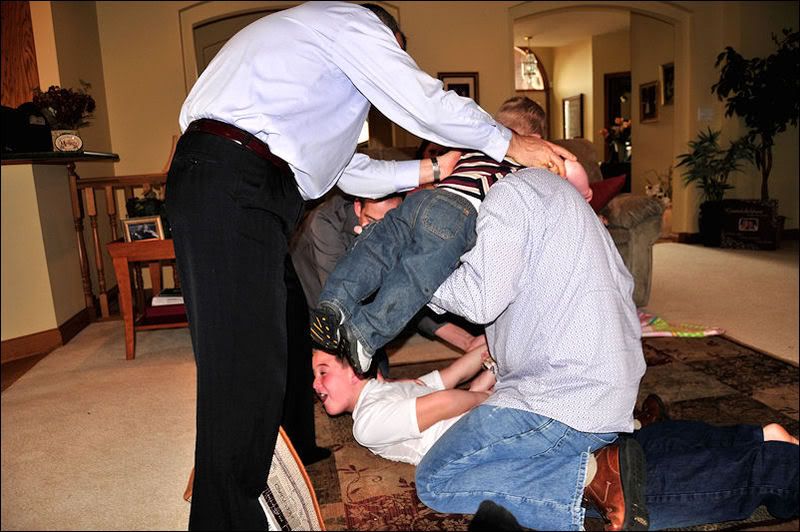 So...as you can see...Brennen enjoyed his afternoon. I'll get some pictures of him with his new guitar here soon. I hadn't had the camera in my hands for almost a week until yesterday. Needless to say, I was really going thru withdraws. I took my Mom in for an outpatient procedure this morning that will hopefully pan out to be pretty routine. That alarm clock going off at 4:15am about killed me though. I cranked up the Christian tunes on my 45 minute drive to pick her up this morning and enjoyed my time with God - just praying and literally melting in his word. As the clock draws near to tomorrows appt. with the cardiologist, I can't help but admit that I'm nervous. Please keep sending up those prayers for me. I really appreciate it. I've never experienced anything like this before and cannot manage another sleepless night. I've turned it all over to God and left it in his hands. I have my moments when I start to digress and dwell on the unknown. It's in those moments that I try to scoop myself back up and stay on track while embedding God's promises into my soul one more time. It's been a tough few days and I'm anxiously awaiting feedback from the docs on how to proceed or what they can suggest as far as what direction to turn next. In the meantime, I'm thanking and praising God for all of you and this outlet I have called the AGD blog. I cannot begin to express the gratitude I have for each of you and your emails, stories, posts, etc. The blog world is a very tight knit community and this just reconfirms how tight knit all of you are in my life. Although I've never met most of you in person, I feel a real sense of peace just knowing that all of you are sending up prayers as I await info. As I walked around the hospital waiting on my Mom to come out of her procedure today, I witnessed lots of patients coming and going. My mind took me to those who don't have prayer or who might not believe in a God themselves. I immediately stopped to pray for those un-churched or whom have no relationship with Jesus Christ or who don't have friends or family to help plant the seeds for them. I felt so selfish knowing that I have all of these prayer warriors praying for me and yet some of these people might not have anyone. How dark and alone it must feel to not have God to pray to. I cannot imagine. I really can't. Therefore, help me pray for those without salvation today, will you? It's heavy on my heart for some reason and I hope that while you are praying for a good outcome for me, you can maybe also send up some prayers for those in the hospitals, those at home sick and/or dying without anyone to pray for them or just hold their hand. We have friends ourselves that do not believe in Christ and it saddens me to think about. Breaks my heart actually.
Sorry to have rambled. The past few days have been an overload of emotions for me and this morning was no different. For now, I'm off to finish editing some photos. 2 hours ago my heart was fluttering and racing like a freight train. However, after sitting down to edit the images you see here in this post, I found a peace and a calming while doing so. Amazing how your passions in life can perch you atop the highest of mountains when God sees it fit, eh? Photography does that for me. So does the beach. I'm quietly counting down to myself the amount of days remaining before heading South to Florida for Spring Break. The calendar reads 20 days to be exact. 20 more days until my toes hit that sand again. Boy what I wouldn't give to propel myself there amongst the crashing waves today. In due time...in due time.
In his grip, Angie
Labels: Brennen's birthday, prayers