BREATHE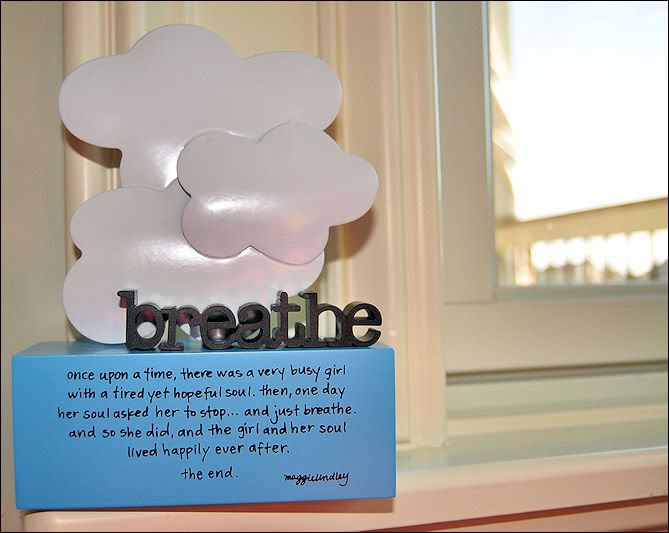 Most of you know that I'm obsessed with the clouds. The sky. The wings on the birds who roam that blue goddess. I'm obsessed with the heavens and the Godly beauties that surround us each day whom most take for granted. After this past week, I'm finding myself more obsessed with those things in life now more than ever before. This cloud piece sits in the window sill of my AGD studio day in and day out. Back when I purchased it, it wasn't because of the phrase, it was because of the white clouds and the blue base. I just liked it. I love the artist and all of her pieces. Always have. However, after walking past it this morning while in the studio getting orders together to ship out to clients, I looked up and read the phrase and for the first time since owning it...it sunk in. It hit me like a ton of bricks.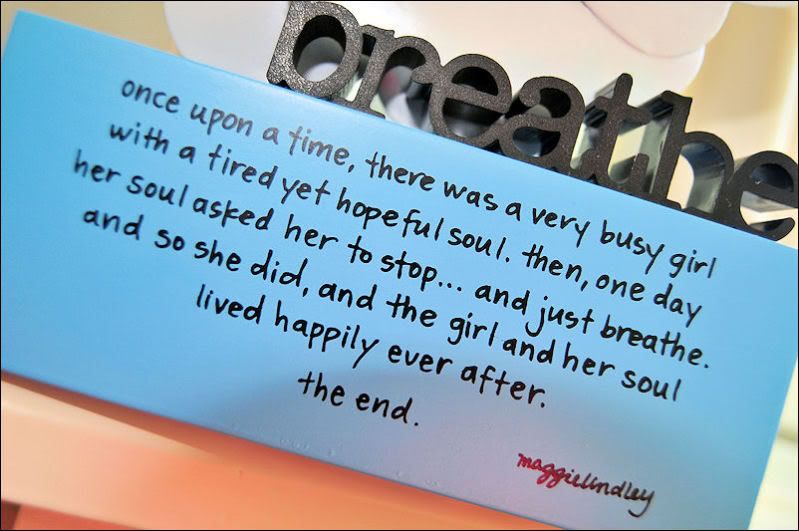 So today...I'm just breathing. I'm breathing in that sunshine outside - even though it was 74 degrees here yesterday and now it is in the 30's again today. I'm breathing in the wind I can hear wrapping around our chimney's and billowing down thru our fireplaces. I'm breathing in the blue sky - the birds flying by the bright airy windows. I'm breathing in the quiet. The no hustle - no bustle kind of day today. I'm breathing in peace and joy. I'm breathing gratefulness like never before. Appreciation for today way more than yesterday. I'm breathing life via God's word and his promises. My devotional today read this scripture...
"for when I am weak [in human strength], then I am truly strong." (2 Corinthians 12:10)
It went on to read this...
No matter what weakness you think you may have, no matter what inadequacies or setbacks you have encountered, God wants to give you His divine strength. He wants to make up the difference and put you further ahead than you ever thought possible. One time in the Old Testament, God simply multiplied the sound of four men's footsteps and caused them to sound like a mighty army. When their enemies heard them, they took off running. There were thousands of enemy troops running for their lives, scared to death, thinking they were being attacked by a massive army when in fact it was just four people! What happened? God made up the difference. Friend, God can make you seem bigger than you really are. He can make you look more powerful. He knows how to multiply your influence, multiply your strength, your talent and your income. You don't have to figure it all out; all you have to do is put your trust in Him. If you will release your faith for a supernatural year and wake up every day expecting God's far and beyond favor, then you're going to see God show up and make the difference in every area of your life!
So today...I'm expecting God's far and beyond favor. I've seen him show up this week and make a difference in my life - just as he is always doing. Always showing up. And as he continues to do that "showing up" thing he does for me, I'm just going to keep breathing. Breathing in God's word, the blue sky, the white clouds, the wings on his creatures, the wind chasing around us. All of it. I'm just plain and simply put...stopping to "breathe." Enjoy your day and take some moments for yourself to just close your eyes and breathe. In him, Angie
Labels: Breathe