THANK YOU MARMENDY & NICKY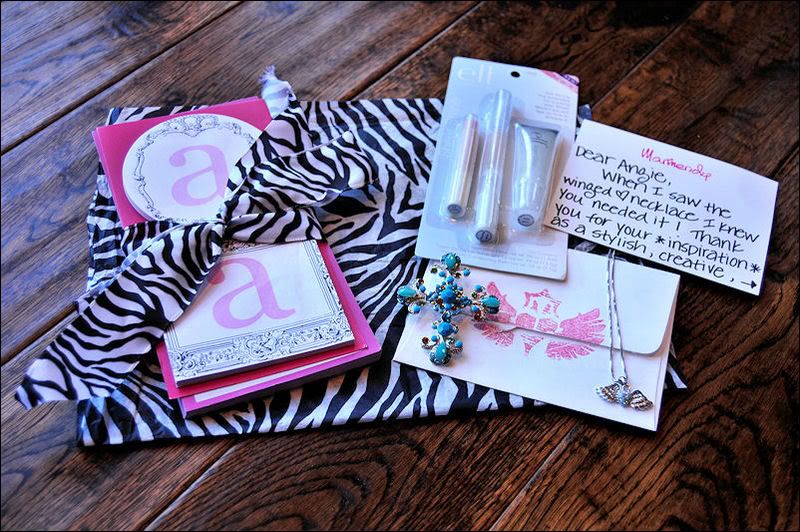 I have been trying and meaning to share some great things that have arrived in my mail box recently from some wonderful blog readers of mine. I'm unsure what to make of the gifts showing up consistently in my mailbox from all of you guys. Many of you have sent me things recently and I feel as though I'm so not deserving of your generosity. I feel bad accepting gifts from you wonderful people when I've done nothing to warrant them. All of your friendships out there in blog world are the best gift you could ever give me. Seriously! Either way, your generosity is out of this world and I'm committed to being a "good receiver" of these items you send me. I've been told that I'm not a good receiver in the past (when someone tries to give me a gift) and that I need to just embrace it when someone gives me things. Thus, what I'm planning to do each time these precious items show up on my doorstep from my blog followers. (even though they are so not necessary)

With that said, I have to give a HUGE thanks to my girl Marmendy out in Texas for sending me this zebra adorned gift pack this week. You girls know that I'm a sucker for packaging so when I open up a mail package that is layered in zebra or anything animal print...my heart begins to race at paces unknown to man. Ha ha! Love my zebra stuff! Marmendy, these things you sent to me are soooooo me girl. As I mentioned to you yesterday, I love the black, white, and hot pink "A" stationary. I've got it sitting right here on my black desk in the den. It goes perfectly there and will be very handy. The lip gloss, cross broach, and necklace with the heart and wings couldn't have been anymore dead on. You are way to sweet. Best of all though...I loved your note to me and the decorations adorning the envelope that you sealed it in. Thanks for taking so much time on me girl. It means more than I can express.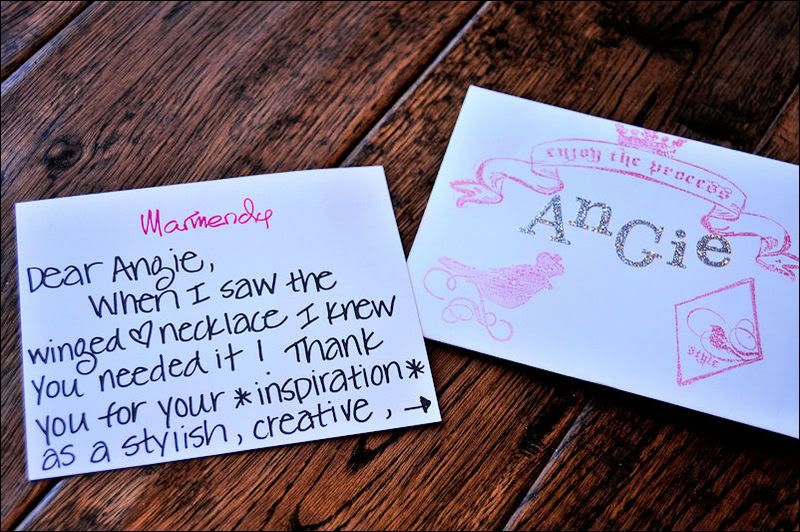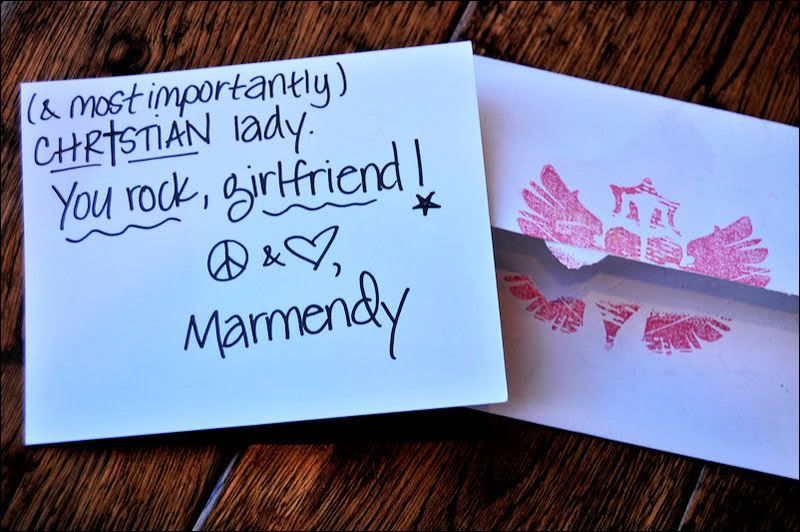 Your words within the note make my eyes water with sweet tears. You are way too kind and I'll never be able to thank you enough. Big hugs my friend. Big, HUGE, hugs!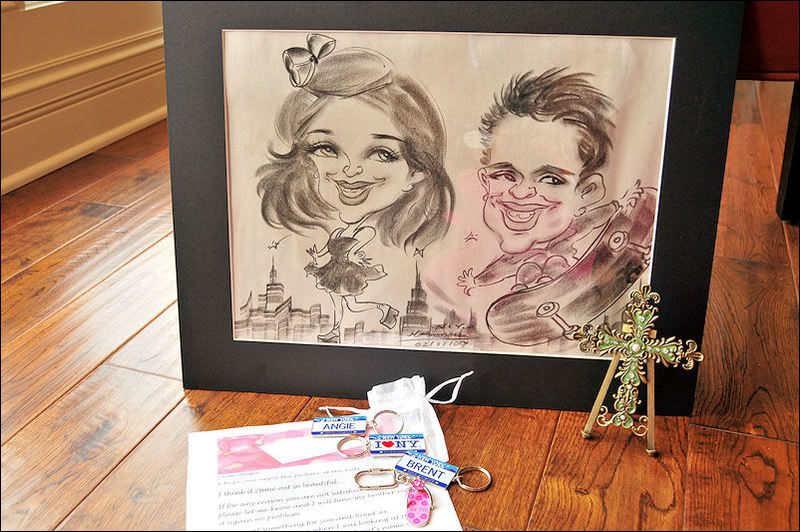 And yet another gift package I received this past week from a fellow blog reader and friend, Nicky, who resides up in New York. Nicky had sent me some really cool name paintings with the AGD name, Kenidi's name, and Brennen's. There are three of them and they are sooooo cool. She said that she had them painted in the city when there one day. Brennen has his up in his media room, mine is in my AGD studio, and Kenidi's is in her bedroom. We love them! They are so large though that I had a hard time photographing them. Therefore, I left those out of the picture in order to try and capture everything else. When Nicky sent the paintings, she also sent me this gorgeous cross on an easel stand. Can anyone say B-E-A-U-T-I-M-O-U-S? Nicky knew that I collected crosses and this goes perfectly in our home. It means so much to me. Her exact words to me in regards to the cross was...

"I actually ordered it from Greece - from my village where we are from. There is a monastery there where millions of people go and visit. It is a very holy place...I knew it would be sentimental so what better item to send you than a cross, beings that you love them and from pictures I've seen of your walls."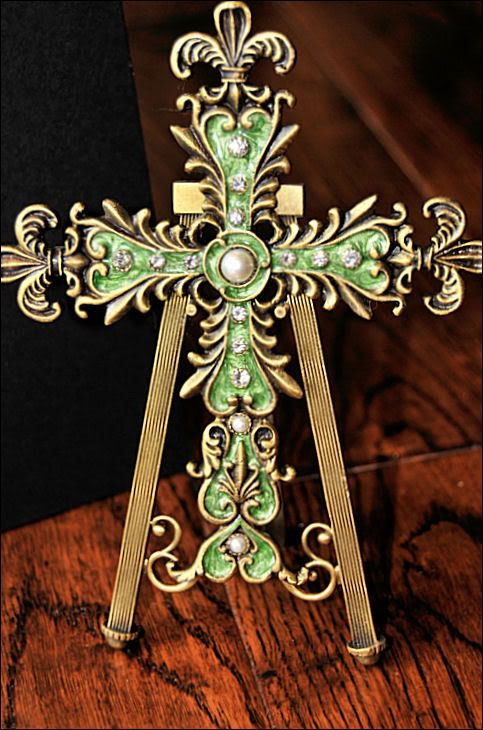 Thank you so much Nicky. You are the best girl. I will never be able to express my gratitude for your giving spirit. You are an amazing individual.

And as if Nicky hadn't done enough with the cross and the name paintings, she then sends me this package this past week with a note in it, some New York key chains for my family (love the flip flop one, don't ya'll?) as well as a caricature drawing from her brother. Scroll up to see the photo of his drawing that he did for me. It is of Kenidi and Brennen. He rocked it! This man has incredible talent. Brennen and Kenidi loved seeing themselves in it. So did I. I am just completely floored and blown away by these gifts.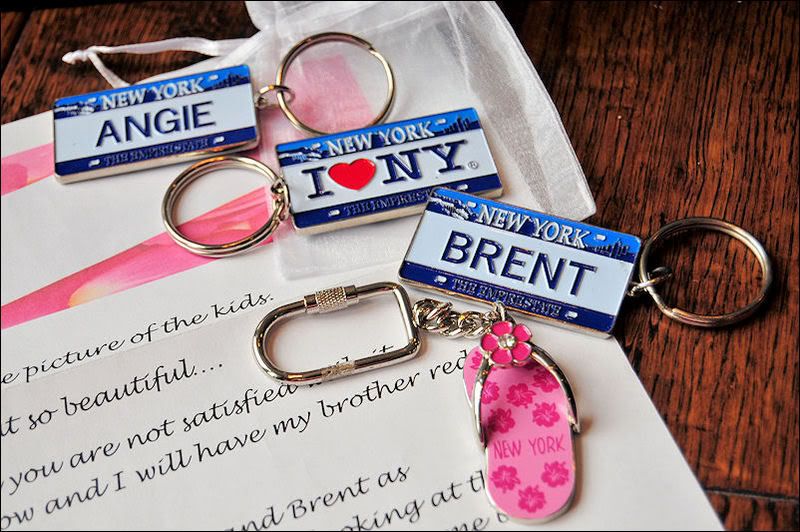 Thanks again for everything Nicky. Please tell your brother I said thanks again as well. This drawing will be very near and dear to my heart - always. And no...I won't hold it against him that he is spending the next month in Turcs and Caicos without us. HA HA!

I love you girls. Nicky and Marmendy...your generosity and giving spirits have left me feeling speechless. There are no words. I love ya' both!

Angie
Labels: blog reader gifts, Marmendy, Nicky