NO LONGER INCOGNITO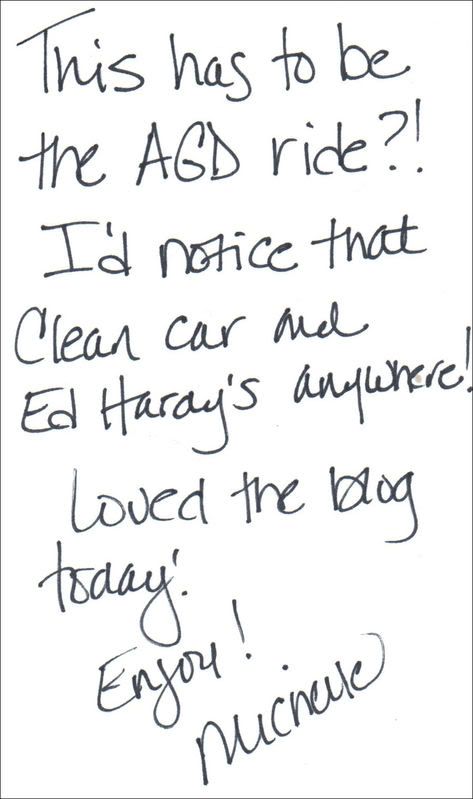 I just have to share this funny story with ya'll today. Kenidi had therapy the day before yesterday after school. The place where she receives therapy is right inside the same building where she and Brennen's new pediatrician is located. That particular pediatrician was referred to us by one of my AGD clients/customers who is also a faithful blog reader. When we moved to the North side of town, I asked Michelle where a good pediatrician was and she gave me his name as well as a fantastic nail salon up here. We weren't at the pediatrician's office that day but instead - upstairs - doing physical therapy in the PT's office. Either way, we were both inside the same building.
As we came out from our appointment., Brennen noticed a hand written note placed right underneath my windshield wipers on my car (note shown in picture above). I could see that it immediately said something about "AGD" so I didn't panic thinking that I'd maybe cut someone off and thought it was a "hater" note. Instead, when I saw that it read something to do with AGD, I smiled. I have a very distinct personalized plate that reads and pertains to AGD. Therefore, even though you might not know what kind of car I drive, you'd probably recognize me going down the road due to the personalized license plate I have on my vehicle. If you know AGD, you'd understand the plate. For those who don't know AGD and what it is about, you'd probably be clueless. You'd ether recognize us because of the personalized plate or because I'd be pulled over on the side of the road getting a ticket for the week by a new police officer. Either way, we'd be recognizable. HA!
So...I pull the note off my windshield and read it. Low and behold, I see that it is from Michelle. Now I'm guessing it is from the Michelle that I know who referred me to that pediatricians building and who is my AGD client. Michelle F. is this from you girl? I'm hoping I'm right. If not, then I don't know which Michelle it might be. :) Somebody help a sista' out. Either way, this note made me laugh out loud. I loved it. I now have it perched on my desk in front of me. Too fun! Michelle doesn't know what kind of vehicle I drive but she is assuming she does now. And she is right. I have yet to even meet Michelle in person so I wouldn't even know her face if I passed her in a crowd. It's hysterical to me that she saw the license plate and my Ed Hardy sunglasses on the dash. The best part was...the blog post that she said she enjoyed for that day was the one where I was taking pictures inside the car wash. Thus, why her note read something to the effect that she would know my clean car anywhere. Too funny!
The moral to the story...I love my AGD peeps. I love all of your friendships, all of your support, all of your business you bring me, send me, etc. I love that you ladies know me well enough to spot my car out in the middle of a crowded parking lot even though you've never seen it before and had no idea what I drove up to that point. With that said...thanks Michelle for making my afternoon. You are such a sweetheart girl. I'm sorry I missed you. I'm guessing you were in the ped's office while we were in the therapy office. Either way, thanks for the laugh. :) As we pulled away, Brennen looked at me and said..."So is she like one of the Paparazzi people that wait for you behind a bush because they think you are a celebrity?" HAAAAAAAAAAA! He had me bustin' out laughing. I literally had tears rolling down my face. I have no idea why he said that or where he came up with it but it sure gave me a good gut laugh for the evening.
For now, I'm off to go run some more errands today. I still have a new bracelet design to get listed and share with you on here as well as some blog reader gifts that were sent to me recently that I'd like to share too. Hang tight. I'll be back soon...
Love ya' ladies...Angie
PS...Just thought you guys might want to know that it has been in the 60's here the past two days. And yes, I went for a pedicure yesterday and rocked the flip flops because of it. :)
Labels: AGD Business, AGD client, customer, funny story