NEW FROM AGD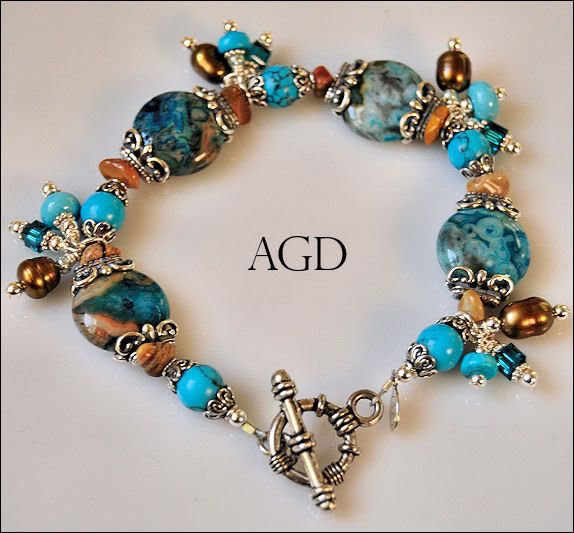 It's a new bracelet design for all of you bling lovers out there. This one is a remake after the original MAMBA bracelet I designed which was way more bright in color and very bold. This is the chocolate mamba design due to its more subdued color combo that is geared for my more traditional clientel. I love the turquoise and brown color scheme as well as the sterling bead caps at each bead end that add that mediteranean flare.
The custom glass lampwork beads in this design almost look like watercolors on an artist canvas. In my own favorite words...I think they ROCK! :)
If you are interested in purchasing this new design, (I do have more than one), then visit my ETSY store or my online boutique to see more details.

In the meantime, stay tuned for more brand new designs to come with these beauties.
This one picture (shown above) is the epitome' of why I love warm weather. These colors are statement making, bold, funky, and scream Spring and Summer. We are preparing for our Spring Break trip back to the beach in early April and when I saw these beads, I knew I had to get them and make some new designs with them. They'll be perfect with beach/spring/summer attire in general. Trust me when I say that palm trees and sand were my total inspiration behind what is to come with the design of these stunning new stones. Nothing makes a hard earned tan pop like bright yellows, reds, oranges, and turquoise. LOVE EM'!
xoxoxo, Ang
Labels: AGD Business, bracelet, chocolate mamba, jewelry design, new designs