I'M OUT
Do you ever have days where you feel like doing this? Like behaving just like the lady in this video above? (scroll down and push pause on my music playlist and then come back up here and push play) Well, I do. I had a moment this morning where I could have acted very similar to this. That moment came when I woke and found more snow on the ground outside for the 6, 573rd time this winter season. Like a child, I felt the need to suddenly throw myself on the ground and begin a kicking and screaming fit. Each time I walk pass a window in the house and see it out there...I want to pull my hair out. It's no longer pretty to me. I no longer have a way to find the positives in it. In a nutshell, I am ticked oooooooofffffffffffffffffffffffff~!
So...you see these footprints in the snow - in my front yard...?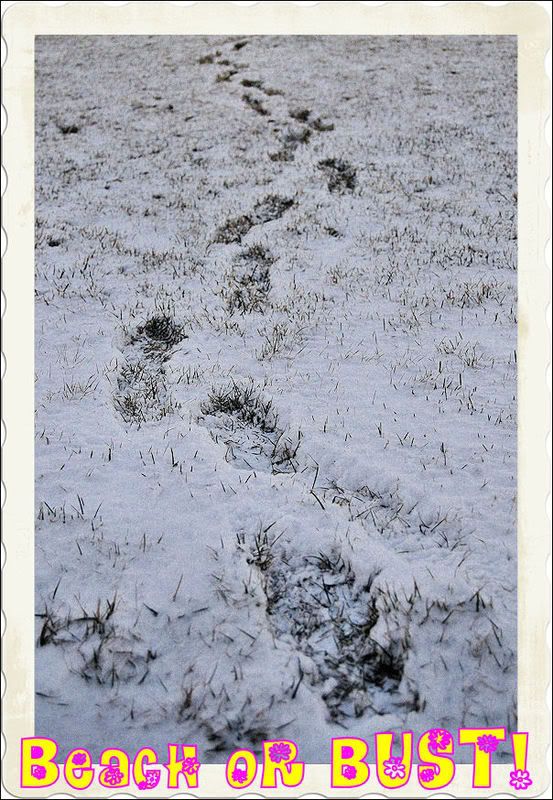 Consider those mine. I'm out! I'm hitchikin' to the beach starting right now. My thumb is out and I'm looking for some company. Anyone want to join me? We can make it an AGD road trip. We'll pretend like we are Oprah and Gayle. Any takers? Girls weekend, maybe? Something...anyone...???
PS...I do not recommend behaving in such a way in a U.S. airport like the woman did above in the Hong Kong Airport after realizing she missed her plane. If you pulled that little stunt in a U.S. airport today, they'd have you in shackles and face down on the floor in a cement holding cell. ;)
Labels: beach, detesting the snow, fit throwing