HINTS...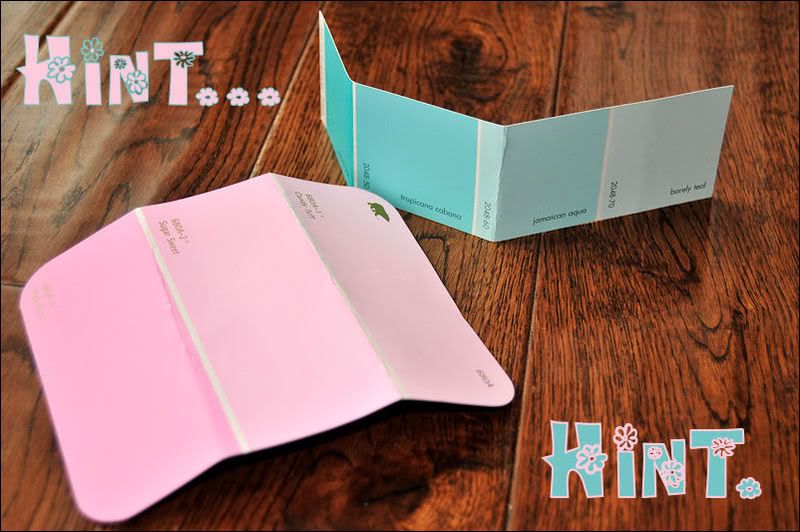 I have had countless emails asking me about what colors I am painting Kenidi's room in and the AGD work room downstairs. Therefore, I thought I'd keep you in suspense for a bit longer but at least give you a hint. (shown in the paint swatches above)
And no...I'm not doing Kenidi's walls in the bright green or carrying out the zebra theme in there anymore as initially planned. Therefore, you'll have to stay tuned to what the final reveal looks like. In my gut, I just had a feeling that the zebra theme would be "out" just about the time I got it all done and put together in there. The pink/green/zebra theme has been around for a while now and it would be my luck that I'd be over it or the world in general would be just as I completed that look in there. I couldn't bare the thought of having to turn around and change it again so soon. Therefore, I opted to go with a theme that is a bit more on the elegant side rather than my normal funky approach. I might just carry everything 'zebra' over into her bathroom instead. I haven't decided what to do with it all as of yet. The new decided decor/theme will be girlie yet classy. It will be a style that I'm hoping can grow with her for a few years.
The AGD work room is a given. It killed Brent to let me paint the walls down there. I mean...it truly "pained" him to let me do it. I think he might have even woken up with a nightmare or two recently in regards to it all. :) However, we compromised. If he wasn't going to repaint the brown trim white, then I had to make do with it and attempt to brighten up that room some way or another. Thus, why the paint color on the walls must change. When I'm in there working, designing, and planning...I need it to be lively, cheerful, and upbeat. In my own words, I needed to "ROCK OUT" the look somehow. I pray that repainting the walls will be a successful attempt to achieve that vibe somehow - even if in the slightest bit. Wish me luck.
For now, I'm off to continue my "chicken with my head cut off" approach to my day. I had my photoshop class this morning, ran some much needed errands, came back home to check on the painter, and follow up with some orders and work email. I just got the kids off the bus and am now off to get them a light snack and then head to basketball practice at 6:45pm. Thankfully, it's Brennen's last practice of the season tonight. They are ready for their playoff games which begin next week. After a somewhat rocky start to the beginning of their season, their team has done extremely well. We are excited to see how the end of the season rolls out. His last regular game of the season is this coming Saturday. He'll play the team that Brent sponsored. I, AGD, sponsored Brennen's team. They won't allow a player to have more than one sponsor on their own team so Brent always ends up sponsoring another team within the league and lets me sponsor Brennen's. This Saturday, we go head to head. The AGD team will play against Brent's office sponsored team. Last year in football, the AGD team won. Of course we are planning to do the same thing again this Saturday. Bring it on SD! :)
Until tomorrows post, enjoy your Tuesday evening friends...
Angie
Labels: AGD studio workroom, Brennen basketball, Kenidi's room, paint colors