A GOOD THING
A good thing about going to the dentist yesterday...
Finding out that my husband had scheduled his own dentist appt. on the same day at almost the exact same time that I had scheduled mine - coincidentally. Then, hearing him all giddy with delight look over at me in bed the night before and go..."
We are going to be there together
."
As his appointment finished up and he went to leave the dentist yesterday, he walks over into my room & up to my dental chair that I'm in and interrupts the hygienist that is working on cleaning my teeth. He whips out his wallet and starts to hand her some dollar bills. The hygienist looks at him strangely as he says..."Here are a few bucks...make sure to rough her up good for me." :)
Needless to say, he cracks me up. Always has. Ask anyone and they'll tell you that Brent is known for his quick witted humor. He has the ability to make me bust out laughing even in moments when I'm scorching mad at him. We've been sharing the same dentist for 15 years now and they are somewhat like family to us. Our actual dentists parents used to live right next door to us. Therefore, everyone in her office gets a big kick out of Brent. Our dentist and her staff have literally watched Brent and I grow up together. From young teens in love to thirty something old fogies with kids and still in love. In the end though, the best part about having to go to the dentist yesterday was walking out to my car afterwards and finding this note tucked under my windshield wipers.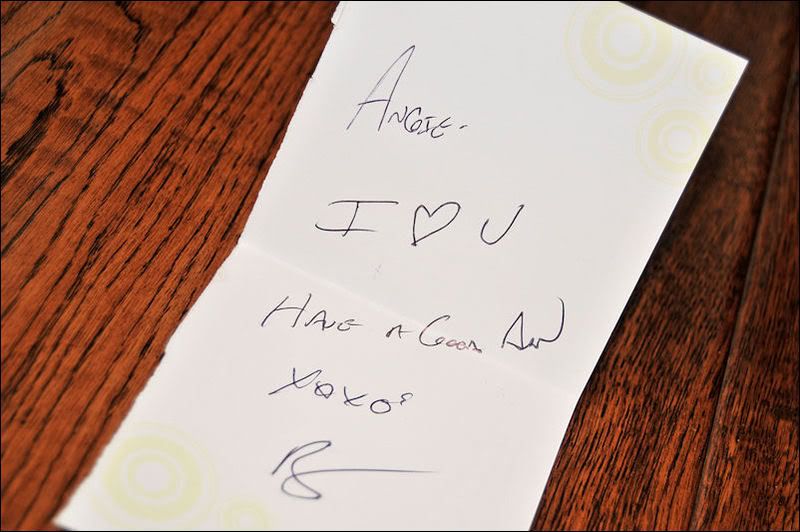 As we approach our 15 year anniversary next Thursday, March 5th, I'm so very thankful that after all these years...he still takes time out of his busy day to remind me that I am loved. You mean the world to me babe. It was fun ROCKIN' out the dentist together yesterday. Even more fun was finding your hand-written chicken scratches on my windshield when I went to leave. I sssssoooooooo love you. I'm looking forward to celebrating our 15 years of good, great, awesome, the bad, the pretty, the ugly, and the mix of it all still yet to come when we next hit the town next Thursday.

Oh and PS...You R-O-C-K! Ha ha!
Love, your one.
Labels: 15 year anniversary, Brent, dentist appointment, note on car