SNEAK PEEK FRIDAY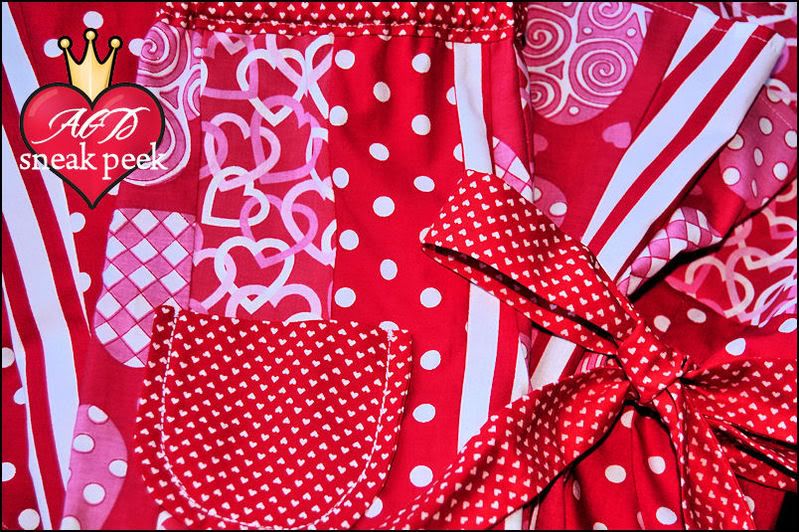 Here is AGD's 2nd sneak peek set of the week. Yes, I know it's torture. I receive all kinds of emails telling me how much you guys 'detest' when I post only sneak peek pictures rather than full body modeled images of my new designs. I know you'd prefer I just cut thru the labor and get to the birth (as Brent always says), but this is a process for me. I'm very picky about the images I take when showcasing a new design. Therefore, I always aim to find a day outside when I can get Kenidi out and about while having her model the set for me to the best of her ability. However, although that is my mission, these two particular sets are giving me fits because I have no weather to do such shooting in. It is another -5 degree day here in Indiana today but we are hunkered down inside enjoying a school day that has been cancelled. YAY! Kenidi is here but napping at the moment. I'm hoping to get her awake and moving later on in an effort to take some shots of these sets today, in our dining room mind you. Ha ha! I have no other option and I must get these listed in time to sell and make before V-Day, although they can be worn long after that too. So...stay tuned...the REAL images are coming. I promise!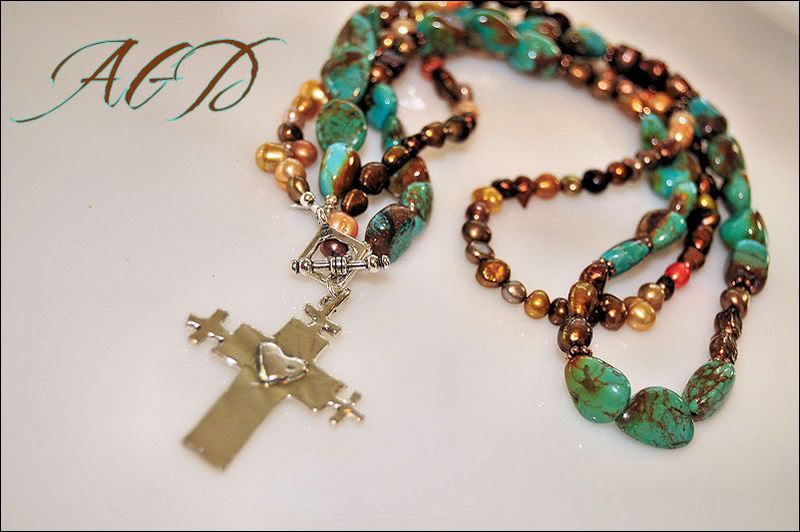 On another note, I had a client/customer and dear blog friend of mine order this Canyon View Cross necklace from me this week. The original design was outfitted with a different cross. However, due to the mad Christmas rush and you all wiping me out of supplies (which is a good thing), I had to find a new cross design for this necklace. Might I just say that I love, love, love the new look. I changed up the cross, toggle, and pearl coloring just a bit to give off a funky, edgey, trendy, and oh so grungy kind of look. This piece goes with anything in your wardrobe and I do mean ANYTHING! Needless to say, I will be making a new version of this piece for myself all over again. And the even cooler thing about this new cross, that back of it has "HAVE FAITH" inscribed into the silver. ROCK ON! Gotta' love that!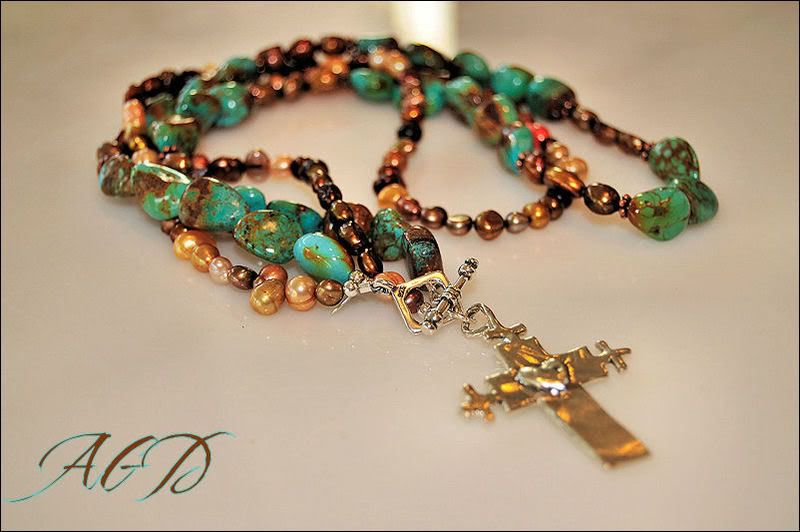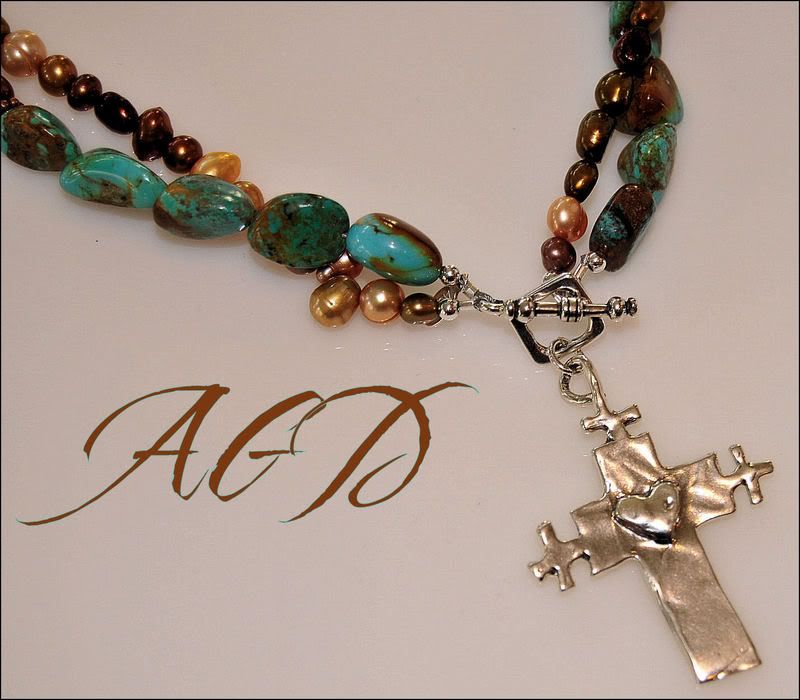 If you are interested in purchasing one of these necklaces before they are all gone and I can't do anymore, go to AGD's boutique website and purchase one right now. You can find the direct link HERE. Until then, enjoy your Friday. Talk again soon...
P.S. Thank you to all of you who emailed me privately, hit me up on facebook, or who left comments here on the blog giving us well wishes for Kenidi's neurology appt. yesterday. For those of you lucky dogs who friend requested me on facebook, you get all of the inside scoop on what is going on in our lives before my blog readers even do now. Aren't you feeling special? Ha ha! And yes...when you FB'ers all got wind that we were at Riley yesterday for a routine appt., you came out of the woodwork to wish us well over there on "Crackbook." Oops...I mean "facebook." Ha ha! In the end, it was a decent appointment with minimal new news. Her neurologist upped her medication in an effort to try and knock out the 2-3 break thru seizures we still notice her having on a daily basis. (the eye rolling seizures that last all of 5 seconds) I hit the doc up with some major questions yesterday regarding epilepsy, John Travolta's sons incident, the whys, the "could that happen?" questions, and so on. As I told my step-Mom, I left the appointment with crude answers but answers that were real and truthful. It deflated a bit of the wind in my sails but I know without a shadow of a doubt that God has Kenidi wrapped tightly in his arms every second of every day that she is here on this earth. Do I worry that we'll never get the seizures totally under control and that she'll never get a drivers license because of it? Yes. Do I worry that she'll be an adult and have to be carefully monitored because of the type seizures she has and the proven statistic that they follow you into adult hood, Yes! Do I just plain & simply worry? Yes! I worry. However, when I catch myself doing it...I immediately pray and tell God that I'm turning the worry all over to him and that she is his problem. I tell him that I am confident his promises for her here on this earth will ring true and that he will do incredible things with her life as a child as well as when she is a grey haired old woman. God is good! And he never wastes pain! Although I feel that I'm in one of those years where I have asked, I know her years to come will be years that he answers.
Thank you to all of you who care for Kenidi as if you genuinely know her. I can't wait to show her the things you guys have done for her and said to or about her as she gets older and can understand your compassion and support. I've got the best blog readers EVAH and now I have the best "CRACKBOOK" friends EVAH too! HA HA! Much love lovahs'...
Angie
Labels: AGD Business, children's boutique clothing, jewelry, New items, personal