HOLY COW CUPCAKES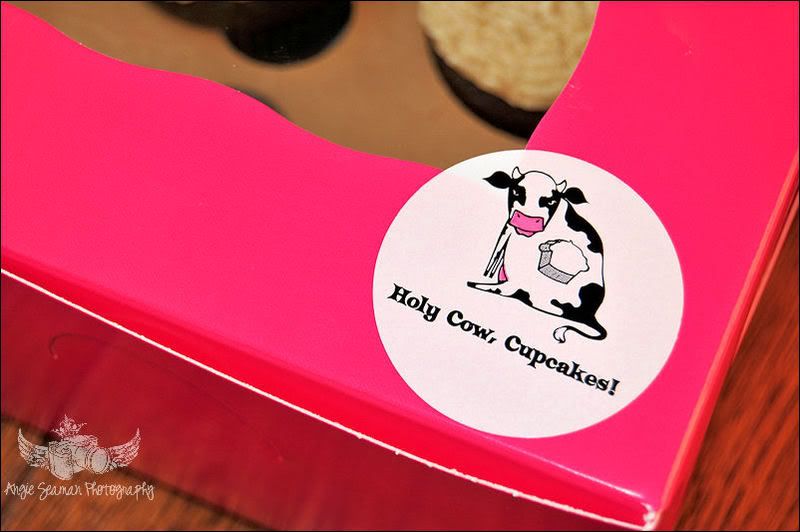 If you know this blog well enough or me well enough anyway...you will know, without a shadow of a doubt, that there will always be three things you can find images of when coming to read/visit my blog. Those three things are my loves - and are strewn throughout my blog - image after image - all the time. And yes, in order, they are the following:
1) Images I've taken of my Children
2) Images I've taken at the beach
3) Images of any and all Cupcakes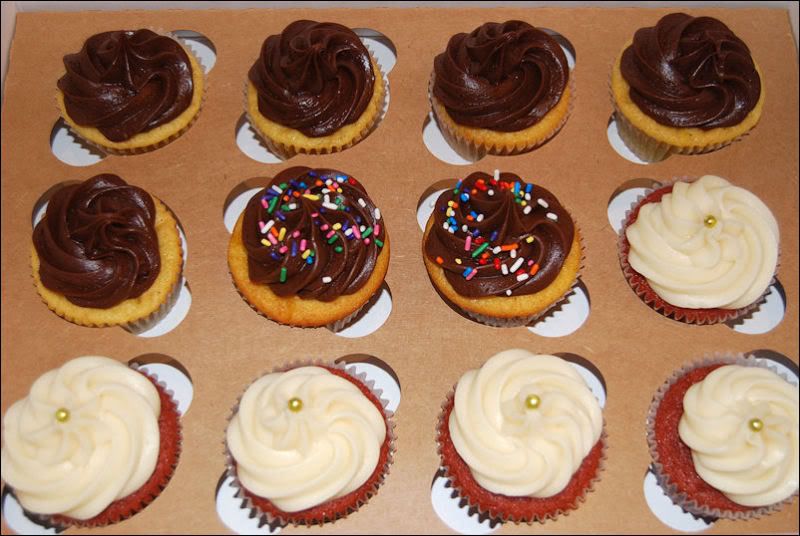 Therefore, without further ado...let me introduce you fellow Hoosiers (and the rest of the world) to 'Holy Cow Cupcakes.' If you remember far enough back, I did a post on this place back in November. It is another cupcakery here in Indiana. Well that one post has driven more hits to my blog than anything else in this world. Well maybe aside from my client/friend maybe, Jennifer Foley (a.k.a The Watson's girl). My girl Jen gets searched 100's of times a day and because she is pictured on my site and on my blog in multiple places, it drives people to good ol' AGD. God love Jen for driving in the traffic. Thanks sista'! Ha ha! Either way, that cupcake post has become - shall or dare I say - famous? I get so many of you emailing me asking me if you can link back to my blog and mention my post about that place as well as showcase the pictures I took while there. Brent and I always laugh about how the owner of the bakery probably has no idea how much business is driven to her website or store via this blog.
With that said, I'm hoping to do the same thing for "Holy Cow Cupcakes" now. Shortly after I learned of the first cupcakery mentioned above, Holy Cow opened up their store a lot closer to where I reside. The kids and I decided to go check them out one day. Fast forward to today...and now they know us on a first name basis. IMAGINE! It wouldn't dare be because I am such a pig and make a stop in their store faithfully once a week, would it? OH NEVAH! NEV-VAH! Ha ha!
I took these interior images of her store back before Christmas. We left on vacation and I never got them uploaded - until now. Sorry for the delay Karen! Karen is the awesome owner and sole baker of Holy Cow Cupcakes. We love her. She is so kind, too sweet, and has the greatest wall in the bakery where everyone who visits the store can sign their name. You guys all know how much I love WALLS. She let Brennen sign the wall one day way back when they first opened. Of course I ran out to my car and got "Razzi." It was before "Big Papa" had hit the scene yet.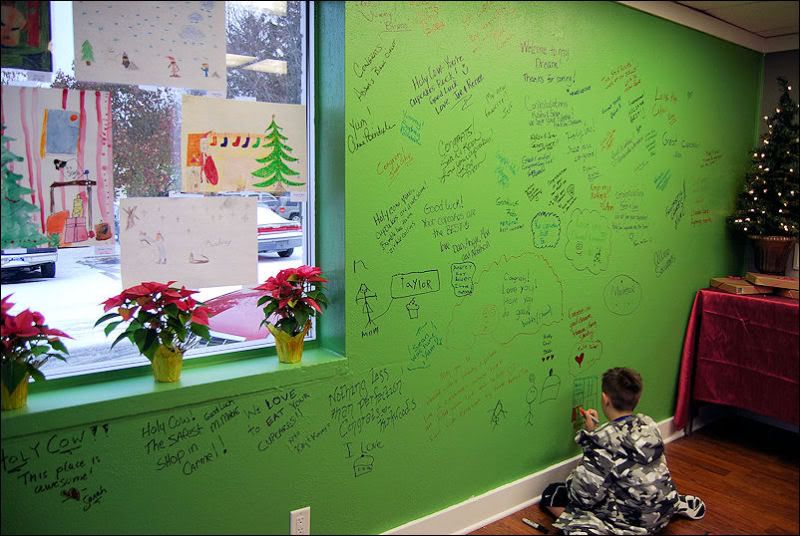 To say that we love Karen's cupcakes would be an understatement. My favorite flavor you ask...? Oh yes...by far it would be the 'brown sugar chocolate

concoction

." The icing is creamy and drips the brown sugar texture. Love, love, love them!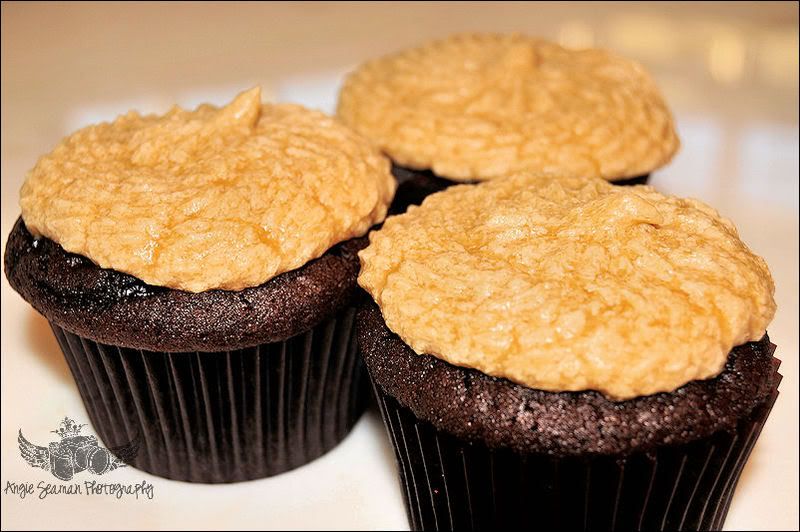 We were one of the first to try this flavor and it has since become a staple in our house. Really a staple. You think I'm joking, don't you? I'm.Not.! Thus why I will be beginning a brand new

regimen

at the gym next week after not having truly exercised since before Thanksgiving as well as after having added 30 extra lbs. to my frame since July of last year. Yes, I'm weak and have got to get back in gear. The breaking point came this week - when new jeans had to be purchased. I won't go into why. Let's just say that I wanted to cry. I am now looking for a new cupcake eating partner gym partner. An accountability partner. If you are local, live by me, and want to tackle shedding some pounds at the gym together with me, email me. I need a partner in crime. I'm not joking about this either. Call me. Email me. Calling all gym rats or gym rat wanna

be's

...I need you.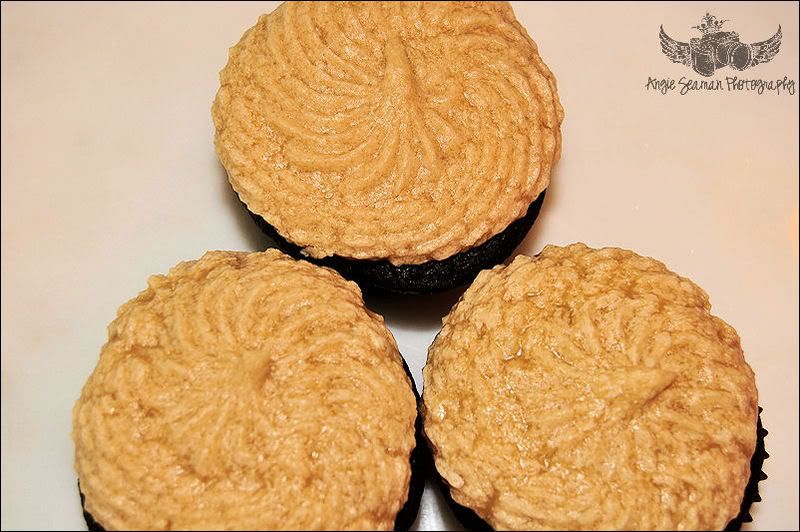 Oh yeah...look at those sugar crystals oozing off of that brown sugar

concoction

icing. YUM! I'm enjoying my last few tastes before next week hits. Reality is biting me in the but - unfortunately it doesn't take my cellulite with it as it bites.
In the meantime, stop in at HOLY COW CUPCAKES off of Range line Road in Carmel. Tell Karen that the Seaman's sent ya. ;)
Happy Saturday, Angie
Labels: holy cow cupcakes